The Road to The Show™: Jeter Downs
Top Red Sox prospect making a name for himself after long journey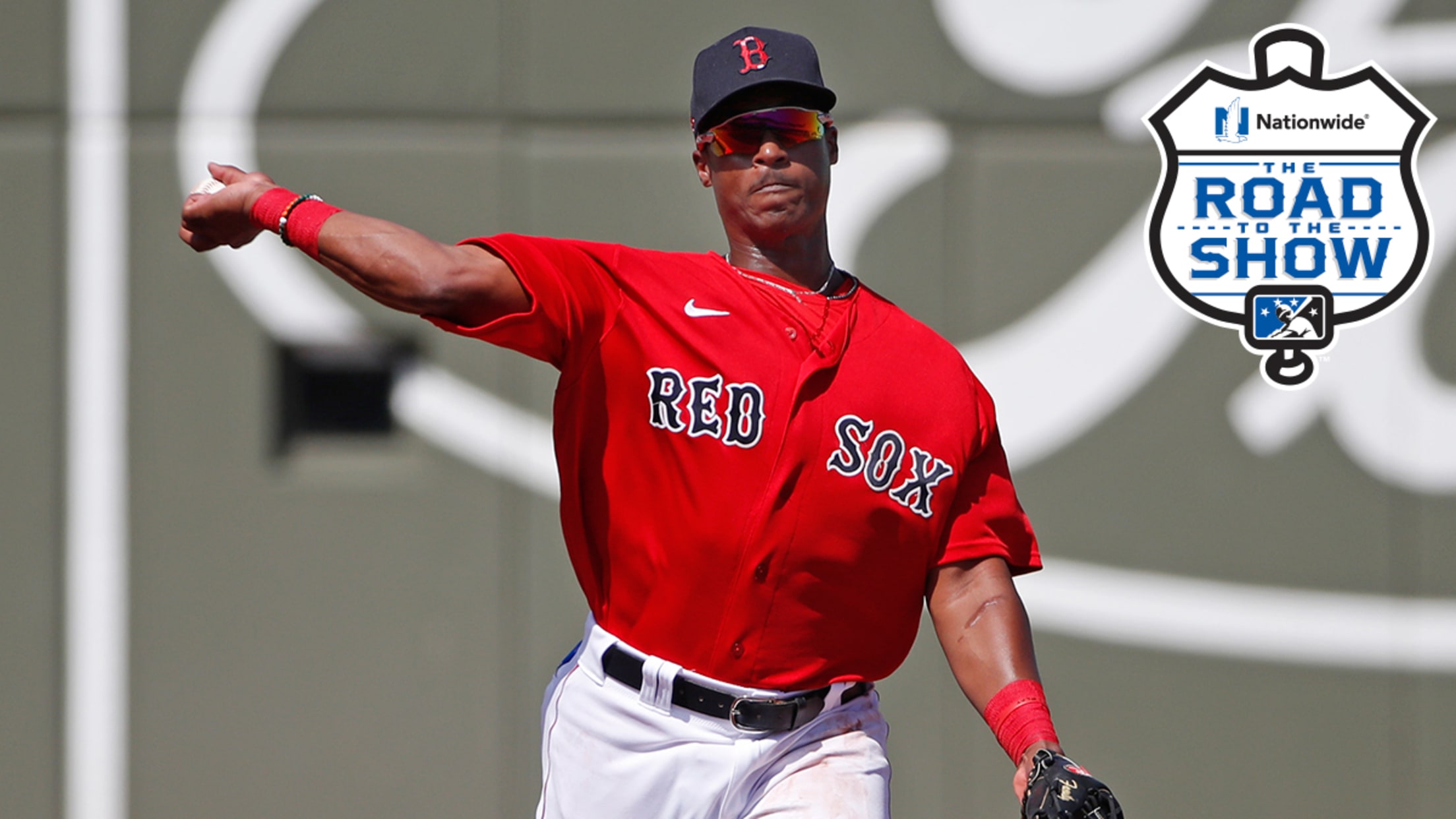 Jeter Downs has racked up 43 homers and stolen 69 bases over the course of 289 Minor League games. (Elise Amendola/AP)
Each week, MiLB.com profiles an elite prospect by chronicling the steps he's taken to reach the brink of realizing his Major League dream. Here's a look at Boston Red Sox shortstop Jeter Downs. For more player journeys on The Road to The Show, click here.
Each week, MiLB.com profiles an elite prospect by chronicling the steps he's taken to reach the brink of realizing his Major League dream. Here's a look at Boston Red Sox shortstop Jeter Downs. For more player journeys on The Road to The Show, click here.
The first thing most people notice about top Red Sox prospect Jeter Downs is his Hall of Fame name.
"I have always loved it," Downs told MLB.com's Jonathan Mayo in 2018. "Jeter was one of my favorite players growing up, just the way he carried himself, on and off the field. He was never in trouble, he was a good role model to look up to as a kid growing up."
With that out of the way, it's easier to concentrate on the prodigious blend of power and speed that has made the Colombian-born shortstop a key part of two blockbuster trades before turning 22 -- and the unusual journey that has brought him to the brink of the Major Leagues.
While neighboring Venezuela may long been a hotbed of baseball talent, Colombia has been the birthplace of just 26 Major Leaguers, and getting noticed isn't easy. Baseball obviously meant a lot to Downs' parents -- Jerry Downs Sr. played professionally in Colombia before finding work with Carnival Cruise Lines -- and they wanted to give their sons every opportunity to succeed in the game. When Jeter was just 3 years old, the Downs family moved to Miami.
"It was my dad's plan," Jeter Downs told MLB.com. "He played professional baseball back in Colombia and went through that whole struggle of getting seen and getting noticed, so he made the decision for our family to move over here to give my brother and I a better chance of playing and getting noticed playing the sport."
The plan worked brilliantly. Jeter's older brother, Jerry Jr. , was taken by Boston in the 15th round of the 2015 First-Year Player Draft, although the first baseman has scuffled in five Minor League seasons, batting .231/.331/.365. And two years later, after a stellar career at Pace High School in Miami Gardens, Jeter went 32nd overall and earned a $1.8-million signing bonus from the Cincinnati Reds.
It didn't take long for Downs to make his mark in the pros. Arriving in Rookie Advanced Billings in the summer of 2017, he hit .267/.370/.424 for the Mustangs in the Pioneer League and demonstrated the advanced approach at the plate that has since made him baseball's No. 40 prospect. Downs has generated a .359 on-base percentage in three Minor League seasons, makes the most of his power by hitting the ball in the air and understands better than most which pitches he can handle and which he cannot.
Downs spent the entire 2018 season with Class A Dayton, where he was almost two-and-a-half years younger than the average Midwest League hitter. Though his numbers dipped a bit, particularly in the dog days of August, his overall .257/.351/.402 line was better in relation to the circuit than it had been the previous season in the offensive-minded Pioneer League.
Just before Christmas 2018, the Reds dealt Downs to the Dodgers in a package that netted them outfielders Yasiel Puig and Matt Kemp, among others.
Downs spent just one season in the Dodgers system and used it to turn himself into a legitimate star prospect. He spent most of the campaign with Class A Advanced Rancho Cucamonga in the California League, where he was a mid- and postseason All-Star and clubbed 19 homers -- while stealing 23 bases -- in 107 games. He was even better following a late-season promotion to Double-A Tulsa, hitting five more long balls in 12 regular-season games before batting .349/.391/.674 with four more blasts in 10 Texas League playoff games.
The biggest difference, apart from Downs' physical maturation, was a shift from being a dead pull hitter to one who used the whole field. But the loaded Los Angeles system already had an established star shortstop in Corey Seager and another shortstop prospect -- Gavin Lux -- who was even more remarkable in the Minors in 2019.
Rumors long swirled this past winter of a deal to send Mookie Betts to Los Angeles, but as Downs prepared for Spring Training, he thought he wasn't involved. When the deal finally was completed on Feb. 8, however, Downs was on his way to Boston -- and a reunion with his brother in the Red Sox system.
"Honestly, I was on the way to the airport to Arizona to report for Spring Training," Downs told MLB.com. "They called me and told me what was happening. At the end of the day, it's pretty cool to be a part of something this big, but you've still got to go out and play baseball. I try not to think of it as that big of a deal and just try to focus on the things I need to do."
With the 2020 Minor League season shelved, Downs spent much of the summer at Boston's alternate training site in Pawtucket. Having played just a handful of games above the Class A level, Downs found facing high-end competition both challenging and rewarding.
"These guys know how to attack and they have a plan so it's learning how to adjust to that," he told MLB.com. "In paying attention to the game, the game tells you a lot, inning by inning, pitch by pitch, how they're trying to attack you. It's cool to compete with these guys day in and day out, because at the end of the day, competition is the greatest form of learning. It's definitely helping me out a lot."
The Red Sox also have an established star shortstop in Xander Bogaerts, who is under contract through 2025, but that may not impede Downs' path to Fenway. With merely average range in the field, many scouts see him as more likely to play second base in the long term. Boston's second basemen batted just .220/.273/.313 this season.
Next season should be a golden opportunity for Downs to become the Majors' 27th Colombian-born player. The only drawback is he won't be able to enjoy his home city's signature clam chowder -- he's allergic.
John Parker is an editor for MiLB.com.