The Road to The Show™: Triston Casas
No. 2 Red Sox prospect becomes of Minors' most powerful sluggers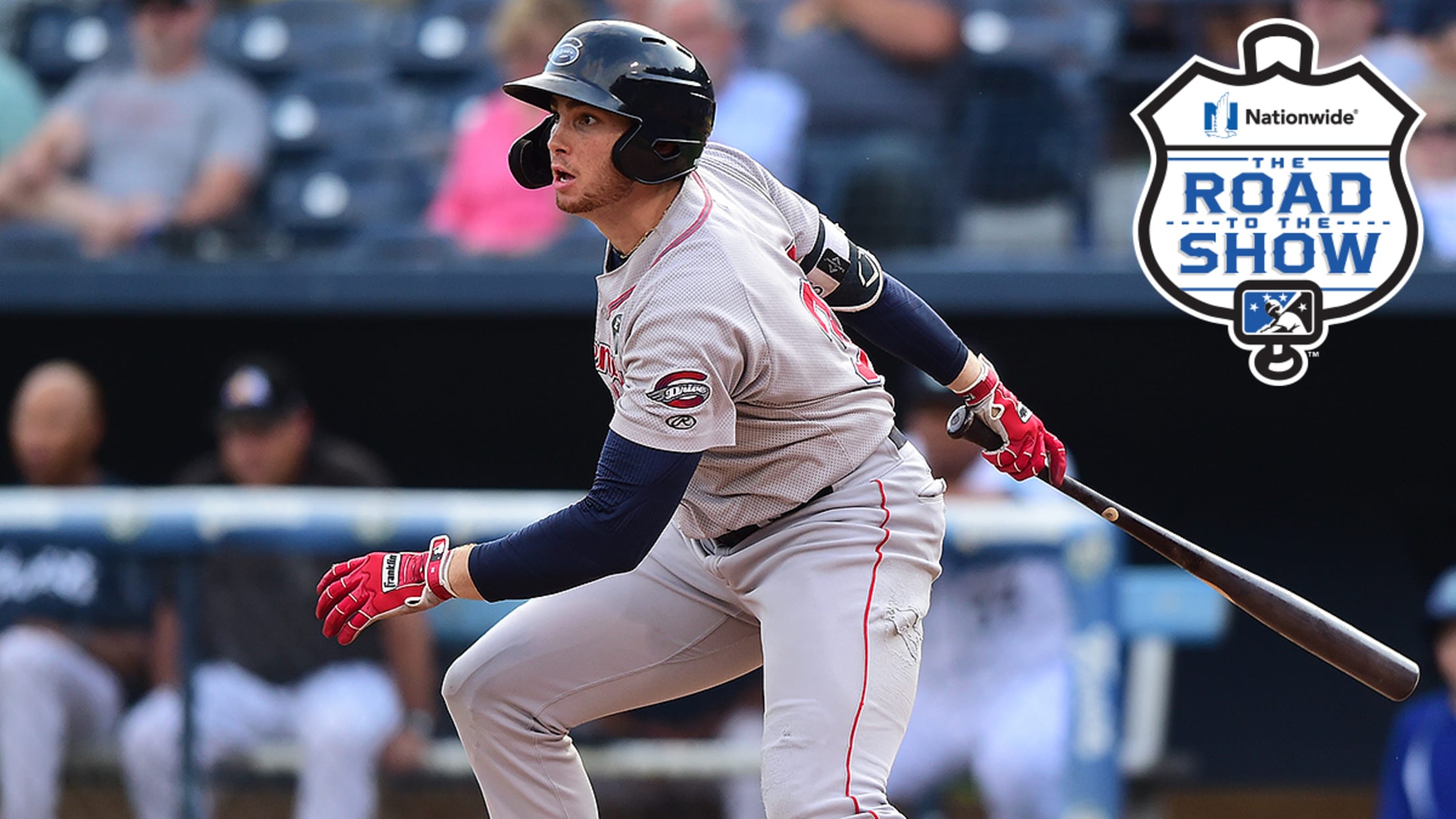 Before turning pro, Boston's Triston Casas was named World Baseball Softball Confederation player of the year in 2017. (Kevin Pataky/MiLB.com)
Each week, MiLB.com profiles an elite prospect by chronicling the steps he's taken to reach the brink of realizing his Major League dream. Here's a look at Boston Red Sox infielder Triston Casas. For more player journeys on The Road to The Show, click here.
Each week, MiLB.com profiles an elite prospect by chronicling the steps he's taken to reach the brink of realizing his Major League dream. Here's a look at Boston Red Sox infielder Triston Casas. For more player journeys on The Road to The Show, click here.
In basketball, they say you can't teach size.
That rings true for baseball too, which is why few prospects can match the power of 6-foot-5, 250-pound Triston Casas, the second-ranked Red Sox prospect.
The hulking corner infielder, who turned 21 on Friday, only has 122 professional games under his belt, but his 20 homers show why Boston made him the 26th overall pick in the 2018 First-Year Player Draft after an outstanding amateur career. Casas led the U.S. 18-and-under national team in homers and RBIs in 2016 and 2017 and was named the 2017 U-18 World Cup MVP before joining the pro ranks.
Though the Florida native signed soon after being drafted, his pro debut was limited to just two games in the Rookie-level Gulf Coast League that summer before he required ulnar collateral ligament repair surgery on his right thumb on June 28, knocking him out for the rest of the season.
Casas got off to a slow start with Class A Greenville in the South Atlantic League in 2019 -- he batted just .208/.284/.364 in 22 April games -- but the left-handed slugger came into his own in May, when he hit .315/.396/.652 with eight homers and 31 RBIs in 27 contests despite being 2 1/2 years younger than his average opponent. He closed the month with blasts in three straight games and earned a spot in the Sally League All-Star Game the following month.
While Casas played third base in high school and was drafted at that position, he spent most of his time in 2019 at first. Although he was expected to moved there as his enormous frame filled out, the Red Sox opted to let him get used to it early on. Projected to be an above-average defender at first, he provides a huge target with a plus arm when necessary (as a prep pitcher, he was capable of hitting 90 mph).
"He was a plus defender at first for us," Red Sox vice president of player development Ben Crockett told MiLB.com's Sam Dykstra. "He did play some third base, but he got that good chunk of time at first base. We can see the significant upside to him playing there and, ultimately, we felt like that was going to get him the best chance to play every day and make the biggest impact."
As Greenville faded out of playoff contention, Casas was promoted to Class A Advanced Salem in the Carolina League at the very end of the campaign. He homered, doubled and singled in a pair of games to finish the regular season, then added five hits in five games as the Salem Red Sox bowed out of the Mills Cup playoffs in the first round.
In all, 2019 was an outstanding start to a promising career for Casas. He led the Boston farm system with 51 extra-base hits, placed ninth in the Sally League with a 136 wRC+ and was named to the circuit's postseason All-Star squad. His .218 ISO ranked third among all Class A hitters despite his youth.
Despite the lack of Minor League games in 2020, Casas made the most of his time. Before being summoned to Boston's alternate training site in Pawtucket on Aug. 20, he watched a Major League game every day and tried to visualize at-bats.
"I just tried to be in the hitters' heads, think about what they could be getting in that at-bat or how they were getting pitched throughout the games in terms of situations, counts, and I would just pick a couple of hitters out of a game that I thought I related to, or a left-handed hitter, that sort of thing," Casas told MLB.com.
While his size and power may conjure up images of a free-swinging all-or-nothing hitter, Casas shortens his swing with two strikes and even has been known to choke up on the bat -- much like the hitter he tries to emulate: Joey Votto.
"I don't really try to copy everything he does," Casas told MLB.com. "But the other day I hit a home run in the sim game, and looking back on it, I was like, 'Wow, I actually do look like Joey Votto.' … He's one of the best hitters of the 2010s, and being a left-handed first baseman, Joey Votto's not a bad guy to emulate."
Though he hasn't played above Class A and is still just 20, Casas more than held his own against advanced competition in Pawtucket. According to MLB.com, Casas provided one of the highlights of the entire camp in a simulated game when he was drilled by a Tanner Houck pitch, declined to take first base and then crushed a home run.
Simply getting more at-bats against live pitching will be key for Casas in 2021. He has a plate approach that's advanced for his age and recognizes pitches well, but he'll have to learn to make adjustments as pitchers learn how to attack him. But even in his brief appearances as a pro, Casas has shown the power and ability to punish mistakes. Now MLB.com's No. 71 overall prospect, he might even make his Fenway debut later this year.
John Parker is an editor for MiLB.com.