Fireflies' Szapucki throws six scoreless frames
Mets No. 4 prospect carries no-hit bid into sixth, strikes out 10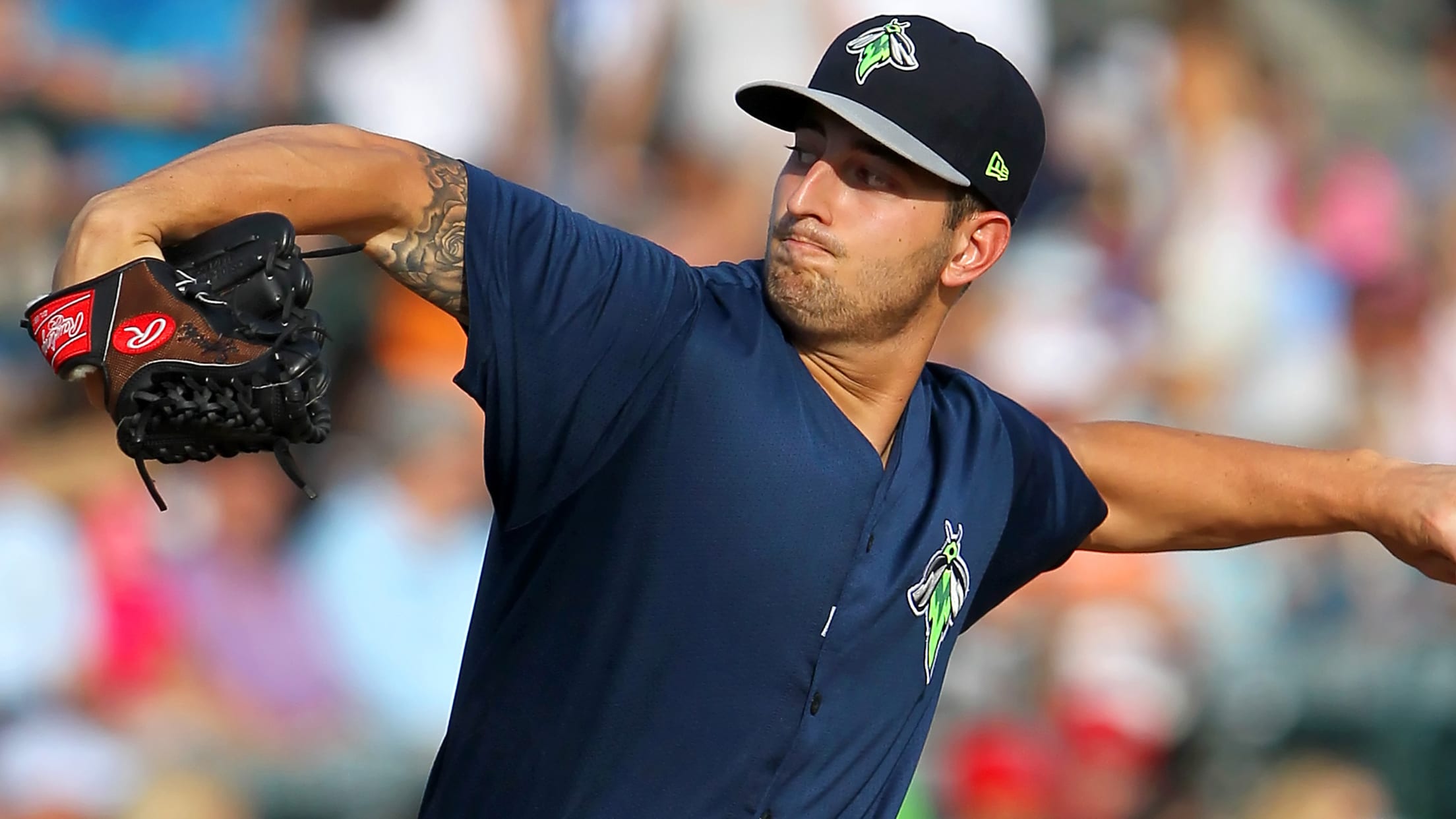 Since returning from a shoulder injury, Thomas Szapucki has a 2.82 ERA in four starts in the South Atlantic League. (Cliff Welch/MiLB.com)
A rusty Thomas Szapucki failed to finish off hitters in his first three outings after returning from a shoulder injury. The No. 4 Mets prospect had no such trouble in his fourth start. Szapucki tossed six scoreless innings with a season-high 10 strikeouts, but Class A Columbia fell to Kannapolis, 2-1, on
A rusty Thomas Szapucki failed to finish off hitters in his first three outings after returning from a shoulder injury. The No. 4 Mets prospect had no such trouble in his fourth start.
Szapucki tossed six scoreless innings with a season-high 10 strikeouts, but Class A Columbia fell to Kannapolis, 2-1, on Sunday at Spirit Communications Park. The left-hander, who carried a no-hit bid into the sixth, allowed two hits and two walks while reducing his season ERA to 2.82.
Gameday box score
"It definitely felt good to see results like that. Each start I have coming back, I'm getting more and more comfortable out there," Szapucki told MiLB.com. "It feels quite good to pitch how I know I'm capable of doing."
Dealing with a shoulder impingement in April forced the 2015 fifth-round pick to miss the first two months of the Fireflies' season. He took the situation in stride.
"The recovery process was fairly quick and simple," Szapucki said. "[It was a] combination of some time off from throwing and strengthening exercises that did the trick."
In his first three starts, the 21-year-old compiled a 3.86 ERA and a 1.29 WHIP, going six innings in each of his last two appearances. The numbers were not bad, but Szapucki didn't feel like he was clicking on all cylinders.
"The last couple starts I've been a little rusty executing two-strike pitches," he said. "They have been getting better each time out, but today it seemed like I was back."
Szapucki came out of the gate strong and struck out the side in the first inning on 16 pitches. The southpaw continued to keep the Intimidators off balance, facing just two over the minimum through the first five frames. Grant Massey and Aaron Schnurbusch walked in the third and fourth respectively, but both were left stranded.
"I try not to let the scoreboard dictate the way I pitch," the 6-foot-2, 205-pound hurler said. "Of course, I knew I had [the no-hitter] going, but I did not change my approach because of that."
In the sixth, Daniel Gonzalez reached on a fielding error by third baseman Milton Ramos. With Gonzalez in scoring position after a sacrifice bunt, Luis Gonzalez broke up the no-hit bid with a booming double to center field. Gonzalez tried to score from second, but a perfect relay throw from shortstop Andres Jimenez to catcher Ali Sanchez denied the Intimidators a run.
"I have complete confidence in my defense, and they did a great job on that play at the plate," Szapucki said. "There were no doubts in my mind that we wouldn't get him out."
With runners on the corners after Mitch Roman's two-out single, the Toms River, New Jersey native escaped unscathed when he fanned Schnurbusch to end the frame.
Szapucki put together a 4-3 record, a 1.38 ERA and a 0.88 WHIP with 86 strikeouts over 52 innings last year between Rookie-level Kingsport and Class A Short Season Brooklyn. This season with Columbia, he's worked on refining small aspects of his game with Columbia pitching coach Jonathan Hurst.
"Hurst has great experience on the mound," Szapucki said. "He is nothing but supportive with me on anything we choose to work on. My goal is to finish this year strong and healthy. I find this league to be similar to the New York-Penn League -- most of the same players."
In his final game with the Fireflies before his promotion to Class A Advanced St. Lucie, Tim Tebow went 0-for-2 with a walk. He amassed a .220/.311/.336 slash line with three homers and 23 RBIs in 64 South Atlantic League games.
"Tebow was a great addition to the team, bringing a lot of energy, confidence, team spirit to all of us," Szapucki said. "He will be missed."
Kannapolis rallied to take the lead in the seventh against righty reliever Cameron Griffin (0-2). Massey tied the score with an RBI double, and Gonzalez brought him home a batter later with a single to right. Blake Hickman (1-1) picked up his first professional win, allowing one run on three hits and two walks with seven strikeouts over six frames.
Andrew Battifarano is a contributor to MiLB.com. Follow him on Twitter, @AndrewAtBatt.