Thompson-Williams Clutch in Win Over Cardinals
Dom Thompson-Williams hits a two-run double and makes game saving catch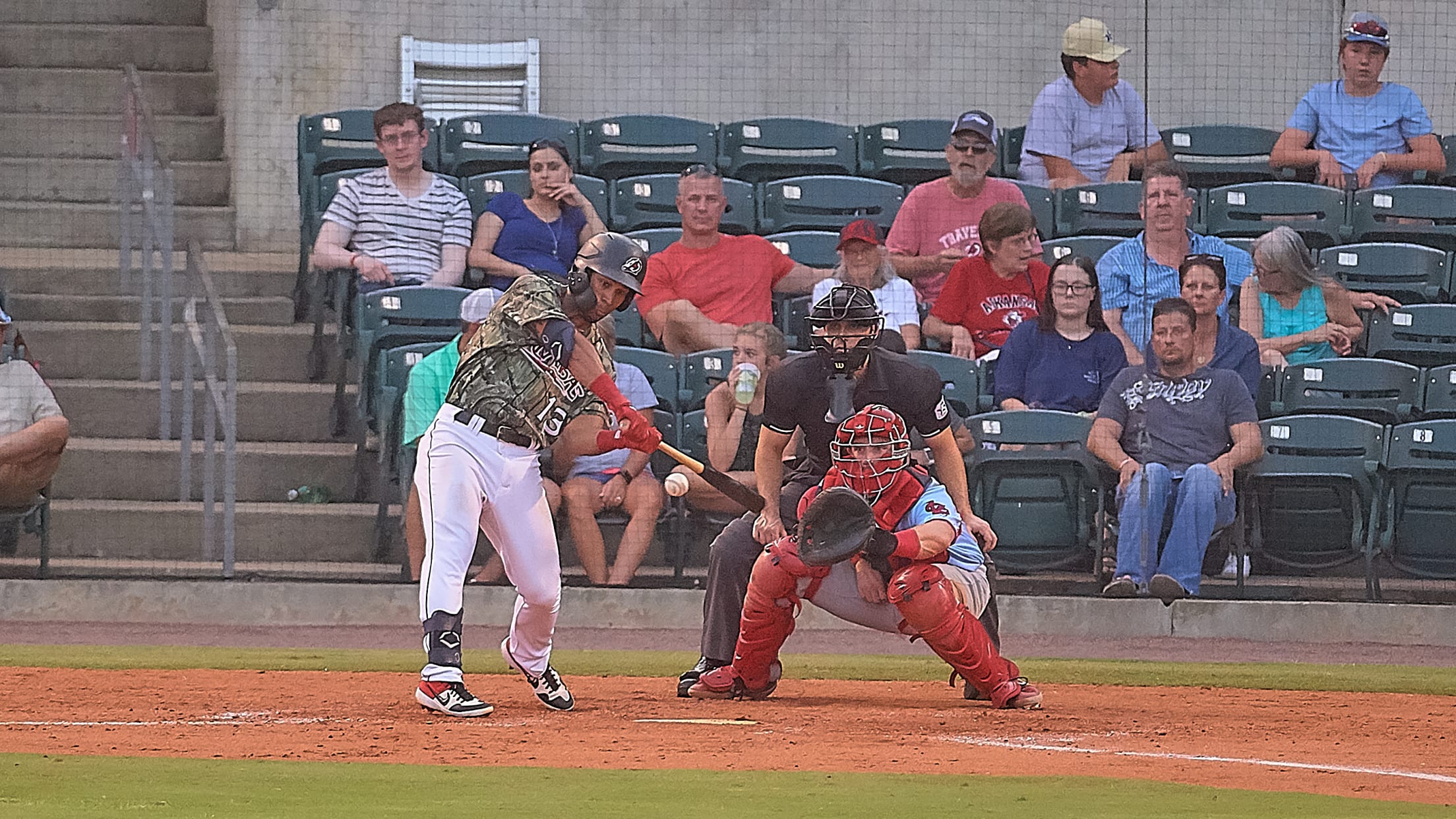 Dom Thompson-Williams doubled home the Travs first two runs on Sunday night. (Mark Wagner)
North Little Rock, AR-The Arkansas Travelers hung on for a thrilling 3-2 win over the Springfield Cardinals on Sunday evening at Dickey-Stephens Park. Dom Thompson-Williams made a running catch of a line drive to right-center field for the final out of the game stranding the tying and go-ahead runs on
North Little Rock, AR-The Arkansas Travelers hung on for a thrilling 3-2 win over the Springfield Cardinals on Sunday evening at Dickey-Stephens Park. Dom Thompson-Williams made a running catch of a line drive to right-center field for the final out of the game stranding the tying and go-ahead runs on base. Those were the only two runners left on in the game by the Cardinals. Earlier, he had doubled home the first two runs for Arkansas with two out in the fourth. Ricardo Sánchez was the winning pitcher, working seven innings and allowing just one run while facing only one batter over the minimum thanks to three double plays. Art Warren got the final two outs for his 14th save. The victory gave the Travs the series win.
Moments That Mattered
* Thompson-Williams doubled home a pair with a clutch two out double in the fourth inning.
* Aaron Knapp provided an insurance run to push the lead back to two with a sacrifice fly in the eighth inning.
Notable Travs Performances
* LF Luis Liberato: 2-3, BB, 2 runs, 2B
* CF Dom Thompson-Williams: 2-4, 2B, 2 RBI
* LHP Ricardo Sanchez: Win, 7 IP, 3 H, R, BB, 3 K
News and Notes
* The series win was just the second for the Travs in their past six series.
* Warren's 14 saves lead the league.
Up Next
The homestand continues on Monday night as Northwest Arkansas comes in for the start of a three game series. Right-hander Justin Dunn (6-4, 3.59) makes the start against righty Gerson Garabito (5-7, 3.85). It is a Moix Monday Pup Day with first pitch set for 6:10. The game will also be broadcast on the Sports Animal 920, the First Pitch App, TuneIn radio and milb.tv.