Three-run eighth pushes Daytona past Palm Beach, 5-3
O'Guinn's two-run single put Tortugas ahead for good; Cooper strikes out career-high eight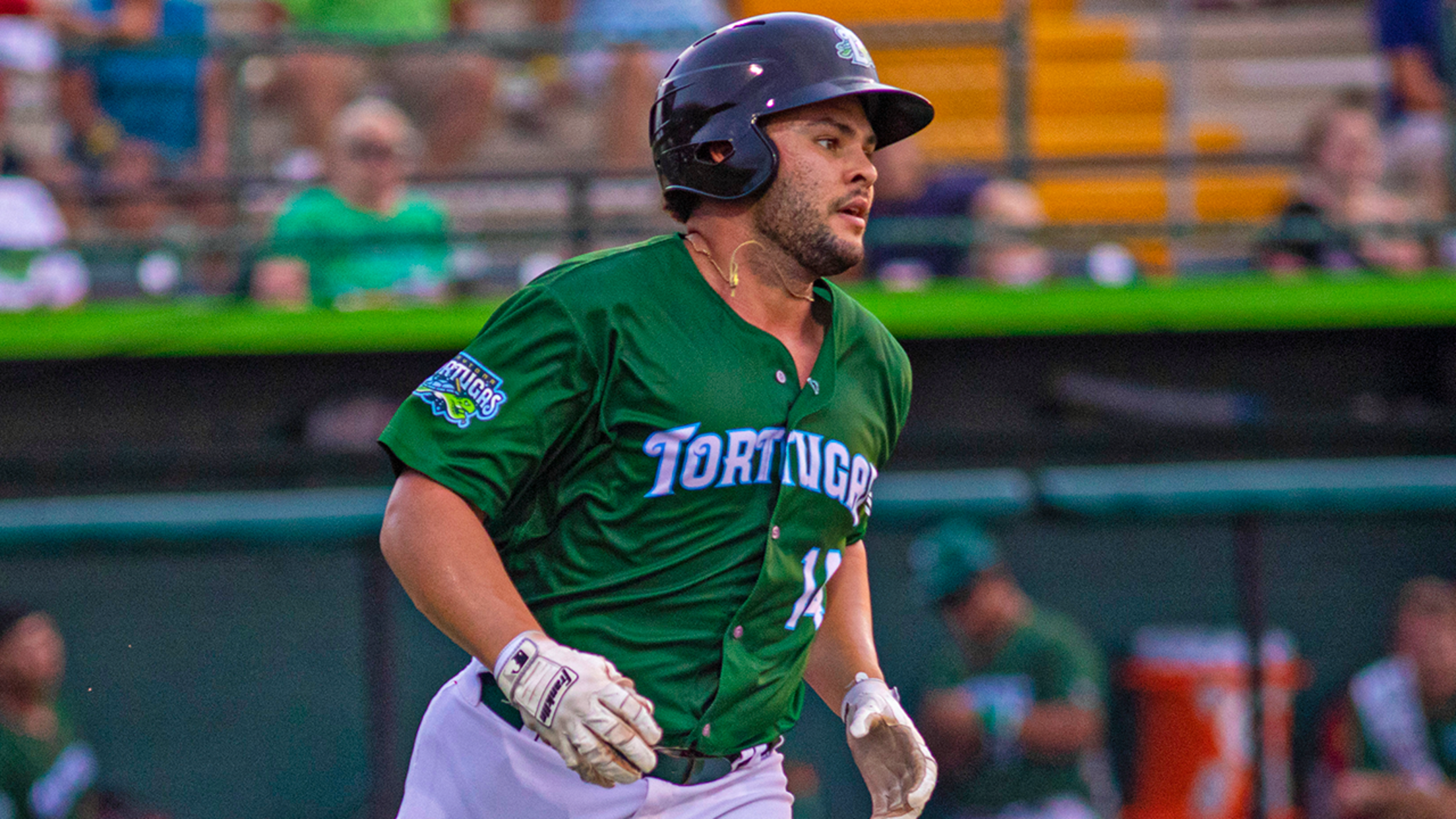 LF Jamal O'Guinn collected a pair of hits — including the go-ahead two-run single in the eighth — as the Daytona Tortugas toppled the Palm Beach Cardinals, 5-3, in front of 1,030 fans at Jackie Robinson Ballpark on Wednesday night. (Aldrin Capulong)
DAYTONA BEACH, Fla. — Tied in the eighth, the Tortugas again came through in the clutch. LF Jamal O'Guinn put Daytona in front with a two-run single, as the Tortugas toppled the Palm Beach Cardinals, 5-3, in front of 1,030 fans at Jackie Robinson Ballpark on Wednesday night. Even at
DAYTONA BEACH, Fla. — Tied in the eighth, the Tortugas again came through in the clutch. LF Jamal O'Guinn put Daytona in front with a two-run single, as the Tortugas toppled the Palm Beach Cardinals, 5-3, in front of 1,030 fans at Jackie Robinson Ballpark on Wednesday night.
Even at two, Daytona (18-23) loaded the bags with nobody out in the eighth on a double from 2B Tyler Callihan (1-3, R, 2B, BB, SO), a bunt single from RF Blake Dunn (1-4, R, SO), and a walk to CF Jay Allen II (0-3, R, BB). On the first pitch of the at-bat, O'Guinn (2-4, 2B, 2 RBI, SO) hit a laser off the pitcher's leg and into center field. Two runs scored and Allen advanced to third on the Clovis, Calif. native's single to put the Tortugas back ahead, 4-2.
After an intentional walk to DH Ruben Ibarra (2-3, R, BB, SO) reloaded the bases with nobody out, C Daniel Vellojín (1-4, R, HR, 2 RBI, 2 SO) hit a double-play ground ball to second. Two outs were recorded, but Allen scored on the play to stretch the Daytona advantage to three, 5-2.
In the top of the ninth, Palm Beach (14-27) mustered a rally of their own. Back-to-back one-out singles from 3B Osvaldo Tovalin (1-4, R, SO) and 1B Brady Whalen (1-4) enabled SS Jeremy Rivas (2-4, R, 2B, RBI, SO) to stroke a run-scoring knock to left, drawing the Cardinals back to within a pair, 5-3.
Following a passed ball that allowed the tying runs to advance to second and third, RHP Tanner Cooper (4.0 IP, 4 H, R, ER, 8 SO) slammed the door shutout. The 22-year-old punched out CF Matt Chamberlain (0-3, R, BB, SO) looking to match his career-high in strikeouts, and then whiffed RF Darlin Moquete (0-4, 2 SO) to surpass it and secure Daytona's 5-3 win.
Scoreless through three, the Tortugas snuck on the board with a two-out rally in the fourth. Ibarra reached on an infield single to first and, on the first pitch of the plate appearance, Vellojín served a line drive between the batting cages and the manual scoreboard for a two-run home run. The Cartagena, Colombia native's first long ball of the season put Daytona ahead, 2-0.
The lead did not last, as Palm Beach tied it in the fifth. Rivas started the frame with a double to left and Chamberlain followed with a walk. After a flyout advanced the runners to second and third, a wild pitch enabled Rivas to score, drawing the Redbirds within a run, 2-1. DH Luis Rodríguez (0-3, RBI) followed with a run-producing ground out to second, tying the game at two.
Neither starter received a decision on Wednesday evening. RHP Javi Rivera (5.0 IP, H, 2 R, ER, BB, 3 SO) allowed just one hit over a career-high-tying five innings of work for the Tortugas. Cardinals' RHP Tink Hence (3.0 IP, H, 2 BB, 5 SO) punched out five over three shutout frames.
Cooper (4.0 IP, 4 H, R, ER, 8 SO) yielded a run in the ninth but garnered his second win of the year with a career-high eight strikeouts. Palm Beach's LHP Alex Cornwell (2.1 IP, 3 H, 3 R, 3 ER, 2 BB, 3 SO) surrendered three tallies out of the bullpen and suffered his first loss of 2022.
The homestand continues with the biggest party in Central Florida on a Thirsty Thursday™ presented by Bud Light. All fans will be able to beat the heat and enjoy their favorite draft beer or fountain soda for as low as $1 at concession and beer stands throughout the night.
The Tortugas are expected to give the ball to RHP José Franco (1-1, 4.30). The Cardinals are projected to counter with LHP Chris Gerard (1-4, 4.58). Coverage on the Tortugas Radio Network will begin on the MiLB First Pitch app and www.daytonatortugas.com at 6:50 p.m. leading up to the 7:05 p.m. first pitch from Jackie Robinson Ballpark.
Season tickets, multi-game plans, group packages, and single-game tickets are currently available and can be purchased online at www.daytonatortugas.com or by calling the Tortugas' Ticket Office at (386) 257-3172.
ABOUT THE DAYTONA TORTUGAS
The Daytona Tortugas are the Single-A Affiliate of the Cincinnati Reds and a member of Minor League Baseball's Florida State League. The Tortugas play at Jackie Robinson Ballpark in downtown Daytona Beach, Fla. Jackie Robinson Ballpark also plays host to Bethune-Cookman University, the Jackie Robinson Ballpark Museum, and many community events and initiatives of all sizes throughout the year.