Three Shorebirds Headed to SAL All-Star Game
Craport, Curran, Jarrett to represent Delmarva in Greensboro this month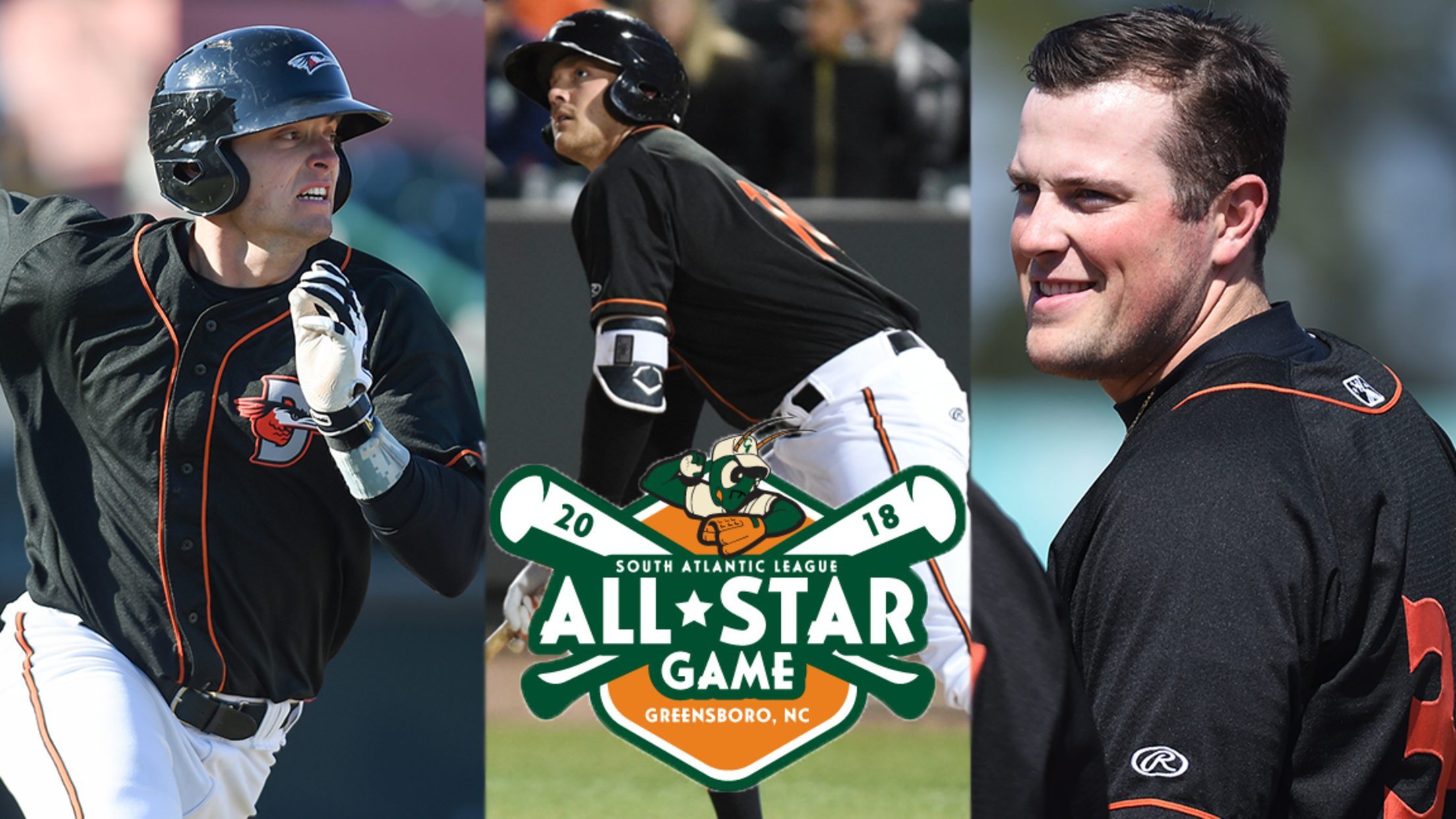 CLEARWATER, FL - In the fifth inning of the Delmarva Shorebirds' May 30 game at Kannapolis, outfielder Zach Jarrett, first baseman Seamus Curran, and third baseman Trevor Craport combined to hit astounding back-to-back-to-back home runs. Less than one week later, all three Shorebirds have been chosen to represent the team
CLEARWATER, FL - In the fifth inning of the Delmarva Shorebirds' May 30 game at Kannapolis, outfielder Zach Jarrett, first baseman Seamus Curran, and third baseman Trevor Craport combined to hit astounding back-to-back-to-back home runs. Less than one week later, all three Shorebirds have been chosen to represent the team at the 59th annual South Atlantic League All-Star Game, announced by the league office on Tuesday.
Jarrett, Curran, and Craport will carry the Shorebird banner for the Northern Division at the Sally League midsummer classic, to be held at First National Bank Field in Greensboro on June 19. All three Delmarva players earned starting nods on the Northern squad with Curran and Craport handling their traditional corner infield positions and Jarrett slated in left field.
Jarrett homered in his first at-bat of the season and never looked back. The Hickory, N.C. native is slashing .287/.353/.487 with 10 home runs, which ranks tied for third in the SAL, and 29 RBIs. A 28th-round pick out of Charlotte last season, Jarrett shot out of the gate with a scintillating April, earning Baltimore Orioles Minor League Player of the Month for his efforts. His finest hour came in an April 26 game against Kannapolis when he smashed a walkoff two-run home run in the bottom of the ninth off fellow All-Star Jake Elliott, turning a would-be 3-2 defeat into a 4-3 Shorebird win. The late heroics came in the midst of a seven-game hitting streak and team-best 18-game on-base streak.
Curran has established himself as one of the Sally League's premier left-handed power bats. The Agawam, Mass. man is slashing .257/.327/.486 with a team-best 11 doubles, 10 home runs, and 36 RBIs, ranking third in the league in the latter two categories. After laboring in short-season ball for his first three pro seasons, the 2015 eighth-round pick from Agawam High School has dazzled at the plate this season. He drove in runs in five straight games from April 27 through May 2, belting three home runs with nine RBIs over that span, and notched a 5-for-5 game with two doubles, a home run, and four RBIs against Lakewood on May 28.
Craport ensured his spot in Greensboro on the back of a remarkable second month. The Norcross, Ga. native is slashing .287/.345/.466 with eight doubles and seven home runs and is tied for fifth in the league with 32 RBIs. Craport, an 11th-round pick from Georgia Tech last summer, especially blossomed in May: he began the month with a two-homer game on May 1 against Greenville, which kicked off a homestand that saw him drive in nine runs over seven games, and closed it out on a seven-game hitting streak and 12-game on-base streak.
The Northern Division team will be managed by Todd Pratt of hosts Greensboro, while Iggy Suarez of defending league champion Greenville will skipper the South.
"Once again, we look forward to enjoying a game that showcases the incredible talent in this league," said SAL President Eric Krupa of this year's crop of All-Stars. "Greensboro Grasshoppers President/GM Donald Moore and the entire staff in Greensboro have been working for more than a year to put together one of the most anticipated events on our baseball calendar."
The Shorebirds cap the first half of play with a stretch of 16 games in 13 days ending on June 17. Delmarva begins the second half of the 2018 season with a six-game homestand beginning on June 21 against Kannapolis.