Hessman slams Minors home run record
Tigers 3B stands alone in history after 433rd roundtripper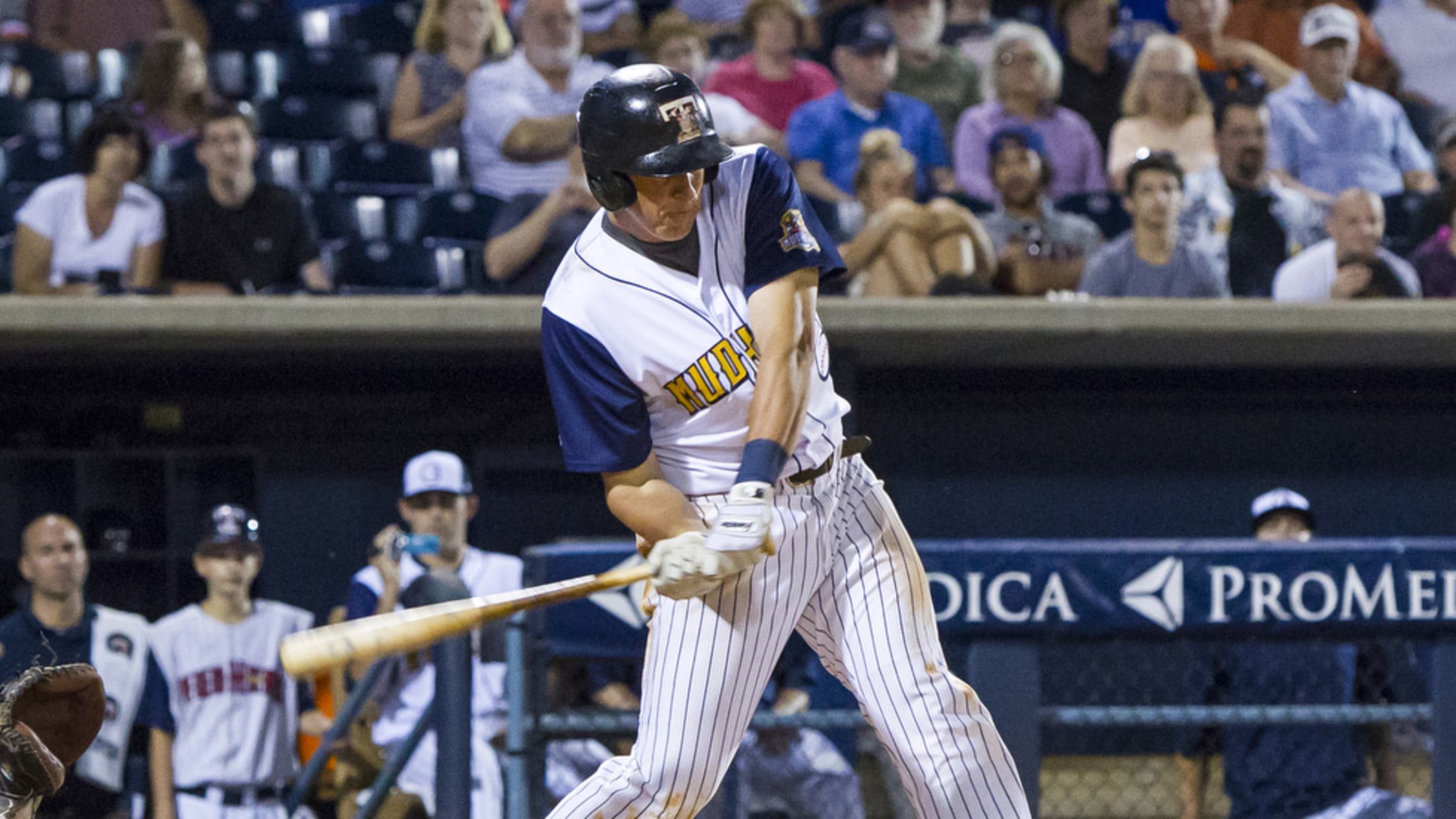 Mike Hessman breaks the all-time Minor League home run record with a grand slam. (Scott W. Grau)
When Mike Hessman stepped up to the plate with the bases loaded in the seventh inning Monday, he wasn't thinking about changing history books. He just wanted to change the scoreboard. "The home run was the last thing on my mind, to be honest," the Tigers farmhand said. "We were
When Mike Hessman stepped up to the plate with the bases loaded in the seventh inning Monday, he wasn't thinking about changing history books.
He just wanted to change the scoreboard.
"The home run was the last thing on my mind, to be honest," the Tigers farmhand said. "We were down a couple runs, so I just wanted to make sure that we got one of those runs in and help the team get closer."
Hessman accomplished both with a go-ahead grand slam to break the Minor League all-time home run record. But even before he drilled his 433rd career blast and before Triple-A Toledo eventually fell, 10-8, to Lehigh Valley in 11 innings, Mud Hens hitting coach Leon "Bull" Durham had a good feeling about his slugger.
"Me and Bull did some work before the game, we got in the cage around 6 and did some stuff, so my swing was feeling pretty good," Hessman said. "He even told [manager Larry Parrish] that 'Today is the day.' He's like, 'We got some good work in.'"
Although Hessman didn't have as strong of a feeling about it as his coach, he felt comfortable. The California native had been hitless since tying Buzz Arlett for the record on July 29, but it wasn't due to nerves.
"I've actually been swinging the bat really well, probably the best I felt in a long time. I was hitting some balls well in Louisville, but didn't get a hit the whole series," he said. "It was weird, I think I put more pressure when I was one short. I had more pressure trying to get that one than the go-ahead one here, so I was actually a little more relaxed when this one was approaching."
His comfort at the plate showed in his first at-bat, when he led off the second with a single to left field. He went hitless in his next two at-bats. Then in the seventh, Hessman took a 2-0 offering from Dustin McGowan for a no-doubt shot over the left-center field wall.
With one swing, he cleared the bases and erased a 79-year-old record.
"I knew when I hit that one it would go. I don't sit or watch where they go or anything like that, but you put a good swing on it, you get that solid contact, you know when you get them," he said. "It was great, [but] glad it's out of the way. I usually don't like talking about numbers or chasing these things or anything like that. So to get it done, it's been great. I've had a lot of support from the organization and my teammates, and being able to do it at home, I was glad I was able to do it for the fans."
The Mud Hens spilled out of the dugout to high-five and hug the one they call "the King" as he took his place atop the all-time rankings. For the season, the veteran slugger leads the Mud Hens and is tied for third in the International League with 16 long balls and has produced a .217/.332/.432 slash line.
Hessman's 19-year-career began when the Braves selected him in the 15th round of the 1996 Draft. He started out in the Rookie-level Gulf Coast League in 1996 and has logged 13 Minor League seasons with 20 or more homers.
Outside of his Minor League success, the California native has 14 homers in "The Show," having played 109 games with the Braves, Tigers and Mets, and he slugged six roundtrippers in 2011 for the Orix Buffaloes in Japan.
The third baseman returned to the Detroit organization in 2014 for his sixth campaign with Toledo and stayed on for a seventh this year. Hessman became the IL home run king last June 30 with his 259th on the circuit (now at 290) and holds Toledo franchise records for dingers (186) and RBIs (485).
Four innings after the blast when Hessman finally got to the clubhouse, he initially ignored the 50-plus messages from friends and former teammates to make two choice phone calls. First to wife Sabrina, who is at home in South Carolina, and then to his parents, who still live in California.
While he hopes to send the home run ball back to the Palmetto State, the fan who caught it wasn't ready to let it go.
"The guy wouldn't cough it up tonight, so we're waiting to see what he wants for it or what he's going to do with it," he said. "Hopefully I can get it back and put it on my display in my house."
Arlett played 13 of his 19 professional seasons with the Pacific Coast League's Oakland Oaks, hitting 251 homers for them. He slugged 18 for the Phillies in 1932, belted his final Minor League home run in 1936 and retired in 1937 at age 38.
Next up for Hessman would be catching North American Minor League home run leader Hector Espino, who is credited with hitting 484 dingers in Mexico. Nelson Barrera (479), Andres Mora (444) and Alejandro "Alex" Ortiz (434) also are ahead of Hessman on that list.
"I just enjoyed the pursuit of it all and everything that's taken place," he said. "I've never looked at it, what else is out there, but this is probably the most special one for me. And then I just [want to] try to go out there and still have fun and play the game hard."
As for any comparisons to a different Bull Durham, Hessman said he'll stray from the Crash Davis course.
"If it was later in the year, maybe. But no, I've never thought about that," he said of leaving the game the way Kevin Costner's character did after knocking his record homer in the 1988 film. "Now I can go out there and hopefully finish the season strong."
Kelsie Heneghan is a contributor to MiLB.com. Follow her on Twitter @Kelsie_Heneghan.