Toledo's Reyes goes deep twice ... again
Tigers outfielder plates six in second straight multi-homer game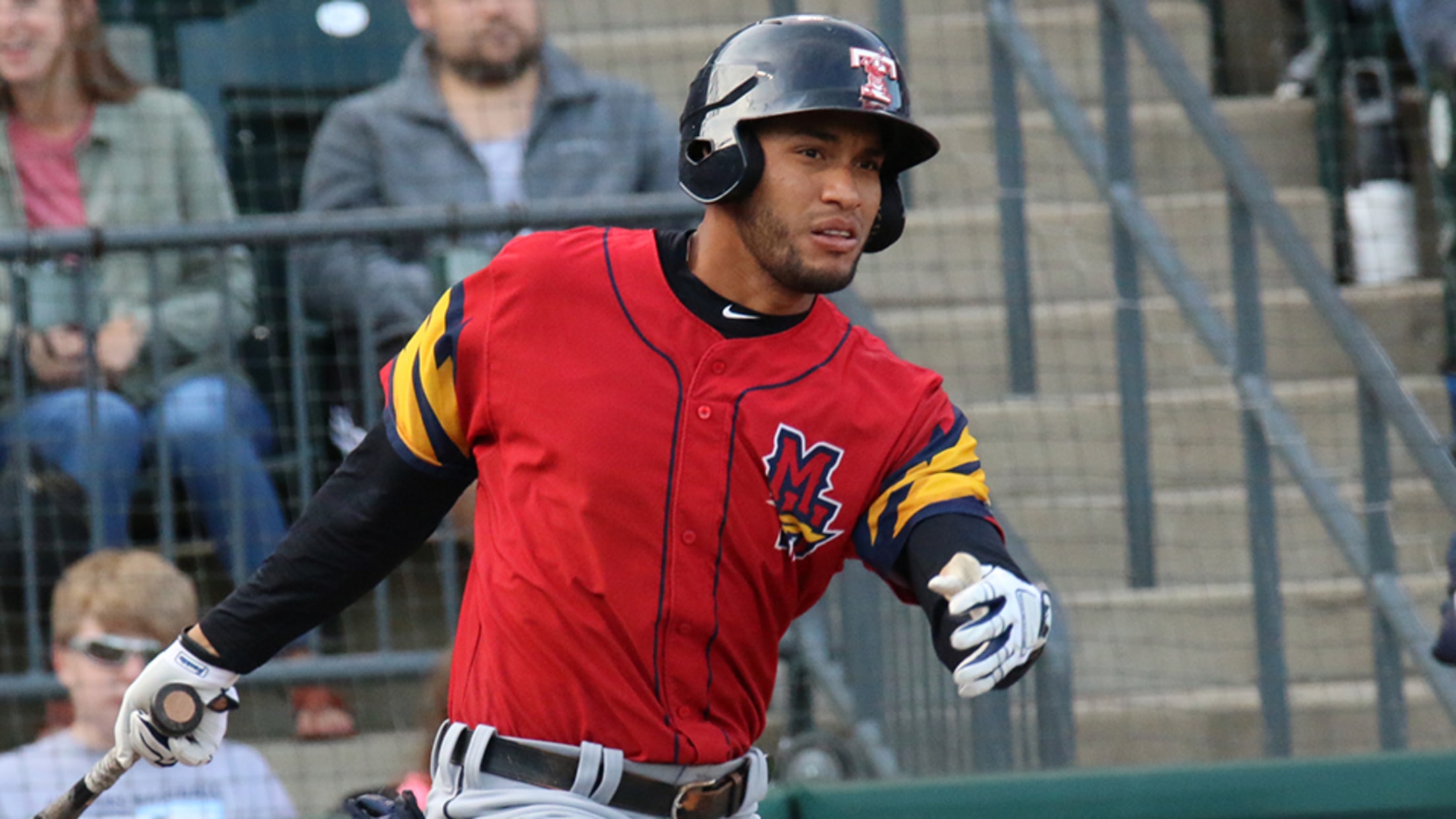 Through five games in June, Victor Reyes is hitting .600/.600/1.300 with four homers and 12 RBIs. (Joshua Tjiong/MiLB.com)
Before Tuesday night's game, Victor Reyes had never had a two-homer game in his professional career. Now he has two in as many games. And Triple-A Toledo hitting coach Mike Hessman has no intentions of getting in his way. "Boy, when you get hot like that, you just want to stay away
Before Tuesday night's game, Victor Reyes had never had a two-homer game in his professional career. Now he has two in as many games.
And Triple-A Toledo hitting coach Mike Hessman has no intentions of getting in his way.
"Boy, when you get hot like that, you just want to stay away from him," the hitting coach said.
The Tigers outfielder blasted two long balls for the second straight contest, driving in a career-high six runs to lead the Mud Hens to a 13-5 romp over Columbus at Huntington Park. Reyes has plated at least five three times over the past 10 days.
Hessman said Reyes has always possessed the power for that kind of offense, and it's finally emerging. With some extra work in between games, the Barcelona, Venezuela, native has been seeing results on the field when it counts.
"He's been doing really well, obviously this last week has been something special, hitting four home runs in the last couple of days and driving in a bunch of runs," the coach said. "He's a really hard worker, he's been in the cage doing his thing, getting his work in. He's a confident kid, we've had some talks and he's confident that he's going to hit. He goes about his business the right way, so it's nice to see it take off for him."
After hitting .239 with one homer in 19 International League games in May, Reyes has kicked it up a notch early on this month. Through his first five contests, the 24-year-old has racked up 12 hits, including four home runs and six total extra-base hits. During the hot streak, the outfielder's average has jumped from .237 to .279.
Gameday box score
Hessman doesn't want to tweak or make minor adjustments to Reyes' game during the hot streak. At this point, it's about he wants to give the slugger ample opportunity to do his thing at the plate. He's seen Reyes show off the tools to spray the ball around the entire diamond, and beyond that, with 102 games under his belt, the 24-year-old has shown the staff understanding what it takes to make it to the game's highest level.
With some refocusing lately, he's been belting balls deeper and swinging at pitches in hitter-friendly counts that enable him to make even better contact.
"He's a big, strong kid, and I think sometimes he gets placed as a smaller-type player," Hessman said. "So we've really worked on driving through the ball and use his size and strength to his advantage and pick and choose times when to get on it and drive some balls. ... He's done a great job at taking more aggressive hacks and getting through it a little bit more lately."
Reyes started off with an RBI after bouncing into a fielder's choice in the first inning. Two frames later, seventh-ranked Tigers prospectWilli Castro walked before the Venezuela native got another chance against Clippers starter Michael Peoples. Reyes took the second pitch and deposited the second pitch over the wall in left-center field for a two-run dinger.
Following Castro's solo homer in the fifth, the 6-foot-5, 215-pounder laced a single to right off the right-hander.
He struck out in the sixth, but Reyes capped off his career night in the eighth. He crushed a 2-1 pitch from righty Neil Ramírez over the right-field wall for a three-run homer.
"Honestly, it's one of those things people talk about when you get in the zone, it didn't seem to matter what they threw him," Hessman said. "He was hitting fastballs down the line for doubles, he was staying in on breaking balls and hitting them for home runs. ... You try not to ride that roller coaster too high or too low. But boy, when it's going well, you just sit back and enjoy it, let him go and see how long he can run with it."
Reyes, who has 10 multi-hit games this season, has recorded seven hits and 11 RBIs over the past two games. He has a seven-game RBI streak in which he's driven in 23 runs, which accounts for 55 percent of his RBI total (42) this season. In June, Reyes has amassed a .600 average.
In the series against Columbus, Reyes went 10-for-15 in three contests. As Hessman noted, Clippers pitchers are probably thankful the Mud Hens start a series with Indianapolis on Thursday.
"When they're hot like and they're rolling, you stay out of their way," Hessman said. "You let him go and you let him continue to build the confidence game to game. If it gets a little off-kilter, you might throw something here or there. But for the most part, when they start rolling like that, you stay out of their way and let them go."
Dustin Peterson and Kody Eaves tallied three hits apiece as five of the Mud Hens starters recorded multi-hit nights.
No. 27 Tigers prospect Matt Hall (4-3) allowed two runs on five hits and a walk with seven strikeouts over six frames for the win.
Andrew Battifarano is a contributor to MiLB.com. Follow him on Twitter, @AndrewAtBatt.