Edman lifts Redbirds in PCL Finals opener
Cards prospect collects four knocks, falls triple shy of cycle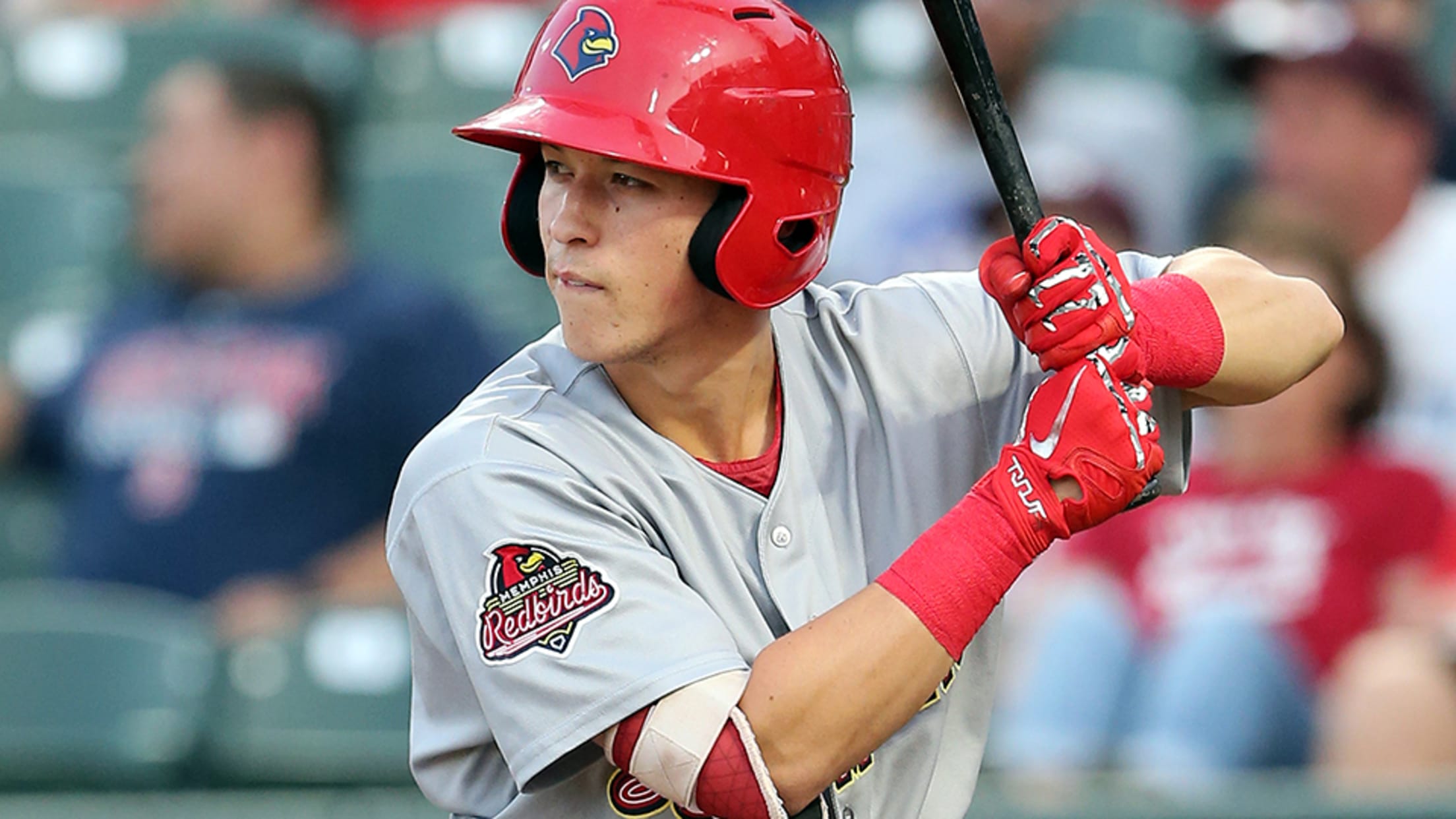 Tommy Edman is 11-for-21 with a walk, five RBIs and five runs scored in five postseason games. (Jamie Harms/MiLB.com)
Look directly at Tommy Edman at your own risk.The Cardinals prospect continued his torrid postseason by going 4-for-5 -- falling a triple shy of the cycle -- with three RBIs and a pair of runs scored to pace Memphis to a 10-4 victory over Fresno in Game 1 of the
Look directly at Tommy Edman at your own risk.
The Cardinals prospect continued his torrid postseason by going 4-for-5 -- falling a triple shy of the cycle -- with three RBIs and a pair of runs scored to pace Memphis to a 10-4 victory over Fresno in Game 1 of the best-of-5 PCL Championship Series on Tuesday at Chukchansi Park.
The 23-year-old is 11-for-21 with three extra-base hits, a walk, five RBIs and five runs scored in five playoff games. He's collected at least one knock in each contest with four multi-hit efforts.
"I just happen to get hot at the right time," Edman said. "I'm seeing pitches well and staying balanced through my swing. It's just a matter of making adjustments as you go through the season, and I made a pretty good adjustment recently and it's working out. It's exciting to be playing in the Championship Series again. I came up last year for the playoffs but didn't really play that much. So it's fun to be a starter and one of the main contributors on the team this year."
It only took four pitches on Tuesday for Edman to give the Redbirds the lead. The Stanford product turned around a 2-1 fastball from right-hander Brady Rodgers (0-1) and deposited it over the fence in right field for his first playoff homer. Memphis never looked back.
Gameday box score
"That's my first leadoff homer of the year," Edman said. "I never really try to hit home runs -- when it happens, it's just kind of an accident. I'm always just looking for a good pitch to hit that I can square up well. That was an inside fastball he threw me there, and that's a pitch I've been hitting really well recently."
Edman capped a three-run second inning with a two-out single to center that scored Wilfredo Tovar. Cardinals No. 5 prospectAndrew Knizner and sixth-ranked Randy Arozarena crossed the plate earlier in the frame.
In the fifth, Edman laced the first pitch he saw from Rodgers into center for a one-out double. The 2016 sixth-round pick came around to score two batters later on a single by Rangel Ravelo. He then lined a single to left in the sixth against lefty Kent Emanuel that scored Cards No. 8 prospect Justin Williams.
• Complete postseason coverage »
"I knew I was a triple shy of the cycle, but it's hard to try to hit a triple. A lot of the time it's just a matter of luck," Edman said of his at-bat in the sixth. "So I didn't change my approach at all. It's always the same. I did my best not to let the idea of the cycle get into my head too much."
Mejia matched Edman with three RBIs, while Tovar was 3-for-4 and drove in a pair of runs. Redbirds starter Kevin Herget (1-0) and allowed four runs on four hits and three walks while striking out six over 5 2/3 innings for the win.
Astros No. 15 prospectGarrett Stubbs picked up two hits, two RBIs and a run scored for Fresno, which hosts Game 2 on Wednesday. Kyle Tucker, MLB.com's No. 8 overall prospect, singled and walked for the Grizzlies.
"Getting the first game is huge, especially winning it on the road," Edman said. "Now if we can get a win tomorrow and head back home with a 2-0 series lead, and the next three games are [in Memphis], I think it's highly unlikely they beat us three times in a row."
Rob Terranova is a contributor to MiLB.com. Follow him on Twitter @RobTnova24.