Santillan leads way in Dragons' shutout
Reds No. 13 prospect hurls second straight scoreless start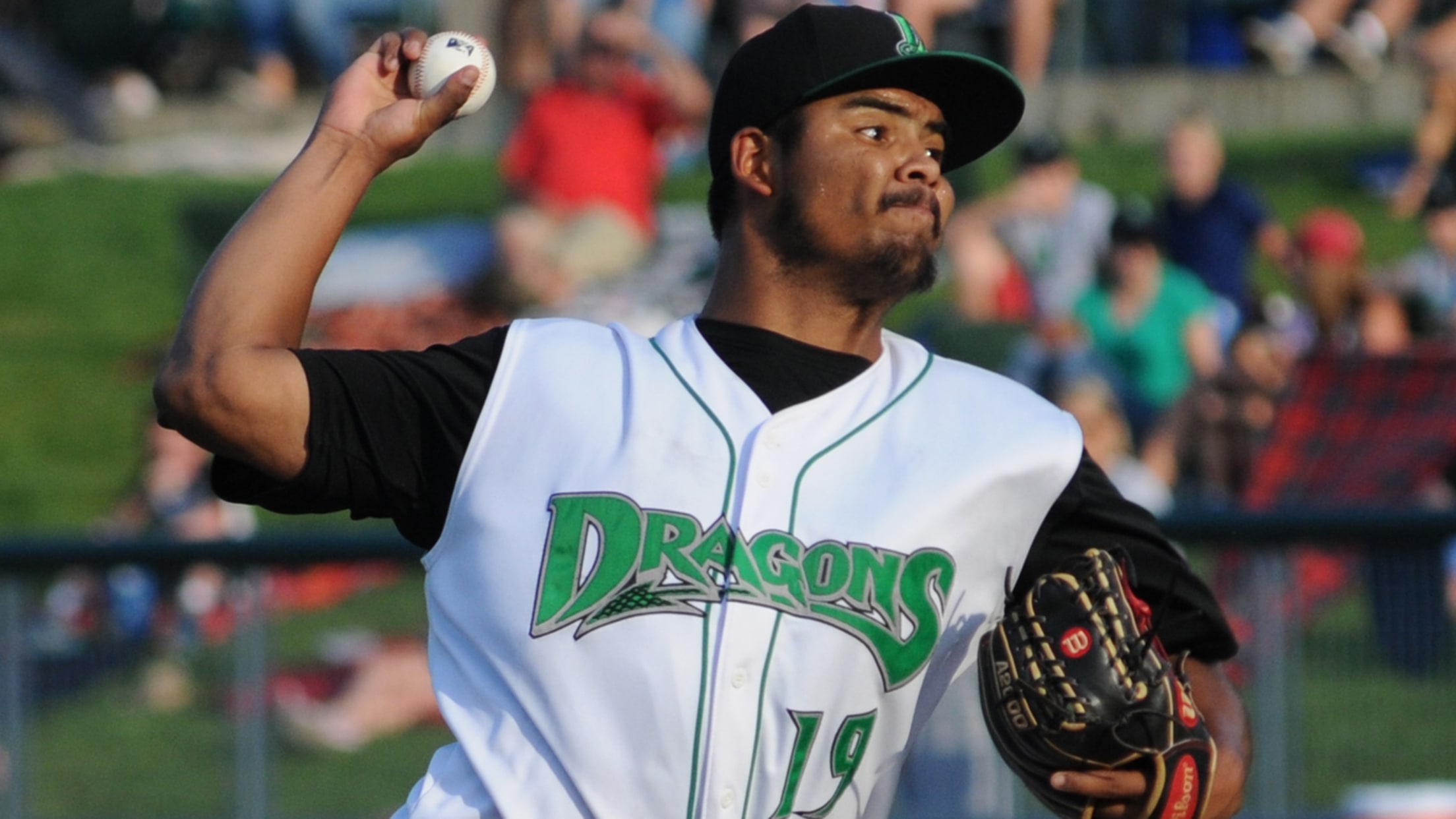 Tony Santillan ranks third in the Midwest League with 126 strikeouts and sixth with a 3.25 ERA. (Nick Falzerano/Dayton Dragons)
Tony Santillan was a man of few words after his latest win, but the ones he did have spoke to a laser focus on a strong conclusion of the season.The Reds' 13th-ranked prospect turned in his second straight scoreless outing Sunday, allowing three hits over six innings, as Class A Dayton
Tony Santillan was a man of few words after his latest win, but the ones he did have spoke to a laser focus on a strong conclusion of the season.
The Reds' 13th-ranked prospect turned in his second straight scoreless outing Sunday, allowing three hits over six innings, as Class A Dayton blanked Great Lakes, 2-0, at Dow Diamond.
"I've just been sticking to my routine all year," said Santillan, who struck out five and walked one while extending his scoreless streak to 12 innings. "I'm just going out there and keeping the same mentality from the beginning and finishing it through the end."
Gameday box score
Five days ago, Santillan yielded one hit over five innings against Bowling Green and kept that momentum on Sunday. The right-hander faced baserunners from the second through the fourth but pitched out of trouble each time. Santillan faced the minimum in the second, thanks to a strikeout-caught stealing double play. In the third, Great Lakes' Steve Berman and Jeren Kendall notched back-to-back two-out singles, but Santillan retired Dodgers No. 9 prospectGavin Lux on a bouncer to short.
Cristian Santana doubled to right leading off the fourth but was caught stealing third as Santillan again faced the minimum.
"I really didn't change much up," he said of his approach against a Great Lakes lineup he faced three times earlier this season. "I just went out and went on the attack as I usually do and just go from there."
Santillan's one-walk day gave him consecutive outings with one or no free passes since a four-start stretch from May 8-24.
"I just stay in the routine and stay focused and keep going forward," the 2015 second-rounder said after dropping his ERA to 3.25. "It's just been that I've been pretty consistent over the last few starts."
The Dragons gave Santillan a lead in the third when Reds No. 22 prospect Jose Siri reached on a leadoff infield single and stole second and third -- en route to matching a Dayton franchise record with three thefts on the day -- and scored on Taylor Sparks' double to right. In the fifth, Randy Ventura led off with a single to left, swiped second and scored on a throwing error by Loons starter Alfredo Tavarez.
The quick innings didn't affect his rhythm, Santillan said.
"Honestly, it doesn't really make a difference. It's more the mental side of it," he explained. "If you stay mentally in the game, it really doesn't matter to me, just as long as I stay mentally in it."
The win came in Santillan's 24th outing and 23rd start of the season, one more than his career total entering 2017. Despite the workload, the Fort Worth, Texas, native feels energized heading down the stretch.
• Get tickets to a Dragons game »
"I know my body more than anybody, so I just kind of go day by day and take care of it," he said. "Getting in my routine, I do what I do every day before the starts just to get ready for it."
Siri went 2-for-3 with a pair of singles and a walk, raising his average to .296.
Tyler Maun is a contributor to MiLB.com. Follow him on Twitter @TylerMaun.