Toolshed: Top 2016 Draft picks ready to roar
Manning, Perez among last year's selections in short-season ball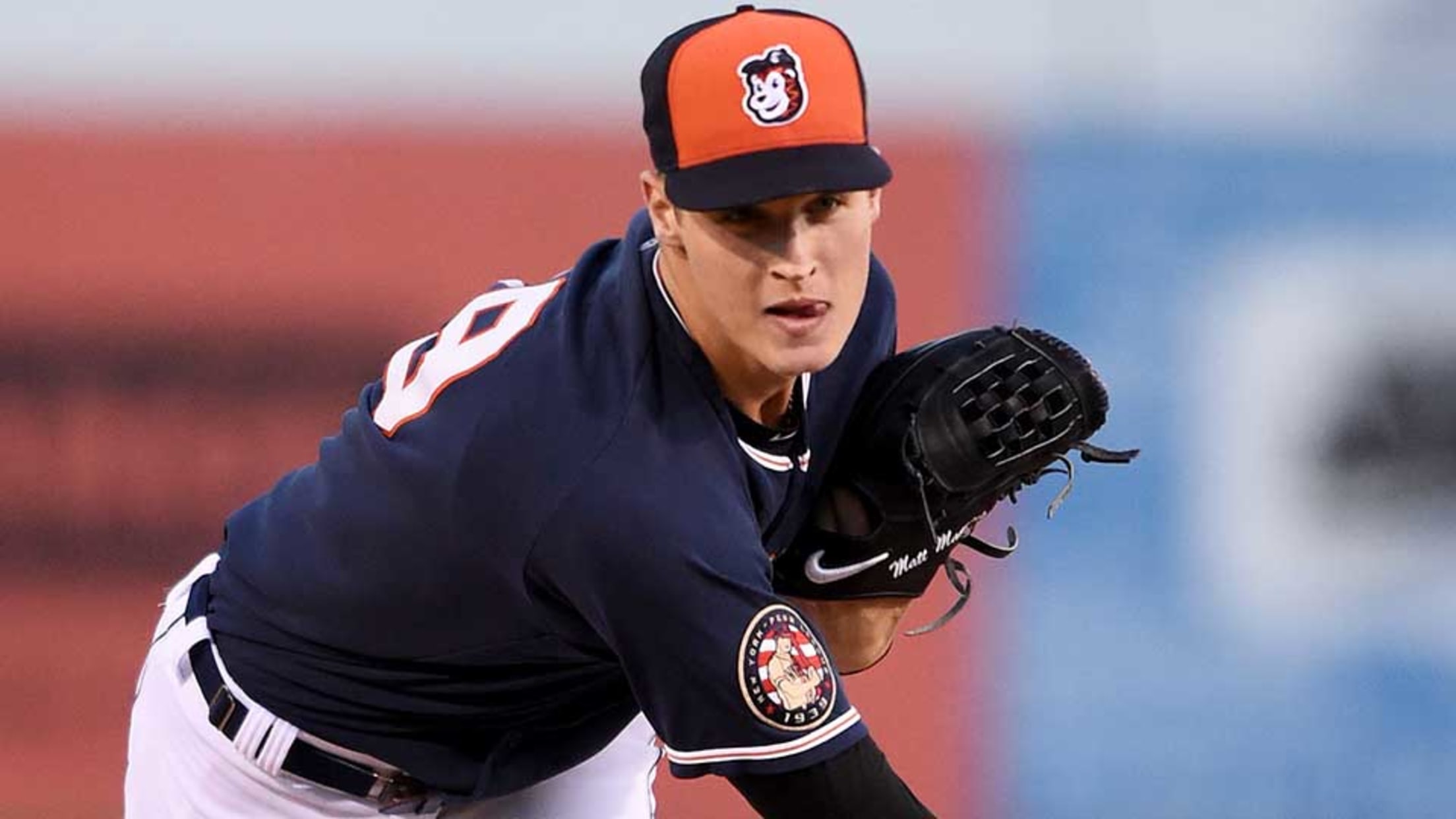 Tigers top prospect Matt Manning struck out nine of the 16 batters he faced in his Connecticut debut Tuesday. (Kevin Pataky/MiLB.com)
Remember the 2016 Draft?It's so easy to get lost in the MLB Draft that took place earlier this month and the fresh batch of prospects it brings to the Minors, we can forget that only 12 months ago, a whole other group was just getting started. One year later, most
Remember the 2016 Draft?
It's so easy to get lost in the MLB Draft that took place earlier this month and the fresh batch of prospects it brings to the Minors, we can forget that only 12 months ago, a whole other group was just getting started. One year later, most of them still only have a half year of pro ball under their belt; for others, their feet have barely left the ground.
That's where short-season leagues comes in.
The Northwest League got under way last Thursday, followed by the New-York Penn and Pioneer Leagues on Monday with the Appalachian League opening tomorrow. (Not included below, but the complex-level Arizona and Gulf Coast Leagues don't begin until Saturday and Monday, respectively.) In each of these circuits, there will be 2016 draftees making their 2017 debut. Below are a few notable names hoping to beef up their resumes at short-season circuits this year:
Tigers RHP Matt Manning, Class A Short Season Connecticut -- The Tigers took Manning with the ninth overall pick last June for his athleticism and size at 6-foot-6 and used a $3,505,800 signing bonus to talk him out of a basketball scholarship to Loyola Marymount. By his own admission, Manning hadn't been a serious pitcher until the summer before his junior year, and perhaps that relative inexperience is the reason why the Tigers kept him back at extended spring training to begin this season. When he is on the mound, the 19-year-old right-hander has two plus pitches in his fastball and curveball -- offerings that should be able to carve up low-level bats. Manning wasn't left behind for his ability, and don't be surprised if he thrives over a shorter season. He's off to great start, fanning nine over 4 1/3 innings in his season debut last night.
Cardinals SS Delvin Perez, shortstop, Rookie-level Johnson City -- The Puerto Rico native dropped to the Cardinals at No. 23 following reports that he had tested positive for a performance-enhancing drug before the Draft. He lived up to his talent, however, by hitting .294 with four triples, eight doubles and 12 steals in 43 games in the Gulf Coast League, showing off impressive speed and defensive skills at short. Perez only turned 18 in November, though, and after keeping him in the Class A Peoria discussion for the spring, St. Louis decided against getting aggressive. The Appy League represents a much better opportunity for Perez to thrive right away, and the Cards likely want as much good news as possible for the teenager to wipe any of those pre-Draft doubts.
Red Sox LHP Jay Groome, Class A Short Season Lowell -- This assignment might not last long. The 2016 12th overall pick technically made his season debut with Class A Greenville on April 10, but that outing was disastrous both for the results (nine earned runs on seven hits and three walks in 1 1/3 innings) and the fact that it was cut short by a lat injury that's kept the 18-year-old left-hander sidelined. Groome, who is technically in the New York-Penn League on a rehab assignment, was the Opening Night starter for Lowell on Monday but saw that outing end prematurely after 2 1/3 frames due to rain. When healthy, Groome can reach the mid-90s with his fastball, and his curve has the chance to be one of the best in the Minors when featured regularly. The Red Sox will want to get back with their original plan of testing Groome against full-season Class A bats before long, but he might require a longer look with the Spinners to get one full outing before making the jump back.
Indians 3B Nolan Jones/OF Will Benson, Class A Short Season Mahoning Valley -- The Scrappers lineup has a chance to be one of the most feared in the NYPL with 2016 first-rounder Benson and second-rounder Jones. Despite their pick placement, Jones is actually the higher-ranked prospect (No. 6 vs. 7 in the Indians' system) but fell in the 2016 Draft due to worries about signability. Both have their reasons for being in short-season ball, though. Jones has a chance to be a plus hitter but is coming from a cold-weather environment near Philadelphia, and the Tribe doesn't want him taking on too much too quickly. Benson has plenty of size at 6-foot-5, 225 pounds and can show plenty of pop but is much more raw. He struck out in 32.6 percent of his plate appearances in the Arizona League last summer and has fanned in six of his eight plate appearances so far with the Scrappers. The defending American League champions don't need to push their top young talent too hard right now, and by starting them in short-season, this is the best opportunity for them to grow and succeed.
Rangers LHP Cole Ragans, Class A Short Season Spokane -- There are a lot of reasons to be hopeful for last year's 30th overall pick: He's projectable at 6-foot-4, he throws from the left side and all three of his pitches were given above-average 55 grades from MLB.com this past offseason. Unfortunately, he's still relatively inexperienced, having thrown only 7 2/3 innings last season in the Arizona League. That shows up the most in his control issues, and those reared their ugly head in his 2017 debut last Friday when he walked six over four frames. The Rangers are being cautious with their No. 8 prospect and are treating this as a season in which he can find himself. They'll take the missteps so long as they are teachable moments, but don't be surprised if Ragans' arsenal results in a couple Northwest League gems as well.
Marlins OF Thomas Jones, Class A Short Season Spokane -- It hasn't been a fun time for Marlins fans to follow their recent early picks. Tyler Kolek, the second overall pick in 2014, still hasn't returned from the Tommy John surgery in April 2016, and 2016 seventh overall pick Braxton Garrett just underwent the same procedure this week. Maybe things will take a healthier turn with 2017 first-rounder Trevor Rogers, but for now, Miami supporters can turn their attention to Jones, a third-round pick last year out of a South Carolina high school. The 19-year-old center fielder has blazing speed that helps him on the basepaths, makes him a plus fielder on the grass and almost made him a college safety. The bat is the big question for now, and that's why he's in the NYPL. Jones is a bit of a project offensively, but he has lots to dream on, including his 6-foot-4 frame. If things go right with more playing time, he has the opportunity to surge up prospect rankings, and that opportunity starts this week.
Sam Dykstra is a reporter for MiLB.com. Follow and interact with him on Twitter, @SamDykstraMiLB.