Toolshed: 2017 Winter Meetings preview
Learn which clubs could benefit from deals, utilize Rule 5 spots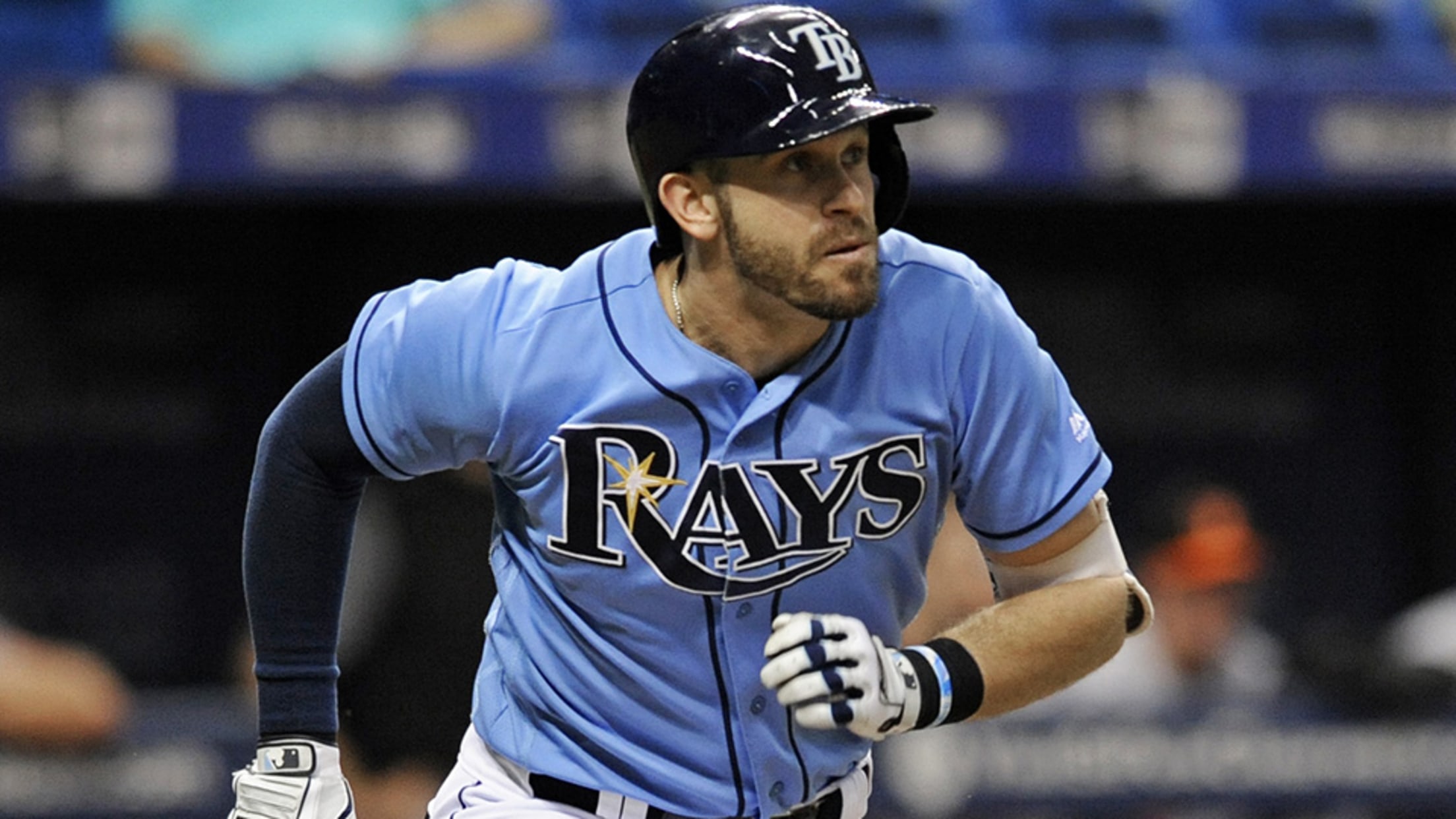 Owed at least $86 million over the next five seasons, Tampa Bay's Evan Longoria might be on the block. (Steve Nesius/AP)
The Major League Baseball offseason has moved at a snail's pace so far, unless you're a member of the Mariners organization. It could be about to kick into overdrive.The Baseball Winter Meetings will take place from Sunday through Thursday next week with most of affiliated baseball set to descend on
The Major League Baseball offseason has moved at a snail's pace so far, unless you're a member of the Mariners organization. It could be about to kick into overdrive.
The Baseball Winter Meetings will take place from Sunday through Thursday next week with most of affiliated baseball set to descend on Lake Buena Vista, Florida. With everybody in one place at the same time, that's the perfect environment to flip the switch on the Hot Stove. Trades and free-agent signings tend to happen fast and furiously, and at the very end, the Rule 5 Draft means a couple handfuls of previously blocked prospects will be given Major League opportunities in new organizations.
Here's a preview on all the storylines to follow for prospects and farm systems in the week to come:
Ohtani and Stanton deals loom large: There's a chance that the issues surrounding Japanese right-handed pitcher/outfielder Shohei Ohtani and Marlins outfielder/National League MVP Giancarlo Stanton get wrapped up before the Meetings adjourn.
Ohtani has already limited his search to seven teams and reportedly met with all seven earlier this week.
Stanton is down to the Giants and Cardinals, according to reports on offers Miami has already accepted, and is still in the deciding stage to see for whom he would waive his no-trade clause. At one point, according to Alex Pavlovic of NBC Sports Bay Area, the Giants belived there would be "a Stanton decision by the end of the week." That obviously doesn't guarantee that a deal will go down. In fact late Thursday, The Athletic's Ken Rosenthal reported that Stanton isn't inclined to join either San Francisco or St. Louis and is holding out for a more preferred option, like the Dodgers or Yankees. The two original clubs could very well still be in the running or improve their situation with other moves, but this is certainly looking less and less likely like something that could get done before everyone gathers in Orlando.
Even if it does happen over the weekend, the teams that do not end up with Stanton could move quickly on a Plan B on the trade or free-agent market in Florida. The same goes for Ohtani and his suitors. So...
Which big name gets traded other than Stanton?: This being a Minor League column, the focus won't be on which free agents could move quickly once the market opens up if/after the Marlins slugger is dealt. However, the trade market, of which Stanton remains firmly at the head, undoubtedly will affect the futures of multiple prospects. Nary one year ago, Yoán Moncada and Michael Kopech -- then ranked as the No. 1 and 67 overall prospects in the game -- were forced to change their Sox from Red to White as part of the Chris Sale deal. That's not guaranteed to happen, of course; Andrew McCutchen was one of the big names expected to be moved at last year's Meetings who ended up staying put.
The biggest non-Stanton name out there might be Pirates right-hander Gerrit Cole. The 27-year-old right-hander posted a 4.26 ERA with 196 strikeouts and 55 walks in 203 innings last season for the Bucs and has two years of arbitration left before he becomes a free agent. Though he's considered Pittsburgh's ace, the 2011 top overall pick is likely closer to a No. 2 or 3 starter on a more competitive team. Since he won't become a free agent until 2019, he could still command a heavy return, one that could push Pittsburgh closer to the top 10 of farm systems.
There are certainly bigger names in the mix. Jon Heyman of FanRag Sports reported Thursday that the Orioles "are getting calls" about All-Star third baseman Manny Machado, one year before he's set to hit free agency. Baltimore would have to be blown away with an offer for the guy who has been their franchise player, even if the team control is limited, making such a deal quite a longshot. But it is fun to think of an Orioles system, which is on the rise after big years from Austin Hays and Ryan Mountcastle among others, would look like after such a deal, even if the Major League product would be significantly rougher.
Other big names coming up on the rumor mill fairly consistently are White Sox first baseman Jose Abreu, Orioles closer Zach Britton, McCutchen and Phillies shortstop Freddy Galvis. Any deal for Abreu would be a clear sign the White Sox believe they're still a few years away from their rebuild bearing fruit while Galvis (who has been mentioned alongside second baseman César Hernández) would be a way for the Phillies to clear the infield for prospects J.P. Crawford and Scott Kingery.
Who could be this year's White Sox?: There are some names who went unmentioned in the above section. Last offseason, the White Sox stole headlines for the way they sold, rather than bought. In addition to the aforementioned Sale deal, the Pale Hose also moved outfielder Adam Eaton to the Nationals for Lucas Giolito, Reynaldo López and Dane Dunning. Chicago is now in the conversation for the top farm system in the game, clearly following the rebuild model set forth by its North Side brethren by making the farm as deep and talented as it can.
So which club could play that role in Florida next week? Perhaps it'll be the two organizations that already call the Sunshine State home.
The Marlins made it clear they'll be in full rebuild mode -- Stanton trade or not -- by dealing second baseman Dee Gordon to the Mariners on Thursday. A good part of that is because of the new ownership's desire to cut salary. Stanton has the biggest contract in the history of the game and will make $25 million next season. Gordon is due $10.5 million and owed at least $38 million through 2020 with a $14 million team option for 2021. The Fish could decide that's enough and cut their trade involvement after a Stanton trade, having dealt the players who ranked first and fifth on the team in WAR last season.
However if they want to go full rebuild, they also could put Marcell Ozuna and Christian Yelich on the block and get impressive packages back for each. Fresh off his first Silver Slugger season, Ozuna has two arbitration years left before he becomes a free agent. Yelich has even more years of control with a contract paying at least $44.5 million over the next four seasons with a $15-million club option for 2022. Either Ozuna, 27, or Yelich, 26, will bring back better returns than Gordon, 29, because they have more left in their prime years and were more valuable in the Majors in 2017. It'd also be a signal that the Marlins aren't just interested in dumping salary but are trying to acquire the right building blocks to be a contender down the line. In that case, Ozuna might make more sense to deal as Miami isn't likely to compete either of the next two years, whereas it's possible they could come back around while Yelich still would be under contract.
Heading northwest, the Tampa Bay Rays might be in line to make some big-time sales this December. The club hasn't made the playoffs the past four seasons, and without the ability to turn things around with big-money signings, it may decide to get as many internal assets as possible by trading some of their biggest names. That includes franchise star Evan Longoria, according to Marc Topkin of the Tampa Bay Times. The 32-year-old third baseman is coming off another solid year in which he was worth 3.6 WAR and won a Gold Glove, but he is also still owed at least $86 million over the next five seasons.
It's also heavily rumored that Chris Archer or Jake Odorizzi will be moved elsewhere after being solid members of the Tampa Bay rotation. Odorizzi has two more arbitration years left while Archer is signed through at least 2019 with team options for 2020 and 2021. Archer has been the more dominant pitcher and could return a splashier package -- though he was roughly league-average in 2017 -- but the Rays may prefer to deal Odorizzi in the hopes they could contend before Archer's deal would be up. Closer Alex Colome is also believed to be on the trading block after leading the Majors with 47 saves in 2017 while posting a 3.24 ERA over 66 2/3 innings. He is just about to start arbitration and would be under team control for three more years.
The club certainly has some good talent already knocking on the door in Brent Honeywell Jr., Willy Adames and Jake Bauers and with Brendan McKay a potential quick mover, this doesn't necessarily have to be as slow a rebuild as has been seen elsewhere. But making just one of these moves involving their franchise cornerstones next week in Orlando could be indicative of the Rays' plans going forward.
Plus there's no way the Mariners could steal the show by doing even more wheeling and dealing next week, right?
Right?
Rule 5 Draft shakeout: The Rule 5 Draft may be the scheduled highlight involving prospects at every Winter Meetings. This year's version will take place next Thursday, and the Toolshed will have a more in-depth preview Wednesday. Until then, the roster moves that come beforehand could have a big effect on who has the room on the 40-man roster to even make a Rule 5 selection.
As of Thursday night, the Indians, Dodgers, Yankees, Athletics, Phillies and Padres do not have extra room on their 40-man rosters and would be ineligible to make a Rule 5 selection.
Some of those are no surprises. The Dodgers, Yankees and Indians expect to be contenders in 2018 and aren't likely to keep a 25-man roster spots open and cozy for a borderline player all season. The Padres are much more interesting in this regard. San Diego made headlines at last year's Rule 5 Draft by picking up Miguel Diaz, Luis Torrens and Allen Córdoba, the first two of whom came through trades. A year later, all three are still in the organization. After going to those lengths, the Padres, who aren't expected to contend again in 2018, would figure to give the Rule 5 route a try again in Lake Buena Vista. Alas, it'll take some pre-Draft roster finagling to make that happen this time around.
As for the other end of the spectrum, these are the clubs with some of the most open 40-man roster spots as of Thursday night: Orioles (six), Cubs (five), Mariners (four), White Sox (four), Twins (four) and Rangers (four).
Of that group, the Orioles and White Sox seem most likely to dip their toes in Rule 5 waters. The O's are always active players in the Rule 5 Draft, taking Aneury Tavárez (who was later returned to the Red Sox) and Anthony Santander in last year's version. In fact, the last time Baltimore did not make a Rule 5 pick was all the way back in 2005, though some of the picks in between were traded shortly after to other clubs. The White Sox are continuing to rebuild and should be willing to take a low-risk shot as they did in 2017 with right-hander Dylan Covey, who survived the whole season in the Majors.
The Cubs and Mariners might seem like they're saving space for more Major League-ready options, and that space could certainly close in the next week. Chicago's 40-man openings dropped by one with the signing of right-hander Tyler Chatwood, Seattle did the same with Gordon, and of course, the potential for Ohtani looms large for both organizations. But it's not out of the blue to see a contender take a crack at a player in the Rule 5 Draft. The Indians, just a few months removed from falling one win shy of a World Series title, took left-hander Hoby Milner in last year's edition, only to return him back to the Phillies on March 24.
Sam Dykstra is a reporter for MiLB.com. Follow and interact with him on Twitter, @SamDykstraMiLB.