Toolshed: April numbers of note
Alonso mashed in first month; Guerrero went beyond years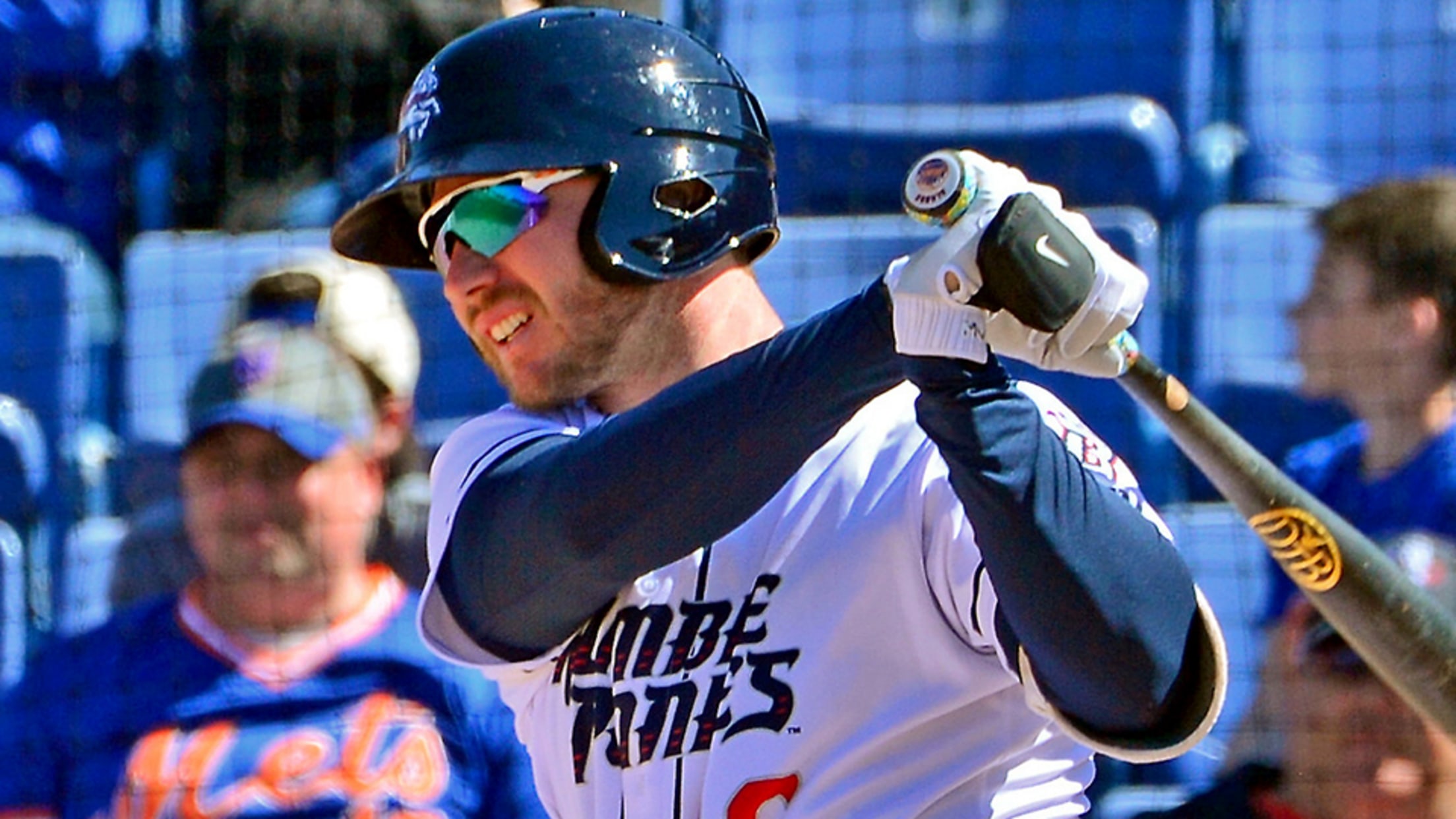 Peter Alonso hit seven home runs over 21 games with Double-A Binghamton last month. (Rick Nelson/MiLB.com)
Around the end of each month of the Minor League season, Toolshed will explore the most eye-popping statistics from the previous month. This edition looks back at some of the best numbers from the first month of the 2018 season. 0.45: Bryse Wilson, ERA -- Sixteen qualified Minor Leaguers had
Around the end of each month of the Minor League season, Toolshed will explore the most eye-popping statistics from the previous month. This edition looks back at some of the best numbers from the first month of the 2018 season.
0.45: Bryse Wilson, ERA -- Sixteen qualified Minor Leaguers had an ERA below 1.00 in April. Six had one lower than 0.50. None of that latter group has the prospect status of Wilson, who checks in as the Braves' No. 13 prospect. Taken in the fourth round of the 2016 Draft, Wilson enjoyed an impressive first full season, posting a 2.50 ERA with 139 strikeouts in 137 innings at Class A Rome, and has had no issue carrying that over to Class A Advanced Florida. He did give up four runs on April 21, but only one of those were earned. With a mid-90s fastball, a solid slider and an improving changeup, the 20-year-old right-hander is doing all he can to stand out in an Atlanta system already loaded with arms.
0.74: Jalen Beeks, FIP -- It's rare that a pitcher with a 1.37 ERA posts a FIP lower than that, but Boston's No. 15 prospect ticked all the right boxes in his return to Triple-A Pawtucket. Beeks struck out 37 batters in 19 2/3 innings, walked only six in that span and did not allow a home run. He fanned at least eight batters in each of his four starts and led the International League in strikeouts, despite being the only one in the top 10 without 20 innings pitched. The 24-year-old has been particularly tough against fellow lefties, who are just 2-for-21 (.095) with 14 strikeouts and one walk when facing him. Beeks ranked second in the Red Sox system with 155 whiffs in 2017 and was rewarded with a spot on the 40-man roster. If he keeps this up, he'll earn another roster boost in the months to come.
1.175: Juan Soto, OPS -- The Nationals saw their No. 2 prospect hit plenty at Class A Hagerstown last season, but only over 23 games because of ankle, hamstring and hamate bone injuries. They sent him back to the Suns to begin 2018, but he forced a promotion after 16 games. The 19-year-old slugger hit .341/.457/.718 with six homers, three triples and six doubles in 22 games between Hagerstown and Class A Advanced Potomac in the opening month. The six homers are already a career high, and if Soto can continue to add power to an already exciting hit tool, he could challenge the injured Victor Robles for the top prospect spot in the Washington system.
14: Myles Straw, stolen bases -- Straw might be the fastest man in the Houston system, and he's showing off that 70-grade speed early on for Double-A Corpus Christi. His 14 steals in April put him in a tie with Wilmington's Rudy Martin for the Minor League lead. The Astros always knew Straw could swipe a bag -- he's stolen at least 20 bases in each of his previous three Minor League seasons -- but they were hoping to see him get the ball in the air more and show a little more power. With only five of his 30 hits going for extra bases, that hasn't happened yet, but the organization isn't likely to complain about his .361 average and .461 OBP through 23 games in April. The more Straw can get on base, the more he can take advantage of his speed. So far, so good there.
19: Vladimir Guerrero Jr., age -- There are many ways to be wowed by Guerrero's first month with Double-A New Hampshire. He ranked third in the Eastern League with a .380 average, third with a .442 OBP, fifth with a .582 slugging percentage and second with a 1.024 OPS. His eight doubles were tied for the most in the circuit, and he was one of the 16 qualified Double-A hitters (out of a possible 222) with a BB/K ratio at or above 1.00. (He's walked and struck out 10 times.) The number that makes all the others border on the absurd, though, is his age. Guerrero is doing all of this as the youngest regular in Double-A, having just turned 19 on March 16. Any older age, and folks might be seriously wondering what he's still doing in the Eastern League. Some are probably wondering already. If Double-A pitchers can't find any holes in his swing and Guerrero's May goes nearly as well as his April, then it'll be time to start thinking about a move to Buffalo or even higher.
20: Austin Allen, extra-base hits -- Before the season started, one could have made a number of good guesses as to who would lead the Minors in extra-base hits after the first month. The Padres' No. 28 prospect wouldn't have been among them, but he's proven that he should have been at the top of the list. Allen hit eight homers and 12 doubles over 23 games for Double-A San Antonio to lead the category after April. But the performance didn't exactly come out of nowhere. The 24-year-old backstop has shown pop in the past. He had 54 extra-base hits (22 homers, one triple, 31 doubles) with Class A Advanced Lake Elsinore last season and posted a .617 slugging percentage in his three seasons at the Florida Institute of Technology. But those numbers come with caveats (California League, Division II ball). Producing a .773 slugging percentage and 1.195 OPS over the first 23 games at the Minors' second-highest level are big ways to grow a profile, and it'll be interesting to see how long Allen can ride this power surge.
37: Jesus Luzardo, strikeouts -- The A's No. 2 prospect rewarded not one, but two aggressive assignments with 37 strikeouts in 24 2/3 innings between Class A Advanced Stockton and Double-A Midland. Oakland chose to skip the 20-year-old left-hander over Class A completely in his first fully healthy season after Tommy John surgery in 2016, and the move has paid big dividends -- he earned a promotion on April 24. Luzardo has two plus pitches in his fastball and changeup and is on the cusp of adding another in his curveball. When that mix is put together with plus control, it's exciting to think what the southpaw's strikeout total will be by the end of the season -- or even where he might be at that time.
50.0: Zac Lowther, strikeout percentage -- There are any number of ways to slice and dice the No. 17 Orioles prospect's dominant April, like his 1.23 ERA, his 0.55 WHIP or his .120 average-against. But nothing feels quite as jarring as the fact that he's fanned exactly half of the South Atlantic League batters he faced with Class A Delmarva -- 39 of 78, to be exact. The former Xavier left-hander doesn't possess any one plus pitch, per se, but he certainly gets the most out of his delivery that involves a lot of deception and extension. As a 22-year-old pitching in his first full season out of college, the 2017 74th overall pick isn't likely long for the Class A level. Best to take in the eye-popping numbers while everyone still can.
264: Peter Alonso, wRC+ -- With all that's been written here about offensive players, if April belonged to one Minor League hitter, it belonged to the Mets' No. 4 prospect. Alonso was the only qualified Minor Leaguer with an OBP above .500 -- he had a .505 mark over 21 games for Double-A Binghamton. His .408 average ranked fifth among the same set while his .776 slugging percentage and 1.282 OPS each placed second. All of that came in a) a fairly even league for hitters and b) mostly in cold weather. It shouldn't be a surprise that Alonso placed first in a category meant to strip away environmental factors (climate aside). A .436 BABIP certainly inflates the wRC+ some -- not that anyone expected Alonso to hold that number down for 140-plus games -- but he isn't making weak contact. In fact, he's put up a .368 isolated slugging percentage, eighth in the Minors in April. The Mets already faced a tough decision at first base with Adrián González in the Majors and Dominic Smith continuing to wait in the wings. Alonso's bat may just push him to the front of the line in Flushing before long.
Sam Dykstra is a reporter for MiLB.com. Follow and interact with him on Twitter, @SamDykstraMiLB.