Toolshed: April's prospect numbers of note
Arroyo's wRC+, Turley's strikeout rate stand out in first month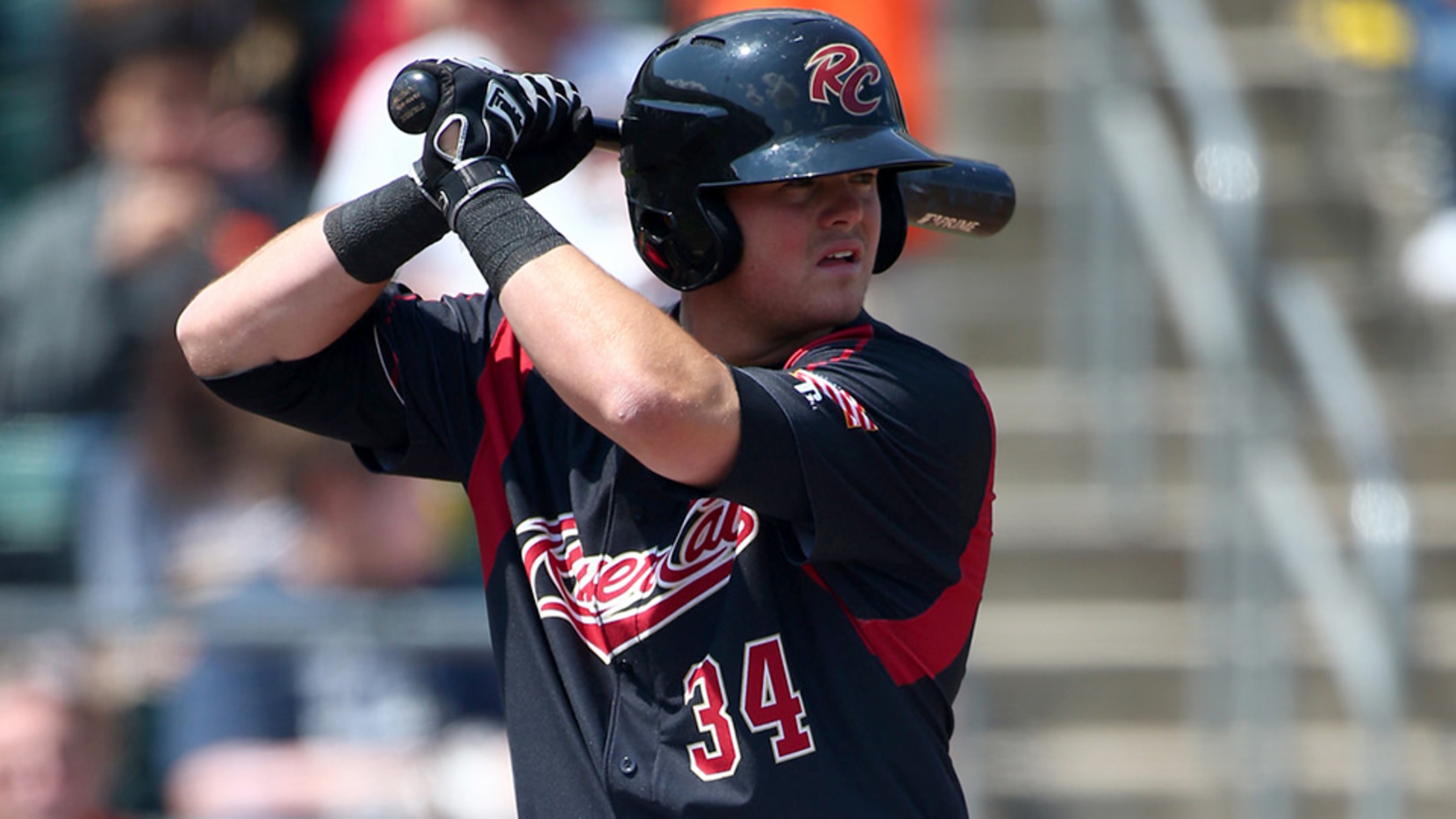 Christian Arroyo went 29-for-65 (.446) with Sacramento before getting the call to the Majors. (Ralph Thompson/Sacramento River Cats)
The first Toolshed of each month during the Minor League season will explore the most eye-popping statistics from the previous month. This edition explores noteworthy numbers from Opening Day on April 6 through Sunday, April 30.0.40, Sam McWilliams, Class A Kane County, WHIP: The last time McWilliams made major news
The first Toolshed of each month during the Minor League season will explore the most eye-popping statistics from the previous month. This edition explores noteworthy numbers from Opening Day on April 6 through Sunday, April 30.
0.40, Sam McWilliams, Class A Kane County, WHIP: The last time McWilliams made major news was when he was dealt straight up for big league starter Jeremy Hellickson in November 2015. Now in his second season in the Arizona system, the right-hander is doing his best to be more memorable with a dominant first month in which he allowed only seven hits, one walk and one earned run over 20 frames. No other qualified pitcher in the Minors posted a WHIP below 0.52 in April, making McWilliams a major outlier. He'll be 21 for the duration of the 2017 season, so he's not too old for Class A, and if he can maintain this momentum, he could propel in a D-backs system that can use the arms.
.481, Franklin Barreto, Triple-A Nashville, BABIP: The A's top prospect got off to a tremendous start with Nashville, hitting .341/.396/.553 with four homers, two triples and two doubles in 22 games. Any organization would be thrilled to see that from a 21-year-old in Triple-A. When it comes to Barreto's average, however, there might be a bit of a reckoning coming as the calendar flips to May. The middle infielder hit .481 on the balls he put into play, tops among Pacific Coast League hitters. He has a tendency to put up relatively high BABIPs with a career mark of .355, but this is especially out of the ordinary. The reason his average wasn't even higher was that he struck out in 32 percent of his plate appearances. There's a chance he could see things balance out if he improves his contact rate as his BABIP normalizes, but this stat is worth knowing if Barreto's average falls in the coming weeks.
.532, Jake Thomas, Class A Lansing, on-base percentage: Thomas was a 25th-round pick out of SUNY Binghamton in 2015 and didn't exactly stand out with a .244/.325/.315 line in 57 games for Lansing last season. The Blue Jays prospect made sure that hasn't been the case to begin 2017. He was the only Minor Leaguer to post an OBP above .500 in April, thanks to 20 walks in 62 plate appearances. None of the other three Minor Leaguers to accrue 20 free passes did so in fewer than 94 plate appearances in April. Thomas showed a good approach with a .393 OBP in 194 plate appearances in the Gulf Coast League in his first season but saw that number fall to .325 last season, when he had only 24 walks in 241 times up to the plate. At 23, it looks like he may have figured out Class A arms and might need to be challenged by a move to Class A Advanced, even if he has to walk there.
.860, Jamie Romak, Triple-A El Paso, slugging percentage: There are any number of stats one could pull to show Romak's dominance in April. He hit 11 home runs when no one else in the Minors hit more than eight. His 1.274 OPS and 19 extra-base hits were tops among all Minor Leaguers in April. But to really see how he lapped the field, consider slugging percentage, where he was not just the only MiLB slugger to crack .800 in the category, he was one of two to crack .700. Reno's Oswaldo Arcía was his runner-up at .712. That's a 21 percent jump from second place to first place in all of the Minor Leagues. In some ways, Romak is the foil to the Eric Thames story in that he went overseas (to Japan), hit just .113/.247/.127 in 31 games and came back stateside to find great success after signing with the Padres as a Minor League free agent. The PCL might have something to do with his inflated numbers, but even then, nobody else in the circuit or at any level in the Minors enjoyed the powerful April Romak did.
5.30, Jordan Guerrero, Double-A Birmingham, ERA minus FIP: Guerrero makes for a prime example of how ERA can distort our view of a player over a small sample. Using the standard parts of FIP (fielding independent pitching), the 22-year-old White Sox left-hander was actually quite good in the season's first month as he struck out 33, walked seven and allowed one home run over 25 2/3 innings. His 1.76 FIP ranks fifth among the 42 qualified Southern League pitchers, just behind the man behind the perfect game Tyler Mahle at 1.47. The problem was his opponents' BABIP was a league-high .444 -- a significant jump from the .302 against Guerrero last season. Combine that with the fact that only 51.8 percent of Guerrero's baserunners get left on base, and the result was a league-worst 7.01 ERA. The truth of Guerrero's effectiveness likely lies somewhere in the middle. The BABIP and LOB percentage will normalize over a larger sample, causing the ERA to go down, but it's possible he's been hittable over the zone. We won't know until he gets more starts in May.
45, Luis Escobar, Class A West Virginia, strikeouts: This column features many rate stats, but it's OK to be in awe of the raw data as well. The Pirates' No. 14 prospect has positioned himself as the next big arm in the Pittsburgh system, leading the Minors with 45 punchouts over 27 1/3 innings in his first month of Class A ball. That averages out to 14.8 K/9, a significant jump from the 8.1 K/9 he posted at Class A Short Season West Virginia last season. The 20-year-old right-hander has solid stuff with his fastball-curve-changeup mix -- especially the heater, which can sit in the mid-90's -- but he needed to find the strike zone more regularly to find big-time success. With a 3.29 ERA in April, there are plenty of reasons to believe that Escobar will make a big rankings jump, if he can even come close to missing bats at this rate in the months to come.
50, Nik Turley, Double-A Chattanooga, strikeout percentage: A 27-year-old left-hander who spent the second half of 2016 in the independent Atlantic League didn't look like more than an organizational arm when the Twins signed him in October. Then, he struck out 18 batters in 8 1/3 innings during his first two appearances out of the bullpen. Then, he tossed five hitless innings in his first start of the season on April 19. Then, he tied a Southern League record with 14 punchouts in seven frames on April 25. Now, he's with Triple-A Rochester. In all, the 6-foot-4 hurler struck out 36 of the 72 batters he faced with the Lookouts. (Some context: Chris Sale leads the Majors with a 37.5 percent strikeout rate. Even Aroldis Chapman has fanned only 40.5 percent of the batters he's faced.) Turley also sported a 0.44 ERA, 0.54 WHIP and .078 average-against. Never mind his backstory as a 50th-round pick now in his fourth organization. This is what pure dominance looks like on the mound.
216, Christian Arroyo, Triple-A Sacramento, wRC+: For the unitiated, wRC+ takes a hitter's performance and attempts to boil it down to a single statistic that is influenced by park and league factors. The scale is set so that 100 is exactly average. Using that measure, the Giants' No. 2 prospect was 116 percent better than the average Pacific Coast League batter in April. That shouldn't come as a surprise with his .446/.478/.692 line, three homers and seven doubles in 16 games for Sacramento, but given the friendly hitting environs of the PCL, wRC+ does a good job of putting even that type of dominance into a better context. Purely on the merits of performance, it's no wonder that the Giants brought up the 21-year-old infielder on April 24, and it shouldn't be a surprise either that he's held his own in the Majors, going 10-for-36 (.278) with two homers in nine games.
Sam Dykstra is a reporter for MiLB.com. Follow and interact with him on Twitter, @SamDykstraMiLB.