Toolshed: Early favorites for MiLBY Awards
Blue Jays' Bichette, Phillies' Kingery among 2017 standouts so far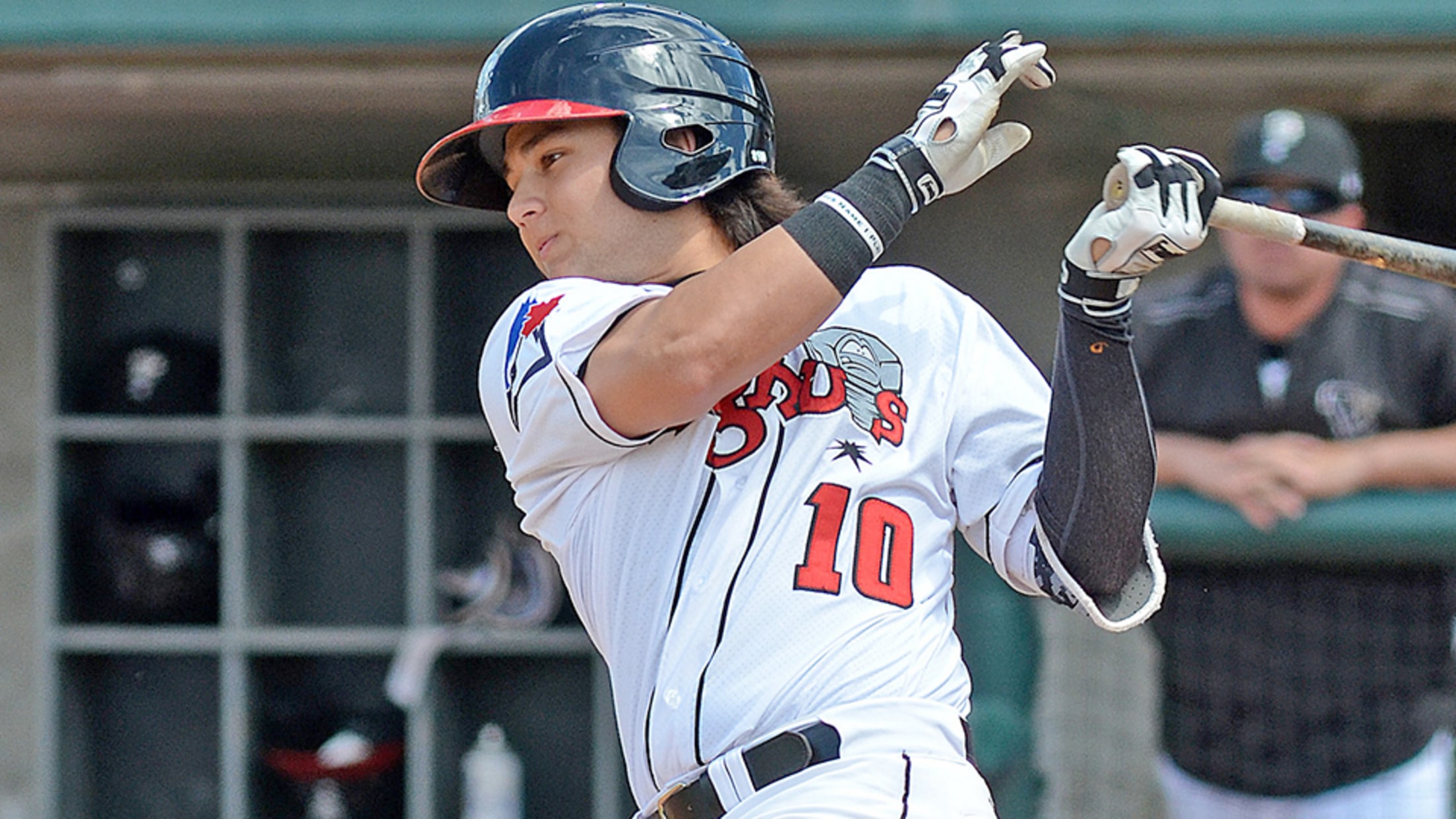 Bo Bichette (1.059) is one of only six full-season Minor Leaguers with an OPS above 1.000 this season. (Paul R. Gierhart/MiLB.com)
Brent Honeywell Jr. was named Futures Game MVP on Sunday, Aaron Judge took home the Major League Home Run Derby title on Monday and Robinson Canó was given the All-Star Game MVP on Tuesday. Triple-A and the Eastern League handed out belts to their Derby champs last night, and top
Brent Honeywell Jr. was named Futures Game MVP on Sunday, Aaron Judge took home the Major League Home Run Derby title on Monday and Robinson Canó was given the All-Star Game MVP on Tuesday. Triple-A and the Eastern League handed out belts to their Derby champs last night, and top performers will be crowned in those All-Star Games later this evening.
It's about as close to awards season as we get around here in July, making it a good time for Toolshed to make its picks for 2017 MiLBY front-runners. These are by no means official, but some of the best performers yet are clearly a cut above in their categories and would be easy picks if MiLB.com were handing out its hardware today.
Top Offensive Player: Blue Jays SS Bo Bichette, Class A Lansing/Class A Advanced Dunedin -- Here's a no-brainer. The Blue Jays' No. 5 prospect leads full-season Minor Leaguers with a .378 average, .444 OBP and a 196 wRC+ and ranks among the top five in doubles (32, second), OPS (1.059, third), slugging percentage (.615, sixth) and extra-base hits (45, seventh) -- all at the age of 19. Simply stated, resumes don't get much more impressive than this. It's a bit of a shame that he won't be able to go for just about every Midwest League hitting record at the end of the season, having been promoted to the Florida State League after Sunday's Futures Game. Though he likely wouldn't have challenged Deacon Jones' .409 average for Dubuque in 1956, he could've certainly flirted with Ben Revere's .375 from 2008 for the highest mark in the circuit over the last six decades. But the way Bichette was dominating, it was clear he needed a new challenge. If he can even come close to matching his Class A numbers at Class A Advanced, expect him to be a runaway MiLBY pick this fall.
Top Starting Pitcher: Brewers RHP Corbin Burnes, Class A Advanced Carolina/Double-A Biloxi -- This one was pretty easy as well. Burnes ranks first among all full-season pitchers with a 1.06 ERA and 2.25 FIP, second with a 0.83 WHIP and sixth with a .178 average-against. (By the way, he's the only hurler in the top 10 in any of those categories to crack triple-digit innings at 102 1/3.) He's racked up his share of strikeouts with a 26.1 percent K rate and has shown an impressive ability to keep the ball in the zone (5.8 percent walk rate) and in the yard (only one home run allowed against 380 batters faced). A fourth-round pick last year, the Brewers' No. 20 prospect has taken off in his first full season, and with a near equal ERA between Carolina (1.05 in 60 innings) and Biloxi (1.06 in 45 2/3 innings), he's putting himself on the fast track to Milwaukee. But first, he'll have an excellent chance to pick up a MiLBY.
Top Relief Pitcher: Royals LHP Richard Lovelady, Class A Advanced Wilmington/Double-A Northwest Arkansas -- Lovelady ticks all the right boxes when it comes to dominant relievers: a low ERA at 0.92; a low FIP at 1.35 (second among Minor Leaguers with at least 30 innings); a low WHIP at 0.62 (also second lowest); lots of strikeouts (50 in 39 1/3 innings); few free passes (four walks in the same span); and no home runs. He even has impressive reverse splits, holding right-handers to a .133 average compared to his fellow left-handers, who hit .191 against him. He hasn't been a small-use pitcher out of the 'pen, either. Fourteen of his 24 appearances have lasted longer than an inning. Relief prospects often fly under the radar, but the 2016 10th-rounder is putting up numbers that are forcing us to pay attention.
Breakout Prospect: Phillies 2B Scott Kingery, Double-A Reading/Triple-A Lehigh Valley -- Entering the season, the Phillies' No. 11 prospect was considered a decent hitter with little power but with impressive speed and a good glove at second base. Time for an update. The 23-year-old has added power to his game in a big way and ranks second in the Minors with 22 homers in 81 games after hitting just eight over 197 games in his first two Minor League seasons. This isn't just a product of Reading's homer-friendly environment, either. His road splits (eight homers, .979 OPS) were nearly as impressive as those at home (10 homers, .995 OPS) before his promotion to Triple-A, where he's been impressive again with a .306/321/.592 line and four homers in 12 games. He still has his speed with 23 steals in 2017, making him the Minors' only 20-20 player. The 23-year-old now has few deficiencies in his game, has impressed at the highest levels and should make a big jump into MLB.com's top 100 prospect list when it's updated this summer.
Top Farm System: Philadelphia Phillies -- This is "top farm system," not "best farm system," which is an important distinction with the MiLBYs because this category combines prospect and team performance. It so happens that the Phillies combine the best of both worlds here. Phils affiliates rank third with a collective .559 winning percentage this year as all four full-season clubs are above the .500 mark. We've already mentioned Kingery, but the rest of the Lehigh Valley lineup continues to be a killer thanks to sluggers Rhys Hoskins, Dylan Cozens and Nick Williams -- even J.P. Crawford is showing big improvements with four homers in 10 games this month. Philadelphia also has a big strength in its lower-level pitching with Sixto Sanchez, Ranger Suárez, JoJo Romero, Adonis Medina and Nick Fanti having formed a formidable Class A Lakewood rotation. (Suarez and Romero are now with Class A Advanced Clearwater.) A case could be made for the Yankees and their Minors-best .597 winning percentage, but season-ending injuries to Gleyber Torres, James Kaprielian and Dustin Fowler tipped the scales.
Best Team: Trenton Thunder -- Only one team in the Minor Leagues has reached 60 wins this season, and it's the Yankees' Double-A affiliate. At 60-28, the Thunder own the second-best winning percentage in the Minors behind West Michigan (58-27). (Both are at .682, but Trenton is percentage points behind its Class A counterpart.) But we're not only paying attention to team performance here. Trenton has also boasted some of the best individual performances in a stacked Yankees system this season. In fact, prospects like Torres, Chance Adams and Miguel Andújar were moved up rather quickly following their dominance in the Eastern League. Trenton's cupboard is still full, though, with Justus Sheffield (though he's currently injured), Jorge Mateo, Domingo Acevedo and Zack Littell on the roster.
Sam Dykstra is a reporter for MiLB.com. Follow and interact with him on Twitter, @SamDykstraMiLB.