Toolshed: Fantasy prospect sleeper picks
Mariners' Haniger, Mets' Gsellman among solid options available late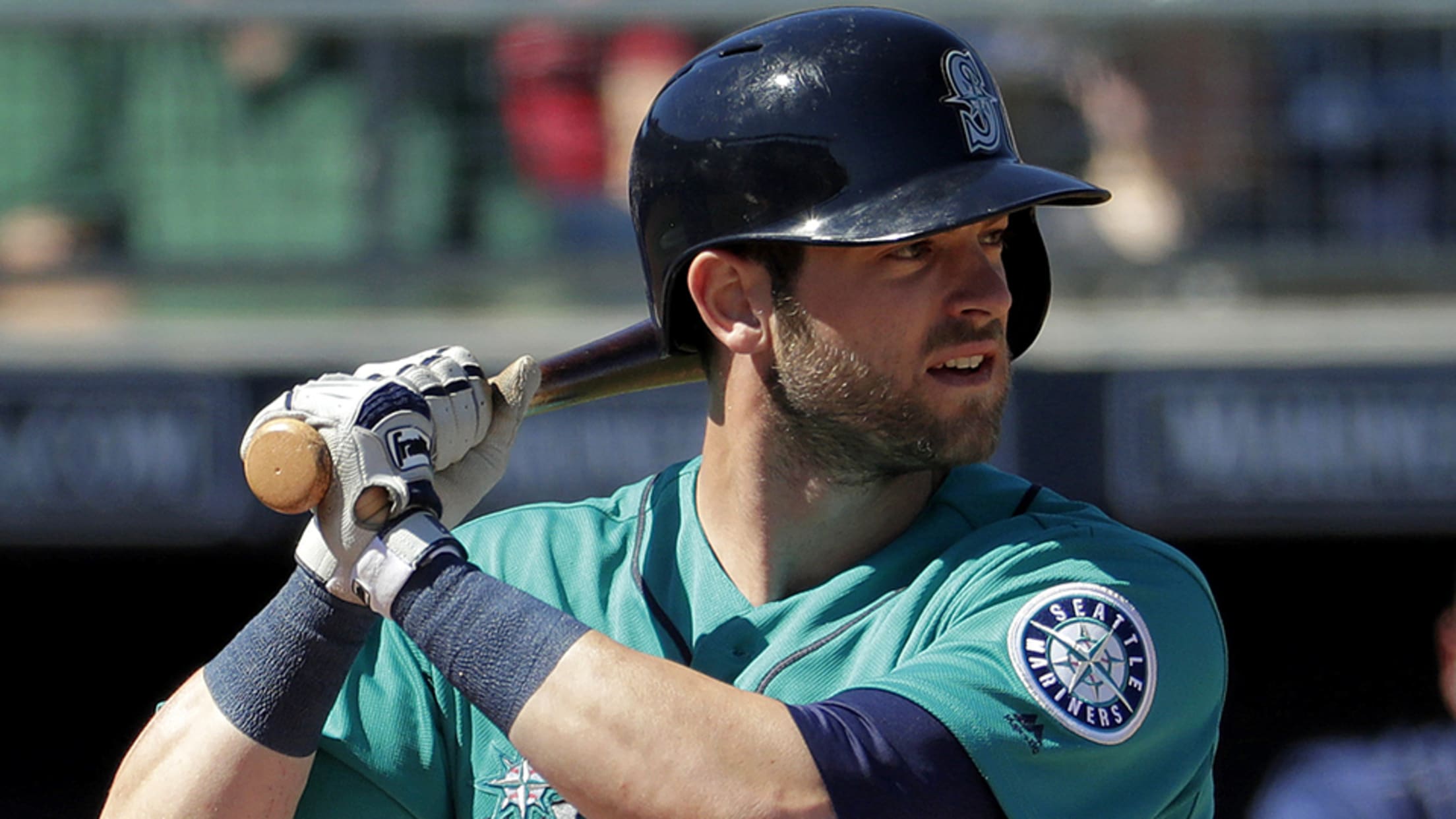 Acquired from the D-backs this offseason, Mitch Haniger is penciled in as the Mariners' Opening Day right fielder. (Matt York/AP)
As anyone who's ever played fantasy baseball can report, it's not always the decisions in the first few rounds that make the difference between a title and sitting out the September playoffs. Rather it's those late-round selections -- where the gulf in production can be widest among players -- that
As anyone who's ever played fantasy baseball can report, it's not always the decisions in the first few rounds that make the difference between a title and sitting out the September playoffs. Rather it's those late-round selections -- where the gulf in production can be widest among players -- that often hold sway.
Given this is a prospect-related column, we'll steer clear of the debate on whether Kris Bryant, Nolan Arenado or Manny Machado should be first to come off the board at third base. And since the premise of this piece is based on sleepers, we won't weigh in on the value of No. 1 overall prospect Andrew Benintendi versus No. 4 Dansby Swanson Given they're early candidates for AL and NL Rookie of the Year, they're on everyone's radar anyway.
Instead, the focus here is on prospects not ranked among MLB.com's top 100 but have a solid chance at being fantasy assets. Last year, we featured Rockies shortstop Trevor Story in this space, and now he enters 2017 at No. 39 overall in MLB.com's preseason fantasy rankings. The rest of our list is hit-and-miss, but that's the gamble when it comes to sleepers. Who could be this upcoming season's version of Story? Here are five names to know.
Mitch Haniger, OF, Mariners No. 4 prospect: Acquired from the D-backs by the offseason's busiest team back in November, Haniger is expected to enter his first season with Seattle as its Opening Day right fielder. So right at the outset, we know he'll get regular at-bats. Even better is the fact that the 26-year-old will be building on a breakout 2016 in which he led all full-season Minor Leaguers with a .999 OPS, ranked third with a .581 slugging percentage and finished fifth with a .419 OBP. For good measure, he added 64 extra-base hits (including 25 homers) and 12 steals over 129 games between Double-A Mobile and Triple-A Reno. He performed even better with a .341/.428/.670 line with 20 homers in 74 games at the higher level, and even though those numbers came in the hitter-friendly Pacific Coast League, his WRC+ (which takes specific league factors into account) was still higher there at 185 vs. 156. The numbers didn't quite translate in the Majors with a .229/.309/.404 line, five homers and an 81 wRC+ in 34 games for the D-backs, but that didn't deter the playoff-chasing Mariners from making big plans for him in 2017.
If Haniger's breakout was real, he should be a good value as a third or fourth outfielder in mixed leagues, especially in OBP leagues. The tool to watch will be his power -- Haniger's 30 homers across all levels trumped his previous career high of 13. With a ceiling of around 20 homers in the Majors and an OBP in the mid-.300s, there could be good value for Haniger in the very late rounds, should you need outfield help.
Robert Gsellman, SP, Mets No. 5 prospect: Gsellman currently isn't sure to play a significant role in the Majors this season, but signs point to that being the case. Following a late-August promotion to the Mets, the 23-year-old right-hander posted a 2.42 ERA with 42 strikeouts and 15 walks over 44 2/3 innings down the stretch. Those would've all been great for fantasy playoffs and were backed by the fact that Gsellman saw a jump in velocity with his fastball averaging 93.7 mph in the Majors. That last figure doesn't matter much unless you're in some sort of Statcast league, but Gsellman's improvement in terms of his stuff (which also includes a slider that was equally effective at the highest level) makes the package all the more intriguing.
Of course, all this comes with the caveats of a relatively small sample, and with Gsellman posting a 3.99 ERA in the Minors prior to his promotion, there are reasons to doubt that he can repeat his late-season MLB performance. However, he does play in a system known for turning pitching prospects into refined Major League products, thanks to the help of pitching coach and master of the slider Dan Warthen. For what it's worth, Gsellman has looked good this spring with a 1.56 ERA in 17 1/3 innings, though his strikeouts are down with nine over that span. The reason these spring numbers might be important is that they could give Gsellman the edge for the fifth spot in the Mets' rotation over Seth Lugo, who was solid for Puerto Rico in the World Baseball Classic but hasn't been around Mets camp long enough to be fully evaluated. For now, don't buy too high on Gsellman based on his big league numbers alone, but with him being No. 303 on MLB.com's fantasy ranks, he very well could be around late in your draft, and with the way he's growing, this might be the last time we talk about him being available that low for a while.
Koda Glover, RP, Nationals No. 7 prospect: This was already covered extensively in last week's dispatch from West Palm Beach, but here's a quick refresher. The last piece of the Nationals' puzzle as a contender appears to be finding a reliable closer, and after not being able to add one this offseason, Washington has turned internally. Related, the Nats believe Glover has the stuff (plus-plus fastball, plus slider) and the makeup to finish games in the Majors someday. Is that day now? If it is, he'll have to beat out veterans like Shawn Kelley for the gig. It'll also mean that the Nats overlooked Glover's 5.03 ERA in 19 2/3 Major League innings last year, though all involved have acknowledged that a torn hip labrum played a part in the right-hander's late-season struggles.
To be clear, Glover is probably only worth considering if you're putting together the Nationals' version of a fantasy roster and you've filled up all your other spots before looking at relievers. The upside with the Oklahoma State product is that even if he doesn't get the closer's role right away, the Nats could give it to him later in the season should anyone falter, and in the meantime, he could still pick up enough K's (he averaged 10.6 K/9 in the Minors last season) and post a low-enough ERA and WHIP to justify carrying him as an extra reliever. In other words, you may be punting saves early, but that might not be the case come June or July. So there's at least some hope in taking Glover over someone like Neftalí Feliz, who might get some saves but likely won't post gaudy numbers.
Jharel Cotton, SP, A's No. 6 prospect: How much do you like projections? Back when we covered Steamer600 projections earlier in the offseason, it was clear that the system was a big believer in Cotton, pegging him as Oakland's most valuable starter in 2017. MLB.com backed that up by ranking him at No. 62 among fantasy starting pitching options, making him a fourth or fifth option in a 16-team league. (For reference, that's 37 spots above Gsellman, and only one spot below Félix Hernández.) Indeed, Cotton should figure prominently in the A's rotation, and the cavernous Oakland Coliseum should help him keep the ball in the park. The 25-year-old right-hander has the stuff with a good fastball and a special changeup to rack up the strikeouts as well. With this being his first full season, he also has more room to grow than the veterans ranked around him like Francisco Liriano (No.58), Iván Nova (No. 60) or Ervin Santana (No. 64).
Daniel Vogelbach, 1B, Mariners No. 10 prospect: This isn't exactly one for draft day, given the news that Seattle optioned Vogelbach to Triple-A Tacoma on Thursday, but he's one to keep in your back pocket, especially if you're light at first base. The left-handed slugger, acquired last July from the Cubs, hit a career-high 23 homers in the Pacific Coast League, led the Minors with 97 walks and ranked sixth among all full-season hitters with a .417 OBP. If you're in a league that values those categories, your ears should perk up. Vogelbach was presumed to be Seattle's Opening Day first baseman, making the club's decision to go with Danny Valencia an eye-opener, but GM Jerry Dipoto likened Vogelbach's reassignment to that of James Paxton and Mike Zunino -- both of whom were called back up to the Majors in June last year. If Valencia doesn't perform, there's a chance Vogelbach could be up even sooner. To be clear, do not draft Vogelbach now, but if you're looking for additional first-base options down the line, keep a close eye on the M's transaction page over the season's first few weeks.
Sam Dykstra is a reporter for MiLB.com. Follow and interact with him on Twitter, @SamDykstraMiLB.