Toolshed: Schrock dealt more new Cards
Second baseman with plus hit tool joins third system since 2015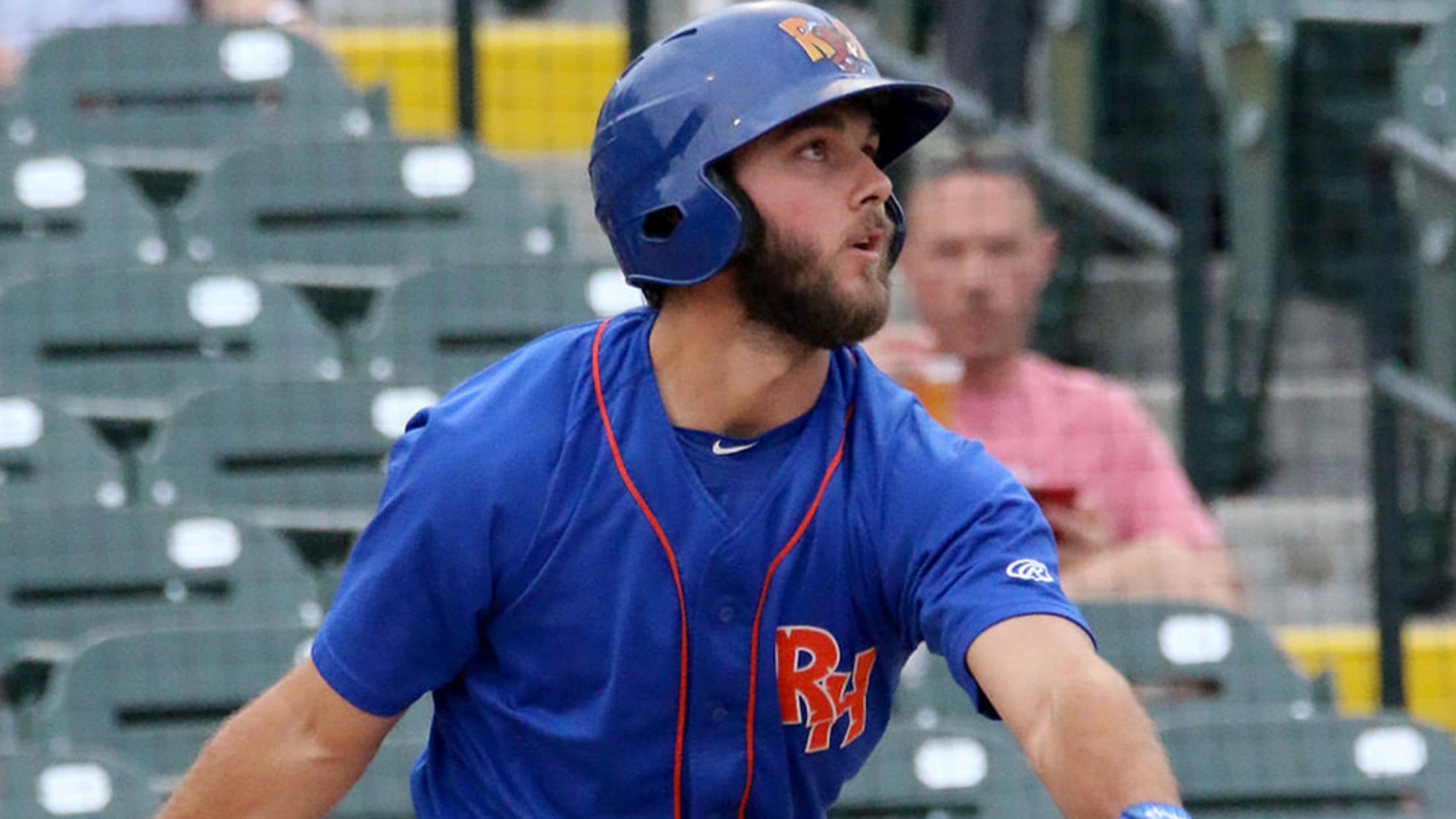 Max Schrock is a career .324 hitter over 281 games in the Minor Leagues. (Joshua Tjiong/MiLB.com)
Max Schrock has been through this enough that he's got a strategy at this point. "With me, the thing I try to do first is meet as many people as possible and remember their names," said the 23-year-old second baseman. "The more people you meet, the more comfortable you can feel
Max Schrock has been through this enough that he's got a strategy at this point.
"With me, the thing I try to do first is meet as many people as possible and remember their names," said the 23-year-old second baseman. "The more people you meet, the more comfortable you can feel and the better you'll play quickly. You hear a lot of new names, but the earlier you can put a face to that name the better."
That's Schrock's advice for anyone going through a trade. He should know.
Last Thursday, he was dealt from the A's to the Cardinals along with fellow prospect Yairo Muñoz for Major League outfielder Stephen Piscotty. That marked the second time Schrock was traded since he entered affiliated ball as a 13th-round pick out of the University of South Carolina in the 2015 Draft. He also was sent from the Nationals, the team that took him in that Draft, to the A's on Aug. 25, 2016 straight up for reliever Marc Rzepczynski.
At least from a logistical standpoint, this latest move feels different.
"When you're traded at the end of the season, you have to pick everything up quickly and get moving," Schrock said. "At least this time, it's a little nicer that it happened in the offseason. There's no picking up your entire apartment and trying to catch a plane. I can let things sink in, not have to rush. It's a little easier for sure."
With Schrock as with many prospects, being traded can be taken a few ways; either it's tough to swallow that an organization was willing to deal the player elsewhere or it's uplifting that a club wanted the player in return for Major League talent. For Schrock, it's a lot easier to see him fitting in the latter category.
Since Washington selected him with the 404th overall selection two years ago, the left-handed-hitting infielder has developed one of the Minors' best overall hit tools. The former Gamecock is a career .324 hitter over three seasons in the Minor Leagues. He spent the entire 2017 season at Double-A Midland, where he continued to show off an impressive bat. His .321 average was fourth-highest in the Texas League while his .379 on-base percentage ranked third. What's more, his 9.2 percent strikeout rate was lowest among the 157 qualified batters at the whole Double-A level. (The power isn't quite there with only seven homers and 27 total extra-base hits in 2017.) He was named a Texas League mid- and postseason All-Star and earned the spot at second base for MiLB.com's Oakland Organization All-Stars. MLB.com has him ranked as the No. 8 second-base prospect in the game.
"Max was one of our most consistent players throughout the year," Midland manager Fran Riordan told MiLB.com for the Organizational All-Stars story. "He just hit from the time he got to Spring Training until the season ended."
That may be true, but there were signs that Schrock actually improved at the plate as the season wore on, specifically when it came to plate discipline. Gifted with great hand-eye coordination, Schrock is a contact machine, and by his own admission, can get swing-happy at times. As a result, he may have hit .302 in the 49 games before the Texas League All-Star break, but he also walked only 11 times in 211 plate appearances (5.2 percent of the time) to hold his OBP some at .341. That's when the A's stepped in to talk to the second baseman about ways he could still grow offensively, starting with a focus on taking more free passes.
"After the All-Star break, I was talking to our director of player development Keith Lieppman and my manager, and they spoke to me about it," Schrock said. "I obviously don't swing and miss a lot, and that's great. But it also doesn't mean I need to be swinging at everything I see. I don't like taking a first-pitch fastball, but I can still do a better job of locking in on my pitch and focusing on swinging at that. I don't need to be getting myself into trouble by swinging at everything, even if I can touch it. That might end up being the biggest thing I take away from the A's."
Schrock did a better job of melding the two concepts in the second half. His average, in fact, went up to .339 over the 57 games after the break, and he managed to walk more times (23) than he struck out (19) over 246 plate appearances. The walk rate and OBP rose to 9.3 percent and .411 respectively.
Though his offensive assets have never been in doubt, Schrock sounded most proud of his ability to round out the profile with his work in the field at second base. Though his arm precludes Schrock from moving elsewhere on the dirt, Riordan praised the 23-year-old for his growth at the keystone, and the player said he felt more sure-handed at the position over the course of his first season at an upper level.
"I started to have a much better foundation in terms of getting my work in on a daily basis," Schrock said. "Our infield coordinator, Juan Navarette, did a great job of getting me in a good space mentally and physically. ... I just felt more comfortable. I would get in a routine before the game and that helped me feel sharp once the game started. That's huge even when I'm hitting if I'm feeling better about my defense."
As things stand, Schrock enters the Cardinals system at the club's No. 11 prospect, and because of the bat, he has a legitimate claim to be his new organization's top middle-infield prospect when lists are updated later this offseason. He's ticketed for a Triple-A Memphis club that, like his Midland squad, won a league title in 2017 and should be primed as one of the Minors' most exciting rosters again in 2018. Barring more offseason moves, Alex Reyes, Carson Kelly, Jack Flaherty, Tyler O'Neill, Harrison Bader, Dakota Hudson and Yairo Muñoz -- seven of the St. Louis's top 10 prospects -- should see at least some time with the Redbirds next spring and summer.
Schrock, who is Rule 5 Draft-eligible after the 2018 season, will at least be knocking on St. Louis's door given his proximity to the Majors. And with an expected invite to Major League Spring Training, the Cardinals should give him a full look to see just how close he is. The presence of Kolten Wong, who is signed through at least 2020, complicates big league matters for Schrock. But considering St. Louis had an eye on him during the Piscotty negotiations, the club seems willing to give him a chance, should he continue to hit and show a solid glove. That's all he's worried about too.
"I'm not focusing on one certain area to make that happen," he said of pushing for a Major League debut. "I know what type of player I can be, and I think I just need to keep showing that I can be that consistently. I'm not going to try to hit 25 home runs or anything like that. Just try to stay consistent and let my play solve itself."
It doesn't hurt to say that when the player in question hasn't hit lower than .308 or produced an OPS lower than .801 at any Minor League level. It also doesn't hurt, even in times when there is so much change, to have gone through the motions of a trade before.
"I'm excited obviously," Schrock said. "Everything I hear about the Cardinals has been great, especially in their player development department. At the same time, it [stinks] to make friends with one organization and then have to learn a whole new group of guys all over again. But hey, this isn't the first time, so I think I'll be fine."
Sam Dykstra is a reporter for MiLB.com. Follow and interact with him on Twitter, @SamDykstraMiLB.