Toolshed: May's prospect numbers of note
Rodgers uses home advantage; Humphreys holds down hitters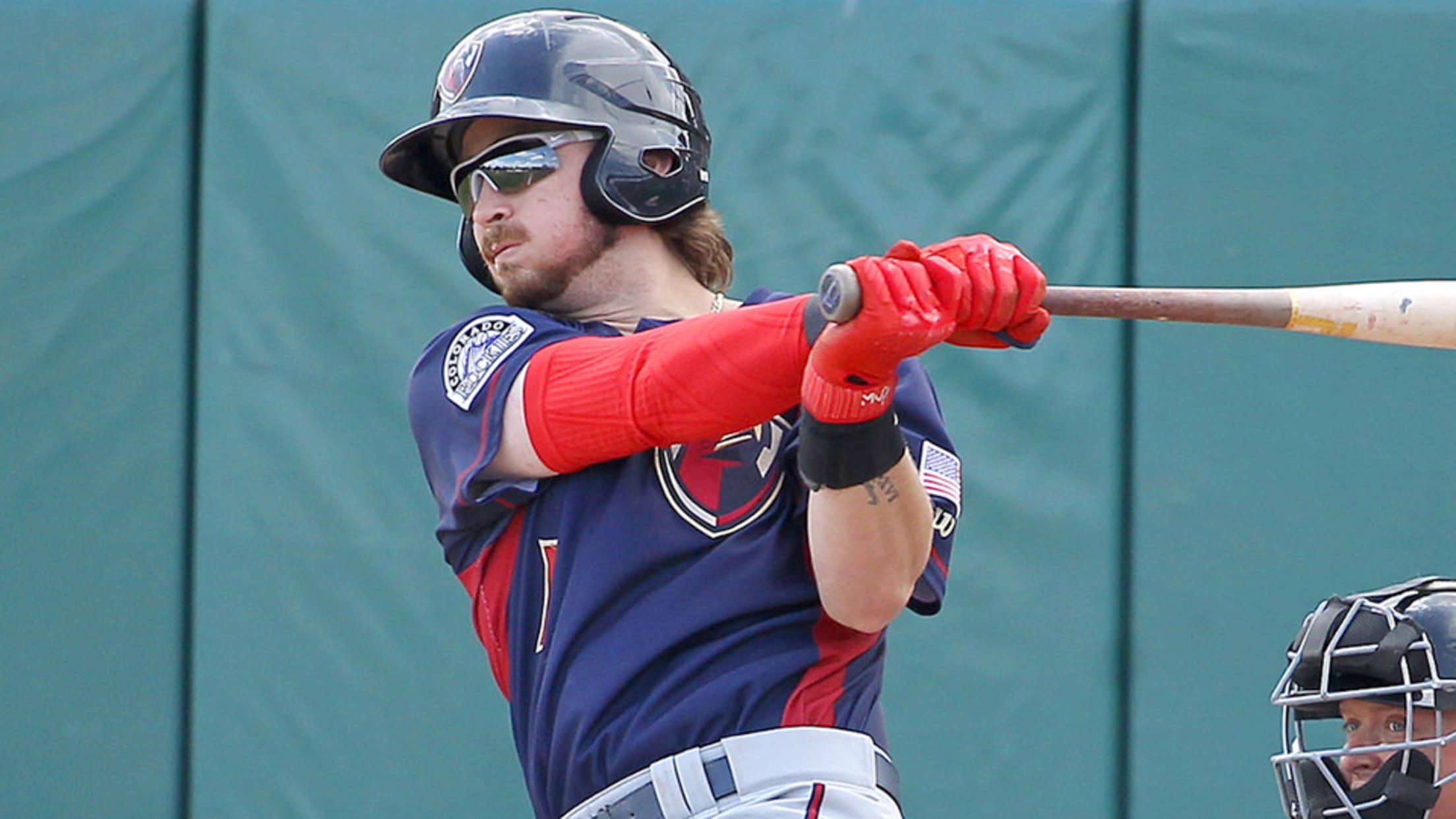 Rockies top prospect Brendan Rodgers leads the California League with a 1.090 OPS through 32 games. (Ben Sandstrom)
Around the end of each month of the Minor League season, Toolshed will explore the most eye-popping statistics from the previous month. This edition explores MiLB leaders in various categories from May 1-30..117, Triston McKenzie, Class A Advanced Lynchburg, average-against: Carolina League batters are finding it incredibly difficult to hit the
Around the end of each month of the Minor League season, Toolshed will explore the most eye-popping statistics from the previous month. This edition explores MiLB leaders in various categories from May 1-30.
.117, Triston McKenzie, Class A Advanced Lynchburg, average-against: Carolina League batters are finding it incredibly difficult to hit the Indians' No. 3 prospect, who allowed only 12 hits while striking out 43 over 31 1/3 innings in May. Their best method to reach base has been the free pass; McKenzie allowed more walks (14) this month than hits. As soon as the 19-year-old right-hander can pitch more in the zone, the hits could increase, but he should be an even more dominant hurler overall.
.532, Brett Cumberland, Class A Rome, on-base percentage: Even when the Braves' No. 29 prospect hit .170 in April, he still produced a .371 OBP. In May the hits started to fall to the tune of a .364 average, and the OBP went up significantly as a result. The 21-year-old catcher/DH drew 16 walks and was plunked 10 times in 94 plate appearances this month. As covered in last week's Toolshed, Cumberland is one of the Minors' best at getting the ball in the air, and with his continued patience at the plate, it started to pay major dividends in the season's second month.
0.54, Jordan Humphreys, Class A Columbia, WHIP: Reaching base in any fashion against Humphreys was nearly impossible for South Atlantic League hitters this month. The Mets' No. 29 prospect allowed only 12 hits and two walks over 26 innings. The most batters to reach in any outing against the 20-year-old righty was five (four hits, one walk), which happened over seven scoreless frames on May 24. Humphreys leads the Minors with a 0.66 WHIP; no one else in the Sally League has a WHIP lower than 0.82.
0.55, Corbin Burnes, Class A Advanced Carolina, ERA: The Brewers' No. 20 prospect was promoted to Double-A Biloxi on Tuesday, and it's easy to see why. Burnes allowed only two earned runs on 17 hits and seven walks in 32 2/3 innings with Carolina in the second month of his first full season. The 2016 fourth-rounder also struck out 29 over that span and held opposing batters to a .155 average. As an advanced arm out of college at St. Mary's, Burnes didn't have much left to prove in the Carolina League and should look for a more difficult challenge in the Southern circuit.
1.317, Eric Stamets, Triple-A Columbus, OPS: Few would've correctly guessed the Minors' OPS leader for May. Stamets, a 25-year-old shortstop, owns a career .674 mark over six seasons in the Minors and had just been promoted on April 22 to Triple-A Columbus, where he had a .452 OPS in 22 games last year. Simply put, he surprised everyone. Over 14 games this month, Stamets went 19-for-48 (.396) with six homers, seven doubles and five walks. Those homers alone -- five of which have come in his last three games -- are just one fewer than his career high, and Stamets himself called it "kind of luck of the draw" to explain the power jump.
11, Matt Chapman, Triple-A Nashville, home runs: It's safe to say the No. 4 A's prospect is healthy again. A left-wrist injury knocked Chapman out for most of April, but since returning, he's displayed the powerful form that saw him go deep 36 times in 2016. The 24-year-old third baseman led the Minors with 11 homers in 122 plate appearances this month and produced a .272/.361/.670 line in 29 games. One doesn't have to squint hard to see Chapman carving out a spot for himself in Oakland before long this summer.
20, Brendan Rodgers, Class A Advanced Lancaster, extra-base hits: Yes, Rodgers' home games are at The Hangar, one of the Minors' most notorious hitting havens, and yes, as expected, only five of his MiLB-high-tying 20 extra-base hits in May have come on the road. (Neftali Soto also has 20 extra-base hits in May for Double-A Harrisburg.) It's good to see Rodgers' offensive skills translate this well in his second full season, but be leery going forward. MLB.com's No. 11 overall prospect is hitting an astounding .500/.526/.941 with 17 extra-base hits in 76 plate appearances at home, compared to .279/.290/.412 with six extra-base hits in 69 plate appearances on the road.
46, Michael Shawaryn, Class A Greenville, strikeouts: The Red Sox sent their 2016 fifth-rounder out of the University of Maryland to Class A to find quick results, and though his 3.88 ERA on the season isn't sparkling, Shawaryn certainly missed bats in May. His 46 punchouts in 30 innings leads the Minors this month and resulted in a 39 percent strikeout rate, higher than Chris Sale's 36.4 percent K rate on the season. This isn't anything new for the 22-year-old right-hander, who struck out 307 in 307 innings during his time in college, and it shouldn't be overly surprising given his conservative season-opening assignment. But it's notable that the No. 12 Red Sox prospect has taken off the way he has, and it'll be interesting to see if he can carry those K's higher up the chain.
82, Scott Kingery, Double-A Reading, total bases: The Phillies' No. 11 prospect nipped Rodgers (81) for the Minor League lead in this category. Kingery has hit .336/.392/.689 with 10 homers, three triples and six doubles over 28 games in May. But unlike Rodgers, his production isn't entirely driven by the friendly environs of Reading's FirstEnergy Stadium. Kingery owns a .287/.354/.644 line with 13 extra-base hits in 97 plate appearances at home this season and a .340/.422/.690 line with 17 extra-base hits in 116 plate appearances on the road. His 16 homers are tops in the Minors, a notion even he couldn't explain in this week's Eastern League notebook.
Sam Dykstra is a reporter for MiLB.com. Follow and interact with him on Twitter, @SamDykstraMiLB.