Toolshed: Prospects in short-season ball
Bucs' Baz, Rangers' Martinez ready to get going in lower levels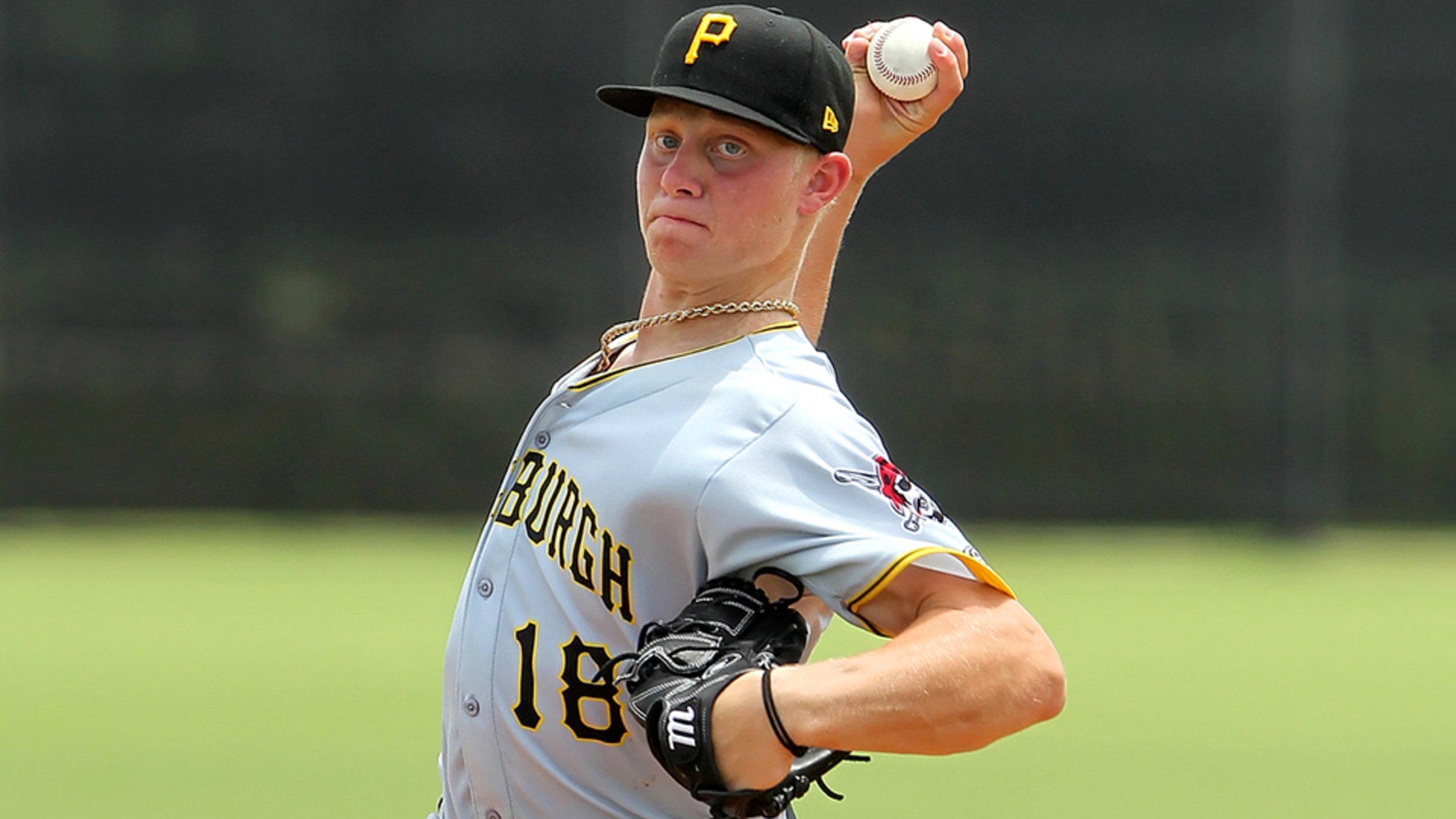 Shane Baz struck out 18.1 percent of the batters he faced last season in the Gulf Coast League. (Cliff Welch/MiLB.com)
Happy Opening Day! No, that's not Sonny and Cher's "I Got You Babe" playing in the background. This isn't Groundhog Day. We really have arrived at another edition of a Minor League Opening Day. Two Class A Short Season leagues and one Rookie-level circuit open for the 2018 season on Friday
Happy Opening Day!
No, that's not Sonny and Cher's "I Got You Babe" playing in the background. This isn't Groundhog Day. We really have arrived at another edition of a Minor League Opening Day. Two Class A Short Season leagues and one Rookie-level circuit open for the 2018 season on Friday -- the New York-Penn, Northwest and Pioneer Leagues. The complex-level Arizona and Gulf Coast Leagues play their first games Monday, and the Rookie-level Appalachian League starts the next day. Short-season ball is officially here, friends.
These late-blooming leagues provide opportunities for immediate playing time for recently drafted players ready for a pro debut. But there are also draftees from last year and international signees who are ready for affiliated action after getting in work at extended spring training, or even prospects who struggled at full-season levels and could use a rebound against lower competition.
Toolshed presents some prospects who are set to break with short-season affiliates under the lights in the coming days and will be worth following in the weeks and months to come.
Pirates RHP Shane Baz, Rookie-level Bristol: The Pirates are taking it cautiously with their 2017 first-round pick, who at No. 12 was the highest Drafted player in his class not to break Spring Training with a full-season affiliate. That's not a huge shock. The Bucs typically take the slow road with high school arms, even highly drafted ones. You'd have to go back to 2010 second overall pick Jameson Taillon to find another high school arm they took in the first round, and while he started at Class A West Virginia, he was considered a special talent from the jump. Second-round pitchers Mitch Keller (2014) and Travis MacGregor (2016), each of whom opened the seasons following their Draft year in the Appalachian League, are better points of comparison for Baz. He certainly has the stuff to succeed right away, whether he opens at Bristol or Class A Short Season West Virginia. His fastball, cutter and slider all have plus potential, and even his curveball has been given a 55 grade on the 20-80 scouting scale from MLB.com. The 6-foot-3 right-hander, who turns 19 on Sunday, will also have his innings closely monitored in his first pro summer; he didn't throw more than three in an outing last year in the GCL. And MacGregor tossed 41 1/3 innings with Bristol last season despite making consistent starts. No matter how many starts Baz makes, they'll be some of the most followed in the short-season ranks, given his Draft pedigree and prospect profile.
Rangers OF Julio Pablo Martinez, Class A Short Season Spokane: The Rangers signed the native of Cuba for $2.8 million in March because of his impressive speed and potential to be an above-average hitter. Soon after, Martinez became MLB.com's No. 60 overall prospect. Texas sent him to the Dominican Summer League for seven games to get his feet wet, but he'll head to the Northwest League because, truth be told, he could use a tougher challenge. The left-handed slugger went 9-for-22 with a homer, a triple, a double and nine walks (including four in a singe game on June 4) during his seven games against inexperienced arms in the DSL. While this may seem like Martinez's stateside debut, that's not entirely true -- he played two seasons in the independent Can-Am League, one with the Cuban National Team in 2016 and the other with Trois-Rivieres last year. He hit .297/.345/.449 with seven homers and 20 steals in 57 games for the latter. Given his age and professional experience dating back to the Cuban Serie Nacional, Martinez might not be with Spokane for long, either. But during his time with the Indians, he should provide plenty of cover in center field and carry his already warmed-up bat with him from the DSL. He'll likely be the club's toolsiest outfielder since Leody Taveras in 2016.
Rangers RHP Hans Crouse, Class A Short Season Spokane: Not only are the Indians getting Texas' No. 3 prospect in Martinez, but they're also getting the farm's No. 4 prospect in Crouse, a second-round pick in 2017. The 19-year-old right-hander has already made plenty of friends by saying at player introductions, "I'll be bringing the gasoline," according to The Spokesman-Review. That much is definitely true, as Crouse is known for his fastball that has been clocked as high as 99 mph. He's also got a plus slider, and those two pitches were enough to help him strike out 30 batters in 20 innings last season in the Arizona League. He was nearly untouchable, with only one earned run allowed (on a homer, no less) and seven hits surrendered in that span. The Indians and Rangers won't have to wait long to see if the 19-year-old right-hander can be as dominant in the Northwest League; Spokane has already announced that Crouse will be its Opening Day starter.
Angels SS Kevin Maitan, Rookie-level Orem: Time will tell if Maitan was one of the bigger free-agent signings of the offseason, even though he was inked to a Minor League contract. The 18-year-old shortstop was released from the Braves as part of their sanctions for violating international signing rules, and he joined the Angels less than a month later, in December. A lot has changed, though, since Maitan was considered the top international amateur in the 2016 market and signed a $4.25 million deal with Atlanta in July 2016. The switch-hitter, once considered a potential plus hitter with above-average pop, hit .220/.273/.323 with two homers and 39 strikeouts in 33 games with Rookie-level Danville in his first stateside season. He also faced serious questions about his physicality and fitness, with many believing he'll eventually move to a corner infield spot because of those concerns. However, he's still the same age as many prep players taken in the 2018 Draft, and MLB.com is still high on his chances of figuring things out, ranking him as the game's No. 78 overall prospect. The Angels are hoping he'll find his footing by repeating Rookie-level ball, even if it's with a new team in a new league. With their track record of prospect success in 2018, there are reasons for optimism heading into the Pioneer League opener Friday.
Rockies RHP Riley Pint, Class A Short Season Boise: It has not been a banner two years for Pint since he was taken by the Rockies with the fourth overall pick in 2016. Colorado's No. 4 prospect posted a 5.42 ERA with 79 strikeouts and 59 walks in 83 innings at Class A Asheville last season. He returned to the Tourists to open 2018 but after facing only six batters in his one start with them exited due to forearm tightness. He hasn't pitched for an affiliate since but is scheduled to start for Boise on Saturday. When he's healthy and things are clicking, Pint has savory stuff, including a high-90s fastball and two above-average breaking pitches in his curveball and slider. Control, however, can be a real issue for the 20-year-old right-hander. That will be a focus during his time in the Northwest League, whether it be a short rehab stay or a longer stint aimed at getting him back on track.
Blue Jays RHP Eric Pardinho, Rookie-level Bluefield: Stop if you've heard this one before -- the Blue Jays are getting aggressive with an impressive teenaged prospect. Toronto signed its No. 7 prospect for $1.4 million out of his native Brazil last July and, according to Scott Mitchell of TSN, is prepared to send the 17-year-old right-hander to the Appalachian League already, skipping him over the GCL. Like the Blue Jays' other prodigies, Pardinho isn't a normal teenager. The 5-foot-10 hurler already has experience pitching on an international stage -- he took the mound in a World Baseball Classic qualifier in Brooklyn. He also has earned plus grades for his fastball and curveball, and his control of all three of his offerings is considered above-average. The Appy League doesn't exactly provide the bright lights or slightly more advanced hitters of some of the other short-season circuits, meaning it could be the perfect place for Pardinho to both get comfortable in Minor League ball and dominate at the same time.
Yankees RHP Luis Medina, Rookie-level Pulaski: To look at the fifth-ranked Yankees prospect's scouting report is to wonder what he's doing back with Pulaski. After the departure of Jorge Guzman in the offseason, Medina might have the most electric fastball in the system, a heater that's hit triple-digits. His curveball and changeup also earn above-average marks. The only thing holding him back from having the stuff of a Top 100 Prospect is that he's still raw in terms of control. That showed in his results in Pulaski last season, and those numbers solve the mystery of why Medina is returning to the Rookie-level affiliate. He walked 14 batters in 23 innings in the Appy League last year while posting a 5.09 ERA and 1.22 WHIP. A repeat of the level makes sense. If Medina can find a way to work in the zone, he'll get plenty of swings and misses from Appy bats. Easier said than done, sure, but after just turning 19 last month, he still has plenty of time on his side.
Sam Dykstra is a reporter for MiLB.com. Follow and interact with him on Twitter, @SamDykstraMiLB.