Toolshed: Players of the 2017 postseason
Bulls' Bauers, Redbirds' O'Neill highlight clutch playoff performers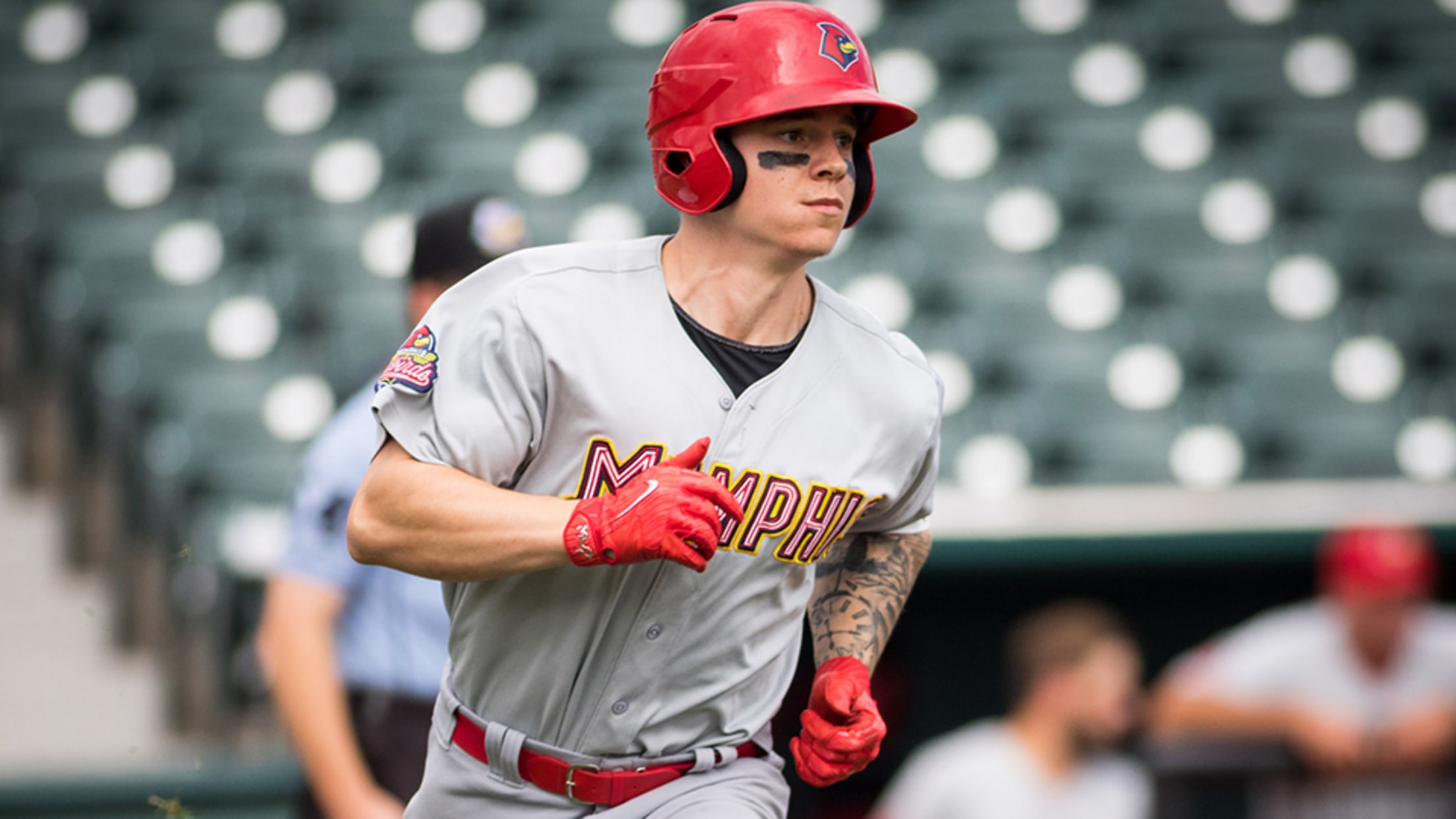 Tyler O'Neill hit 16 homers in 48 games with Triple-A Memphis between the regular season and playoffs.
It certainly proved to be an interesting set of Minor League playoffs over the past couple weeks. Hurricane Irma grabbed the biggest headlines by causing the cancellation of the Southern, Carolina and Florida State League Finals, forcing all three circuits to crown co-champions. But that aside, 17 Minor League clubs
It certainly proved to be an interesting set of Minor League playoffs over the past couple weeks. Hurricane Irma grabbed the biggest headlines by causing the cancellation of the Southern, Carolina and Florida State League Finals, forcing all three circuits to crown co-champions. But that aside, 17 Minor League clubs above the complex level won their final games of 2017 and walked away soaked in Gatorade, champagne, beer or a mixture of all three as league champions.
This Friday's Toolshed turns the focus, Players of the Week-style, to the best individual performers of the 2017 Minor League postseason, regardless of prospect status or team success. Position players and pitchers were considered equally, though the latter had to meet high standards due to their relatively limited impact. The Triple-A National Championship Game did not factor into the picks for the International and Pacific Coast Leagues.
So without further ado, these are Toolshed's picks for Players of the Postseason:
International -- Jake Bauers, first baseman, Durham: Bulls manager Jared Sandberg credited the Rays No. 5 prospect with peaking at the right time. There's little doubting that. Bauers led the IL playoffs in hits (14), extra-base hits (four), runs (nine), RBIs (six), total bases (20) and OPS (.966) during Durham's nine-game run to the Governors' Cup. The 21-year-old entered the season as the circuit's second-youngest player, but certainly didn't look it by the end of the campaign. He hit .263/.368/.412 with 13 homers, one triple, 31 doubles and 20 steals in 132 games during the regular season and has regained his spot as Tampa Bay's first baseman of the future, following a midseason trade of Casey Gillaspie.
Pacific Coast -- Tyler O'Neill, outfielder, Memphis: No matter the level or the organization, O'Neill has become one of the Minors' most reliable postseason performers. The right-handed slugger was our pick for Southern League player of the postseason in 2016 for Mariners' Double-A affiliate Jackson and followed that up with another impressive run en route to a PCL championship with Memphis. The Cardinals No. 4 prospect, who was traded for Marco Gonzales in July, hit a PCL-best four homers in 11 games -- three of which came in the five-game semifinals against Colorado Springs -- and also led the circuit with 11 RBIs. O'Neill sports a .351/.412/.688 line with seven homers, five doubles and 20 RBIs in 18 career Minor League playoff games. Given his proximity to the Majors, he might not want to be in this spot at this time next year, but don't rule it out, given his history.
Eastern -- Thairo Estrada, infielder, Trenton: Yes, Altoona snared the title with a Championship Series sweep over Trenton in the end, but there's no denying Estrada enjoyed the most individual success on the Double-A circuit. The No. 18 Yankees prospect's standout performance came in Game 2 of the semifinals when he hit for the cycle on a 4-for-5, three-RBI day in the Thunder's 9-6 win at Binghamton. His three extra-base hits were his only ones of the playoffs, but he still managed to lead the league's playoff hitters with 11 hits, 17 total bases and seven RBIs over Trenton's seven-game run. His 1.114 OPS was the highest among any player to reach the EL Finals.
Southern -- Deck McGuire, right-handed pitcher, Pensacola: The 2010 first-rounder was signed by the Reds one day before Minor League Opening Day as organizational depth but proved to be much more, posting a 2.79 ERA with 170 strikeouts in 168 regular-season innings with the Blue Wahoos. He made one postseason start (Game 1 against Jacksonville) and made it count by striking out 13 and scattering four hits over eight innings in a tight 2-0 win. McGuire was rewarded for that body of work when Cincinnati purchased his contract and gave him his Major League debut out of the bullpen on Sept. 12.
Josh VanMeter, outfielder/third baseman, Pensacola: Another of the Wahoos lays claim to honors here because neither performance should go ignored. VanMeter went 7-for-11 (.636) with a homer, a double and four RBIs during Pensacola's three-game series. His best performance was the opener, in which he went 4-for-4 and drove in the game's only two runs to back up McGuire. His seven total hits were more than anyone picked up in the five-game set between Chattanooga and Montgomery on the other side of the Southern League bracket. It would have been a lot of fun to see whether the 22-year-old, who hit just .255 with a .678 OPS during the season, could have kept it going in the Finals, but worries about Hurricane Irma forced the final round's cancellation.
Texas -- Kyle Garlick, outfielder, Tulsa: What had been a rough year for the 25-year-old outfielder ended on quite the high individual note, even if the Drillers blew a 2-0 Finals lead to Midland. Garlick missed about two months in the middle of the season due to a broken hand and was hitting .222 on the season as late as Aug. 26. Then he went 11-for-29 (.379) with four homers and seven walks over his final eight games of the regular season and carried that momentum into the playoffs. Garlick went 15-for-38 (.395) with two homers, five doubles and seven RBIs in 10 postseason contests while leading the circuit with a 1.161 OPS and 26 total bases. That'll leave a much better taste in his mouth entering the offseason.
California -- Joey Curletta, first baseman, Modesto: With apologies to teammate Eric Filia, who led the Cal playoffs with three homers, the Nuts first baseman takes this spot after going 11-for-26 (.423) with one homer, four doubles and a league-best eight RBIs in six playoff games for the league champs. Curletta had multiple hits in four of those half-dozen contests and starred in the Championship Series clincher, going 3-for-4 with a double, two runs and an RBI in Game 3 as Modesto swept Lancaster.
Carolina -- Triston McKenzie, right-handed pitcher, Lynchburg: In another league with shortened playoffs due to weather concerns, the second-ranked Indians prospect made the most of his one start, striking out 10 Frederick batters while allowing four hits and three walks over seven frames in a 4-0 win in Game 2. The gem couldn't have come at a better time. The Hillcats needed the win to stave off elimination in the best-of-3 series, and they eventually took the decisive Game 3 to split the Mills Cup with Down East. No other Carolina League pitcher struck out more than eight batters in the playoffs, and McKenzie's 10-K performance marked the seventh time in 26 starts he hit double-digits.
Florida State -- Connor Panas, outfielder, Dunedin: The 24-year-old outfielder had four hits in the Blue Jays' three-game series with the Yankees; three of them were home runs. The most clutch two long balls both came in Dunedin's series-clinching 5-3 win in Game 3. His second-inning blast opened the game's scoring and his seventh-inning shot evened things at 2-2 before the Jays pulled away in the ninth. That marked Panas' third two-homer game of the season, all of which came after Aug. 25.
Midwest -- Chuckie Robinson, catcher, Quad Cities: The 2016 21st-rounder was the Midwest League postseason's big bopper with four homers, nine runs scored, eight RBIs and 23 total bases over nine games for the champion River Bandits. Robinson saved the best for last by going 4-for-5 with a homer, four runs and three RBIs in Quad Cities' series-sweeping 12-2 win in Game 3 of the Finals. "Big moments are for big players and he's a great player," Bandits manager Russ Steinhorn told MiLB.com.
South Atlantic -- Brett Netzer, second baseman, Greenville: Taken in the third round in June out of Charlotte, Netzer capped his first season in the pros by being one of the easiest picks in this column. The 21-year-old second baseman had hits in each of his seven playoff games with the Drive with multiple hits in five of them. He topped the circuit with 12 hits, five doubles, eight RBIs and 17 total bases and finished with a .429/.515/.607 playoff slash line. Netzer was the hero of Greenville's championship-winning Game 4 against Kannapolis as he provided a three-RBI double as part of a five-run sixth inning that proved to be the difference in the 8-3 victory.
New York-Penn -- Taylor Walls, shortstop, Hudson Valley: The Rays' own third-round pick hit just .213 with a .617 OPS in 46 games with the Renegades during the regular season, but looked a lot more like (or even better than) his Florida State self in the postseason. The 21-year-old switch-hitting shortstop went 9-for-20 (.450) with a homer, a double and three RBIs in Hudson Valley's five games en route to the title. The Renegades took notice of Walls' improvement at the plate. He batted ninth in the first two games against Staten Island in the semis, but moved up to the leadoff spot for the final three games of the postseason, all of which were Hudson Valley wins.
Northwest -- Brock Lundquist, outfielder, Vancouver: This isn't just for the 2017 sixth-rounder's mustache, we swear. Lundquist equaled his regular-season total of two homers in 45 fewer games during Vancouver's chase for its fourth championship in seven seasons. He tied for the league lead with seven hits, five of those for extra bases. His 16 total bases were six more than any other league hitter in the playoffs, and his 1.153 OPS was tops among those who made it to the Championship Series. Lundquist, who hit only 10 homers over his three seasons playing for Long Beach State, isn't usually one for power, but he showed the tool off in his first Minor League postseason. (Brief aside: Eugene's Javier Assad deserves a quick mention for fanning nine over six one-hit innings in a Game 2 Finals win over Lundquist's Canadians.)
Appalachian -- J.J. Robinson, first baseman, Elizabethton: Players picked in the 33rd round need to do whatever they can to stick out quickly in the pros. Robinson, a senior sign out of NAIA school Lewis-Clark State College in Idaho, accomplished that goal by going 8-for-18 (.444) with two homers, a double and a league-best seven RBIs over five games to lead Elizabethton to the crown. To illustrate how much of a force he was in the playoffs, Pulaski intentionally walked Robinson with a runner on third and two outs in the eighth during an 8-7 game in Game 2 of the Finals -- his last plate appearance of the season. (Another quick shoutout to E-Twins reliever Jovani Moran, who retired all 12 batters he faced -- striking out seven -- while earning the save in both of his two playoff appearances.)
Pioneer -- Nate Nolan, catcher, Great Falls: Nolan led all Minor League postseason performers with five homers and 13 RBIs in five games for the Pioneer League runner-up. He went deep in each of his first three contests and then launched two shots -- one of which was a first-inning grand slam -- Great Falls' 15-3 demolishing of champion Ogden in Game 2 of the Finals. The 2016 eighth-rounder out of St. Mary's College of California needed that, he returned to the Pioneer League after going 2-for-38 (.053) with 22 strikeouts in 14 games with Class A Kannapolis. He produced a .253/.313/.475 line with seven home runs over 42 games with the Voyagers during the regular season.
Sam Dykstra is a reporter for MiLB.com. Follow and interact with him on Twitter, @SamDykstraMiLB.