Toolshed: Players of the MiLB postseason
Jays' Biggio, Dodgers' Lux, Rangers' Martinez lead standouts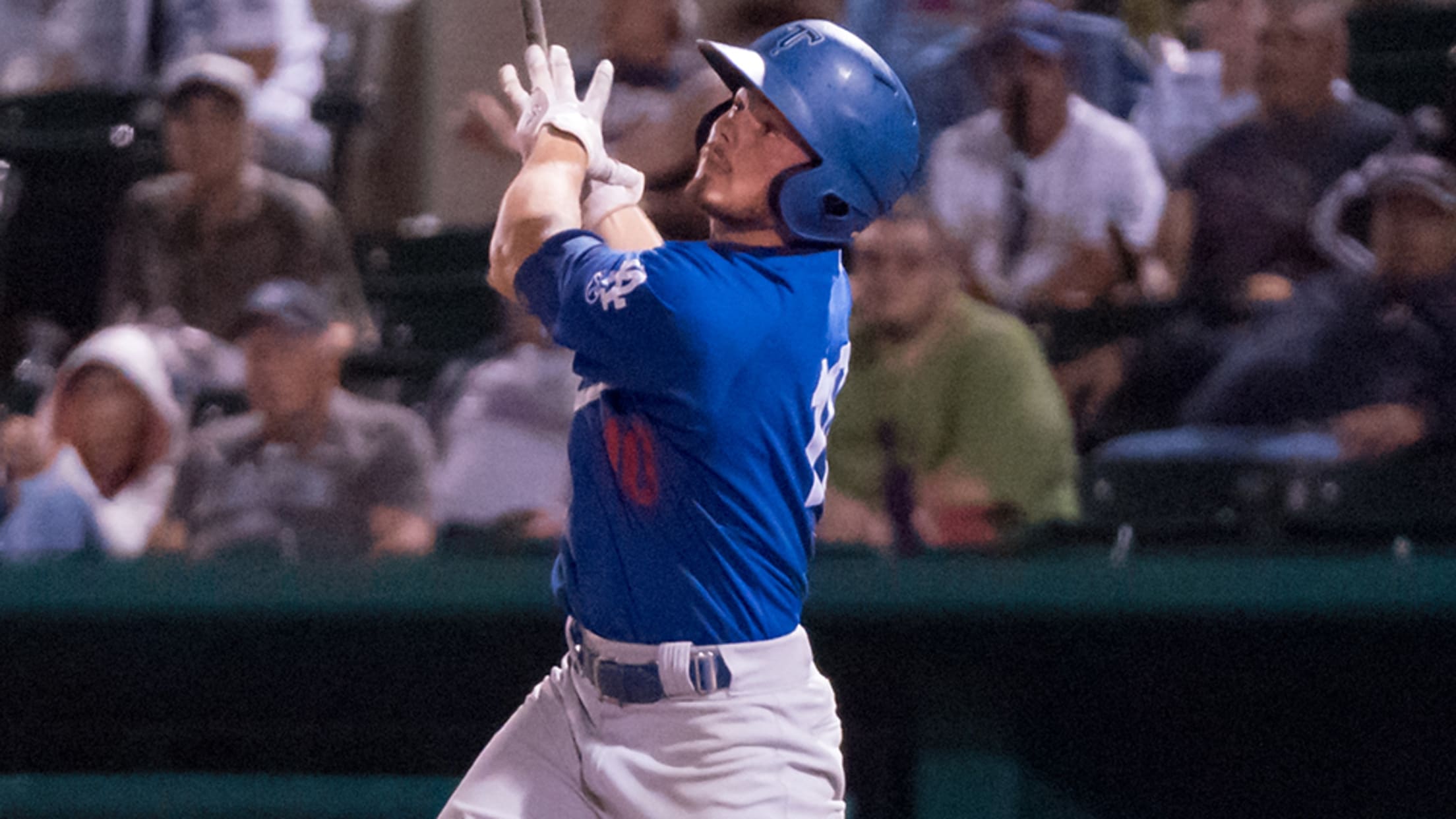 Gavin Lux carried a strong regular season into a dominant playoff run with Double-A Tulsa. (Tim Campbell/MiLB.com)
The champions have been crowned. The trophies have been hoisted. Every league has a winner, all because of team efforts. But now, it's time to focus on the individuals.The 2018 Minor League postseason was full of memorable moments, from a no-hitter to a crazy comeback to a walk-off hit from
The champions have been crowned. The trophies have been hoisted. Every league has a winner, all because of team efforts. But now, it's time to focus on the individuals.
The 2018 Minor League postseason was full of memorable moments, from a no-hitter to a crazy comeback to a walk-off hit from a pitcher to a one-game, winner-take-all Mills Cup Final. This edition of the Toolshed will honor the best individual playoff performers from each of the 14 non-complex Minor Leagues in the style of Player of the Week awards. Playing on a championship team was a factor but was not a requirement. Also, the Triple-A National Championship Game was not included to determine the honorees in the International and Pacific Coast Leagues.
International -- Rob Refsnyder, Durham: The Bulls took home the Governors' Cup for the second straight season but had to do so almost exclusively on the road as Hurricane Florence moved all five games of the Finals to Scranton/Wilkes-Barre. Luckily, they had a guy who knew something about the place. Refsnyder, who played for the RailRiders from 2014-17, homered in each of the first two games at PNC Field and finished Durham's postseason run with hits in all eight of his games, including the semis against Toledo. The 27-year-old outfielder went 11-for-30 (.367) with two homers, three doubles and six RBIs and produced a 1.073 OPS to lead all hitters that played five games or more. Interestingly, this was the 2012 fifth-rounder's second professional playoff appearance, the first coming with the Yankees in the 2015 American League Wild Card Game.
Pacific Coast -- Tommy Edman, Memphis: The 2016 sixth-rounder played only 17 games with the Redbirds during the regular season but served quite nicely as the club's leadoff man in the PCL postseason. He had hits in seven of Memphis' eight playoff games. His best showing was Game 1 of the Finals, when he hit a leadoff homer and finished 4-for-5 with a double, three RBIs and two runs scored. His 15 hits, 21 total bases, .469 average, .486 OBP, .656 slugging percentage and 1.142 OPS over eight contests were tops among all PCL position players to make it to the last series. Edman struck out once in 32 playoff at-bats.
Eastern -- Cavan Biggio, New Hampshire: Biggio opened the month of September by being named Eastern League MVP and Rookie of the Year. He finished it as a champion. The Blue Jays' No. 9 prospect went 6-for-20 (.300) with a homer, a double and a league-best nine RBIs over six games, each of which were Fisher Cats wins en route to the club's first title since 2011. He also swiped three bags, tied for the most in the EL playoffs alongside teammates Bo Bichette, Jon Berti and Santiago Espinal. It was quite the all-around performance for the 23-year-old infielder, who hit 26 homers and stole 20 bases during the regular season.
Southern -- Dominic Miroglio, Jackson: The D-backs' No. 30 prospect struggled with the bat upon his arrival at Double-A in August, hitting .231/.259/.308 in 21 games. He turned things around quickly and decisively in the playoffs. Miroglio went 15-for-31 (.484) with a triple, three doubles, seven RBIs and nine runs scored while playing in seven of Jackson's nine games on the way to the Southern League title. His 1.175 OPS was tops among SL Finals-appearing players, and no other player on either Jackson or Biloxi produced a playoff average higher than .379. The 2017 20th-rounder already put himself on the map by hitting .327 with an .855 OPS over 76 games at Class A Advanced Visalia earlier in the year, and this run gives him something to build on going into his second full season.
Texas -- Gavin Lux, Tulsa: The Dodgers' No. 6 prospect conquered just about everything put in front of him in 2018. Lux went 14-for-33 (.424) with two homers, five doubles, four RBIs and eight runs scored over eight games to lift the Drillers to a Texas League title. The second of his two dingers came on the first pitch of Finals Game 3, which Tulsa won, 5-2, to earn a sweep of San Antonio. Lux finished with 25 total bases in the playoffs; no one else collected more than 18. The 20-year-old shortstop hit .324/.399/.514 with 15 homers and 13 steals between Tulsa and Rancho Cucamonga during the regular season, putting him firmly back in place among the top Los Angeles prospects after a down 2017.
California -- Cody Thomas, Rancho Cucamonga: Speaking of the Quakes, the Dodgers' Class A Advanced affiliate gave the system another full-season champion, and Thomas played the biggest role -- especially in the slugging department. The 23-year-old outfielder led the Cal League playoffs with six extra-base hits (two homers, one triple, three doubles) and 21 total bases. He tied for first with 10 hits and seven RBIs over seven games. His 4-for-5 showing on Sept. 8 moved the Quakes into the Cal League Finals and, on Sept. 12, his homer, triple and four RBIs moved the club within one win of the sweep. (It'd get it at home two days later.) Thomas was a slow starter this season but hit .297/.373/.562 with 16 homers over the second half to earn his spot on the Cal League end-of-season All-Star list.
• Complete postseason coverage »
Carolina -- Jake Adams, Buies Creek: Only one player hit two home runs in the Carolina League postseason. Only one player went deep in the winner-take-all, one-game Final that came as a result of Hurricane Florence. Adams ticked both of those boxes. The right-handed-hitting first baseman picked up knocks in all four of Buies Creek's playoff games -- all wins -- and finished 7-for-16 (.438) with two homers and two doubles. The 2017 sixth-rounder delivered that performance after hitting .222 with seven homers and a .675 OPS over 63 Carolina League games in the regular season.
Florida State -- Jose Miranda, Fort Myers: There is a temptation to go with big-name prospects Royce Lewis (three homers) and Alex Kirilloff (.407 average) in this space, but no one on the Finals-winning Fort Myers club was a better all-around hitter in the playoffs than Miranda. The Twins' No. 29 prospect led the FSL postseason with six extra-base hits (two homers, four doubles), eight RBIs, 20 total bases, an .800 slugging percentage and a 1.223 OPS. And beyond that show of power, he put the ball in play a ton, striking out once over 25 at-bats. The 20-year-old infielder has slowly moved his way up the Minnesota chain since he was taken out of Puerto Rico with the 73rd overall pick of the 2016 Draft, but he's shown strong offensive potential in flashes, this being the latest example.
Midwest -- Zach Prendergast, Peoria: Bowling Green was the team to lift the Midwest League trophy, but it's pretty clear no one on the circuit performed better in early September than the Peoria right-hander. The 23-year-old hurler didn't allow an earned run over either of his two playoff starts (11 2/3 innings) and showed K-worthy stuff in both outings. He fanned 11 over five frames in a Round 1 series-clinching win over Quad Cities on Sept. 6 and followed that up with seven more strikeouts in 6 2/3 innings seven days later in a Game 2 Finals victory at Bowling Green -- the Chiefs' only win of the MWL Championship Series. Prendergast hadn't struck out more than six in any of his 27 regular-season outings, though only 10 of those were starts.
South Atlantic -- Nick Pratto, Lexington/Spencer Howard, Lakewood: Yes, it's hedging to put two players in this space, but one of them was clearly the best offensive player on the championship-winning team and the other had the best individual playoff pitching performance of anyone in the Minors. Pratto went 7-for-21 (.333) with two homers, a triple, four RBIs and three stolen bases and led Finals-playing hitters with a 1.148 OPS across six postseason games. Howard threw a no-hitter in Game 2 of the Sally League semis for the first playoff no-no in Lakewood history. He turned in another solid outing -- permitting one earned run on three hits and striking out six over five innings -- in Game 4 of the Finals before Lexington (and Pratto) took the game and the title.
New York-Penn -- Jonathan Aranda, Hudson Valley: A grand total of six games were played in the New York-Penn League playoffs, so there was limited time to make an impact. Aranda jumped right in by going 4-for-4 with a triple, a double and two RBIs in his side's Game 1 semifinal win at Auburn. The 20-year-old infielder finished 7-for-14 with three extra-base hits and three RBIs over four games. Although Tri-City eventually claimed the NYPL title, no one had more playoff hits or total bases (11) than Aranda.
Northwest -- Julio Pablo Martinez, Spokane: It hasn't been a banner first Minor League season for MLB.com's No. 58 overall prospect, who signed with the Rangers out of Cuba for $2.8 million in March, but it sure ended on a high note. The left-handed-hitting outfielder went 8-for-23 (.348) with two homers, two doubles, two RBIs, five runs and two stolen bases in six games to help Spokane claim the NWL crown. He was the only player on the circuit with multiple postseason dingers, having gone deep in the semifinal clincher against Everett and the Finals opener against Eugene. The 22-year-old hit .252/.351/.436 with eight homers in 60 games for Spokane during the regular season and is headed to the Arizona Fall League.
Appalachian -- Gilberto Celestino, Elizabethton: In another universe, Celestino wins a New York-Penn League title with Tri-City after playing the whole season with the ValleyCats. Instead, he was traded from the Astros to the Twins at the deadline, and he got an Appalachian League ring instead. Minnesota's No. 14 prospect had hits in four of his five playoff games with Elizabethton, going 7-for-19 (.368) with a homer, a double and four walks. He led the way with six RBIs and tied for the postseason lead with two stolen bases. The 19-year-old outfielder is known mostly for his speed and defensive ability, but he showed during the E-Twins' playoff run that he has the potential to be an above-average hitter.
Pioneer -- John Cresto, Grand Junction: The Rockies fell to Great Falls in the Pioneer League Finals, but Colorado's 2018 28th-round pick did all he could to push the Rookie-level club over the edge. He went 3-for-3 with a homer in Game 2 of the semis against Ogden and hit another homer and stole four bases in Game 3. He had hits in all five of his postseason games, finishing 8-for-17 (.471) with a league-best 15 total bases. Of note: Cresto only went 1-for-2 on the basepaths over 29 games in the regular season.
Sam Dykstra is a reporter for MiLB.com. Follow and interact with him on Twitter, @SamDykstraMiLB.