Toolshed: Prospect projections gone wrong
Steamer couldn't quite predict big seasons for Judge, Bellinger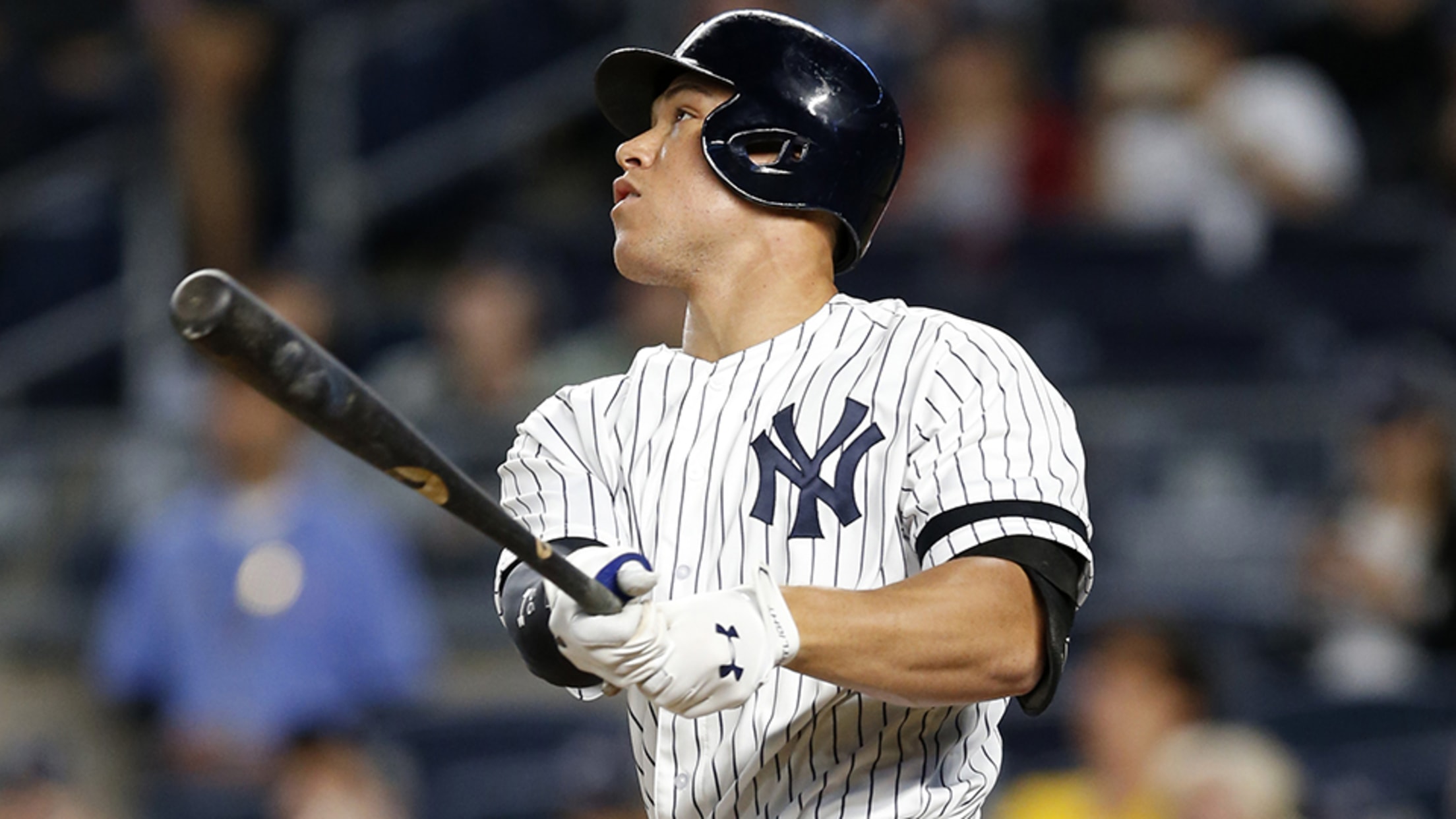 Aaron Judge's 52 homers this season trailed only Giancarlo Stanton's 59 for the Major League lead. (Kathy Willens/AP)
Earlier this week we covered what went right. Now it's time for what went wrong. Toolshed once again revisits the Steamer600 projections used during MiLB.com's preseason Prospect Projections series, which looked at how prospective rookies would perform during the 2017 season if given 600 plate appearances for position players, 450 plate
Earlier this week we covered what went right. Now it's time for what went wrong.
Toolshed once again revisits the Steamer600 projections used during MiLB.com's preseason Prospect Projections series, which looked at how prospective rookies would perform during the 2017 season if given 600 plate appearances for position players, 450 plate appearances for catchers, 200 innings for starting pitchers or 65 innings for relievers.
But first off, let's cut Steamer a little slack.
The projection system could not have foreseen this being, by leaps and bounds, a record season for home runs. In total, 6,105 long balls were launched in 2017 -- 412 more than any other season in Major League history. (Some believe that changes in the composition of the baseball may have been a cause.) As a result, a lot of projections may have been down on home-run potential. Strikeouts also set a new high, though those may have been easier to predict; this was the 10th straight season in which a record amount of strikeouts were recorded. In short, there were numbers put up in the Majors this season that simply had never been seen before.
Of course, properly predicting future outcomes based on past performance is no small task -- important to remember as one explores exactly where Steamer went wrong for rookies in 2017. But credit where it's due, some of the players below did a lot of the heavy lifting (perhaps quite literally) to beat their projections and make their rookie seasons quite memorable. For a quick refresher, find each of the six preseason Prospect Projections pieces at the links below:
Prospect Projections: AL East | NL East | AL Central | NL Central | AL West | NL West
Aaron Judge: Before the season began, there were questions whether Judge ought to be a starting outfielder for the Yankees at the outset. In fact, that question led our AL East Projections piece. Steamer gave the 6-foot-7 slugger a slight edge over Aaron Hicks, despite the fact that he had struck out in 44.2 percent of his Major League plate appearances in 2016, projecting him to produce a .248/.325/.447 with a 107 wRC+ and 27 homers over 600 plate appearances. He did, um, a bit better than that -- historically better, in fact. Judge broke Mark McGwire's record for home runs by a rookie with 52 to go with a .284/.422/.627 line and 173 wRC+ over 678 plate appearances. He'll win the AL Rookie of the Year Award and compete with José Altuve to win its MVP. So why did Steamer get this so wrong? For one, Judge's power may be evident upon first sight, but he never hit more than 23 homers in a season before 2017. This was quite simply a case of a player who figured everything out offensively at the game's highest level in a way he hadn't done before in the Minors.
Cody Bellinger: The Dodgers first baseman/outfielder is likely to be Judge's Rookie of the Year counterpart in the NL after producing a .267/.352/.581 line with 39 homers and a 138 wRC+ in 548 plate appearances for the 104-win club. Despite entering the season as Los Angeles' top prospect, Bellinger was projected to be a slightly below-average hitter from the beginning with a .236/.306/.410 line, 22 homers and a 95 wRC+. What may have impacted those prognostications, despite having a better track record for power than Judge, was the fact that he had played only three regular-season Triple-A games. As it turned out, he didn't need much more experience, appearing in 18 contests with Oklahoma City before getting the call April 25. When you're ready, you're ready.
Dansby Swanson: It wasn't all roses for rookies in 2017. Swanson was the easy preseason favorite for NL Rookie of the Year. He was MLB.com's No. 4 overall prospect. He had hit .302/.361/.442 over a 38-game stint with Atlanta in 2016. Anecdotally, he was expected to be a key piece in the Braves' rebuild. Steamer believed he would at least be a solid player, projecting him for a .259/.322/.396 line, 13 homers, nine steals, 89 wRC+ and a 1.8 WAR. He still should be a solid player down the line, but it just didn't happen in 2017. Swanson was well below average with the bat, hitting just .232/.312/.324 with six homers and a 66 wRC+, and was even optioned back to Triple-A Gwinnett in late July for an 11-game spell. He did show some improvement upon returning Aug. 9 with a .268/.360/.348 line and 91 wRC+ in 189 plate appearances after his return. But with just a 0.1 WAR for the season, Swanson was barely above replacement level, never mind the level of an award-winning rookie. With the arrival of Ozzie Albies and the oncoming Ronald Acuña Jr., the Vanderbilt product has been surpassed as the most exciting youngster in Atlanta.
Jharel Cotton: This was one of Steamer's more interesting projections right from the beginning. As featured in our AL West breakdown, not only was Cotton expected to be an effective contributor for the A's in 2017, he was also projected to be their best starting pitcher. The right-hander was projected to be worth 3.3 WAR over 200 innings, thanks to a 4.08 ERA, 4.01 FIP and 8.4 K/9. None of that quite worked out. He finished with a 5.58 ERA, 5.68 FIP and 7.3 K/9 through 129 innings for Oakland, resulting in a 0.0 WAR -- seventh among Oakland pitchers who made at least 10 starts. "If there's something that could hold Cotton back from reaching those heights, it's his struggle at times to keep the ball in the yard" was a line in that AL West primer from February, and it proved to be the case. Cotton gave up a team-high 28 homers, and his rate of 2.0 HR/9 was ninth-highest among Major Leaguers with at least 100 innings in 2017. That'd been a problem for him in the past -- he averaged 1.3 HR/9 in the Pacific Coast League entering 2017 -- but it was a problem Steamer thought he could iron out. A fly ball pitcher like Cotton was done no favors by the overall offensive environment of 2017, however.
Paul DeJong: Moving back to the more fun group of overachievers, DeJong might have been the biggest of the bunch. The 2015 fourth-rounder was projected to be little more than a replacement-level player in the bigs with a .235/.283/.368 line, 15 homers, a 73 wRC+ and 0.1 WAR over 600 plate appearances. That was OK at the time because he was behind Aledmys Díaz on the Cardinals shortstop depth chart anyway. By late May, when DeJong had hit 11 homers in 46 games, that was no longer the case. He continued to show a good bat in the Majors and finished with a .285/.325/.532 line, a team-high 25 homers, 122 wRC+ and 3.0 WAR over 443 plate appearances in the Majors. Perhaps Steamer would have given a rosier projection had it seen his power jump in the Pacific Coast League first, but DeJong, who was just the No. 15 prospect in the St. Louis when projections were first done, deserves praise for the way he became one of the NL's best rookies after entering with relatively low expectations.
Josh Bell: Steamer actually wasn't too far off in terms of Bell's value to the Pirates in 2017. The system projected him to produce a 111 wRC+ and be worth 1.3 WAR over 600 plate appearances. He produced a 108 wRC+ and was worth 0.8 WAR. But it was how he reached those marks that earns him a spot in this column. Bell had been a high-average, relatively low power hitter during his time in the Pirates' Minor League system but saw a bit of a flip in his first full Major League season. Bell hit .255/.334/.466 with a career-high 26 homers over 620 plate appearances in 2017. That was nine more dingers than he'd hit in any of his previous five pro seasons. "I had a conversation with [teammate] Ed Easley last year, who said it would be more impressive for me to hit .250 with 25 [homers] than it would be to hit .330 with three as a first baseman," Bell told MiLB.com during Spring Training. "That's what's going to help the team win over the course of 162 games, so that's in the back of my head as well." Mission accomplished.
Manuel Margot: These last two should serve as reminders of Steamer's limitations. Margot's real offensive performance (.263/.313/.409, 92 wRC+) didn't waiver all too wildly from his projections (.260/.303/.373, 83 wRC+), but he ended up being worth almost a full win more than his projected WAR (1.9 vs. 1.0.) What gives? Defense, basically. Because Steamer derives its defensive projections from Major League data, it only had 10 games from which to work when it came to Margot. However, a lot of Margot's value in 2017 came from his work manning center field for San Diego. His 7.4 UZR/150 and eight Defensive Runs Saved both ranked sixth among Major League center fielders -- something to think about when considering projections for elite Minor League defenders going forward.
Rhys Hoskins: Here's an easy one, mentioned mostly for posterity since a list of 2017 rookies without Hoskins would feel incomplete. The Phillies first baseman/outfielder set the Majors on fire with 18 homers in 212 plate appearances, while Steamer projected him to hit 25 over 600 plate appearances. Of course, the system didn't see Hoskins open the season with 29 homers at Triple-A Lehigh Valley. In fact, it didn't see him play at the Minors' highest level at all. If he'd jumped a level and opened in Philly, it would seem he had already made the right adjustments to thrive in the Majors at the start, in perhaps the same way he did by season's end. So when comparing projections to real results, it's important to keep in mind the developments that can make a big difference along the way.
Sam Dykstra is a reporter for MiLB.com. Follow and interact with him on Twitter, @SamDykstraMiLB.