Toolshed: Prospect projections gone wrong
Steamer underestimated Soto, Acuña, overestimated Brinson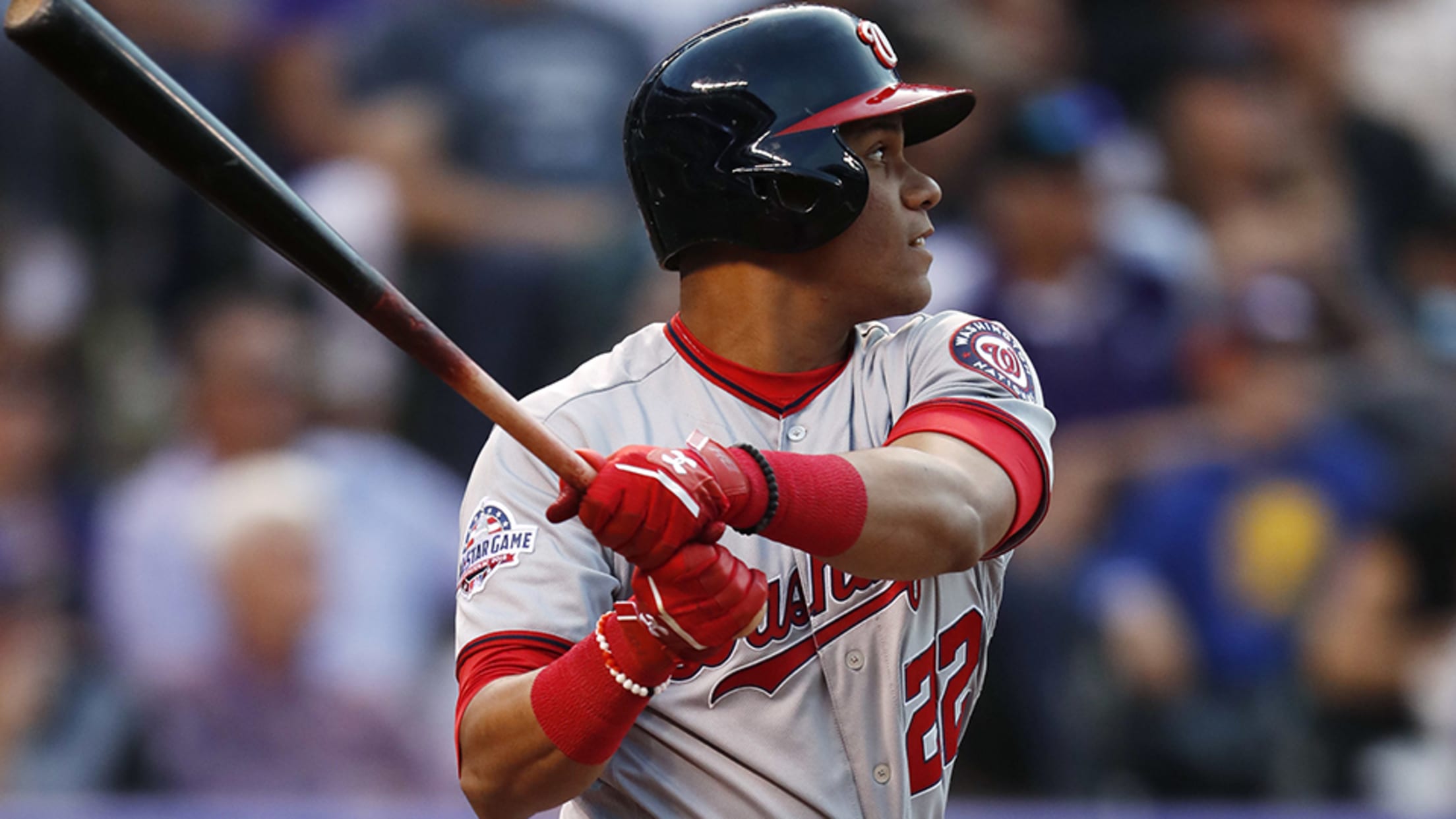 Few, including Steamer, could have expected Juan Soto to break out in the way he did as a Major League teenager. (David Zalubowski/AP)
Part of the beauty of baseball is its unpredictability, and even when it comes to projection systems, that means sometimes you're right and sometimes you're very wrong.Back in January and February, MiLB.com used FanGraphs' Steamer600 projections to look at how some of the game's most prominent prospects were expected to
Part of the beauty of baseball is its unpredictability, and even when it comes to projection systems, that means sometimes you're right and sometimes you're very wrong.
Back in January and February, MiLB.com used FanGraphs' Steamer600 projections to look at how some of the game's most prominent prospects were expected to perform over a full season. For this exercise, a full season was defined as 600 plate appearances for a position player, 450 plate appearances for a catcher, 200 innings for a starting pitcher and 65 innings for a reliever. Of course, few players who are considered prospects in the spring reach those marks in the Majors -- Brian Anderson and Miguel Andújar were the only rookie position players to eclipse the 600 plate appearance mark in 2018 -- but it makes it easier for comparison to put everyone on the same plane.
Eight months later, it's time to revisit those predictions with the Major League regular season coming to a close. On Tuesday, Toolshed turned to what Steamer600 got right back in the spring. In this edition, we'll look back at what the projections got wrong.
For reference, the division-by-division preseason projection breakdowns can be found here: AL East | AL Central | AL West | NL East | NL Central | NL West
Juan Soto -- The 19-year-old Nationals outfielder entered 2018 with only 23 games of experience with a full-season affiliate. He was scheduled to begin at Class A Hagerstown. This has been oft-repeated since he first moved to the Majors in late May, and yet it can't be repeated enough, it seems. His ascension was that astounding. Steamer certainly can't be blamed for not expecting much of the left-handed slugger, projecting him to hit just .225/.270/.337 with 14 homers and a 57 wRC+ over 600 plate appearances. At the time, that would have made Soto a well-below-replacement-level player, which made sense given that's what teenagers with limited Minor League experience are nearly all the time. Soto's season, in which he actually hit .292/.406/.517 with 22 homers and a 145 wRC+ in the Majors, was truly special, even historic.
Ronald Acuña Jr. -- Few people were down on Acuña's rookie potential back in the spring. Coming off his breakout 2017 campaign across three levels, MLB.com's No. 2 overall prospect was being heralded as The Next Big Thing. However Steamer, which takes into account a player's whole career, wasn't about to add fuel to the fire and had the 20-year-old outfielder down for just a 1.0 WAR, a .273/.324/.439 line, 19 homers, 29 steals and a 99 wRC+ over 600 plate appearances. Now, there are times for prudence, but projecting Acuña ending up not being one of those times. The Venezuela native's skills translated quite well to the game's biggest stage, and he even improved steadily, tearing up the league in the second half and finishing with a .293/.366/.552 line, 26 homers, 16 steals and a 143 wRC+ over 487 plate appearances. Because of his strong finish, he'll likely just sneak past Soto in NL Rookie of the Year voting. Of note, Steamer thought Acuña's speed would have an impact more than his power would, but the opposite ended up being true. Acuña ended up leading Atlanta in home runs and slugging percentage, despite having hit only 29 homers in his first three Minor League campaigns (21 of which came in 2017 alone).
Shohei Ohtani, the hitter -- Ohtani the pitcher was the lead in Tuesday's Toolshed, but when it comes to one of the game's most unique players in generations, let's say Steamer hit .500. In fairness, Ohtani's bat was considered behind his pitching arm coming out of Japan. The left-handed slugger showed mammoth power in the Pacific League but was thought to possess just an average overall hit tool. That's just the scouting report. Looking at the numbers, Steamer believed Ohtani's pop would play (24 homers) but projected him for a .257 average, .334 OBP and 113 wRC+ -- solid numbers, to be sure, but not necessarily ground-shaking. As it turned out, the 24-year-old may have been a better hitter than pitcher out of the gate. (An elbow injury that required Tommy John surgery certainly limited his looks on the mound, however.) Playing at DH, Ohtani hit .285/.361/.564 with 22 homers over 367 plate appearances. His 152 wRC+ ranked eighth among Major Leaguers with at least 350 plate appearances, beating out noted sluggers like Aaron Judge (149), Paul Goldschmidt (144), Manny Machado (140), Matt Carpeneter (138) and Bryce Harper (135). The likely AL Rookie of the Year definitely won't pitch in 2019 coming off the elbow procedure, and it's still up in the air if he'll be able to hit too. But with the way Ohtani beat expectations with the bat, his return can't come soon enough.
Lewis Brinson -- This column isn't only about overachievers, however. There was a lot of hope for Brinson following his trade from the Brewers to the Marlins in January as the headlining prospect in the Christian Yelich deal. The 24-year-old toolsy center fielder was coming back to his native southern Florida and was seen as the face of Miami's attempted rebuild. He was coming off his strongest Triple-A campaign yet and already had Major League experience. Outside those narratives, Steamer dove into the hard numbers and came away optimistic; in fact, before the trade, it looked like he had a case to be Milwaukee's best active outfielder with a .257/.318/.444 line, 22 homers and 94 wRC+. Those may not be stellar, but Brinson's fielding numbers based off his previous Major League time had Steamer peg him to be worth 1.7 WAR over a full season. Instead, he struggled mightily in his first year with the Fish, hitting just .199 with a 29.6 percent strikeout rate. Evaluations of his defense in center field varied by the metric (3 Defensive Runs Saved, -5.7 UZR/150, nine errors), and taken as a whole, he ended up being -1.0 WAR. With his power and speed potential, Miami should still be patient with Brinson, especially after a bruised right hip limited him in the middle of the season, the club can't bank on him being its poster boy as quickly as it may have hoped eight months ago.
Miguel Andújar -- We didn't put doubles into our initial Steamer600 writeups, but after Andújar's rookie season in pinstripes, maybe we should going forward. The Yankees third baseman tied an AL rookie record with 47 doubles and finished with a .297/.328/.527 line, 27 homers and a 128 wRC+ over 606 plate appearances. Back in January, the first Prospect Projections piece on AL East rookies made the case that the 23-year-old should have been New York's starting third baseman from day one, and while that was close to being right -- he made his first start in the fourth game of the season -- he still managed to beat the expectations of a .266/.311/.425 line, 19 homers, 93 wRC+ and 1.8 WAR. His actual 2.7 WAR could have been even higher had he not struggled defensively at the hot corner, though Steamer couldn't have seen that coming with his small sample of nine defensive Major League innings entering 2018. There are questions now about whether the Yanks should just slide Andújar across the diamond to first base and call it a day. But no one worries about his ability to make a major impact with the bat anymore.
Jack Flaherty -- This is annually one of the more disappointing parts about Steamer. Promising starting pitching prospects, like Flaherty, sometimes receive reliever projections, making it difficult to judge all these months later when they've spent an entire season working out of the rotation. In any event, even Flaherty's relief projections didn't live up to just how good he was as a St. Louis starter in 2018. The 22-year-old right-hander finished with a 3.34 ERA, 3.86 FIP and 10.9 K/9 over 151 innings -- much better than the 4.18, 4.25 and 8.3 marks Steamer had him down for over 65 frames. Only Giants left-hander Andrew Suárez (160 1/3) threw more innings as a rookie this season, and no one came within 30 of his league-best 182 strikeouts in the same group. Rate stats typically improve in projections for relievers versus starters, but with a solid four-pitch mix, Flaherty showed why he'll be part of the Cardinals' long-term starting plans.
Chance Sisco -- Not much went right in Baltimore this season, and that goes double for the development of Sisco, who was meant to be the club's catcher of the present and future entering the season. After showing a consistently above-average bat in the Minors, the 2013 second-rounder was pegged to be worth 1.9 WAR with a .259/.325/.392 line, 11 homers and 91 wRC+ over 450 plate appearances. He ended up being exactly replacement-level. Like Brinson, Sisco struggled to make contact, striking out in 35.9 percent of his times at the plate, and struggled with a .181/.288/.269 line and only two homers in 63 games as a result. Only Caleb Joseph (54) and Chris Davis (46) had lower wRC+'s than Sisco's 59. As such, Sisco shuffled between Charm City and Triple-A Norfolk multiple times over the summer, and by the end of September, the O's were using Austin Wynns to split time with Joseph behind the plate.
Sam Dykstra is a reporter for MiLB.com. Follow and interact with him on Twitter, @SamDykstraMiLB.