Toolshed: Prospects there from the beginning
McKenzie, Gordon among those to win title with their only '17 club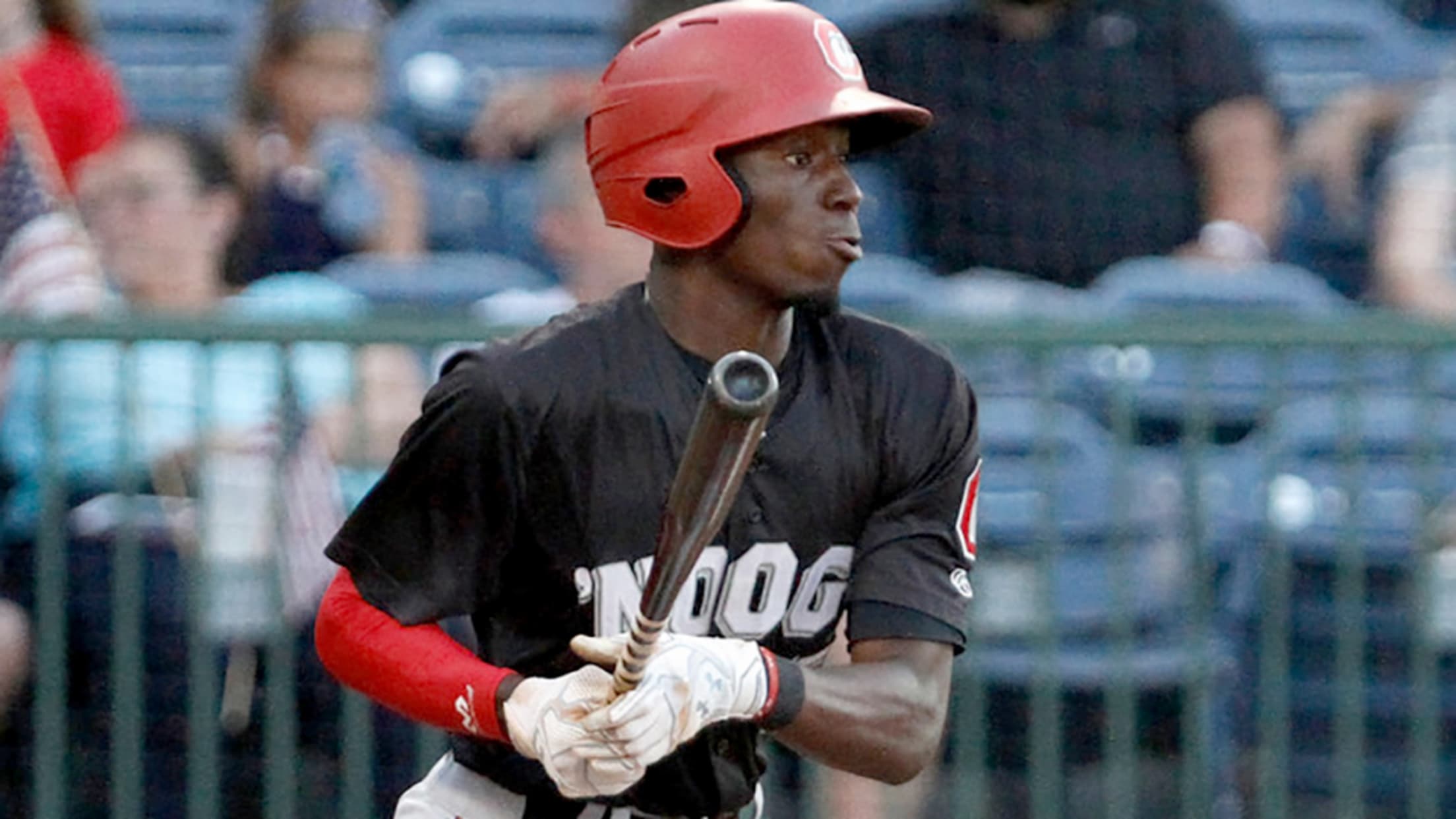 Twins No. 2 prospect Nick Gordon hit nine homers in 2017, six more than his previous career high. (Ed Gardner/MiLB.com)
The only constant in the Minor Leagues is change. Hot and cold streaks come and go. Adjustments happen from at-bat to at-bat, inning to inning. First- and second-half performances can vary wildly. Players move up and down the chain, meaning team rosters at the end of a season can be
The only constant in the Minor Leagues is change. Hot and cold streaks come and go. Adjustments happen from at-bat to at-bat, inning to inning. First- and second-half performances can vary wildly. Players move up and down the chain, meaning team rosters at the end of a season can be vastly different from the ones on Opening Day.
This turnover becomes abundantly clear during the Minor League playoffs, when many of the players who are jumping on the dog pile to celebrate a series win have been with the team for only a few weeks or, in some cases, even just days.
This Toolshed is dedicated to players who've won a title with the team they've been on the entire season -- prominent prospects who helped carry their only club from the opening of the 2017 campaign all the way to a championship.
Chattanooga Lookouts: Nick Gordon -- This has been the modus operandi for the Twins since they took Gordon fifth overall in the 2014 Draft. The 21-year-old middle infielder has played with only one team per season in each of his four Minor League campaigns, starting at Rookie-level Elizabethton in 2014. There's little debate the strategy has worked so far. Gordon's placement on the Southern League end-of-season All-Star team marked the third time he's made such a list. He also set career highs in hits (140), total bases (212), home runs (nine), triples (eight), doubles (29), OBP (.341), slugging (.408) and OPS (.749) over 122 regular-season games with the Lookouts before helping the club clinch a co-championship with Pensacola. MLB.com's No. 31 overall prospect has received solid marks for his defensive work at short, even though he started to get some time at second earlier in the season. If Gordon continues to be a solid hitter, runner and defender next year at Triple-A Rochester, his streak of one team per season may come to end in 2018.
Pensacola Blue Wahoos: Aristides Aquino -- The Reds' No. 6 prospect didn't produce numbers in the Southern League that would've necessitated a boost to the International League, finishing with a .216/.282/.397 line, 17 homers, nine steals and 145 strikeouts in 131 games with the Blue Wahoos. But he played the role of playoff hero in Pensacola's clincher against Jacksonville, hitting a game-tying homer in the eighth inning and a decisive RBI single in the 12th of a 5-4 win. Unlike Gordon, Aquino is already on his organization's 40-man roster, thanks to his power potential, plus speed and impressive arm in right field. The Reds aren't likely to give him a Major League look this September, so it'll be up to his bat to force the issue starting next spring in Louisville.
Pensacola Blue Wahoos: Deck McGuire -- No longer a ranked prospect, but McGuire deserves mention for his perseverance. A 2010 first-round pick by the Blue Jays, the 28-year-old right-hander signed with the Reds on April 5 -- one day before the Minor League season began -- after stints in the Jays, A's, Dodgers and Cardinals systems, topping out at four different Triple-A stops. He spent all of 2017 back in Double-A, finished with a 2.79 ERA, 1.08 WHIP and 170 strikeouts in 168 innings and was dominant in his one postseason outing, fanning 13 over eight scoreless innings in Game 1 against Jacksonville. The Reds rewarded him by purchasing his contract Tuesday, and he tossed 1 2/3 scoreless frames in his long-awaited Major League debut against the Cardinals, his employer in 2016. McGuire's story goes to show that consistency with one team can have major benefits in the long run.
Down East Wood Ducks: Josh Morgan -- This was an important season in the development of the No. 15 Rangers prospect. After years of flirting with the move in instructs, Morgan made 36 starts at catcher (in addition to the 61 starts at his more natural position at short). There's a bit of learning curve as Morgan threw out just eight of 36 attempted basestealers, and his offensive numbers didn't exactly take off in his second full Class A Advanced season with a .270/.318/.380 line and six homers in 106 games. On the plus side, Morgan still makes a ton of contact -- his 12.1 percent strikeout rate was third-lowest in the Carolina League -- and he doesn't turn 22 until November. The 2014 third-rounder hasn't fallen behind on the development curve yet, and by adding a new position, he'll only be a more enticing prospect going forward. Two Class A Advanced championships in two years -- the other coming at High Desert last season -- aren't bad either.
Lynchburg Hillcats: Triston McKenzie -- The 42nd overall pick in 2015 split time between Class A Short Season and Class A last year, but the Indians chose to give him a full workload in the Carolina League this season. McKenzie responded by being the circuit's Pitcher of the Year, finishing with a 3.46 ERA, 1.05 WHIP and league-best 186 strikeouts in 143 innings. (No one else in the circuit struck out more than 146.) He proved it in the playoffs as well, striking out 10 and scattering three hits and two walks over seven scoreless innings against Frederick in Game 2 of the semifinals. The Indians clearly wanted the right-hander to pack on innings in a familiar setting, and there's no doubt that was accomplished by keeping him in Lynchburg for his age-19 season. McKenzie will enter Double-A Akron at just 20 as one of the most promising right-handed arms in the Minors, thanks to his plus fastball and curve.
Dunedin Blue Jays: Jordan Romano -- The key for Toronto's No. 19 prospect was to get through the season healthy, regardless of assignment. Romano missed 2015 due to Tommy John surgery and threw 72 2/3 innings at Class A Lansing last year. Thankfully he didn't get placed on the disabled list once during his five months with the Blue Jays and finished with 144 2/3 innings under his belt between the regular season and playoffs. A 2014 10th-rounder out of Oral Roberts, Romano should have a little bit more helium in 2018, especially if the 24-year-old right-hander can match his 3.39 ERA and 22.6 percent strikeout rate at Double-A New Hampshire, but both the pitcher and organization will take this title-winning, healthy foundation forward.
Palm Beach Cardinals: Jake Woodford -- Woodford matches the description of a solid yet unspectacular pitching prospect, and those are the types that stay at one level for an entire season. The 39th overall pick in the 2015 Draft hasn't earned higher than a 55 grade on the 20-80 scouting scale for his fastball, slider or changeup, and some of his numbers in the Florida State League were good (3.10 ERA in 119 innings) while others don't exactly pop (1.40 WHIP, 14.0 percent strikeout rate). The Cardinals have plenty of pitching depth and aren't in any need to push a 20-year-old right-hander with room to grow. Woodford showed what's he capable of, allowing just one run in six innings during his lone postseason start, and the hope is that he can make another jump in terms of stuff, performance and maybe level next summer.
Vancouver Canadians: Riley Adams -- College hitters typically skip the complex leagues, and the Blue Jays did their 2017 third-round pick one better by skipping him over Rookie-level Bluefield as well. He responded by leading Class A Short Season Vancouver in slugging percentage (.438) and OPS (.813) during the regular season. His bat didn't quite stand out in the postseason, but the backstop did help guide five Canadians pitchers to a collective 16-strikeout effort in Tuesday's 2-1, championship-clinching win over Eugene. Adams, who hit .312 with 13 homers and a .988 OPS in his final season at the University of San Diego, is known as a offense-first catcher, and he fit that role during his first pro season. (His 40.4 percent caught-stealing rate was nothing to sneeze at, either.) He could move quickly in the full-season circuits, but few can complain about this base layer in Vancouver.
Elizabethton Twins: Wander Javier -- One Twins shortstop prospect was featured on the top of this list, and here's another. Minnesota moved the 18-year-old -- a $4 million signee out of the Dominican Republic in 2015 -- stateside for the first time, and he took off, hitting .299/.383/.471 with four homers, one triple and 13 doubles in 41 games for the eventual Appalachian League champs. That's even more exciting when you consider Javier played only nine games in the Dominican Summer League in 2016 due to hamstring injuries. There's a chance he was hitting well enough to get a look at Class A Cedar Rapids before the door closed on 2017, but No. 1 overall pick Royce Lewis skipped the line with his jump from the Gulf Coast to the Midwest League. How the Twins handle their Nos. 1 and 5 prospects in 2018 should be interesting. The organization doesn't have a Class A Short Season affiliate, so there's no easy answer as to how both can get full-time shortstop duties in the lower levels. A position switch or aggressive assignment might be needed for one or the other. That's a problem for next spring though, and it's a good one to have.
Sam Dykstra is a reporter for MiLB.com. Follow and interact with him on Twitter, @SamDykstraMiLB.