Toolshed: Recipe for Rookie of the Year
What the award's last 20 recipients mean for 2017's contenders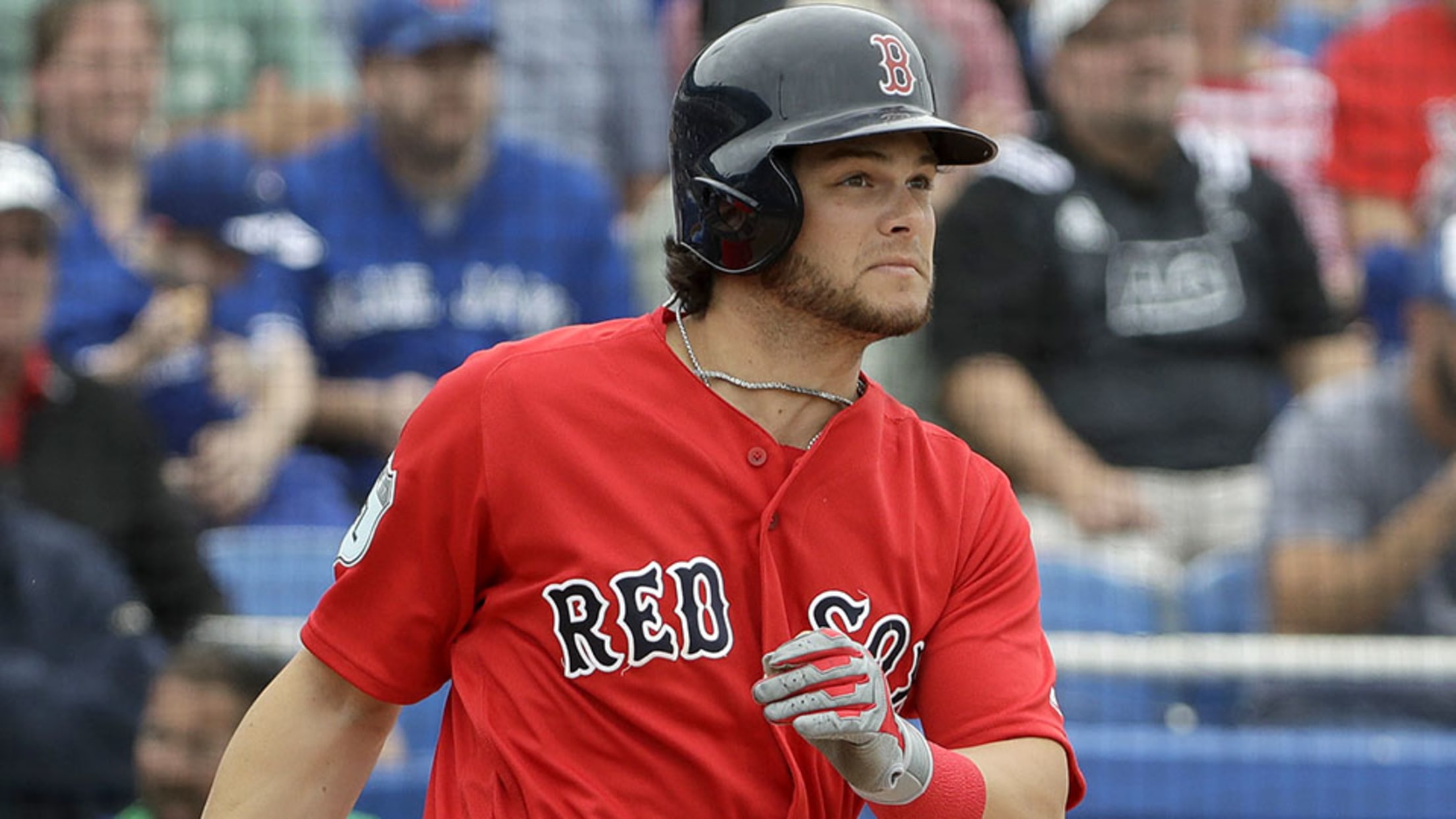 Andrew Benintendi is ready to roll into the 2017 season after hitting .322 this spring. (Chris O'Meara/AP)
So you want to be Rookie of the Year?Well, we hate to break the news, but unless you're one of a handful of the game's top prospects close to the Majors -- or your name is Henry Rowengartner -- it isn't likely in the cards.As Opening Day rolls ever closer,
So you want to be Rookie of the Year?
Well, we hate to break the news, but unless you're one of a handful of the game's top prospects close to the Majors -- or your name is Henry Rowengartner -- it isn't likely in the cards.
As Opening Day rolls ever closer, baseball content machines are busy generating predictions for the Major League standings, postseason results and, of course, annual awards. MiLB.com typically doesn't get too involved in the Major League prediction game, but we can provide insight into who could walk with two particular pieces of hardware come season's end: the American and National League Rookies of the Year.
With so much focus on who could win those two awards this season, let's start by looking back at the winners from both circuits over the past 10 seasons based on traditional stats, WAR (as set by Baseball Reference), season debut date, whether their club made the playoffs and their MLB.com or Baseball America overall prospect rank entering the campaign.

Rookies of the Year, 2007-16 (Position Players)
-- Baseball America rank, all others come from MLB.com


Rookies of the Year, 2007-16 (PItchers)
-- Baseball America rank, all others come from MLB.com
Here are five trends that can be deduced from these winners, followed by some 2017 forecasts:
1. It helps to be highly ranked -- You have to be good to rank highly in any top-100 prospect list. You also have to be good to win a Rookie of the Year award. It's not rocket science to say the two are linked in some way. But is it an advantage to be on the Rookie of the Year radar when the season begins? It doesn't hurt, that's for sure. What's more, it could be that the way prospects are evaluated is getting better and leaning slightly toward those closer to the Majors. Since 2012, seven of the 10 Rookies of the Year entered the season ranked among the game's top 10 prospects. From 2007-2011, that number was only four. This could be a statistical coincidence in that variance will happen over five-year spans, but it's something to think about for this year's bunch.
2. It helps to start early -- This is another duh moment, but it's nice to have the data back it up. Of the 20 award winners over the last 10 season, 14 made their season debuts in March or April. You'll recall that's a big reason why the 2016 phenomenon that was Gary Sánchez couldn't quite nip Michael Fulmer. This is even more true for pitchers trying to catch the award, given that starters play every five days. Jacob deGrom is the only award-winning pitcher to make his debut in May among the seven to win since 2007. Fulmer was second-latest at April 29, but that was enough in a year that saw a dropoff in contenders after he and Sanchez. That said, it's not as much of a dealbreaker as it once had been. Before Wil Myers in 2013, no position-player Rookie of the Year had played fewer than 100 games. Between Myers and Correa, we had two such players in a three-year span. That could end up being just a blip in history, but it's worth keeping an eye on, especially as teams try to keep their best prospects in the Minors longer to overcome service-time concerns.
3. WAR is good for something -- If you've followed the baseball award races the past few seasons, you know that Wins Above Replacement is being leaned on more and more to determine a player's value relative to his colleagues, but it's a still fairly recent phenomenon. Since 2012 -- the year that may rank as the best Rookie of the Year pairing ever in Mike Trout and Bryce Harper -- there have been only three instances in which the rookie with the higher Baseball-Reference WAR didn't take the award: Correa in 2015, deGrom in 2014 and Myers in 2013. Over the same five-year span from 2007-2011, seven players fit that bill. It's tough to imagine a season like 2010 -- when Neftali Feliz (2.3 WAR) trumped Austin Jackson (5.1) in the AL and Buster Posey (3.9) beat out Jayson Heyward (6.4) in the NL -- happening anytime soon.
4. Making the playoffs can help -- Looking at the position-player table, it appears making the playoffs is an advantage. Looking then at the pitcher table, however, it doesn't seem that way at all. So what to take away from that? If anything, making the playoffs might break a tie. Think back to 2015 when Correa and Indians shortstop Francisco Lindor were the easy two candidates to capture the award in the AL. Correa posted a 4.1 WAR while leading the pair in OPS (.857 vs. .835) and homers (22 vs. 12). Lindor was the better defender and hit for the higher average (.313 vs. .279), a combination of skills that gave him a higher WAR at 4.6. However, Correa was a big part of the reason Houston had gone from a 70-win team in 2014 to a 86-win Wild Card team his rookie season. As good as Lindor was, his Indians won 81 games, missing the playoffs and a potential award-winning boost for their shortstop. When it gets down to it, the Rookie of the Year Award isn't the MVP in that we don't have to explain our personal definitions of "valuable" and whether value comes from team success; it's meant to be given solely to a circuit's best first-year player. But a postseason berth could be what tips the scales.
5. Position doesn't matter -- This is just an interesting note, more than anything. There have been 20 Rookie of the Year awards given out since 2007. There are nine positions on the field. All have been represented from catcher to relief pitcher. If you want something noteworthy, no left-handed pitcher has won a Rookie of the Year award since Dontrelle Willis in 2003 -- something for Amir Garrett (Reds) and Josh Hader (Brewers) to aim for perhaps.
With those factors in mind, here are 2017 Rookie of the Year contenders based on their likelihood to win:
The favorites: If a prediction column comes out that does not include Red Sox outfielder Andrew Benintendi and Braves shortstop Dansby Swanson as the Rookie of the Year winners, the writer is trying to be a little too cute. Ranked No. 1 and No. 4 by MLB.com, respectively, both will start with their Major League clubs on Opening Day and have already found success at the highest level with OPSes above .800 last season. Both have room to grow and will be leaned on heavily in their first full seasons. A lot can happen, but they're in pole position.
Second tier: Aaron Judge has already been named the Yankees' starting right fielder, and with his power and size, it's possible he could have a monster year at the plate. It's also possible his contact issues (e.g., 42 strikeouts in 95 MLB plate appearances) could rear its ugly head, and he loses the job to Aaron Hicks. Pirates righty Tyler Glasnow remains in the discussion to take the fifth spot in the Pirates rotation and has put up video-game numbers in the Minors, like a 10.8 K/9 over 20 starts at Triple-A last season. But the 23-year-old has always struggled with control, and those concerns might be enough to keep him from award contention. Also keep an eye on Padres center fielder Manuel Margot, who is looking more and more like San Diego's center fielder of the present. He might not hit enough right away, but his speed and elite defense could push his WAR into contention. Hunter Renfroe will play to Margot's left and should provide value with his power (34 homers between the Majors and Minors in 2016) and his arm. But Petco Park might keep him in the yard, and he may not reach base enough to please voters. Even if things click, a likely difficult season as a team for San Diego won't do favors for either's candidacy.
In-season call-ups: Even with Benintendi and Swanson in the mix, there's still a chance someone could pull a Myers or Correa and steal the award after coming up in May or June. White Sox second baseman Yoán Moncada and Dodgers first baseman/outfielder Cody Bellinger might fit that, depending on readiness. Moncada has all the tools you'd want, and Chicago is keeping second base open for him, when he's ready, but like Judge, he'll have to improve his contact rate in this case at Triple-A Charlotte first. There isn't an obvious spot in Los Angeles for Bellinger, meaning he'll simmer at Triple-A Oklahoma City at the start of the season, but if the Dodgers continue to lose outfield depth, they may see him as their best internal option in left at some point in the first half, if not relatively early. His power could play right away, and the NL West-contending Dodgers shouldn't be afraid to get the help they need if they hit a rough patch. There will be no such urgency for Moncada with the rebuilding White Sox.
Dark horses: As noted, non-top-100 prospects have swept in and crashed the Rookie of the Year party. So maybe A's right-hander Jharel Cotton lives up to the projections and becomes an impressive starter over a full season in Oakland. Maybe Mets right-hander Robert Gsellman shows that his velocity spike and improved slider in the Majors last season was real and becomes the next big arm in Flushing. Maybe Joe Jiménez (Tigers) or Koda Glover (Nationals) follow the relief road traveled by Craig Kimbrel, Neftali Feliz and Andrew Bailey and turn dominant runs from the bullpen into awards on their shelves.
Of course, anything can happen, and it will be interesting to follow all these players in the months ahead to see whether the meet their expectations. But honestly at this point, it would be a surprise if anybody but Benintendi and Swanson win.
Sam Dykstra is a reporter for MiLB.com. Follow and interact with him on Twitter, @SamDykstraMiLB.