Toolshed: Arroyo showing Giant bat early on
No. 84 prospect hitting .442 with three homers for Sacramento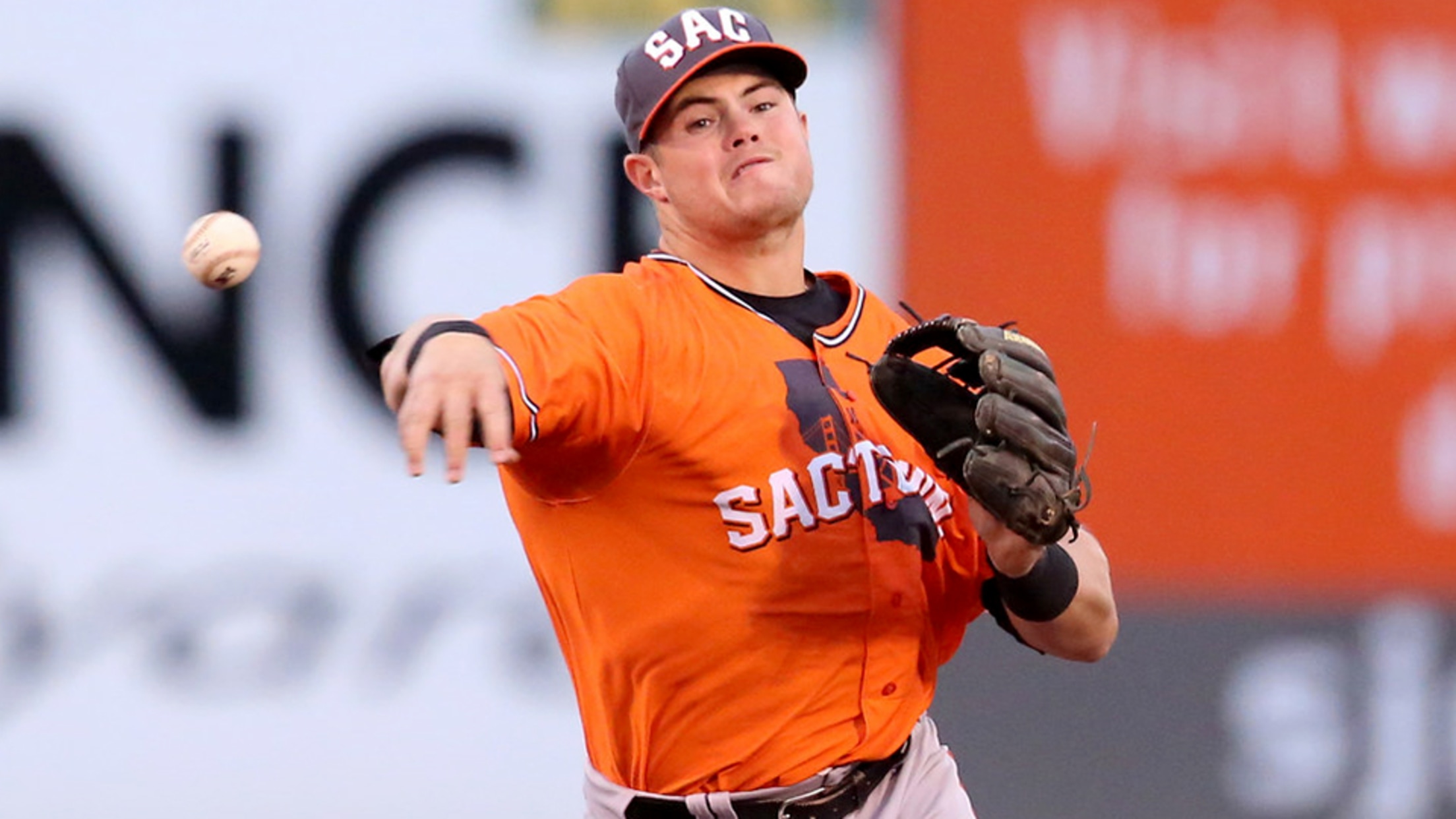 The eighth-youngest player to open the year in the PCL, Christian Arroyo is a .299 hitter over five Minor League seasons. (Tim Cattera/MiLB.com)
Dave Brundage has begun his 20th season as a Minor League manager, 12 of which have come at Triple-A. Over that time, the 52-year-old has seen future All-Stars such as Adam Jones and Freddie Freeman thrive before their final ascension, and he's seen top talents like Julio Teheran and most
Dave Brundage has begun his 20th season as a Minor League manager, 12 of which have come at Triple-A. Over that time, the 52-year-old has seen future All-Stars such as Adam Jones and Freddie Freeman thrive before their final ascension, and he's seen top talents like Julio Teheran and most recently J.P. Crawford and Nick Williams struggle to round out their development.
In his first season as Sacramento's skipper, he sees something special in 21-year-old Christian Arroyo.
"Triple-A is a different animal than Double-A," Brundage said. "Going to that next level, you're knocking on the door. There's no doubt about that. [Arroyo] being the youngest on the team, he came here to earn his stripes. Not to say he didn't earn them at Double-A, but that's not quite knocking on the door there. Here, it's understanding that the carrot is dangling in front of you, and that's motivation enough. I see him trying to mature, trying to rise to the occasion, but he's still concentrating on each at-bat and not getting ahead of himself. It's been something."
Arroyo, MLB.com's No. 84 overall prospect and No. 2 in the Giants system, has been one of the Minors' hottest hitters. He leads all Triple-A with a .442 average through his first 13 games in the Pacific Coast League and ranks among the level's leaders in OPS (1.165, second), total bases (36, second), hits (23, third), OBP (.473, fifth) and slugging (.692, sixth). An 0-for-4 night Thursday snapped a season-opening 12-game hitting streak, the longest among PCL hitters entering Friday.
That's quite a run for any player, especially one that doesn't turn 22 until May 30, making him the eighth-youngest player to open the year in the PCL.
Beyond his age, the right-handed-hitting infielder is coming off perhaps the most difficult offensive season of his career at Double-A Richmond. Arroyo hit .274/.316/.373 with three homers, a triple, 36 doubles and an 89 wRC+ over 119 games. Part of that had to with playing home games at The Diamond, a notorious pitching haven. Indeed, Arroyo's .315 average and .786 OPS in 63 games on the road was much more palatable than his .224 and .572 marks in 56 games at home, a big reason why he remained a top-100 prospect entering this season.
Park factors aside, it's notable that Arroyo has as many homers this season as last in 462 fewer plate appearances.
"Physically, he does a really good job of using his lower half and his legs because he's got a really strong lower half," Brundage said. "He's coming into his own with the bat as he starts knowing who they want him to be. From his standpoint, he's probably most proud that of his three homers, one's gone to center, one to left and one to right. That ability to hit to all fields is huge.
"Doing that is a benchmark. Base hits to right and left, line drives up the middle, it's all part of finding himself. That's who he wants to be."
Brundage's evaluation holds up when looking at Arroyo's spray chart (below from MLBfarm.com). Of his 23 hits, eight have been to center field, seven to left and four to right. Like any player with a .465 BABIP, Arroyo has a few infield hits as well, but he's putting the ball in play at a good clip with a 10.9 percent strikeout rate that would be the lowest of his career.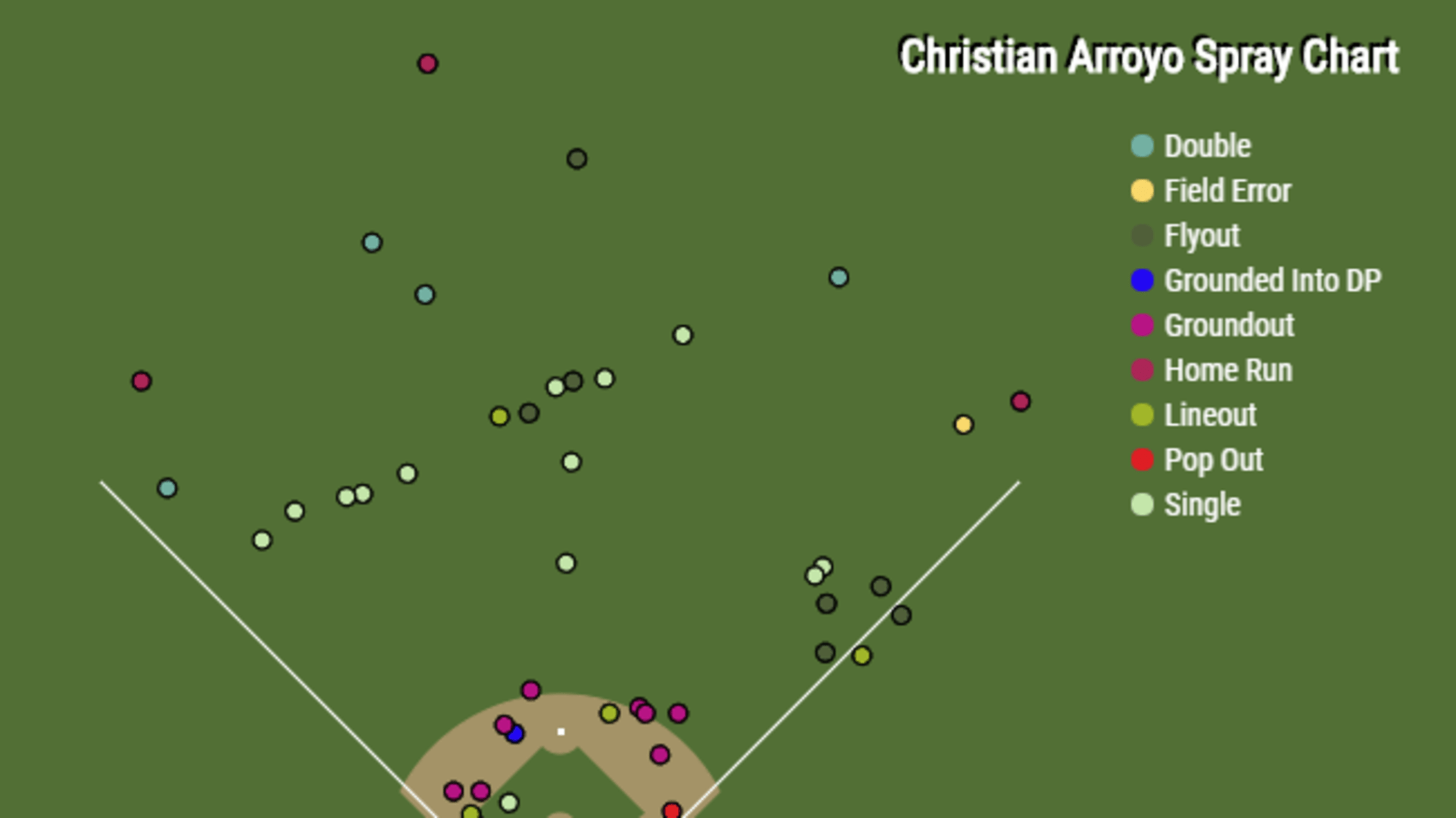 Arroyo got to show off his offensive improvements during his first non-roster invitation to Spring Training, and he held his own by going 5-for-20 in 18 games, mostly in mop-up duty. But on March 19 -- the same day he was reassigned to Minor League camp -- Arroyo homered on the only he pitch he saw. Brundage said he could see that one long ball -- his only one of the spring -- leave a mark on the organization's top position player prospect.
"Big league camp was a big plus for him," he said. "That's where he can understand how he fits in, and I think he showed himself that he has the ability to hit at a Major League level. He's still a young man in search of himself, but that helped with experience, and the success on top was even better."
As good as he's been lately, Arroyo's stock isn't just linked to his bat. The River Cats have moved him around the infield through the season's first two weeks with seven starts at shortstop, three at second base and two at third.
Shortstop has been his primary position since the Giants took him 25th overall out of a Florida high school back in 2013, but as a 40-grade runner, his range isn't great for the position. It doesn't help either that two-time Gold Glover Brandon Crawford occupies the position in San Francisco. (Joe Panik is coming off his own Gold Glove-winning campaign at second base, and Eduardo Nunez, fresh off a 40-steal season, could be tough to knock off the hot corner, though he's been worth -4 Defensive Runs Saved as calculated by The Fielding Bible.)
Without a clear path, the River Cats plan to keep using Arroyo all over the infield, except for first, to keep his options open.
"There are the regular things that need to be cleaned up [defensively]," Brundage said. "He's not a finished product, but I think he's comfortable at all of them. Having played shortstop, he's probably most comfortable there just because of the time. But he's still got to learn to turn double plays at second, getting to balls in the hole at short, getting used to positioning at third base. It's not just him. Everyone is working on this stuff to get more polished. But there's still work to do for him."
If the Giants have a major weakness right now, it's in the outfield, where Arroyo has no professional experience, and such a defensive move doesn't seem to be an option right now. Brundage did leave the door open, though, should Arroyo keep hitting like he has in the first two weeks.
"There's no set time table, no set position," Brundage said. "If he swings the bat, they'll find a spot for him. They always do."
The Sacramento manager admitted he's still getting to know Arroyo after taking his first job in the Giants organization this spring, but after all he's seen these first two weeks and in his 12 seasons on a Triple-A bench, it's been a mighty fine first impression.
"I didn't know him more than anything I'd read or been told," Brundage said. "It was more hearsay than anything. But I've had a lot of young players at this level get here and struggle. Sometimes I learn more from their struggles than I do from when they're playing well. There will be those for him at some point. Right now, I think he's fine enjoying this, but he'll be working to keep getting better, that's for sure."
Sam Dykstra is a reporter for MiLB.com. Follow and interact with him on Twitter, @SamDykstraMiLB.