Toolshed: Cody showing more than his health
Rangers prospect thrives in first full season after 2015 Draft issues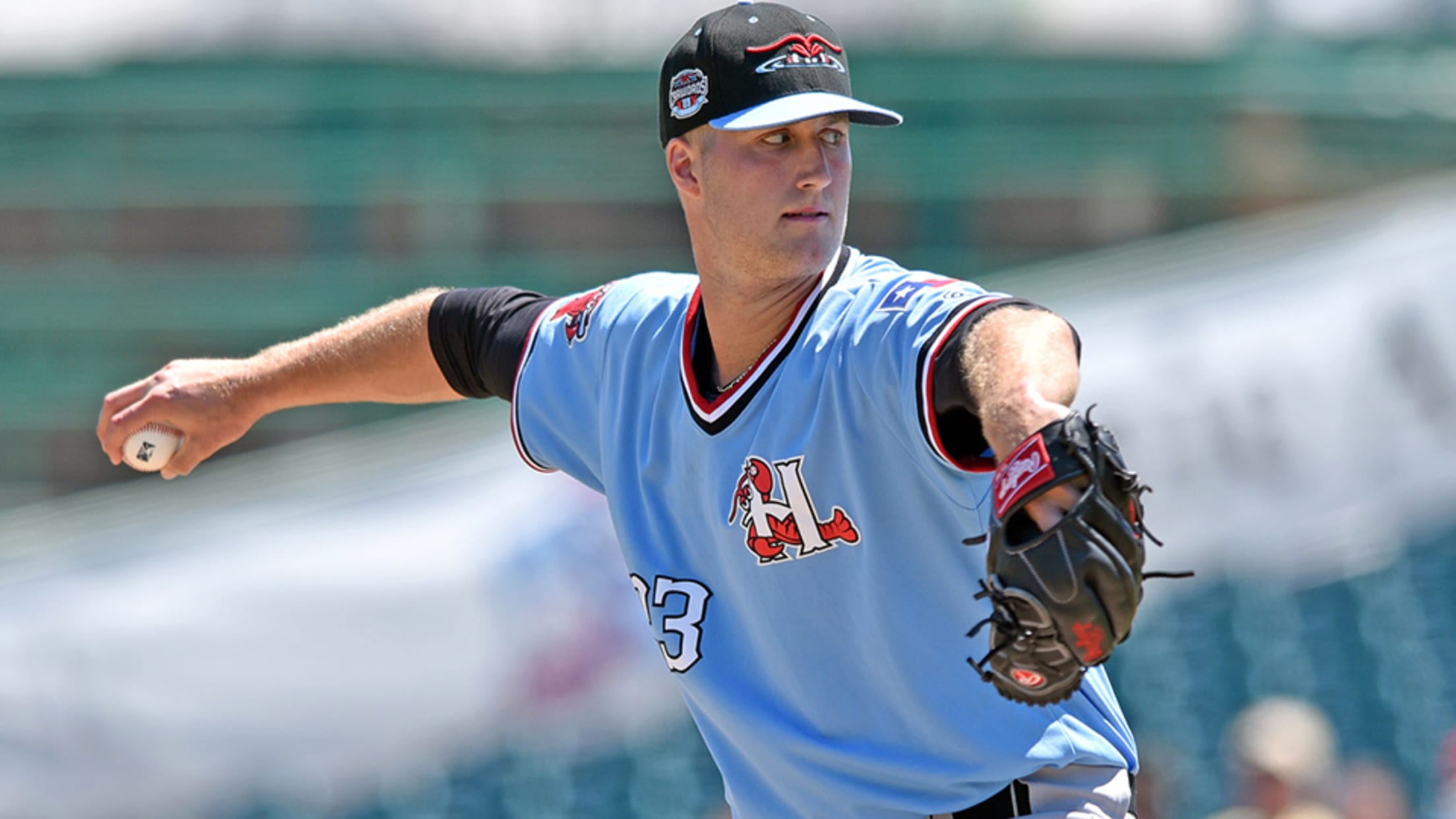 Kyle Cody has averaged 9.9 strikeouts per nine innings this season between Hickory and Down East. (Ken Inness/MiLB.com)
Kyle Cody should probably be in the Twins system right now.As the No. 73 overall pick in the 2015 Draft out of the University of Kentucky, he was only one of four top-200 picks who did not sign that year -- alongside No. 35 Kyle Funkhouser, No. 56 Brady Singer
Kyle Cody should probably be in the Twins system right now.
As the No. 73 overall pick in the 2015 Draft out of the University of Kentucky, he was only one of four top-200 picks who did not sign that year -- alongside No. 35 Kyle Funkhouser, No. 56 Brady Singer and No. 68 Jonathan Hughes. Instead, he went back to Lexington for his senior season and ended up going in the sixth round last year to the Rangers. According to Cody, what happened wasn't as simple as an inability to agree on a signing bonus.
"There was just a lot of talk that I was injured, which wasn't true," he said. "They said they saw something in my elbow in an MRI, and that changed things. But I didn't feel anything at the time, and my arm's still fine."
Now in his first full season of pro ball, the Rangers' No. 18 prospect is not only proving his health with each start but also becoming one of the most reliable pitchers in the Texas system. He's made all 20 of his starts in 2017, totaling 107 innings while posting a 2.94 ERA and 1.14 WHIP with 118 strikeouts and 37 walks between Class A Hickory and Class A Advanced Down East. A not-so-small part of him hopes the Twins are paying attention.
"Oh, definitely," he said. "I knew all along I wasn't injured and that my arm can withhold a long season. I love that I can do this after everything else that happened."
His innings total would be notable for any first-year pitcher trying to find his bearings in pro ball. Cody's collegiate high was 83 1/3 frames in his final season with the Wildcats, which came after the Twins' elbow diagnosis. Also notable is the way in which the 23-year-old has found effectiveness as he's navigated the Minors for the first time. As late as June 11, he owned a 4.53 ERA through 11 starts in the South Atlantic League. Six weeks later, that number had plunged to 2.78 following four straight starts without an earned run allowed, a stretch that lasted 29 innings.
The 6-foot-7 right-hander had earned solid marks for his fastball, slider and changeup. His fastball, can touch the upper-90s, though it sits in the mid-90s, and his slider is an offering that he says can get regular swings and misses. But a midseason adjustment seems to be what's really helped him improve in 2017.
"The biggest thing for me is to get ahead," Cody said. "The beginning of the year, I was falling behind a lot, and that led to a lot of loud contact. Now I'm just focused on pounding the zone with the fastball and making it hard for guys to put a good swing on things. If I focus on that, I've found I can keep putting guys away.
"Mechanically, it's been about simplifying my delivery. I had more movement before, but now I'm focused on keeping a pretty set foot on the mound at all times. Keep it simple, so I can repeat it as much as possible. Being the big guy that I am, it can obviously be tough to do that
One thing that's especially helped has been his ability to get more whiffs as the season has gone on. Just this week, he struck out 11 batters in his second Carolina League start -- matching a career high he had achieved just 15 days earlier in his final Sally League outing. Since June 17, when he fanned eight over eight one-hit innings for Hickory, he has a strikeout rate of 35 percent and a swing-and-miss rate of 16 percent over his last nine starts. (Both of those numbers are up from 19.3 percent and 10 percent over his first 11 outings of the season in Hickory.)
Cody, though, doesn't rely on K's as his biggest barometer.
"I don't really pay much attention to it," he said. "I just focus on zeros. If it's a day with a lot of strikeouts, I'll definitely take it. But if I can get a lot of early contact and turn that into outs, too, I'm perfectly happy."
Cody isn't the first hurler to lose a potential signing bonus over injury concerns. The most notable examples in recent memory are Barret Loux and Brady Aiken.
Loux was taken sixth overall by the D-backs in 2010 but didn't sign over worries about his right shoulder and elbow. Major League Baseball declared the right-hander a free agent, and he signed with the Rangers for $312,000, significantly less than the $2 million he seemed set to receive from Arizona. Loux underwent Tommy John surgery in March 2014 and most recently pitched in independent ball last season. Aiken was the first overall pick in 2014 but did not sign when the Astros significantly lowered his signing bonus due to issues they found in his left elbow. He instead went to IMG Academy in Florida to prepare for the 2015 Draft, only to undergo Tommy John and fall to No. 17 with the Indians.
In Cody's case, the Twins had offered as much as a reported $1 million before lowering their offer. At the time, general manager Terry Ryan expressed disappointment that the club couldn't sign its second-rounder, adding that injury risk "wasn't the most important thing." Cody, who signed with Texas for $150,000 last year, hasn't experienced any issues during his first full season and remains thrilled the Rangers took a chance on him and allowed him to flourish.
"Obviously, I wasn't about what happened junior year," he said. "I tried to go into [the 2016 Draft] as positive as possible and wanted to get a team that absolutely wanted me. I was happy with the Rangers because they wanted me for the pitcher that I am. They let me pitch the way I can without worrying about injuries. Right now, knock on wood, my arm has no issues."
Sam Dykstra is a reporter for MiLB.com. Follow and interact with him on Twitter, @SamDykstraMiLB.