Toolshed: Top 10 traded prospects ... so far
Mejia, Diaz, Tate headline list of Minor Leaguers on the move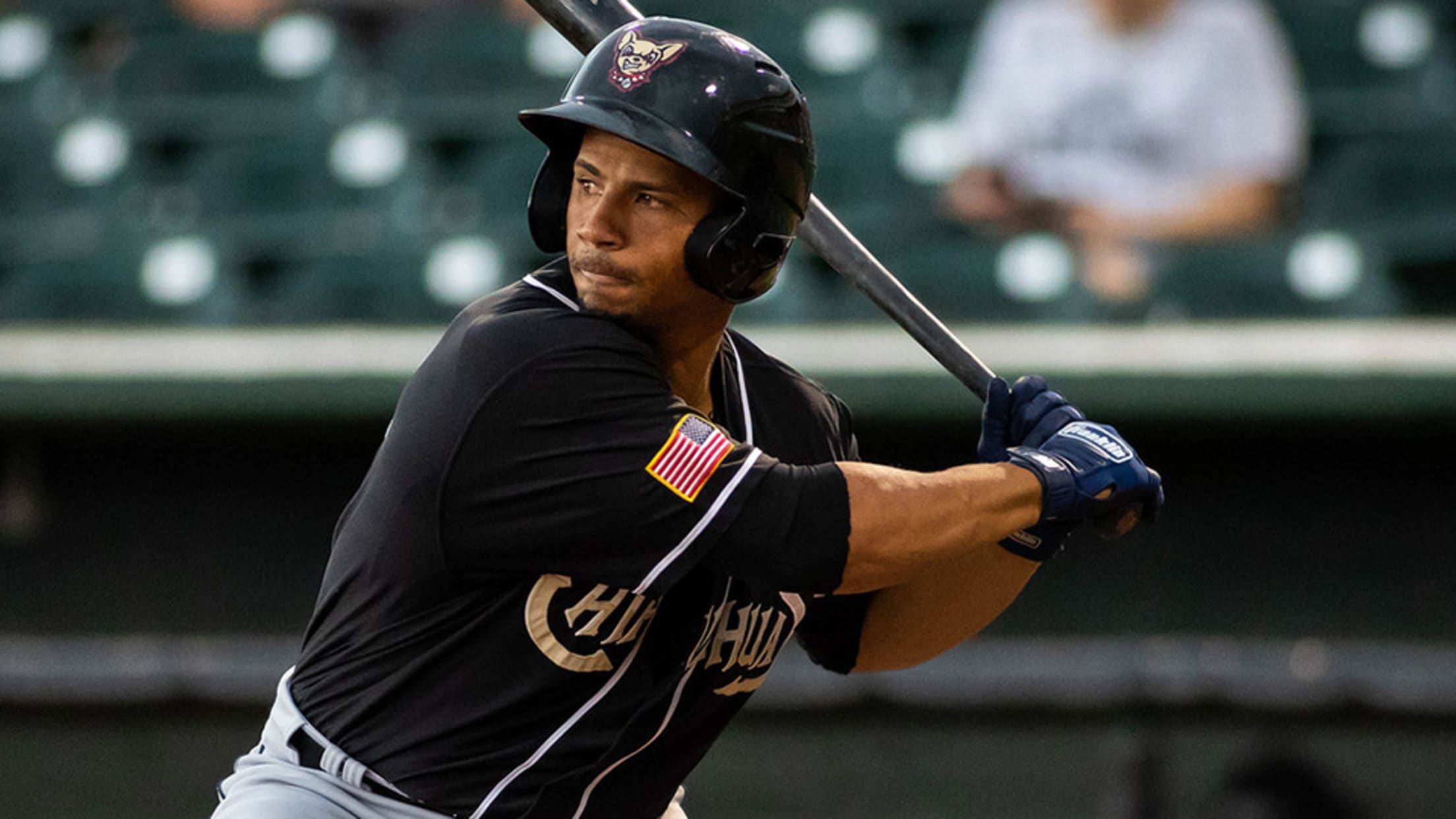 Francisco Mejia has a .417/.429/.500 slash line in four games with El Paso. (Bobby Stevens/MiLB.com)
It's been a busy couple of weeks, huh?The machinations of the Trade Deadline are in high gear with only four days left before July 31. Some notable prospects have already moved to new organizations -- so many so that it's possible to sit down and create a list of the
It's been a busy couple of weeks, huh?
The machinations of the Trade Deadline are in high gear with only four days left before July 31. Some notable prospects have already moved to new organizations -- so many so that it's possible to sit down and create a list of the top 10 prospects who've been dealt through the first 26 days of July. In fact, that's exactly what this Toolshed does. Of course, with a few days left before the ball drops on the 2018 deadline, this ranking is subject to change, but with so much high-profile activity already, the opportunity has arisen to rank this talent and take a look at where they stand in their new systems. Plus, it's going to be really hard to beat the guy at No. 1...
1. Francisco Mejía, catcher, Padres -- The Indians paid a high price when they moved MLB.com's No. 21 overall prospect to the Padres for relievers Brad Hand and Adam Cimber. A lot of that had to do with how controllable those two Major Leaguers are, but when you look at the trade through the stark terms of San Diego acquiring one Minor Leaguer in exchange for two Major Leaguers, it tells you how valuable the 22-year-old switch hitter truly is on today's market. He's an easy plus hitter and was starting to really show that again at Triple-A Columbus before the trade. After Mejia had stints in the outfield and at third base, rebuilding San Diego has said it expects him to be a full-time catcher going forward, and he could easily be a top-five offensive backstop when he moves to the Majors full-time. His receiving still needs a lot of work, but he's got the plus arm to provide at least some value behind the plate. Mejia ranks behind only Fernando Tatis Jr. and MacKenzie Gore in his new system.
2. Yusniel Díaz, outfielder, Orioles -- Were the Dodgers selling high or did the Orioles really pick up a potential five-tool outfielder in the Manny Machado deal? Time will tell. But there's no doubt Diaz's stock has risen this season, and it was clear why at the Futures Game, where he hit two homers for the World team. MLB.com's No. 57 overall prospect has batted .296/.411/.446 with six homers and eight steals in 65 games at Double-A this season. Although the power numbers may not jump out there, he has shown an ability to hit to all fields, and the 21-year-old could continue to grow in that department as he matures. He has split his time between center and right field this season but is more likely ticketed for a corner, particularly right, where his arm could be of more value. If it all clicks, there's an impressive regular here whom Baltimore could rely on for years to come. But after two average seasons in the California League in 2016 and 2017, Diaz will have to show this year's improvements are for real.
3. Dillon Tate, right-handed starter, Orioles -- This is the second July trade Tate has been involved in, and it's pretty safe to say that his stock is much higher this time around. After the Rangers took him fourth overall in 2015, the former UC Santa Barbara righty saw his velocity drop because of a change in his mechanics. The Yankees got him in 2016 for a rental of Carlos Beltran and almost immediately tried to get him back to his athletic college days. The move worked wonders as Tate was back in the low-to-mid-90s and at times during his days in pinstripes showing an above-average slider and changeup. He's helped his case for sticking as a starter by posting a 3.38 ERA and 1.11 WHIP with 75 strikeouts and 25 walks in 82 2/3 innings at Double-A this season. The possibility of three above-average offerings will always give Tate the potential to be a mid-rotation starter, but if he can't miss bats or find his command consistently with those pitches, it could be an easy move to the bullpen for him. Still, his ceiling is perhaps higher than any other pitcher's on this list.
4. Jalen Beeks, left-handed starter, Rays -- The newest Tampa Bay left-hander earns his spot here because he's arguably been the most dominant Triple-A arm in the game this season. Beeks leads all pitchers at the level with a 33 percent strikeout rate and 3.04 FIP through 87 1/3 innings during his time at Pawtucket. He struggled mightily in two Major League looks (nine earned runs in 6 1/3 innings), but the Rays seem willing to give him a new shot at a big league life with an immediate move back to The Show. The 25-year-old left-hander has made a big jump with his cutter, which has helped him pick up strikeouts, while his fastball, curveball and changeup can all be solid options. There's the makings of a backend starter here, and even if that doesn't work out, Tampa Bay should make use of him as a long man in their bullpen experimentation. That's a solid get from a division rival for a couple months of Nathan Eovaldi. who is a free agent this offseason.
4. Kodi Medeiros, left-handed starter, White Sox -- Like the Rays, the White Sox already had a pretty deep system. They got a little deeper by adding Medeiros from the Brewers in exchange for closer Joakim Soria. The 12th overall pick in the 2014 Draft is in the middle of his best Minor League season yet with a 3.14 ERA, 107 strikeouts and 45 walks in 103 1/3 innings at Double-A. His arm action coming from a three-quarters slot can look violent at times, and that, combined with some rough control over the years, have led many to believe his future is in the bullpen. However, he's shown a low-90s fastball and a plus slider, and those two have combined to help him post his highest-ever strikeout rate with a full-season affiliate, so there's hope he could stick in a rotation. Medeiros is already in the discussion to be Chicago's best left-handed pitching prospect (2018 third-rounder Konnor Pilkington is his competition) and he could win that argument with a solid first few weeks in the new system.
5. Billy McKinney, outfielder, Blue Jays -- If the Toolshed did these lists in 2014 and 2016, it would have been interesting to see where McKinney's standing would have compared when he moved from the A's to the Cubs and then later from the Cubs to the Yankees. Now the No. 18 prospect in the Jays system, the 23-year-old outfielder earns his place here for his proximity to the Majors (he's already played two games there) and his power jump at Triple-A. The left-handed slugger's previous career high for homers was 11, but, last season, he moved to more of a flyball approach and finished with 16 -- 10 of which came with Scranton/Wilkes-Barre. He was already up to 13 through 55 games back with the RailRiders before Thursday's trade sent him to Toronto with Brandon Drury for J.A. Happ. That said, McKinney may struggle to hit for a high average, and while he has played center and right this season, his Major League future is likely at left due to his limited arm strength. There's no doubt McKinney will play Major League games for the Jays, but he'll have to show more than improved pop to carve out a regular role.
7. Dean Kremer, right-handed starter, Orioles -- Kremer's breakout from a 2016 14th-rounder out of UNLV to an established prospect was solidified when he was the second biggest name moved to Baltimore for Machado. He ranks fifth among all Minor Leaguers with 131 strikeouts over 92 innings at Class A Advanced and Double-A, and he's backed that up with a 2.93 ERA and 1.15 WHIP. During his Dodgers days, the 22-year-old right-hander earned praise for his willingness to attack with his low-90s fastball and his ability to throw hitters off with an above-average curveball. His slider and changeup are still works in progress, and he'll need them to stick as a starter at the upper levels. But Kremer has already come far in his third Minor League season, and it'll be interesting to see how much bounce he can carry to his second farm system.
8. Cody Carroll, right-handed reliever, Orioles -- To be a notable relief prospect, a pitcher has to have the goods. Carroll does. The 25-year-old right-hander can touch triple-digits with his heater, and his slider is considered a plus pitch as well. Those are the perfect ingredients for a reliever in today's game. He's posted a 2.32 ERA with 57 strikeouts, 18 walks and no homers allowed in 42 2/3 innings at Triple-A this season -- numbers that back up the stuff. Furthermore, he's been incredibly tough against his fellow righties, holding them to a .122 average in the International League. So even if he doesn't reach his ceiling of a late-inning reliever, he'll at least be trusted against Major League righties soon. If these latest trades have proved anything, it's that impressive relievers can have a lot of value in today's game, and Carroll has a good chance to provide that value for Baltimore soon.
9. Rylan Bannon, third baseman, Orioles -- If Bannon had posted his 2018 numbers anywhere but the California League, he might be higher on this list. The 2017 eighth-rounder wasted no time in his first full season by hitting .296/.402/.559 with 20 homers in 89 games with the Dodgers' Class A Advanced affiliate, Rancho Cucamonga, before moving to the O's system. His 158 wRC+ is still best on the circuit, so even in a hitter-friendly league, Bannon showed he could take advantage in the best way. However, he also struck out in 25.6 percent of his plate appearances, and the arms will only get tougher the higher he climbs, starting now at Double-A Bowie. Bannon has spent time at second and third base this season, and that fits in with what many believe will be a utility man future for him. But if he can continue to hit for elite power in the Eastern League and beyond, he might prove to be more than that for the Orioles.
10. Patrick Sandoval, left-handed starter, Angels -- It's taken some time, but the 2015 11th-rounder has put up numbers that have made many stand up and pay attention -- including the Halos, who acquired him from the Astros for Major League catcher Martin Maldonado on Thursday. Sandoval has posted a 2.56 ERA and 97 strikeouts and only 15 walks in 88 innings between Class A Advanced and Class A. With an 0.97 WHIP, he's only one of a dozen full-season Minor Leaguers to carry that mark below 1.00. His control of his four-pitch mix is his best asset right now as his curveball is the only offering to grade out as above-average. That's played plenty well for now, but he'll be tested as he climbs higher and faces bats that can hit even the good stuff in the zone. Still, Los Angeles is getting Sandoval on the upswing at a time when the farm system is on a similar trajectory.
Of note: Forrest Wall and Chad Spanberger -- the two prospects the Blue Jays picked up for Seunghwan Oh -- each just missed this list. Wall has seen his stock drop in recent years but still provides plus speed, which has helped him in his move from second base to the outfield. Spanberger has been a killer power hitter but needs to show he can slug somewhere beyond the hitter's haven in Asheville. ... Neither Will Toffey nor Bobby Wahl were all that close to placing in the top 10 after they moved from the A's to the Mets for Jeurys Familia -- a sign that New York could have (and should have) done much better in dealing its closer. ... Michael Perez fits the profile of a potential backup catcher in the Majors, but after he moved from the D-backs to the Rays for Matt Andriese, he immediately made his Major League debut, going 1-for-2 with a double Thursday night. Brian Shaffer, the other prospect moved in that deal, impressed with a 2.70 ERA and 109 strikeouts in 106 2/3 innings in his first full season out of the University of Maryland but did so in a passive assignment at Class A. He's already been moved to Class A Advanced Charlotte to begin his Tampa Bay career.
Sam Dykstra is a reporter for MiLB.com. Follow and interact with him on Twitter, @SamDykstraMiLB.