Top-100 prospects on MLB Opening Day rosters
Breaking down best- and worst-case scenarios for brightest stars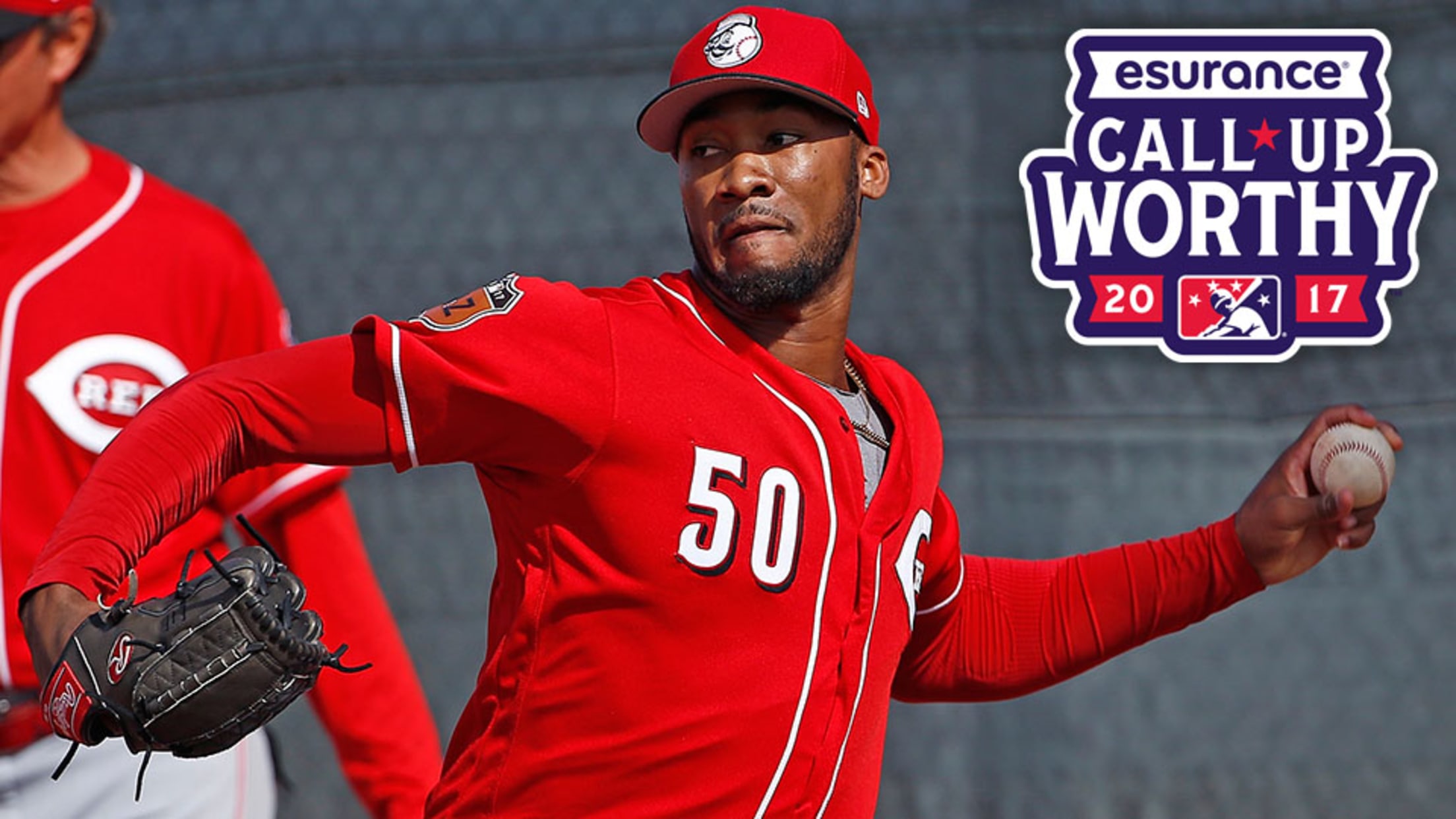 Reds lefty Amir Garrett is scheduled to make his big league debut Friday against the Cardinals. (Ross D. Franklin/AP)
Enough speculation. Enough talk. Enough training. It's time for The Show.After an offseason filled with wonder about who would wind up where, 11 of MLB.com's top-100 prospects will begin the 2017 season on a Major League 25-man roster. This isn't an inexperienced group, however. Reds lefty Amir Garrett is the
Enough speculation. Enough talk. Enough training. It's time for The Show.
After an offseason filled with wonder about who would wind up where, 11 of MLB.com's top-100 prospects will begin the 2017 season on a Major League 25-man roster. This isn't an inexperienced group, however. Reds lefty Amir Garrett is the only one yet to make his MLB debut.
Of course, just making the Majors isn't the end of the road, and even for the brightest young stars, success is hardly guaranteed. For every Corey Seager or Gary Sánchez, there's a Yoán Moncada (or several) who struggles in his initial transition to the game's biggest stage. As exciting as these top prospects can be, it's important to be realistic about potential bumps in the road.
Barring injury, below are the best- and worst-case scenarios for each of the 11 top-100 prospects starting Opening Day on a Major League roster:

Andrew Benintendi, Red Sox outfielder, No. 1
Best-case scenario:
Win, dance, repeat. If things fall into place for Benintendi in 2017, the game's top overall prospect does more than just fit in next to All-Stars
Mookie Betts
and
Jackie Bradley Jr.
in the Boston outfield -- he begins to turn into a franchise cornerstone. The 2015 first-rounder wins AL Rookie of the Year, hitting .300 while providing 20 homers with 15 steals and playing impressive defense in left field. It's a talking point now, but Benintendi fits the No. 2 slot in Boston's lineup and plays a big role as the Red Sox take the AL East title.
Worst-case scenario:
How Benintendi produced in the Minors and Majors in 2016 is a big reason why he's the No. 1 overall prospect in the game, so it's unlikely he'll crash and burn. However, Major League pitching is rough, even for those who've succeeded in the past. (Hello, Jason Heyward.) It's possible big league arms figure out Benintendi in his second season, especially southpaws, against whom the left-handed hitter went 5-for-28 (.179) with 12 strikeouts last year. With the Red Sox trying to win the division, they move Benintendi into a platoon role with
Chris Young
, and fans are left wondering whether Benintendi is the 2017 version of the Mets'
Michael Conforto
without the demotion.
Dansby Swanson, Braves shortstop, No. 4
Best-case scenario:
The Braves have a new stadium in SunTrust Park. They need another face of the franchise next to
Freddie Freeman
in what could be the last season of their rebuild. They get it in local kid Swanson. The 2015 first overall pick hits above .300, showing that last season's .302 average over 145 plate appearances in the Majors was no fluke, and plays above-average defense at a premium position. That combination allows him to put up a WAR high enough to take the NL Rookie of the Year. With
Ozzie Albies
in Atlanta around the All-Star break and the team surprising with a record around .500, the Braves realize they have enough pillars in place to spend the 2017-18 offseason building a Major League roster ready to contend.
Worst-case scenario:
As good as Swanson's numbers were in the Majors in 2016, they were aided by a BABIP at the usually sustainable level of .383. In this scenario, that comes closer to the .309 Swanson posted at Double-A Mississippi. Meanwhile, he continues to strike out around 23.4 percent of the time, almost five percentage points higher than he did at any level in the Minors. The 23-year-old provides value with his glove and feet, but without major offensive production, it feels like a rough first full season, especially if the Braves struggle to reach 70 wins.
Tyler Glasnow, Pirates right-handed starter, No. 8
Best-case scenario:
The Minor League version of Glasnow comes to the Majors. With a career 2.03 ERA and 11.6 K/9 in the Minors, the 6-foot-7 right-hander, who was just named the Pirates' fifth starter last week, doesn't quite touch those video-game numbers but does plenty with his plus fastball and curve and improving changeup to make eyes go wide. What's more, he finds his control -- after posting a 5.0 BB/9 in the Majors last season -- and it's no longer his defining characteristic. Glasnow,
Gerrit Cole
and
Jameson Taillon
begin to fulfill their promise as one of the game's most exciting pitching trios, and the Pirates make the Cubs look over their shoulder for most of the summer.
Worst-case scenario:
Glasnow was very nearly not on this list as fellow prospects
Steven Brault
and
Trevor Williams
also competed for the No. 5 spot in the Pittsburgh rotation. Because it was so close, the Bucs aren't afraid to bring the others up for looks if Glasnow struggles to find the zone. The right-hander's stuff never gets to the point where it seems like he'd be better off in the bullpen, but because of the control, it becomes clear that Pittsburgh can't plan on him leading the rotation some day.
Manuel Margot, Padres center fielder, No. 23
Best-case scenario:
It's tough to find a scenario in which the Padres are a good team in 2017, but no one should have to squint too hard to see a campaign in which Margot becomes one of the game's best young talents. The 22-year-old center fielder flies out of the gate, almost literally given his speed on the dirt and in the grass. Having stolen 32 bases between the Majors and the Minors in 2016, Margot finishes among the Majors' top-five players in thefts and is named a Gold Glove finalist. (His arm's pretty good too, by the way.) He hits just enough -- around .280 -- to get serious consideration for Rookie of the Year, and it's clear that Margot can plan on many trips to the All-Star Game in his future.
Worst-case scenario:
The Padres hope to count on Margot as a top-of-the-lineup bat, but he never puts up an OBP high enough to justify the spot as the stat barely gets close to .300. The fact that Margot hasn't been much of a walker in his career plays into this. (Worth noting: he didn't take a free pass over 37 Major League plate appearances last season.) While he adds value in the field, the Padres decide they'd rather not waste Margot's service time only to see him struggle offensively, and they send him back to Triple-A El Paso in the first half with
Travis Jankowski
sliding over to center.
Josh Bell, Pirates first baseman, No. 27
Best-case scenario:
This one's simple. If Bell is going to be successful in 2017, it's because he's really good with the bat and average with the glove. Having already posted a .368 OBP with more walks (21) than strikeouts (19) over 152 Major League plate appearances, the 24-year-old switch-hitter continues to reach base at an impressive clip and builds on his career-high 17 homers across all levels last season to crack 20 in the category in his first full Major League season. Bell proves serviceable at first and gets some time in the corner outfield spots as Pittsburgh makes a playoff push.
Worst-case scenario:
Bell's glove remains less than average at first base -- he was worth -3 Defensive Runs Saved there in just 23 games last season -- and the bat isn't good enough to save him. The Pirates turn to
John Jaso
at first, leaving Bell to take a bench role as his backup/fourth outfielder/pinch-hitter. It's a role that keeps him in the Majors, but not what anyone hoped for when Bell made the move to first base during the 2014 Arizona Fall League.
Hunter Renfroe, Padres right fielder, No. 42
Best-case scenario:
Renfroe already gave everyone a taste of what this would look like when he went 13-for-35 (.371) with four homers over 11 games for the big club last September. Obviously, that's a little extreme over a small sample, but it did show that Renfroe's power can play right away. Under this scenario, he leads all rookies with close to 30 homers, despite playing half his games at Petco Park. (Trevor Story led 2016 rookies with 27 homers.) He keeps the highlight reels stocked with double-digit assists from right field and shows the struggling Padres that they won't have to worry about two-thirds of the outfield for a while with him and Margot in the mix.
Worst-case scenario:
Last season's MLB debut is a mirage, and the same can be said for Renfroe's PCL MVP campaign. Like Margot, big league pitchers take advantage of Renfroe's aggression, and the 25-year-old walks in fewer than three percent of his plate appearances. (If that seems low, the percentage was just 3.9 percent in Triple-A last season.) Because of that, Renfroe's average and OBP suffer, and he looks more like a three-outcome hitter than a well-rounded star.
Aaron Judge, Yankees right fielder, No. 45
Best-case scenario:
The Yankees gave Judge their starting right field spot over
Aaron Hicks
, and they never look back. Instead of Renfroe, it's the 6-foot-7 Judge that leads all rookies in long balls as he flirts with 30 for the first time in his career. Most important, he cuts down on the strikeouts to a much more productive level: around 23 percent. (That's a big drop from 44.2 percent over 95 plate appearances.) Making more contact, Judge reaches base enough that he never has to worry about Hicks taking the job back. He combines with
Gary Sánchez
and
Greg Bird
to form the Bronx's own Bash Brothers with
Clint Frazier
and
Gleyber Torres
waiting in the wings.
Worst-case scenario:
Big men equal big strike zones. As much as Judge tries to put the ball in play more, he ranks among the early leaders in strikeouts. Trying to remain in the playoff hunt, the Yankees hand the job to Hicks and send Judge back to Triple-A Scranton-Wilkes/Barre to get the at-bats he needs to make more contact. He yo-yos between the game's two highest levels, mixing moonshots with K's while leaving Yankee fans hoping that the club throws the bank at
Bryce Harper
during free agency after 2018.
Amir Garrett, Reds left-handed starter, No. 66
Best-case scenario:
Garrett is the only one on this list who doesn't know yet what it's like to be a Major Leaguer, but he performs like he's been there before with an ERA around 4.00 and a K/9 in the region of 8.0. It's not an award-contending or even eye-popping stat line yet. In fact, the 24-year-old left-hander looks the part of a No. 3 or 4 starter for most clubs. However, in a rough Reds rotation aching for a leader, Garrett assumes the mantle and becomes Cincinnati's Opening Day starter for 2018.
Worst-case scenario:
Garrett's lack of Major League experience shows, his issues with command are exacerbated against big leaguers and the Reds return him to Triple-A Louisville before the shelling becomes a long-term issue. Without an especially dominant run in the International League, the calls become clearer and louder for Garrett to move to the bullpen, where he could be a multi-inning, high-leverage lefty or a tough-on-lefties specialist.
German Márquez, Rockies right-handed reliever, No. 73
Best-case scenario:
The Rockies kept the 22-year-old on staff as the long man out of the bullpen after he lost out to
Antonio Senzatela
and
Kyle Freeland
in the battle for Colorado's last two rotation spots. However, he's essentially a starter-in-waiting, and in this situation, he doesn't have to wait long to get another chance. Marquez makes the most of it, thanks to two plus pitches in his fastball and curve and (unlike most pitchers on this list) impressive control. It's tough to envision any Rockies pitcher with a low ERA, but Marquez's number is good enough and he misses enough bats that it's clear the future of the Rockies rotation belongs to him,
Jon Gray
and
Tyler Anderson
.
Worst-case scenario:
Marquez lost out on that rotation bid because of a rough spring that saw him give up 12 earned runs in 16 innings, and that carries into his new role in the bullpen. Before long, Colorado tries to get him innings at Triple-A Albuquerque, but even there, he falls behind No. 44 overall prospect
Jeff Hoffman
on the organizational depth chart. Another Major League look doesn't come until the second half or even when rosters expand, forcing Marquez to enter the spring of 2018 the same way he did this one. The good news is even under this scenario, the Venezuela native would still only be 23 for the duration of next season, so this is not a crossroads situation.
Albert Almora Jr., Cubs center fielder, No. 75
Best-case scenario:
The Cubs hope to platoon Almora with free-agent signing
Jon Jay
in center, but Almora shows enough with the bat to take the job full-time. Never one to chase the fences, the 2012 first-rounder, who turns 23 on April 16, has shown a touch more power this spring with four homers in 66 at-bats. (He hit just seven in 432 at-bats between the Majors and Minors last spring.) With
Kris Bryant
,
Anthony Rizzo
and
Kyle Schwarber
also in the lineup every day, the Cubs don't need Almora to be especially great at the plate, but the job is his as he handles righties well enough to relegate Jay to the bench.
Worst-case scenario:
The Cubs have so much position-player talent, someone is bound to be lost in the shuffle. Almora could be that player. Consider that
Javier Báez
might get so good that Chicago decides he needs to be in the lineup (and at second base) every day. That pushes
Ben Zobrist
to the outfield, and if Heyward returns to his hitting ways, maybe they slide him to center full-time. Almora's range is too good for the Cubs to let it go to waste in Iowa, even if a worst case, but he could turn into a fourth or fifth outfielder coming in late as the defensive version of a closer. Or Almora is floated in a deadline deal to a selling club. That'd be ideal neither for the club (selling low) or the player (losing a chance at a ring).
Robert Stephenson, Reds right-hander, No. 87
Best-case scenario:
One of the game's most befuddling prospects for years won't fit that moniker for long. Stephenson only needs 13 more innings to lose his prospect eligibility, and as of now, it looks like those frames are going to come out of the bullpen. Stephenson
told The Cincinnati Enquirer
that there's "a little less pressure coming out of the bullpen," and it works like a charm. Even better, the Reds see enough out of the 24-year-old -- who has earned plus grades for his fastball, curve and changeup but has always struggled with control -- to give him another chance in the rotation when one opens up. Control remains an issue, but it's more manageable this time around, compared to 2016 when he walked 90 in 173 2/3 innings between the Majors and Minors. Add a slider that he's developed this spring, and Stephenson shows enough to stick in what could be a down Cincinnati rotation. His numbers aren't rosy, but they're serviceable enough that he doesn't have to compete for his spot in 2018.
Worst-case scenario:
Even in relief, Stephenson doesn't find the strike zone with regularity, and the Reds send him back to Louisville to give one last shot at being a starter. However, the numbers are close to the ones he put up in 2016 (4.41 ERA, 4.65 FIP, 7.9 K/9, 4.7 BB/9), and it's clear Stephenson is a Quad-A starting pitcher at best. The move to the bullpen becomes permanent in the second half as the Reds try to squeeze out some value.
Sam Dykstra is a reporter for MiLB.com. Follow and interact with him on Twitter, @SamDykstraMiLB.