Soroka, Ortiz dominant in Double-A duel
M-Braves starter fans 12 as opponent hurls six one-hit innings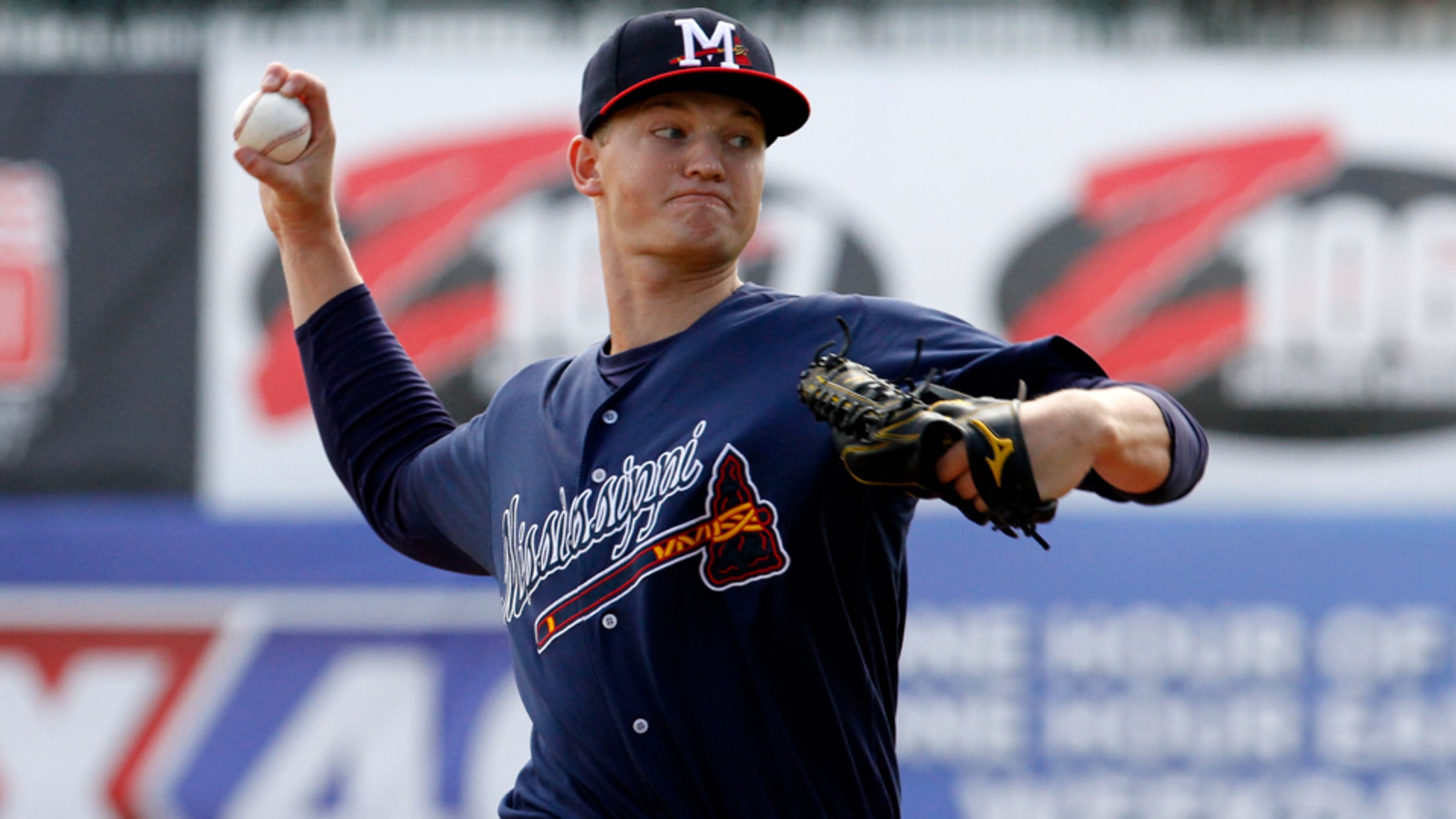 Mike Soroka has held Double-A hitters to a .221 batting average over 105 2/3 innings in his second full season. (Ed Gardner/MiLB.com)
Mike Soroka just wanted to keep the game moving."Any night, really, you just want to go out and keep the pace quick for your team to go back out and get some runs," the Braves' No. 4 prospect said.Working quickly, Soroka established a career high with 12 strikeouts over seven
Mike Soroka just wanted to keep the game moving.
"Any night, really, you just want to go out and keep the pace quick for your team to go back out and get some runs," the Braves' No. 4 prospect said.
Working quickly, Soroka established a career high with 12 strikeouts over seven innings Wednesday in Double-A Mississippi's 3-2 win over Biloxi. While he allowed two runs on two hits, fourth-ranked Brewers prospectLuis Ortiz yielded one hit over six scoreless frames, fanning six, for the Shuckers.
Gameday box score
"He had really good command of his fastball and his [slider]," Soroka said of Ortiz. "His breaking ball looked exactly like his fastball -- it spun the same, he didn't pull it, he didn't yank it. He was doing that to our hitters the entire night. He did a very good job. It was easy see why he is [a top prospect]."
Neither pitcher factored in the decision, but both earned a hat tip from the other side.
"Every time we've seen Mike, he's been very consistent, especially for a 19-year-old kid," Biloxi pitching coach Chris Hook said, "It's really impressive to watch him pitch. He's aggressive and he has three pitches he can throw in any count. That level of maturity, it's impressive."
Coming off seven shutout innings, Soroka -- MLB.com's No. 64 overall prospect who's 10-5 with a 2.38 ERA -- was perfect until Dustin DeMuth led off the fifth with a single. Brewers No. 14 prospect Jacob Nottingham followed with an RBI triple and scored on a sacrifice fly by Clint Coulter. Given the opportunity, the 2015 first-rounder would make a different choice on the last offering of that six-pitch at-bat, even if it meant eventually walking Coulter.
"There are a couple situations where sometimes a walk isn't a bad thing," the Calgary native said. "Sometimes finishing with that pitch in the dirt, even though it was 2-2, is not a bad idea. I wasn't pitching against the walk, and I haven't been all year. I stayed on the attack and made my pitches. If you prove you can fill up the zone, you can get a lot swings out of the zone, even on fastball counts."
That approach helped him retire the next eight Shuckers, taking him to the end of his night.
"[Catcher Kade Scivicque] and I did a good job of mixing it up," he said. "This was my third time pitching against Biloxi, so they've seen me a number of times. I felt like we did a good job keeping them guessing."
Ortiz, the No. 51 overall prospect, was working on his finest outing since missing much of June with an undisclosed injury. He's 3-5 with a 3.79 ERA in 16 starts.
"Anytime you miss [starts], people think you're going to get right back on the horse and it's going to be easy," Hook said. "I think tonight he was the guy we've seen him be most of the year, a guy who's comfortable attacking hitters. That's really who he is.
"He's shown bits and pieces of that over the last five outings, but he hadn't put it all together. You could see it was there, and now he's just got to maintain it."
No. 12 Braves prospect Austin Riley poked a two-out single through the left side in the fourth for the only hit against Ortiz.
• Get tickets to an M-Braves game »
"I think his fastball command was the No. 1 thing. He did an excellent job throwing the baseball at the bottom of the strike zone, and his slider was really good," said Hook, a former big leaguer. "The four pitches that he threw, he threw aggressively. He had an aggressive mind-set and that was key tonight."
After six, the California native had thrown 64 of 79 pitches for strikes.
"Luis, he wants to pitch the whole game. He never wants to come out," Hook said. "You have to pull the ball away from him, and that's what we had to do tonight. I thought it was a nice, solid outing for him. You can't do much more than what he did."
Scivicque was 2-for-4, delivering a two-out walk-off double in the ninth.
Josh Jackson is a contributor to MiLB.com. Follow and interact with him on Twitter, @JoshJacksonMiLB.