Hunter records first four-hit game for Owlz
Angels outfield prospect amasses triple, three singles, three RBIs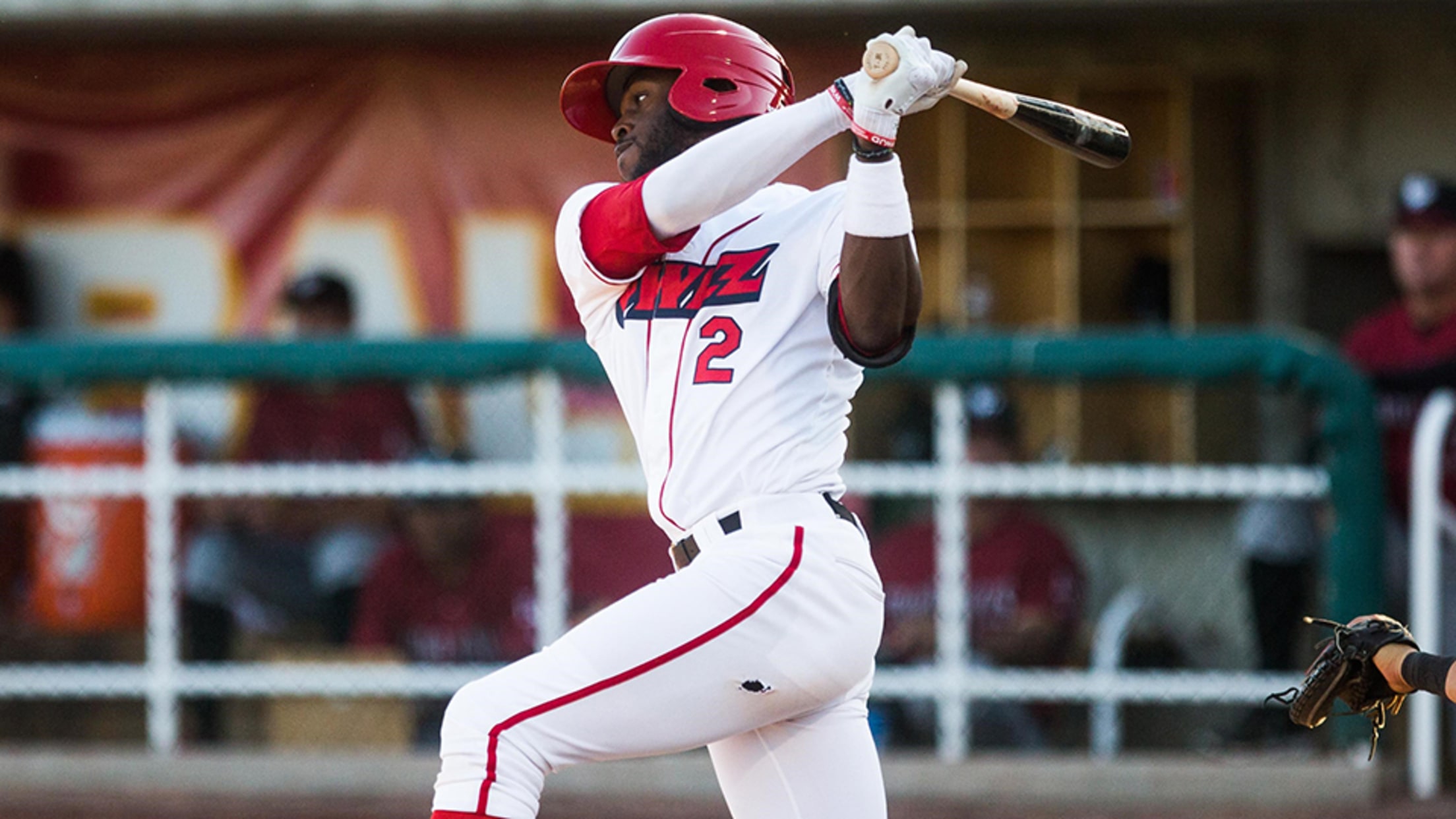 Torii Hunter had two hits in 12 at-bats and nine runs scored in his 23-game career at Notre Dame. (Orem Owlz)
When Torii Hunter Jr. found himself in a recent 2-for-14 funk over his past four games with Rookie-level Orem, he knew there was one person to call who could help work out some of the gaps in his approach -- his father, five-time All-Star Torii Hunter."It's definitely a blessing. I
When Torii Hunter Jr. found himself in a recent 2-for-14 funk over his past four games with Rookie-level Orem, he knew there was one person to call who could help work out some of the gaps in his approach -- his father, five-time All-Star Torii Hunter.
"It's definitely a blessing. I always try to help guys out, try to be an open book and help a lot of my teammates," the 22-year-old said. "Something like that shouldn't always just be kept in one place. When my dad has some insight, I definitely pass it on."
The Angels outfield prospect tripled and singled three times to register his first four-hit game Wednesday night, driving in three runs and scoring twice for the Owlz in an 11-2 win over the Helena Brewers at Kindrick Legion Field.
"After talking with him, I kind of wanted to be a lot earlier, get my timing earlier," Hunter said. "I kind of tried that out today and it kind of worked out for me. Not swinging early, just starting a little bit earlier. It's just a timing thing, that's all."
Gameday box score
A standout wide receiver at Notre Dame, Hunter's collegiate athletic career existed mainly on the football field, where he hauled in 73 passes for 949 yards and six touchdowns. His experience on the baseball diamond in South Bend was limited to 23 games in which he had two hits in 12 career at-bats, scored nine times and was successful in both of his stolen-base attempts.
"I just kind of went for it head first," the 23rd-round pick in last year's Draft said. "I don't know if I was going to be able to make it through or be able to be mentally where I am right now without ... the support at home, from my wife and my dad and the rest of my family. They always check up on me and keep me in good spirits, because you know this game can be tough."
In 35 games this season, Hunter is batting .324 with 10 extra-base hits, 29 runs scored and 15 RBIs.
"I found something that works for me at the beginning of the season," the Arkansas native said. "Found an approach that works for me, found a timing mechanism that works for me and it just kind of took off from there."
Leading off the game against Gabe Friese, Hunter went down swinging on seven pitches. He got another chance against the right-hander with two outs in the next inning following Stephen Kerr's run-scoring double and knocked his first offering on a line to the opposite field for an RBI single.
"That's where my strength is, I kind of stay right-center," Hunter said. "I started earlier just to see pitches longer. So if I was late sometimes you kind of get jerky and you kind of rush and you don't always see the pitch. You're not going to see the spin, so now you're chasing."
Helena reliever Brandon Presley walked Hunter on four pitches to load the bases with two outs in the third before balking in a run and striking out Spencer Griffin to end the inning. With one out in the fifth and Kevin Williams Jr. on first, Hunter knocked another single to right before both runners advanced on a double steal. For Hunter, it was his seventh stolen base in nine attempts this season.
• Get tickets to an Owlz game »
Hunter started the seventh with his third single to right and scored on Ryan Vega's homer to left-center. Kerr doubled again with one out in the eighth and Hunter lifted a fly ball beyond the reach of Helena right fielder Jose Gomez for a triple to drive in the run. Griffin followed with a groundout to short that plated Hunter.
The long ball was Vega's third of the year. The right fielder finished 3-for-6 with a pair of RBIs and two runs scored and Williams did not have a hit in four at-bats, but walked twice and reached on a forceout to score three runs for Orem.
No. 24 Angels prospectElvin Rodriguez (5-1) allowed two hits and three walks while striking out three over five scoreless innings.
Gerard Gilberto is a contributor to MiLB.com. Follow and interact with him on Twitter, @GerardGilberto4.