Fisher Cats' Harris tosses seven clean frames
Blue Jays No. 9 prospect heating up after overhauling delivery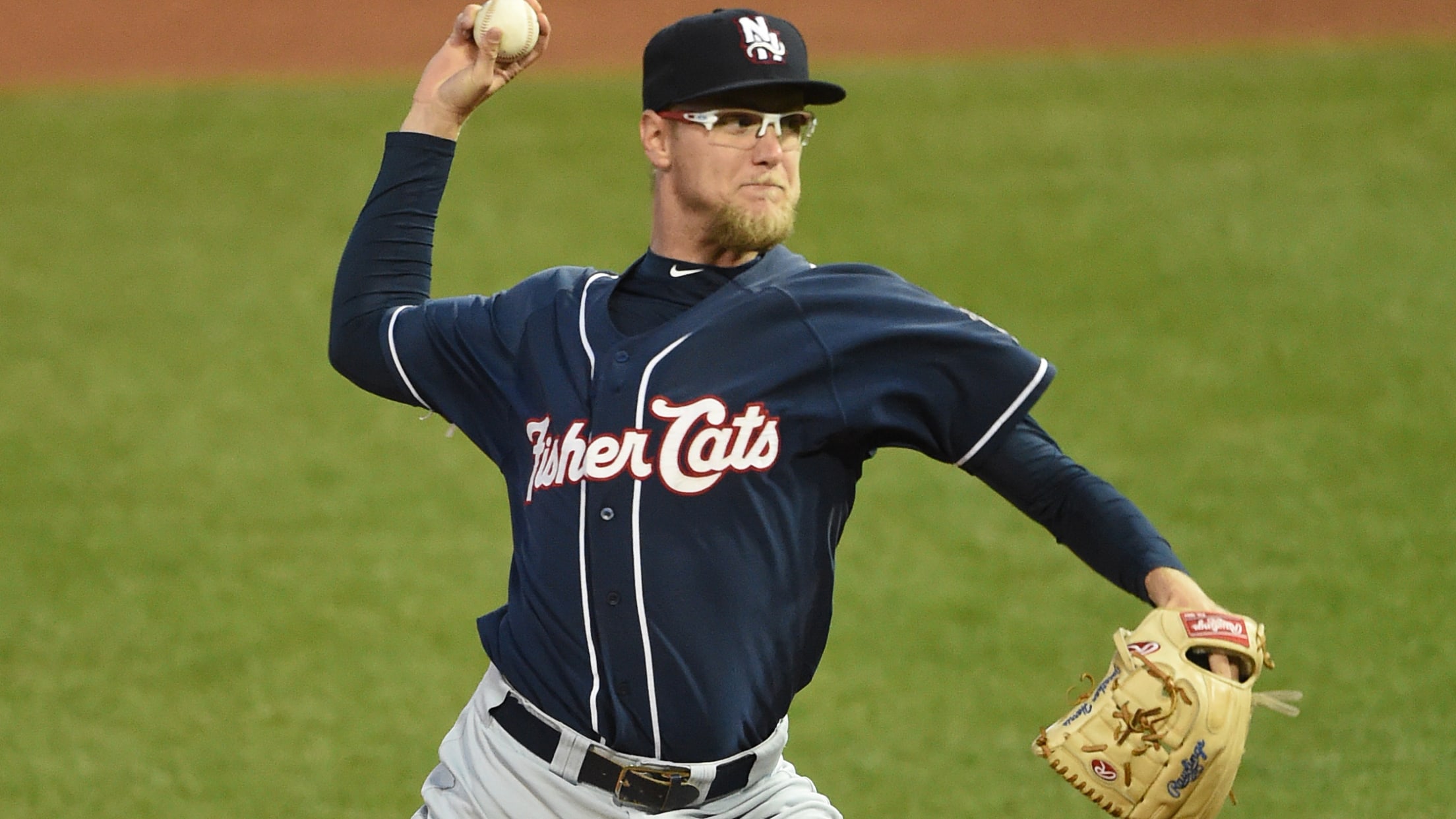 Jon Harris has gone at least seven innings 10 times in 51 career Minor League starts. (Kevin Pataky/MiLB.com)
Since returning to his old delivery, Jon Harris has performed like an entirely new pitcher.The Blue Jays' No. 9 prospect allowed three hits and struck out four without issuing a walk over seven innings on Wednesday, pitching Double-A New Hampshire blank Portland, 2-0, at Hadlock Field.The right-hander produced his first
Since returning to his old delivery, Jon Harris has performed like an entirely new pitcher.
The Blue Jays' No. 9 prospect allowed three hits and struck out four without issuing a walk over seven innings on Wednesday, pitching Double-A New Hampshire blank Portland, 2-0, at Hadlock Field.
The right-hander produced his first scoreless outing of the season while helping the Fisher Cats rack up back-to-back shutouts for the first time since May 30-31, 2014.
After surrendering seven runs on eight hits while recording two outs on June 18 against Bowie, a start that inflated his ERA to 6.38, Harris (4-8) decided he needed to make a change. The Missouri State product settled on a switch back to his college delivery, abandoning aspects of his current mechanics such as lifting his arms over his head. He ran the suggestion by Blue Jays Minor League pitching coordinator Jeff Ware, who supported the move.
Gameday box score
Over the next few days, Harris and Fisher Cats pitching coach Vince Horsman studied film from his college career. His first start with the new delivery resulted in four runs, seven hits and six walks over 4 2/3 frames against Binghamton on June 24. However, he gave up two runs -- one earned -- on five hits and a walk with five strikeouts over seven innings in his next outing against Portland.
"The first start, I had the six walks and I kind of struggled against Binghamton," Harris said. "It was just getting that muscle memory back and getting everything synced up again to how it used to be."
Everything fell into place on Wednesday against the Sea Dogs. The 2015 first-round pick set down 11 of his first 12 batters before giving up a two-out double to Jeremy Barfield in the fourth. He responded by retiring the next four hitters as he cruised through the fifth with the help of an exceptional diving catch by center fielder Jonathan Davis.
Portland pushed back in the sixth. Danny Mars reached on an error with one out, then moved up second as rehabbing Red Sox infielder Brock Holt singled. Harris got Chad De La Guerra to pop out but hit Barfield with a pitch to load the bases for ninth-ranked Red Sox prospectMichael Chavis. The 23-year-old coaxed Chavis into popping up the first pitch for the third out.
"It was just don't give him a cookie to hit," Harris said. "I knew I had to throw a strike and I was confident with my catcher [Danny] Jansen to get me out of it. I knew whatever pitch he called I was going to be able to execute it. We called a changeup and, luckily, he got out in front of it and popped it up."
Harris finished off the side in order in the seventh before departing for reliever Jose Fernandez. He matched his longest outing of the season while lowering his ERA to 5.53.
Over his last two outings, the Missouri native has allowed two runs and eight hits with one walk and nine strikeouts over 14 innings.
"I was able to go back to what I feel comfortable doing and what got me back into the rhythm and in sync. The comfortability and everything has shown the last few outings," Harris said. "I'm getting back to where I'm starting to cruise and get on a roll again so I can have fun pitching and the guys behind me can, too, because they know they're going to get a quality start."
Fourth-ranked Blue Jays prospect Richard Ureña doubled and drove in a run for New Hampshire. Davis went 0-for-3 but scored a run and ended the game with another highlight-reel defensive play.
Andrew Case yielded a hit and fanned one in a scoreless ninth to notch his fourth save.
Portland starter Kevin McAvoy (3-6) gave up two runs -- one earned -- on seven hits while striking out six over 7 1/3 frames.