Lugnuts' Bichette leads Players of the Week
Blue Jays No. 9 prospect keeps rolling, hits .458 over six games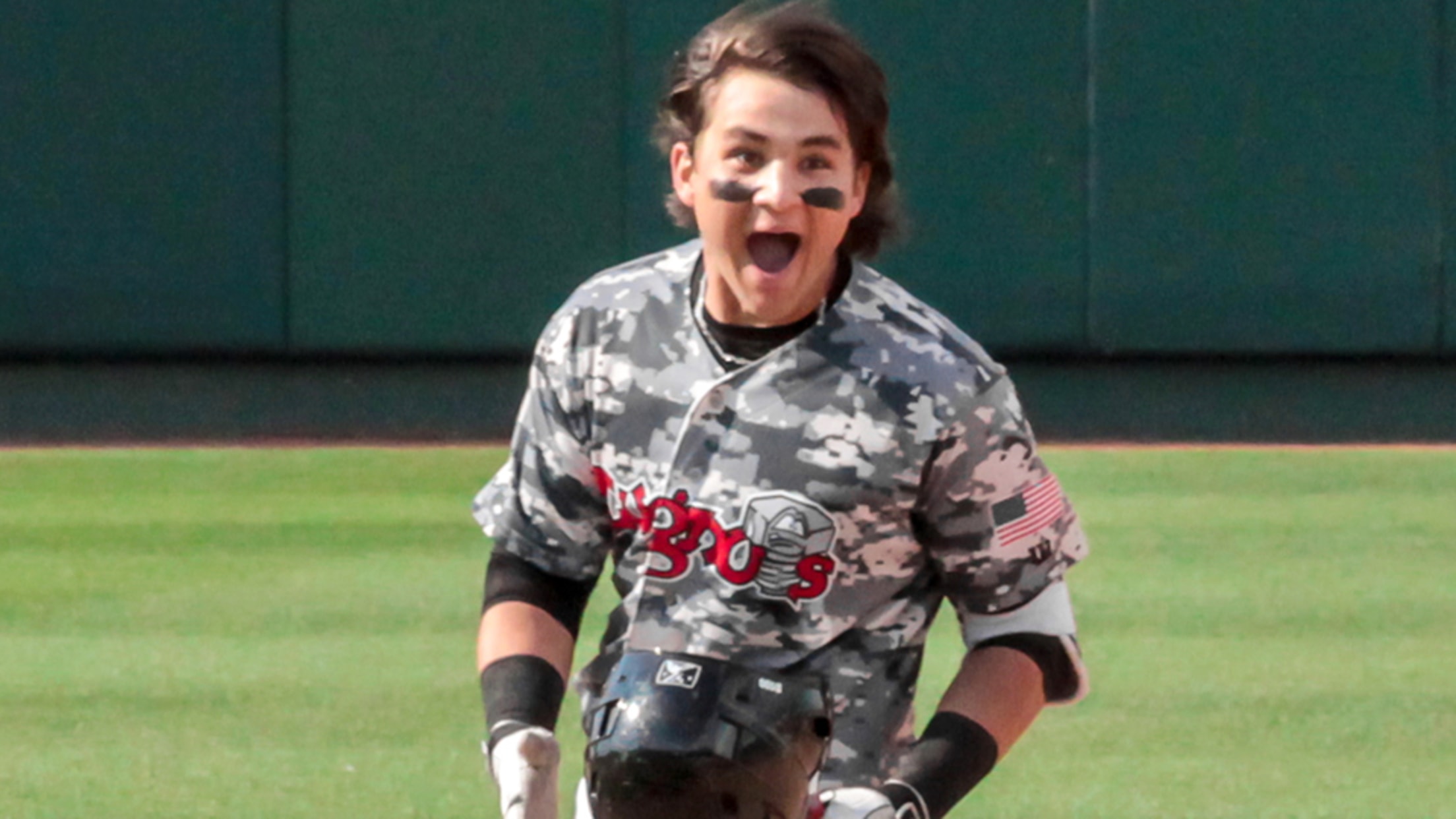 Bo Bichette ranks fourth in the Minors with a .373 average in 40 games for Class A Lansing. (Tyler Marcotte)
Lansing boasts one of the best lineups in the Class A Midwest League but hadn't yet claimed an Offensive Player of the Week award through the first six weeks of the 2017 season -- that is, until the club's hottest hitter put together a week that simply could not be
Lansing boasts one of the best lineups in the Class A Midwest League but hadn't yet claimed an Offensive Player of the Week award through the first six weeks of the 2017 season -- that is, until the club's hottest hitter put together a week that simply could not be ignored.
Blue Jays No. 9 prospectBo Bichette was named Midwest League Player of the Week for May 22-28 after going 11-for-24 (.458) with a home run, four doubles and five RBIs over six games for the Lugnuts. No other MWL batter hit higher than .435 last week, and his 11 hits tied teammate Bradley Jones for the most over that span.
Entering that stretch, the 19-year-old shortstop was already leading the circuit with a .356 average and ranked second with a .994 OPS through 33 games in his first full season. Following his award-winning week and a 2-for-5 showing Monday, he's now hitting .373 -- easily beating out West Michigan's Jacob Robson, who sits second at .339 -- and is the only Midwest League hitter with an OPS above 1.000 at 1.032.
"He just has a really good plan, and I think that's what keeps him consistent with the average," said Lansing hitting coach Donnie Murphy. "You keep waiting for an 0-for-20 stretch or something that can be a teachable moment for him, but he just never gets there. He's just a smart hitter that thinks a lot differently than most hitters here. He knows what his strengths are. He picks up what pitchers want to do to him. He has one of the best two-strike approaches I've ever seen from a Minor Leaguer. He's not afraid to get up there and hit no matter the situation."
• View the Pitcher of the Week winners »
Bichette has hit safely in nine straight contests, his second longest streak of the season behind a 15-game run from April 8-28. His current stretch was threatened Sunday when the 2016 second-rounder went 0-for-4 with a hit-by-pitch through the first 10 innings of a 0-0 game against Great Lakes. He did not disappoint when given a sixth plate appearance with two outs in the 12th, pushing a walk-off single through the right side of the infield to score J.B. Woodman and give the Lugnuts a 1-0 victory.
"I think every time he gets to the plate, everyone in the dugout thinks something special could happen," Murphy said. "We were struggling to swing the bats that day, but he was the right person to come up with a big at-bat there."
Even though anything close to an 0-for-20 stretch refuses to come, Murphy and the rest of the Lansing staff are still working to identify areas of growth for the teenager. That can be difficult when he continues to collect hits in bunches during his first full season, but being four levels from the Majors, Bichette is far from a finished product.
"Everybody has seen his swing and how violent-looking it can be," said the Lugnuts hitting coach. "For him, it's all about getting in a good position to hit the fastball. When there are guys throwing 95 mph or harder, there isn't much room for error in a swing, but he has the fast hands right now to make it work. It's just something we keep working on with him."
With Bichette, Jones (.946) and top Blue Jays prospect Vladimir Guerrero Jr. (.932), Lansing boasts three of the Midwest League's top hitters by OPS. Indeed, those right-handed sluggers are three of only four players in the circuit with an OPS above .900. The trio is typically grouped together in the heart of the batting order, and it hasn't been hard to see how they've played off each other through the season's first two months.
"I feel like any pitcher who knows he's going to be facing those three hitters knows that he can't make one mistake because he'll have to face the next guy in line, too," Murphy said. "When they're rolling, it's really contagious. It just seems like one hit from one of them is all it takes for them to raise their confidence level."
Here is the full list of Minor League Offensive Players of the Week for May 22-28:
Sam Dykstra is a reporter for MiLB.com. Follow and interact with him on Twitter, @SamDykstraMiLB.