Romano deals, Guerrero rakes to lead Fisher Cats
Blue Jays prospects carry no-hitter into eighth; Vlad Jr. tallies four hits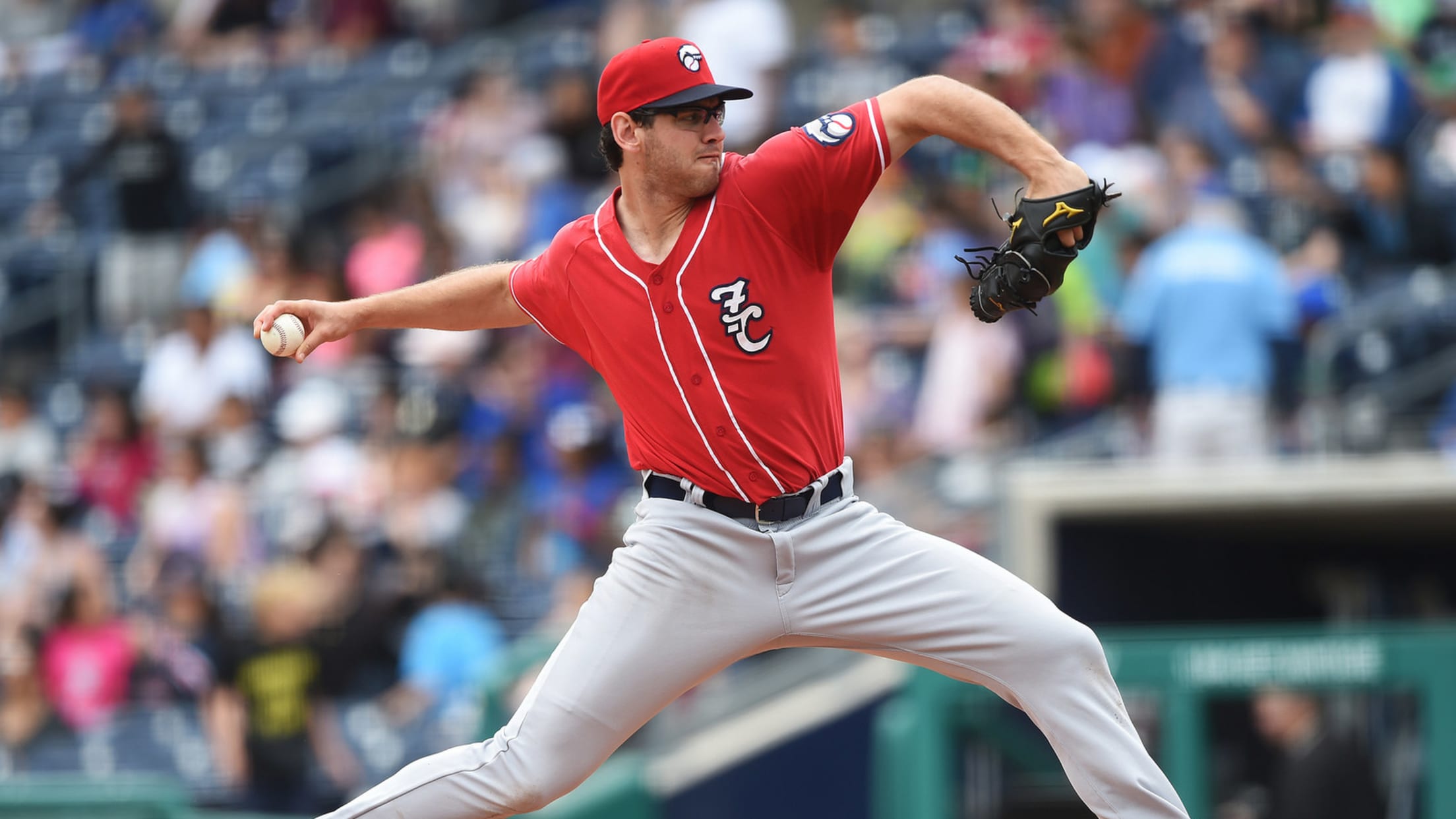 Jordan Romano became the first pitcher in the Minors to reach seven wins this season. (Kevin Pataky/MiLB.com)
Jordan Romano's day may have come to an end prematurely, but that didn't stop it from being his best of the year.Baseball's No. 2 prospectVladimir Guerrero Jr. went 4-for-5 with a home run and a pair of doubles, and Romano, Toronto's No. 27 prospect, became the first Minor Leaguer to
Jordan Romano's day may have come to an end prematurely, but that didn't stop it from being his best of the year.
Baseball's No. 2 prospectVladimir Guerrero Jr. went 4-for-5 with a home run and a pair of doubles, and Romano, Toronto's No. 27 prospect, became the first Minor Leaguer to seven wins this year, tossing six hitless innings as Double-A New Hampshire took down Hartford, 7-1, on Wednesday at Dunkin' Donuts Park.
"I felt like I mixed well today," Romano said after his victory. "The main thing, even before the game, me and [catcher Ryan Hissey] talked about just attacking hitters, not walking guys or letting them get deep into counts. I just wanted to attack them from pitch one, and that's what I did today."
Gameday box score
Romano applied that philosophy to atone for one of his few miscues during Wednesday's 10:37 AM start. After walking No. 22 Rockies prospectDom Nuñez with one out in the first, he got Colorado's No. 7 Garrett Hampson to ground into an inning-ending double play.
"Early on, you definitely want to get in a groove," he said. "That double play was big there. I just fed off that, tried to have quick innings from there on out."
The right-hander faced just one over the minimum the rest of his day, walking Ryan Metzler to open the third but stranding him aboard. That inning came after New Hampshire's bats spotted their starter a hefty cushion with a five-run top of the third headlined by a two-run homer to right from Cavan Biggio. The blast was Biggio's 12th of the season -- surpassing his total from all of 2017 -- and put the second baseman's OPS at 1.161 for the year, the fifth-best mark in the Minor Leagues.
"Our offense, we got out to an early lead, so whenever you're pitching with a lead like that, it's a lot easier to pitch," Romano said. "Hissey was calling a great game back there. Whatever he put down, I just tried to execute it, and it worked out today."
In addition to his defensive work, backstop Hissey went 1-for-3 with an RBI, but it was Guerrero who led the way at the plate for the Fisher Cats. The 19-year-old doubled to left in the first and third innings, singled to left leading off the fifth and belted his seventh home run of the season to left-center to open the seventh. After grounding out back to the mound to end the eighth, Guerrero ended his day with a slash line of .415/.459/.696 through 34 games in Double-A.
"It's just really fun to watch, how he prepares, how he goes out there and plays every day," Romano said. "The numbers speak for themselves. He's an outstanding young player."
Through six hitless frames, Romano headed out to the mound to open the seventh, but on the 60th pitch of his day, while working to Nunez, he motioned to the dugout and left his start.
"I just cramped up a little bit there, a little discomfort, so I played it on the safe side and came out," he explained. "It's definitely frustrating. You want to be out there as long as possible, but that's how it goes sometimes. I'll be ready for my next start."
Reliever Danny Young came on and carried the no-hitter emphatically through the seventh, inheriting Nunez at the plate and striking him out before fanning No. 20 Rockies prospect Yonathan Daza and baseball's No. 12 overall prospect Brendan Rodgers to close the inning. Hartford finally got in the hit column with two outs in the eighth when Metzler clubbed a solo homer to right off Young.
The win dropped Romano's 2018 ERA to 1.94 and gave New Hampshire its eighth victory in nine tries against Hartford this season. The starter's blueprint to repeat Wednesday's success is simple enough.
"I just want to stay aggressive like I was today," he said. "Next time out, I just want to stay aggressive and mix my pitches, and hopefully it works out."
Tyler Maun is a contributor to MiLB.com. Follow him on Twitter @TylerMaun.