Blue Jays Prospect Primer: The sons also rise
After monstrous years, Guerrero and Bichette ready for next test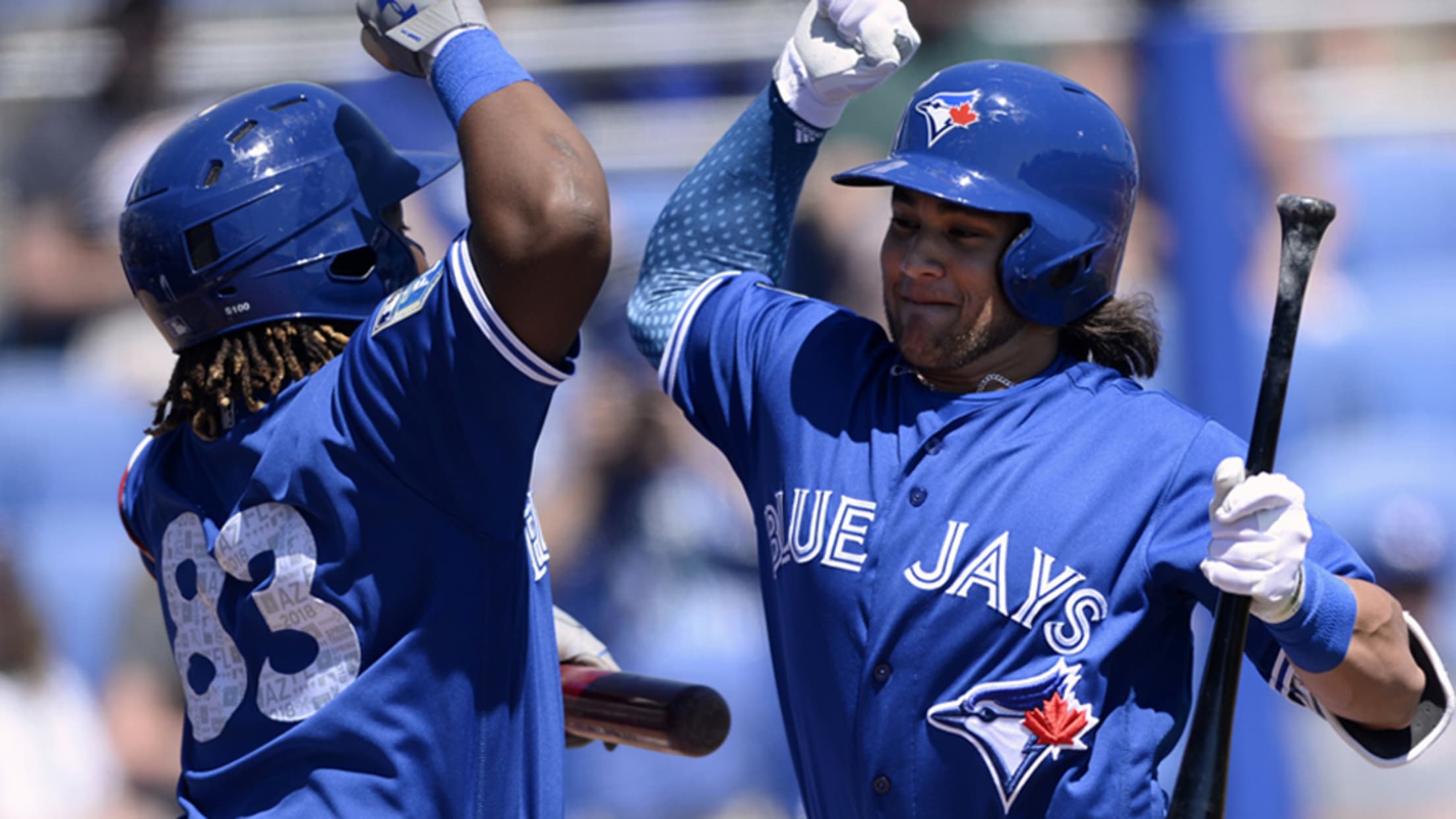 Vladimir Guerrero Jr. and Bo Bichette combined for 172 runs scored across two levels in 2017. (Jason Behnken/AP)
Some players are on the verge of stardom, others are entering a crucial phase of their development and still others are getting their first tastes of full-season ball. With the 2018 season approaching, MiLB.com takes a look at the most intriguing prospects from each MLB organization.Loudest tool: Vladimir Guerrero Jr.,
Some players are on the verge of stardom, others are entering a crucial phase of their development and still others are getting their first tastes of full-season ball. With the 2018 season approaching, MiLB.com takes a look at the most intriguing prospects from each MLB organization.
Loudest tool: Vladimir Guerrero Jr., 3B
There's a lot to be excited about when it comes to Guerrero, but his hit tool is definitely the best, graded at a perfect 80 on a 20-80 scale. Last year, at the age of 18, Guerrero batted .323 with 13 homers and 76 RBIs (most among Blue Jays Minor Leaguers) while topping all full-season Minor Leaguers with a .425 on-base percentage between Class A Lansing and Class A Advanced Dunedin.
"I think with Vladdy, it's a combination of bat speed, hand-eye coordination and plate discipline that allow him to have that success offensively," said Gil Kim, the Blue Jays' director of player development. "It doesn't take long watching him train to see the bat speed and the hand-eye coordination. I think when you watch him in games, that's where you'll be pleasantly surprised at how consistent he is with his approach, his pitch recognition and his ability to make optimal swing decisions."
In limited looks at big league camp, Guerrero continued to rake. MLB.com's No. 3 overall prospect went 7-for-13 (.538) with a homer, a double and four runs scored. The roundtripper came in dramatic, walk-off fashion in Montreal while wearing his father's No. 27.
As magical as Guerrero appears to be at the plate, his defense remains his biggest obstacle, but Kim is encouraged by the third baseman's improvements thus far.
"He has soft hands, he's got a plus arm and he has good instincts on defense," Kim said. "I think the commitment he's made to improving his technical footwork on defense is something that hopefully will take him to the next level defensively."
Full-season debutant: Nate Pearson, RHP
Pearson has a pretty loud tool himself in a 70-grade fastball. The 21-year-old showcased it last summer after being selected 28th overall in the Draft. Pearson yielded two runs (0.90 ERA) on seven hits with five walks and 26 strikeouts in 20 innings over eight starts for the Rookie-level Blue Jays and Class A Short Season Vancouver.
"Nate has a quiet demeanor off the field and he's an intense competitor on the mound," Kim said. "He showed confident mound presence, he showed a power game with a fastball with good life and mid-to-upper 90s. He showed an out-pitch slider, a developing changeup as well, and more than anything we were impressed with Nate's work ethic and his consistency in routines."
This season, Pearson will continue to work on fastball command. The Odessa, Florida native will get the chance to do that in the pitcher-friendly Florida State League as the Blue Jays decided to have him skip Class A. About 24 miles from home, Pearson is set to begin the year with Class A Advanced Dunedin.
"We think he's ready for that leap because of the consistency of routines, the work ethic and the maturity that he shows," Kim said. "So along with the impressive ability and the performance last year, what made us most comfortable with challenging him are those other areas where we'll know he'll continue to develop."
Shining star: Bo Bichette, SS/2B
Before 2017, Bichette's hit tool was graded below average. But last season, he showed just how special his bat really is. The No. 13 overall prospect led all full-season Minor Leaguers with a .362 average while ranking second in both on-base percentage (.423) and OPS (.988) between Lansing and Dunedin. Now his bat is graded at a 70.
Even his less-regarded tools came through as his .565 slugging percentage ranked 14th among full-season Minor Leaguers and his 50-grade speed led to 22 stolen bases in 29 attempts. And that was all in his full-season debut, which included a mid-year jump to the Florida State League, before turning 20.
"Bo is one of the most intense competitors we have. He comes to beat you every time he's at the plate. I think with Bo, he combines consistent routines and preparation with very good bat speed," Kim said. "Again, very good hand-eye coordination. He has the ability to find the barrel and he has an advanced approach at the plate.
"Some opposing staffs have commented that he may be just as dangerous with two strikes as he is without. He's just an advanced hitter."
While there is still plenty of room for Bichette to work on his defense -- he made 21 errors combined at second and short -- Kim thinks it is the most underrated of the 20-year-old's game. Bichette put the focus on his glove and arm this offseason as he worked at the Blue Jays' Spring Training complex with infield coordinator Danny Solano. After studying film of himself, the son of Dante Bichette Sr. was perfect at short in four games at big league camp and will next test his skills at Double-A, once again alongside Guerrero.
"I think he shows a good game clock, he shows good awareness, he comes in on the ball very well and he's got a plus arm, too. He just doesn't use it all the time," Kim said. "I think he's better defensively than what some people can read out there right now. And just to state it, we fully believe that because of the commitment he's made to his defense, he will be a Major League shortstop."
Breakout prospect: Jordan Romano, RHP
For three months, Romano had the pleasure of benefiting from the bats of Guerrero and Bichette. But he didn't really need much help. The Blue Jays' No. 27 prospect went 7-5 with a 3.39 ERA, 138 strikeouts and 54 walks in 138 innings over 28 games (26 starts) for Dunedin.
"Jordan is one of our hardest workers in the organization, he's one of our best competitors as well and that's allowed him to make the strides he has in his development," Kim said. "He's got a live, electric arm, he's got some good life to the fastball and shows a promising slider. He's committed himself to working on developing the changeup a little bit more."
Kim thought Romano progressed well with pitching coach Mark Riggins last season, adding that the organization is excited about his work ethic and makeup. The Canadian hurler is set to continue working on his control at Double-A New Hampshire with a real shot at playing in Toronto come September.
At the crossroads: Reese McGuire, C
After being selected 14th overall by the Pirates in the 2013 Draft, McGuire came out swinging, hitting .323 in his pro debut. Over the next few seasons, he made a steady climb up the system while being traded to the Blue Jays for Francisco Liriano in 2016. But his average never again topped .275 as he was plagued by injuries in three of the last four seasons, most recently an oblique strain that limited him to 45 games in 2017.
The left-handed hitter returned to New Hampshire on Aug. 6, following two months on the disabled list and another month rehabbing with Rookie-level Bluefield and Dunedin. Finally healthy, McGuire put up his best numbers in a while, hitting .328 with four of his six homers and 12 RBIs in the final 18 games of the season. Overall, his .295 average for the season was his best since his pro debut. Then, he kept it going in the Dominican Winter League.
Behind the dish, McGuire averages a 35 percent caught-stealing rate while cutting his passed balls from 15 in 2014-15 to seven in the two seasons since. The 23-year-old garnered looks this spring and could be the first catcher called upon should he pick up where he left off in September.
"He's one of our best receivers and blockers. He's committed to increasing his knowledge of game calling," Kim said. "I think the signs we saw last year, squaring up the baseball, a little more consistency were promising. He controls the strike zone well, so he has good plate discipline and a sound swing."


More to keep an eye on: Ryan Borucki put himself on the map last season with a 2.93 ERA and a system-leading 157 strikeouts to go with 36 walks in 150 1/3 innings as he advanced to Triple-A Buffalo. Look for the southpaw to continue to miss bats and log a few innings in the Majors this year. … After being selected 22nd overall last June, Logan Warmoth hit .302/.350/.418 for the Rookie-level Blue Jays and Vancouver. In his full-season debut, the shortstop could see time around the infield as he finds his place alongside Guerrero and Bichette. … Left-hander Thomas Pannone was set to impress in his first full year with the Blue Jays after being traded from the Indians last July, but his fifth pro season will have to wait. Pannone, who turns 24 on April 28 received an 80-game suspension this spring after testing positive for a performance-enhancing substance.
2018 organization predictions:
Most home runs in system: Guerrero
Most stolen bases: Roemon Fields
Most strikeouts: Romano
Current prospect to get the most Major League playing time: Anthony Alford
Non-Top-100 prospect to end 2018 in the Top 100: Pearson
Kelsie Heneghan is a contributor to MiLB.com. Follow her on Twitter @Kelsie_Heneghan.