Dunedin's Logue stays hot, posts six zeros
Blue Jays prospect allows two baserunners, strikes out eight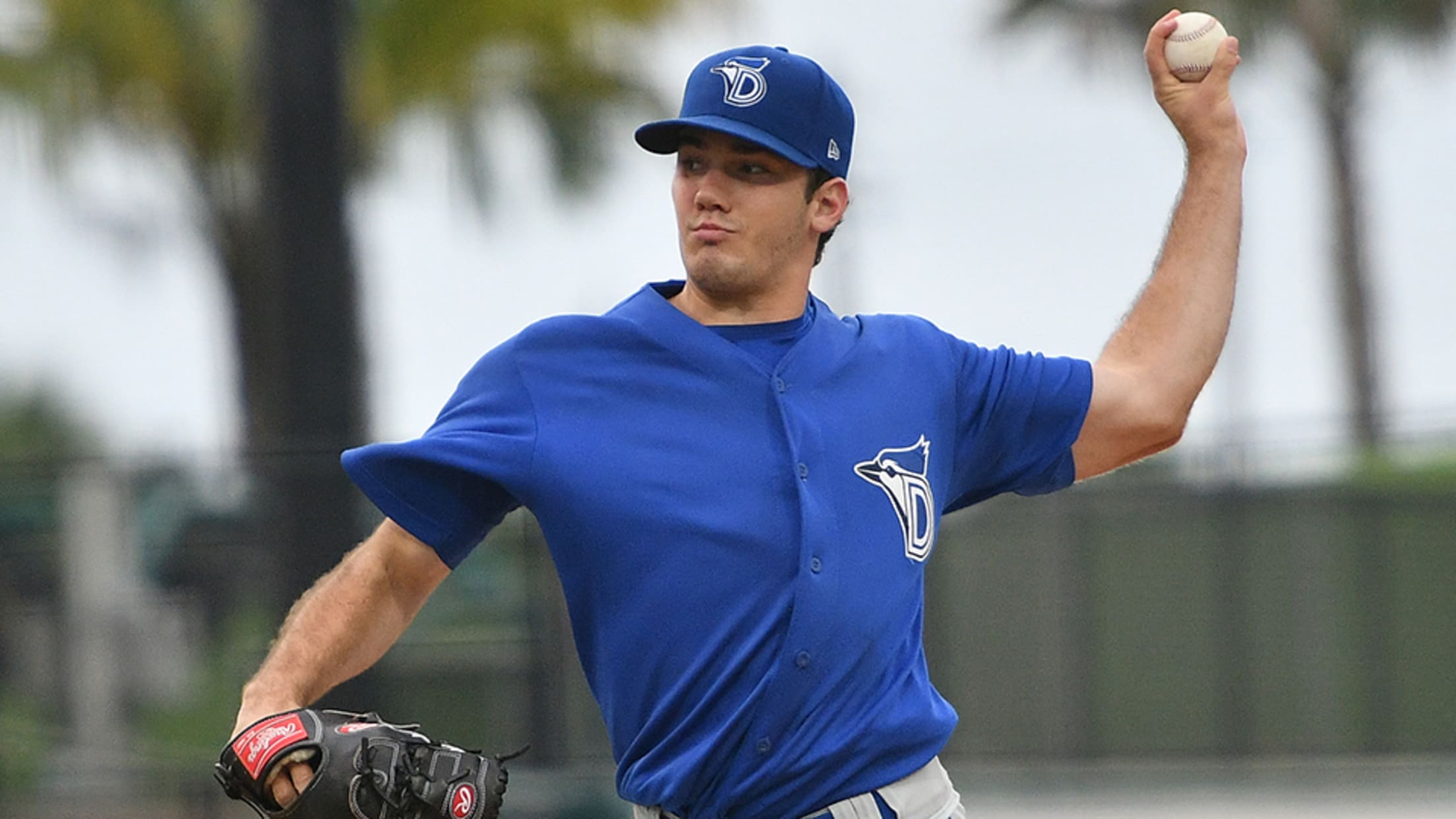 Zach Logue is 4-0 with a 1.23 ERA in six starts since July 1 for Dunedin. (Tom Hagerty/MiLB.com)
Ever since Zach Logue started taking his time on the mound, his opponents have had difficulty scoring against him. Perhaps Florida State League hitters would prefer he take fewer breaths between pitches.The Blue Jays prospect allowed one hit and one walk over six innings, striking out eight, as Class A
Ever since Zach Logue started taking his time on the mound, his opponents have had difficulty scoring against him. Perhaps Florida State League hitters would prefer he take fewer breaths between pitches.
The Blue Jays prospect allowed one hit and one walk over six innings, striking out eight, as Class A Advanced Dunedin blanked Charlotte, 9-0, at Dunedin Stadium. Since his July 12 start at Clearwater -- around the same time Dunedin pitching coach Mark Riggins encouraged him to slow down between deliveries -- Logue has given up three earned runs over 31 2/3 innings, going 4-0 in his last six starts.
"We kind of made an adjustment with my tempo a little bit," he said. "I was kind of just, 'Get the ball, throw it. Get the ball, throw it,' almost rushing a little bit. [Riggins] kind of talked to me about getting the ball, gathering myself, taking a deep breath, slowing down the pace just a little bit so I can focus on each individual pitch and not have them run together."
Gameday box score
The tactic worked again on Friday.
Logue (7-2) worked a perfect first inning and struck out three of the first four batters he faced before Kevin Padlo singled through the left side with one out in the second, marking the Stone Crabs' lone hit off the left-hander.
A wild pitch moved Padlo to second, but Logue struck out Rays No. 15 prospect Josh Lowe and induced a ground ball to second off the bat of Rene Pinto for the third out. That began a string of eight in a row retired by the University of Kentucky product, as he was perfect in the third and fourth.
Padlo worked a leadoff walk in the fifth and moved into scoring position with nobody out on Logue's second wild pitch of the night. But almost identical to the second inning, the 22-year-old whiffed Lowe and coaxed a groundout from Pinto for the first two outs. Joey Roach bounced to second to keep a zero on the board.
"We had just scored two," Logue said. "In my head, I was really trying to get a shutdown inning for us, put up a zero so we could kind of keep the momentum in the dugout. I just really focused more mentally and just started executing pitches."
Logue worked a 1-2-3 sixth, striking out his final two hitters, including second-ranked Rays prospect Brendan McKay to end the frame. MLB.com's No. 29 overall prospect went 0-for-3 with a pair of strikeouts against the 2017 ninth-round pick.
With a fastball that typically sits between 89-92 mph, Logue said he knows command will fuel his success. Control of his four-seamer is one of his primary strengths.
"Obviously, I'm not a guy that throws super-hard, so I definitely have to focus on being down in the zone and mixing both sides of the plate, compared to someone that throws a little bit harder," he added.
Logue had been aware he often worked too quickly on the mound but couldn't help himself. Under Riggins' instruction, he's made marked improvements in that area.
"In the middle of a game, you kind of get into a bit of a rhythm," he said. "You want to keep going and going and going. He kind of talked to me about realizing that if I am going a little bit too quickly, kind of stepping off and taking that deep breath. It was just talking to me about realizing when I'm rushing and how to fix it."
The Ohio native began the season with Class A Lansing, where he went 3-1 with a 2.67 ERA in nine starts. He joined Dunedin on May 25 and lowered his ERA to 2.67 ERA following Friday's start, in which he threw 52 of 79 pitches for strikes.
"In Lansing, we had a really good team," Logue said. "It's been cool because a lot of the guys that I was up there with have moved on to Dunedin. It's been nice to be with some familiar faces. Since I've been down at Dunedin, we've won a lot of ballgames. Winning is a lot of fun. It's been cool to play with guys and see them get better throughout the year."
As the season wraps up next month, the 165-pound hurler hopes to make strides with his changeup and, most importantly, to keep putting up zeros.
"Obviously, I've had some success lately," he said. "Just try to keep that up and stay consistent through the end of the year. It's kind of the time where people's bodies start to wear down, your mind might start to wear down a little bit, so you got to bear down and focus on the end of the year."
Angel Perdomo followed Logue and struck out two over innings before Jackson McClelland wrapped up Dunedin's 10th shutout.
Blue Jays No. 18 prospectLogan Warmoth drove in three runs and Alberto Mineo collected three hits and scored twice for the D-Jays.
Chris Bumbaca is a contributor for MiLB.com based in New York. Follow him on Twitter @BOOMbaca.