Fisher Cats' Borucki works seven clean frames
Blue Jays No. 14 prospect overcomes two errors, three hit batters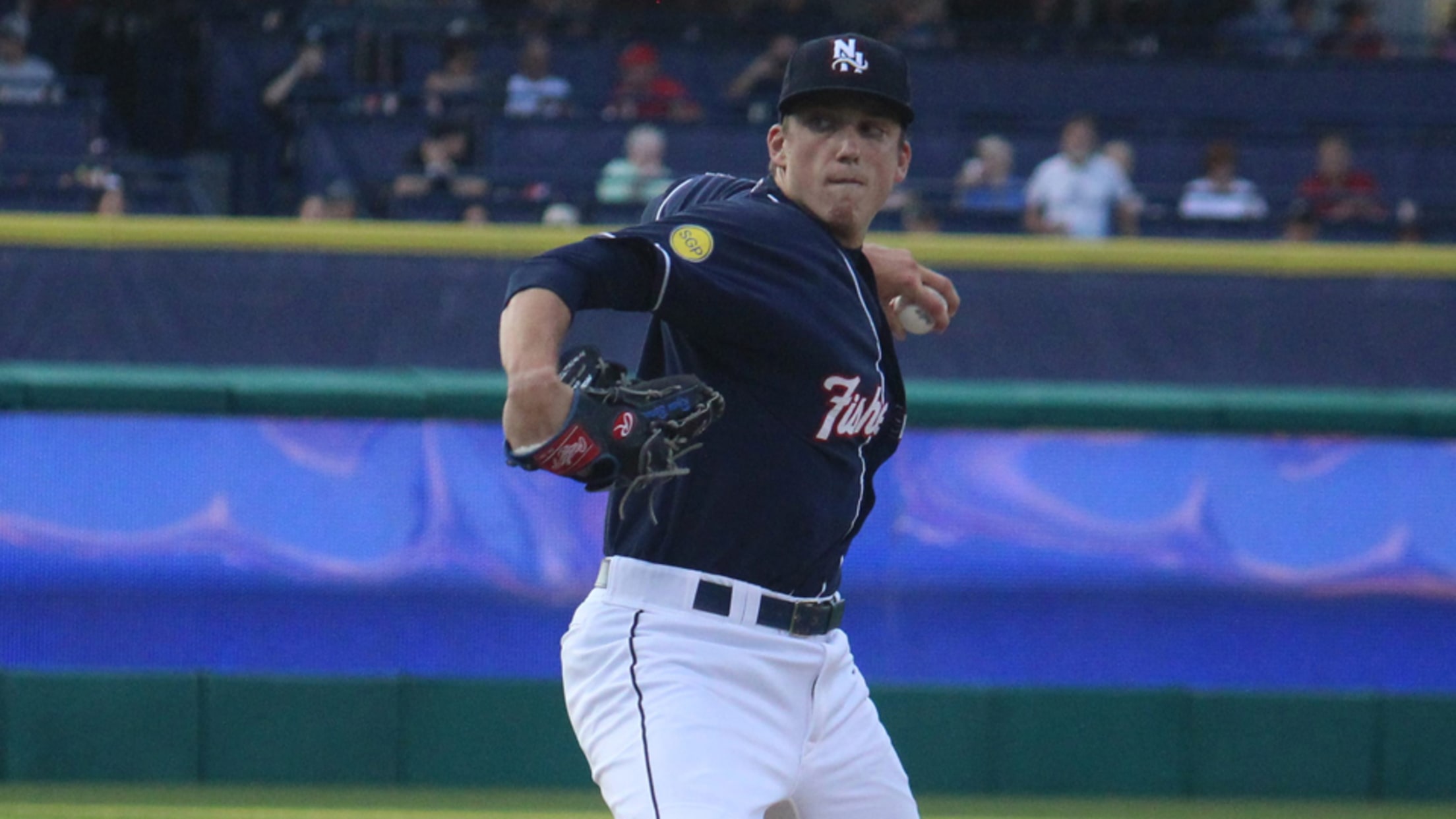 Ryan Borucki has gone at least seven innings in five of his seven Eastern League starts. (Sarah Lenau/New Hampshire Fisher Cats)
Ryan Borucki found himself in a familiar spot on Saturday.Eleven days earlier, the Blue Jays' No. 14 prospect surrendered four runs in the seventh inning to spoil an otherwise solid start against Double-A Hartford. He had held the Yard Goats scoreless through six again on Saturday before giving up a leadoff
Ryan Borucki found himself in a familiar spot on Saturday.
Eleven days earlier, the Blue Jays' No. 14 prospect surrendered four runs in the seventh inning to spoil an otherwise solid start against Double-A Hartford. He had held the Yard Goats scoreless through six again on Saturday before giving up a leadoff single in the seventh to Dom Nuñez.
"It was the same situation," Borucki said. "Their catcher, Nunez, was coming up and he hit it in the same exact spot and started off the inning the same way as last time."
Gameday box score
There was only one difference.
"This time, I shut the door and stopped the bleeding," the left-hander said.
Borucki yielded three hits and struck out seven over seven innings, matching his longest outing of the season and pitching New Hampshire to a 2-0 victory over Hartford at Northeast Delta Dental Stadium.
The 23-year-old had to battle for much of the evening, thanks to a pair of errors and three hit batters. He retired the side in order just once -- in the second inning -- and even then was helped when left fielder and third-ranked Toronto prospect Anthony Alford threw out Stephen Cardullo at second when he tried to move up after an error by third baseman Andrew Guillotte.
Borucki hit Jan Vázquez in the first, Nunez in the fourth and Drew Weeks in the sixth. Despite the occassional wildness, he said he felt pleased with his command as he threw 60 of 91 pitches for strikes. He never allowed the Yard Goats to advance past second base.
"I was just trying to make pitches down in the zone, trying to command the outside part of the plate," the Illinois native said. "I didn't have the inside part of the plate as well as I usually do, but I was controlling arm side to righties and glove side to lefties. I was making them hit my pitch.
"A couple pitches here and there I was pulling off a little bit, so I would miss arm side. Other than those couple pitches, I was commanding the outside part of the plate really well today and I had really good command of my off-speed pitches. I was getting changeups over in fastball counts."
Borucki owns a 1.94 ERA over 46 1/3 innings through seven Eastern League starts since a July callup from Class A Advanced Dunedin. While he has added elements to his game, such as a pickoff move and improved slider, he said the majority of his success has come from sticking to what earned the promotion from the Florida State League.
"When you come up here, you don't know what you're going to expect," the 2012 15th-round pick said. "I've just been pitching my game. It's not really overpowering. I'm just mixing my pitches, trying to control one part of the plate and making them hit my pitch. So far, I've been lucky enough to have them hitting my pitches that I want."
Andrew Case gave up one hit and fanned one in the ninth to pick up his eight save as New Hampshire registered its sixth shutout of the season.
• Get tickets to a Fisher Cats game
Jonathan Davis accounted for the Fisher Cats offense with a sacrifice fly in the third and an RBI double in the eighth.
Yard Goats starter Jack Wynkoop (5-10) pitched his second complete game of the season, allowing two runs on five hits with three strikeouts.