Vlad Jr. bashes his way to weekly award
Top overall prospect takes IL honor in second week on the circuit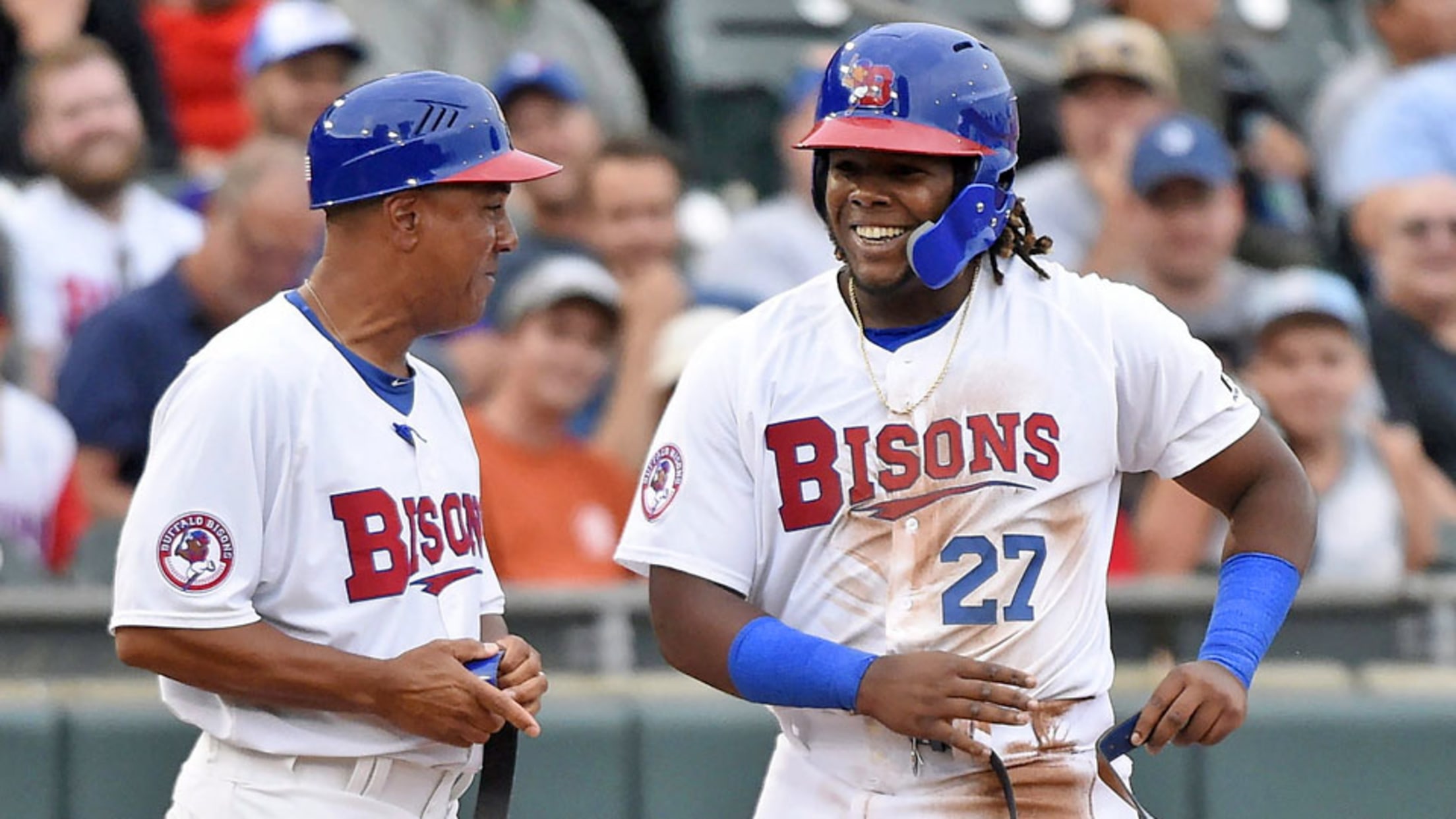 Vladimir Guerrero Jr. has a .489 on-base percentage in 12 games since joining Triple-A Buffalo. (Nathan Denette/The Canadian Press)
It didn't take long for Vladimir Guerrero Jr. to bring his dominance to the Minors' highest level. Baseball's top prospect dazzled in his second week with Triple-A Buffalo, homering in four consecutive games from Aug. 8-11 en route to International League Player of the Week honors. It is the third
It didn't take long for Vladimir Guerrero Jr. to bring his dominance to the Minors' highest level.
Baseball's top prospect dazzled in his second week with Triple-A Buffalo, homering in four consecutive games from Aug. 8-11 en route to International League Player of the Week honors. It is the third Player of the Week award for the 19-year-old this season and fourth in his career.
"He's very, very strong and he's got a great swing," said Corey Hart, Guerrero's hitting coach at Buffalo. "But hands down, the most important one is he's a fierce competitor."
Hart, who spent eight seasons in the Minors himself, praised Guerrero's approach.
View the Pitcher of the Week winners
"He's just ready to hit every time," Hart told MiLB.com. "He's able to go up there and look for a fastball and be ready to hit a fastball, and if they throw something up in the zone other than a fastball that he can hit, he does. I think it's because he's ready to hit that fastball that he's able to adjust to the other stuff."
The slugging third baseman is hitting .395 with seven RBIs over a dozen International League games so far. He actually had his average up to .462 on Aug. 9 against Gwinnett.
Guerrero went 3-for-4 on Aug. 7 before adding three more hits -- including his first Triple-A homer -- and two RBIs a day later. He went 2-for-4 with a homer on Aug. 9, belted a solo shot on Aug. 10 for his lone hit of the night in a series-opener against Toledo and then went 2-for-4 with another long ball on Aug. 11 against the Mud Hens. The streak finally ended Sunday when he went hitless in four at-bats.
Shocker: Vlad Jr. goes deep in fourth straight
For the week, Guerrero batted .458 with five RBIs, six runs scored and a double. He only struck out twice and finished with a 1.000 slugging percentage.
The son of Hall of Fame outfielder Vladimir Guerrero tormented Eastern League pitchers for four months, hitting .402 with 14 homers, 60 RBIs and a .449 OBP in 61 games with Double-A New Hampshire. He took home a pair of Player of the Week awards during his time with Fisher Cats this season. His first weekly honor came last year with Dunedin in the Class A Advanced Florida State League.
Here is the complete list of Minor League Offensive Players of the Week for Aug. 6-12:
| League | Player | Team | MLB | Stats |
| --- | --- | --- | --- | --- |
| International | Vladimir Guerrero Jr. | Buffalo | TOR | .458/.458/1.000, 6 G, 11-for-24, 1 2B, 4 HR, 5 RBI, 6 R, 0 BB, 2 K |
| Pacific Coast | Austin Dean | New Orleans | MIA | .647/.700/1.353, 5 G, 11-for-17, 3 2B, 3 HR, 7 RBI, 7 R, 3 BB, 5 K |
| Eastern | Michael Chavis | Portland | BOS | .560/.593/.880, 6 G, 14-for-25, 2 2B, 2 HR, 6 RBI, 7 R, 1 BB, 7 K, 1 SB, 1 CS |
| Southern | Michael Brosseau | Montgomery | TB | .500/.600/1.000, 6 G, 10-for-20, 4 2B, 2 HR, 7 RBI, 8 R, 3 BB, 3 K |
| Texas | Ronnie Dawson | Corpus Christi | HOU | .450/.500/.800, 6 G, 9-for-20, 1 2B, 2 HR, 3 RBI, 7 R, 0 BB, 5 K, 1 SB, 1 CS |
| California | Carlos Rincon | Rancho Cucamonga | LAD | .364/.440/1.182, 6 G, 8-for-22, 0 2B, 6 HR, 8 RBI, 8 R, 2 BB, 5 K |
| Carolina | Luis Gonzalez | Winston-Salem | CWS | .412/.500/.941, 5 G, 7-for-17, 3 2B, 2 HR, 6 RBI, 6 R, 3 BB, 3 K |
| Florida State | Ibandel Isabel | Daytona | CIN | .500/.538/1.250, 6 G, 12-for-24, 3 2B, 5 HR, 8 RBI, 7 R, 2 BB, 9 K |
| Midwest | Jesus Navarro | Lansing | TOR | .650/.682/.850, 6 G, 13-for-20, 4 2B, 0 HR, 3 RBI, 7 R, 2 BB, 3 K |
| South Atlantic | Rodolfo Duran | Lakewood | PHI | .474/.500/1.053, 6 G, 9-for-19, 2 2B, 3 HR, 6 RBI, 4 R, 2 BB, 3 K, 1 CS |
| New York-Penn | Stanley Espinal | State College | PHI | .440/.481/.640, 6 G, 11-for-25, 0 2B, 1 3B, 1 HR, 5 RBI, 4 R, 1 BB, 4 K) |
| Northwest | Diego Rincones | Salem-Keizer | SF | .316/.350/.842, 4 G, 6-for-19, 1 2B, 3 HR, 6 RBI, 4 R, 0 BB, 2 K |
| Appalachian | Wander Franco | Princeton | TB | .500/.571/.708, 6 G, 12-for-24, 2 2B, 1 HR, 11 RBI, 7 R, 4 BB, 2 K |
| Pioneer | Zack Shannon | Missoula | ARI | .438/.474/.813, 4 G, 7-for-16, 3 2B, 1 HR, 10 RBI, 1 R, 2 BB, 3 K |