Five-run first helps Daytona blaze past Bradenton, 8-3
Allen II clubs second home run, Benschoter strikes out career-high nine, as Tortugas win third-straight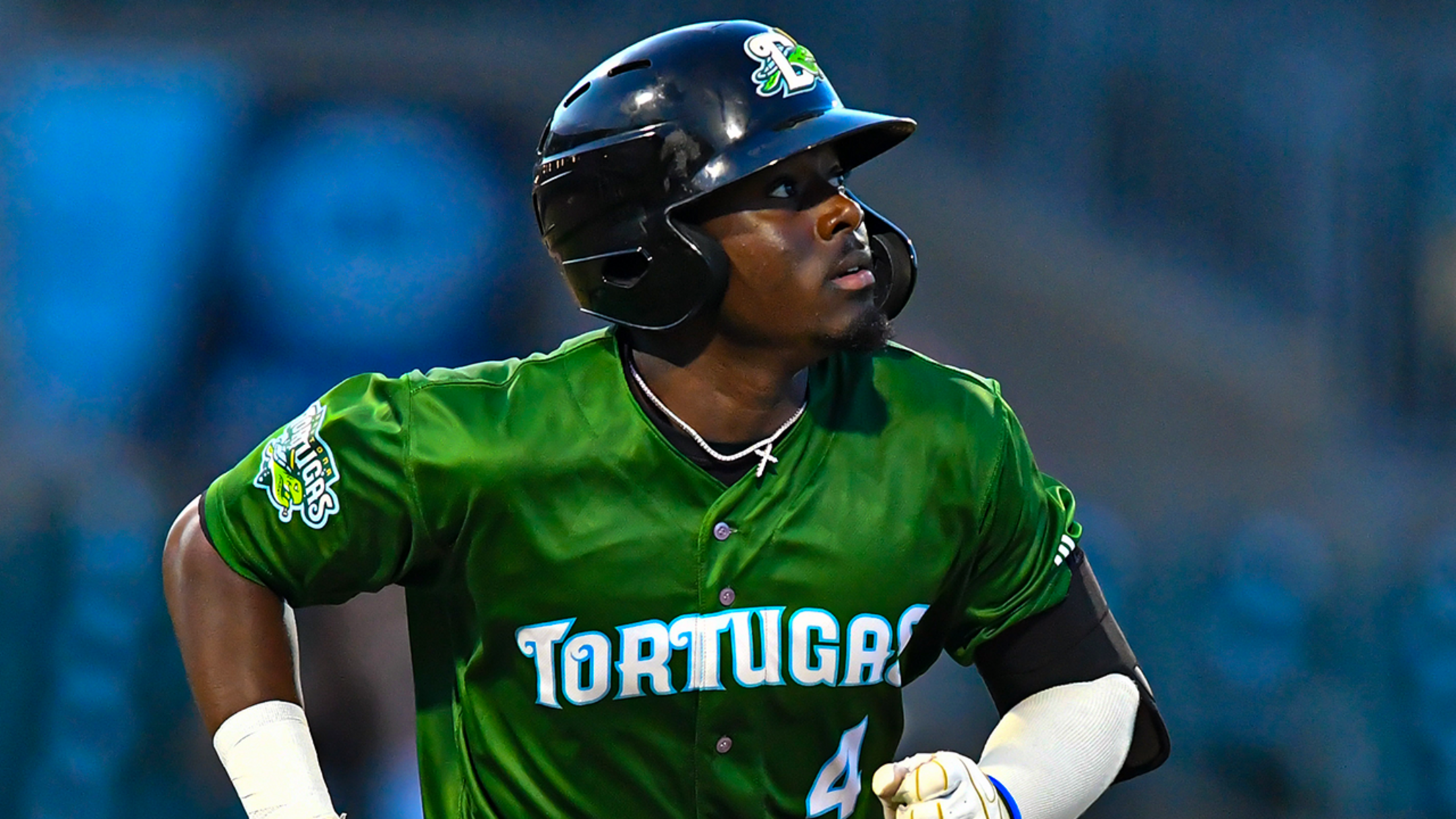 CF Jay Allen II launched a two-run home run in the first inning to put Daytona in front and they never relented, as the Tortugas won their fourth straight with an 8-3 win over the Bradenton Marauders in front of 1,340 fans at Jackie Robinson Ballpark on Wednesday night. (Ryan Dowd)
DAYTONA BEACH, Fla. — CF Jay Allen II clubbed a two-run home run to kick off a five-run bottom of the first inning, while RHP Sam Benschoter punched out a career-high nine hitters out of the bullpen, as the Daytona Tortugas demolished the Bradenton Marauders, 8-3, in front of 1,340
DAYTONA BEACH, Fla. — CF Jay Allen II clubbed a two-run home run to kick off a five-run bottom of the first inning, while RHP Sam Benschoter punched out a career-high nine hitters out of the bullpen, as the Daytona Tortugas demolished the Bradenton Marauders, 8-3, in front of 1,340 fans at Jackie Robinson Ballpark on Wednesday night.
After being blanked in the series opener on Tuesday, Bradenton (7-4) wasted no time scratching a run across on Wednesday. On the second pitch of the game, RF Randy Romero (1-5, R, HR, RBI, 3 SO) launched one off the advertisements on top of the left-field batting cages for a home run. The right-hander swinger's first of the year put the Marauders ahead 1-0.
The lead did not last more than two pitches into the home half of the inning. Daytona's RF Austin Hendrick (1-4, R, 2 SO) ripped the first pitch of the frame into right field for a single, and Allen II (1-4, R, HR, 2 RBI, BB, 2 SO) followed with an even bigger blast. The 19-year-old launched a 105 mph shot off the netting of the cages in left for a two-run home run. Allen's second long ball of the season put the Tortugas (5-6) in front, 2-1.
With one out, the rally continued on a 1B Ruben Ibarra (1-4, R, RBI, SO) single and a ground-rule double to left-center by LF Yerlin Confidan (1-2, 2 R, 2B, 2 BB). A wild pitch and a sacrifice fly by C Hayden Jones (1-2, R, 2B, RBI, BB, SO) tacked on two more, while SS Gus Steiger (2-4, RBI) punched a run-scoring single to cap the five-run attack.
In the third, Daytona took advantage of Bradenton's miscues. Confidan and Jones earned walks to begin the frame and each advanced an extra 90 feet on a wild pitch. Following a strikeout, a balk permitted Confidan to cross the plate and 2B Sebastian Almonte (0-1, RBI, 2 BB, SO) subsequently lofted a sacrifice fly to center to stretch the 'Tugas cushion to six, 7-1.
2B Jase Bowen (1-2, R, HR, RBI, BB, SO) pulled the Marauders a run closer in the fourth on a solo home run to left, his third shot of the campaign. The Tortugas swiftly regained the run, as DH Justice Thompson (1-5, R, 3 SO) singled to right, stole second, moved to third on a balk, and then crossed the dish on a sacrifice fly to right by Ibarra.
An 8-2 contest into the ninth, Bradenton tried to secure one last rally. C Geovanny Planchart (2-3, BB, SO) walked to start the frame and 3B Juan Jerez (1-4, R, 2 SO) scalded a liner into the right-field corner. Planchart scored, while Jerez slid into third before scoring on a fielding error made following the throw home. However, Daytona successfully challenged the ruling, as the umpires determined Planchart never touched third base. Jerez was credited with a single and a run scored on the error, trimming the deficit to five, 8-3.
That was as close as the visitors would get. RHP José Peralta (1.0 IP, H, R, ER, BB) made a stellar backhanded snag on a grounder up the middle for the second out and Steiger made a tremendous backhanded stop on a grounder to short, making a leaping throw to first to end the game.
Benschoter (4.0 IP, 2 H, BB, 9 SO) was marvelous in his second relief appearance of the year. The 24-year-old whiffed a career-high nine batters over a career-best-matching 4.0 innings of work, earning the first victory of his professional career.
Tortugas' RHP José Franco (4.0 IP, 4 H, 2 R, 2 ER, 2 BB, 7 SO) yielded a pair of solo home runs but managed to strike out seven over 4.0 frames in a no-decision. LHP Luis Peralta (2.1 IP, 5 H, 7 R, 7 ER, 4 BB, 4 SO) — who had not allowed a run or hit in his first 5.0 innings of work this year — failed to escape the third for the Marauders, suffering his first defeat of the season.
The six-game homestand continues on Thursday with the first Thirsty Thursday™ presented by Bud Light of the season. The biggest party in Central Florida makes its grand debut for the season with all fans able to enjoy their favorite draft beer or fountain soda for as low as $1 at concession and beer stands throughout the night.
RHP Chase Petty (0-1, 1.29) — the Reds' No. 7 prospect according to MLB.com — is expected to make his second start of the season as the Tortugas look to stretch their season-long win streak to four. The Marauders are scheduled to counter with RHP Valentin Linarez (0-1, 27.00). Gates open at 6 PM ET. Coverage on the Tortugas Radio Network and www.daytonatortugas.com will begin at 6:50 p.m. ET from Jackie Robinson Ballpark, leading up to the first pitch at 7:05.
Season tickets, multi-game plans, group packages, and single-game tickets are currently available and can be purchased online at www.daytonatortugas.com or by calling the Tortugas' Ticket Office at (386) 257-3172.
ABOUT THE DAYTONA TORTUGAS
The Daytona Tortugas are the Single-A Affiliate of the Cincinnati Reds and a member of Minor League Baseball's Florida State League. The Tortugas play at Jackie Robinson Ballpark in downtown Daytona Beach, Fla. Jackie Robinson Ballpark also plays host to Bethune-Cookman University, the Jackie Robinson Ballpark Museum, and many community events and initiatives of all sizes throughout the year.