Late-game miscues aid 'Tugas in twinbill split with Cards
Daytona scores four in the seventh to take nightcap, 5-2; Drop opener, 3-1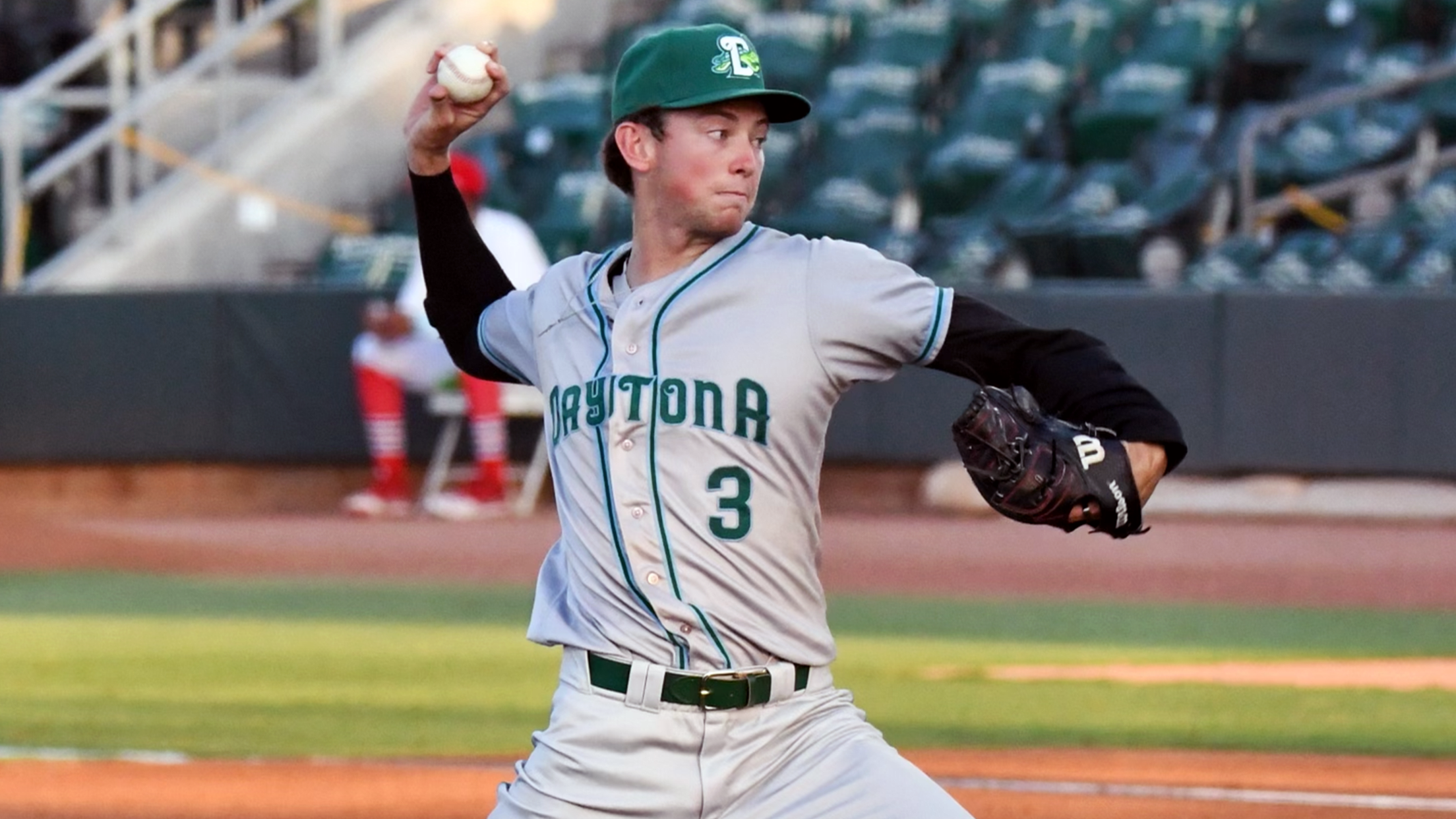 RHP Carson Rudd retired all nine batters he faced in game two — striking out four — to ultimately earn his first professional victory, as the Daytona Tortugas rallied for four in the seventh to win, 5-2. The Palm Beach Cardinals took the opener, 3-1, on Friday at Roger Dean Chevrolet Stadium. (Ryan Dowd)
JUPITER, Fla. - Thursday's rainout appeared to dampen the lumber, as neither Daytona nor Palm Beach's offense was particularly potent throughout Friday's doubleheader. However, the Tortugas took advantage of three errors in the seventh to rally and win game two, 5-2, after the Cardinals captured game one, 3-1, at Roger
JUPITER, Fla. - Thursday's rainout appeared to dampen the lumber, as neither Daytona nor Palm Beach's offense was particularly potent throughout Friday's doubleheader. However, the Tortugas took advantage of three errors in the seventh to rally and win game two, 5-2, after the Cardinals captured game one, 3-1, at Roger Dean Chevrolet Stadium.
Trailing 2-1 headed to the top of the seventh, the Tortugas (2-2) needed a spark to ignite a dormant lineup.
C Wilfred Astudillo (0-2) reached on a one-out miscue at first and RF Danny Lantigua (1-3, R) continued the rally with a rocketed single to right. After the former was lifted for a pinch-runner in Reyny Reyes, 1B Michel Triana (1-2, R, SO) was plunked to load the bases.
Following a three-pitch strikeout, 3B Rece Hinds (1-4, 2 R, HR, RBI) skied an 0-1 delivery into shallow center that was misplayed. Two runners scored on the second defensive blunder of the frame to give the 'Tugas their first lead of the day, 3-2.
Four pitches later, CF Allan Cerda (0-4, 2 SO) rolled a grounder to short, but an errant toss across the diamond allowed two more tallies to cross the white-tinted pentagon, bearing a 5-2 advantage for the visitors.
That was more than enough support for catcher-turned-pitcher RHP Vin Timpanelli (1.0 IP, SO). Making just his second career appearance, the Staten Island native retired Palm Beach (2-2) in order on 11 pitches to garner his first career save and a Daytona triumph.
The Cardinals scored two in the opening inning on a double from RF Adanson Cruz (2-3, 2B, 2 RBI, SO) to take the early, 2-0 lead that buoyed them into the game's last frame.
Hinds got the Tortugas on the board with a laser that registered at 108.5 mph off the bat for a solo home run in the top of the third. The 20-year-old's second long ball of the campaign pulled Daytona within a run, 2-1.
RHP Carson Rudd (3.0 IP, 4 SO) was marvelous for the Tortugas in relief, sitting down all nine batters he faced — punching out four — to earn his first professional victory. In all, Daytona relievers surrendered one hit and no walks with nine strikeouts in six innings of work in game two.
RHP Ángel Cuenca (1.2 IP, H, 4 R, BB, 2 SO) was given the tough-luck defeat, his first, after permitting four unearned runs in the seventh.
Daytona's RHP Jason Parker (1.0 IP, H, 2 R, 2 ER, 3 BB, SO) lasted just one inning in his pro debut and took a no-decision. LHP John Beller (5.0 IP, 3 H, R, ER, BB, 4 SO) did not receive one either after he hurled five innings of one-run ball for Palm Beach.
A tied contest at one into the fifth in the opener, Palm Beach took advantage of some free passes to begin the frame.
With runners at the corners, courtesy of a steal and throwing error, 1B L.J. Jones (1-2, 2 RBI) smashed a sharp groundball that deflected off the shortstop. SS Masyn Winn (0-1, 2 R, 2 BB, SO) scored from third to put Palm Beach in front, 2-1.
After a ground out advanced the runners to second and third, 3B Francisco Hernández (0-2, RBI) stretched the Cardinals edge to two, 3-1, with a sacrifice fly to right.
Palm Beach RHP Ramón Santos (2.0 IP, 2 SO) entered in relief in the sixth and dominated the latter two frames. The right-hander retired all six batters he faced, sealing his first save of the year and a Cardinals victory.
The Cardinals jumped out to an early 1-0 lead in the opening inning. Winn walked, DH Jordan Walker (1-2, R, 2B, BB) sliced a double to left-center, and a sacrifice fly to left-center from Jones did the job.
Daytona bounced back to knot it up at one apiece in the top of the third. SS Gus Steiger (0-3, R, BB, SO) drew a free pass, stole second, and scooted to third on a dropped third strike wild pitch that enabled Cerda (1-3, 2 SO) to reach. C Garrett Wolforth (1-3, RBI, SO) proceeded to uncork a liner into left-center for his first knock and RBI as a Tortuga.
Neither starter factored into the decision again in game one. Daytona LHP Evan Kravetz (3.1 IP, 2 H, R, ER, 4 BB, 4 SO) — making his first start since June 22, 2019, with Rookie Greeneville — limited his opponents to just one run despite four walks. RHP Ludwin Jiménez (2.0 IP, 3 BB, 2 SO) did not allow a hit but yielded three free passes in only two innings of work for the Cards.
RHP Inohan Paniagua (3.0 IP, 3 H, R, ER, BB, 5 SO) was strong in relief for the Redbirds, punching out five over three frames for his first win of the year. Tortugas RHP Frainger Aranguren (1.1 IP, H, 2 R, 2 ER, 2 BB) was saddled with his first defeat in his season debut.
The Tortugas will look to take the edge in the series on Saturday evening as RHP Case Williams (0-0, 0.00) — one of the Cincinnati Reds' top farmhands per Baseball America and MLB Pipeline — is set to toe the slab. Palm Beach is projected to counter with RHP Edwin Núñez (0-0, 0.00).
The Tortugas will return to Jackie Robinson Ballpark to roll out the green carpet for their long-awaited home opener against the St. Lucie Mets, Low-A affiliate of the New York Mets, on Tuesday, May 11. Gates will open at 6 p.m. ET. The first pitch is scheduled for 7:05 p.m.
Season ticket, multi-game plans, group packages, and more are currently available and can be purchased online at www.daytonatortugas.com or by calling the Tortugas' Ticket Office at (386) 257-3172.
ABOUT THE DAYTONA TORTUGAS
The Daytona Tortugas are the Low-A Affiliate of the Cincinnati Reds and a member of Minor League Baseball's Low-A Southeast. The Tortugas play at Jackie Robinson Ballpark in downtown Daytona Beach, Fla. Jackie Robinson Ballpark also plays host to Bethune-Cookman University, the Jackie Robinson Ballpark Museum, and many community events and initiatives of all sizes throughout the year.