Clearwater catches fire early, scorches Daytona, 10-4
Reyny Reyes picks up three hits, Wendell Marrero reaches four times in defeat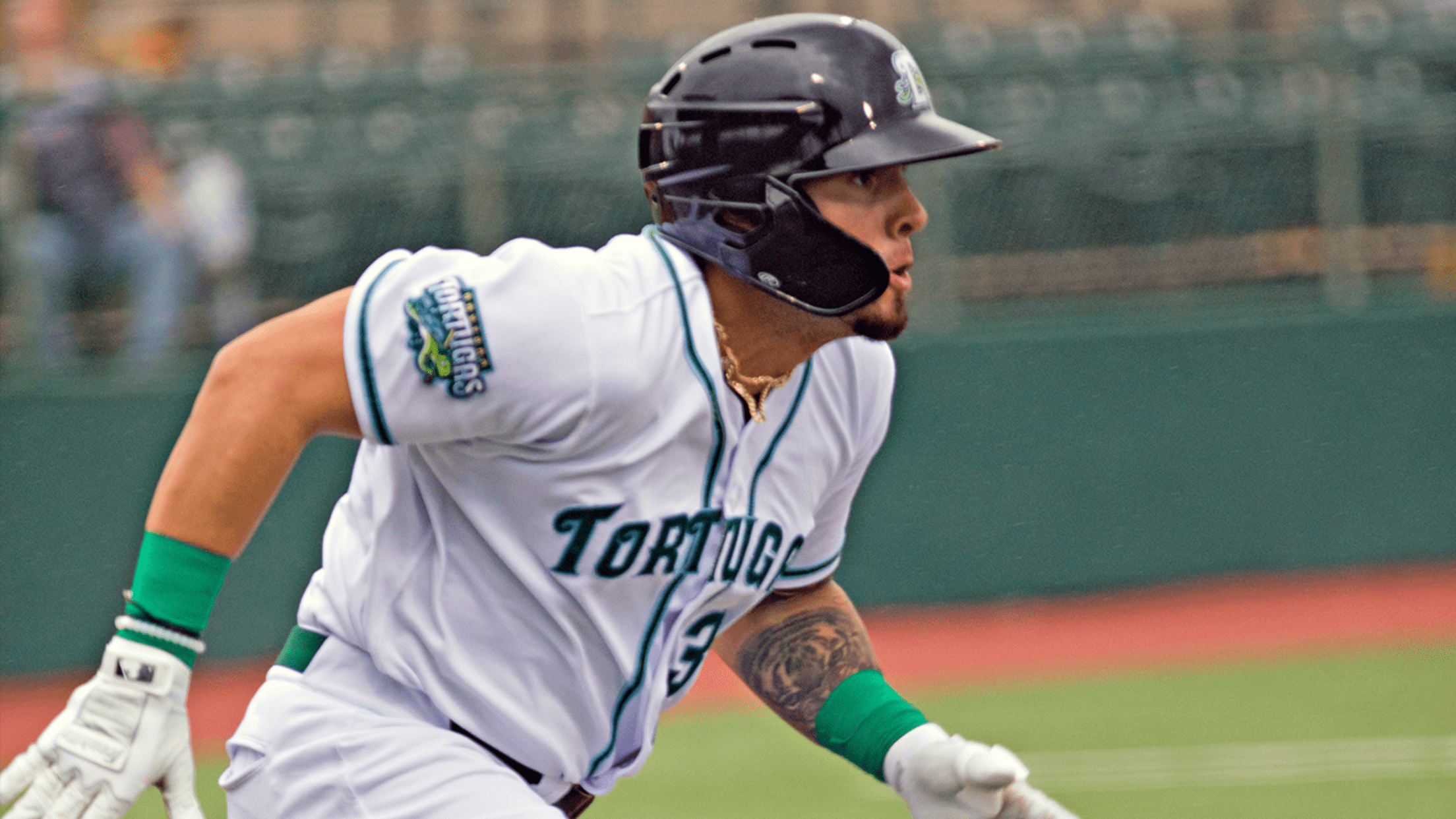 LF Wendell Marrero reached base four more times on Friday night, but the Clearwater Threshers upended the Daytona Tortugas, 10-4, in front of 1,295 fans at Jackie Robinson Ballpark. (Aldrin Capulong)
DAYTONA BEACH, Fla. - After an exhilarating comeback from Daytona last night, Clearwater made sure to prevent a repeat on Friday. The Threshers hoisted crooked numbers on the scoreboard in the first, second, and third innings, defeating the Tortugas, 10-4, in front of 1,295 fans at Jackie Robinson Ballpark. Right
DAYTONA BEACH, Fla. - After an exhilarating comeback from Daytona last night, Clearwater made sure to prevent a repeat on Friday. The Threshers hoisted crooked numbers on the scoreboard in the first, second, and third innings, defeating the Tortugas, 10-4, in front of 1,295 fans at Jackie Robinson Ballpark.
Right out of the gate, Clearwater (14-14) quickly loaded the bases on a pair of walks and single. After a baserunning mishap on a near wild pitch erased the runner at third, 1B Rixon Wingrove (2-5, 2B, 2 RBI, 2 SO) ripped a line drive down the left-field line. The Newcastle, Australia native stopped at second with a two-run double to put the Threshers up, 2-0.
An inning later, the first two batters reached on a walk and single before 2B Nicolas Torres (1-4, 2 R, BB, 2 SO) poked an RBI knock to enter. Two more runs would score in the frame on a fielding error and a fielder's choice off the bat of DH Abrahan Gutiérrez (1-5, R, 2 RBI, BB).
Daytona (13-15) started to chip away in the second, as a walk to LF Wendell Marrero (1-1, 3 R, 3 BB) and singles from 2B Reyny Reyes (3-4, RBI) and RF Ransor Amador (1-4, SO) loaded the bases. A wild pitch would allow the Tortugas to scratch one across and make it 5-1.
The Threshers responded by breaking the game open in the third. Back-to-back knocks from C Juan Aparicio (2-5, R, 2 SO) and 3B Logan Simmons (2-5, R, 2B, SO) placed runners at first and third before a wild pitch stretched Clearwater's lead back to five, 6-1.
Later in the rally, with the sacks saturated and two-out, CF Johan Rojas (1-4, 2 R, 2 BB, SO) skied a fly ball to right that was misplayed for a two-base error, scoring a pair. The Threshers made it a 10-1 game when Gutiérrez followed with a two-run single to right.
Before the final out was recorded Daytona's offense sliced at the deficit. In the fourth, Marrero walked and later scored on a balk with runners at first and third and one out. Reyes and 3B Leo Seminati (2-4, RBI, 2 SO) provided RBI singles in the eighth, trimming it a 10-4 contest.
Clearwater's RHP Victor Vargas (3.1 IP, 5 H, 2 R, 2 ER, 3 BB, 4 SO) issued a season-high three walks and took a no-decision. RHP Alejandro Madé (1.2 IP, SO) sat down all five batters he faced out of the bullpen, earning his first victory.
Reinstated from the injured list earlier in the day, RHP Carson Rudd (2.2 IP, 6 H, 8 R, 4 ER, 4 BB, 4 SO) suffered his third loss of the season for the Tortugas.
The series continues on Saturday evening, as Daytona's RHP Tanner Cooper (0-2, 6.08) is projected to make his second professional start. Scheduled to take the hill for the Threshers is LHP Rafael Marcano (1-0, 1.20). Gates will open at 6 p.m. with the first pitch slated for 7:05. Coverage on the Tortugas Radio Network and www.daytonatortugas.com will begin with the Pregame Show starting at 6:50 p.m. ET.
Season tickets, multi-game plans, group packages, and single-game tickets are currently available and can be purchased online at www.daytonatortugas.com or by calling the Tortugas' Ticket Office at (386) 257-3172.
ABOUT THE DAYTONA TORTUGAS
The Daytona Tortugas are the Low-A Affiliate of the Cincinnati Reds and a member of Minor League Baseball's Low-A Southeast. The Tortugas play at Jackie Robinson Ballpark in downtown Daytona Beach. Jackie Robinson Ballpark also plays host to Bethune-Cookman University, the Jackie Robinson Ballpark Museum, and many community events and initiatives of all sizes throughout the year.