Daytona dominates restart, blanked in nightcap
Tortugas throttle Marauders in restart of suspended game, 8-2; Drop seven-inning game two, 3-0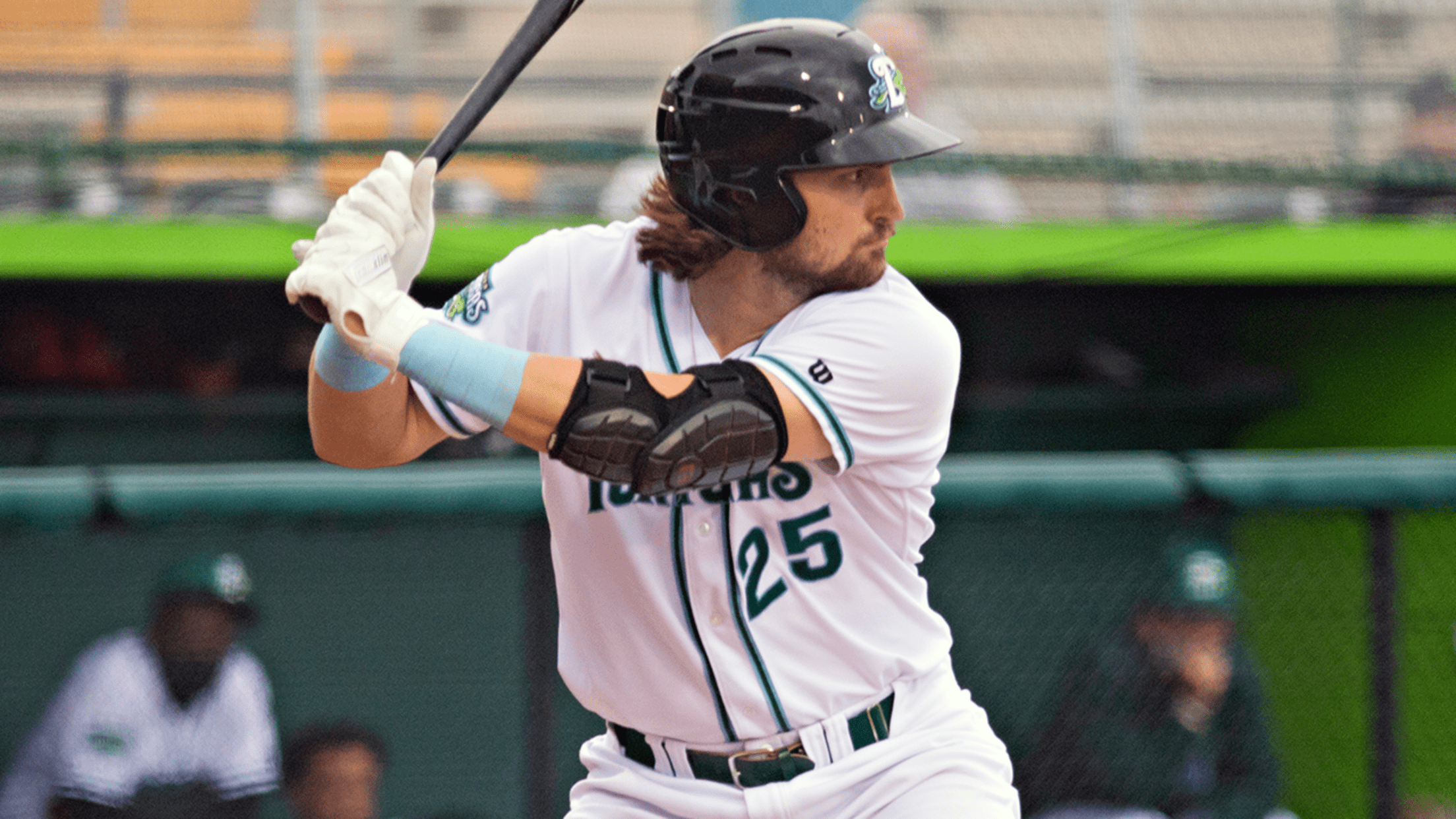 DH Garrett Wolforth went 4-for-8 at the plate over the pair of contests and drove in two during the lid-lifter, as the Tortugas took the suspended game from Tuesday, 8-2. Bradenton captured the seven-inning nightcap, 3-0, on Wednesday night at LECOM Park. (Aldrin Capulong)
BRADENTON, Fla. - With yesterday's affair halted due to lightning and inclement weather, Daytona brought the thunder out of the game when play resumed on Wednesday. The Tortugas hoisted crooked numbers in sixth, seventh, and ninth to defeat Bradenton, 8-2. RHP Santiago Florez tossed a complete-game shutout, as the Marauders
BRADENTON, Fla. - With yesterday's affair halted due to lightning and inclement weather, Daytona brought the thunder out of the game when play resumed on Wednesday. The Tortugas hoisted crooked numbers in sixth, seventh, and ninth to defeat Bradenton, 8-2. RHP Santiago Florez tossed a complete-game shutout, as the Marauders took the nightcap, 3-0, at LECOM Park.
Suspended before the top of the fifth could get started on Tuesday, the Tortugas (14-18) sprung to life in the sixth. 3B Reyny Reyes (2-4, R, RBI) singled to right and advanced to second on a knock by RF Ranser Amador (1-5, R, 2 SO). Following a line out to first, SS Gus Steiger (2-3, RBI, BB, SO) snuck a grounder into center for a base-hit. Reyes scored on the single to put Daytona ahead, 3-2.
With CF Allan Cerda (1-5, R, 2B, 2 SO) at the plate, Steiger was picked off of first base. However, the crafty Spring Lake, Minn. was able to stay in a rundown long enough for Amador to swipe home and extend the advantage to two, 4-2.
A one-out free pass to 1B Míchel Triana (2-4, 2 R, BB, SO) ignited the offense again in the seventh. DH Garrett Wolforth (3-4, 2 R, 2B, 2 RBI, SO) subsequently punished a ball at 102.6 mph into the right-center field gap. Triana motored all the way from first to score on the two-base hit, putting the Tortugas up, 5-2. Two batters later, LF Wendell Marrero (2-4, 2B, 2 RBI, BB, 2 SO) golfed an RBI double of his own to increase the lead to four, 6-2.
Daytona put an exclamation point the victory in the ninth. Following singles from Triana and C Daniel Vellojín (2-5, R, 2B, RBI, SO), Marrero and Reyes accrued one-base knocks of their own to chase home the contests final two tallies.
RHP Stevie Branche (2.2 IP, 2 H, 3 BB, 6 SO) and RHP Vin Timpanelli (2.1 IP, BB, 3 SO) dominated Bradenton's (20-12) lineup out of the bullpen. The duo struck out nine over the game's final five frames. Branche earned his third victory of the season, while Timpanelli escaped a jam in the seventh and finished the game for his second save.
LHP Brayan Roman (3.0 IP, 6 H, 4 R, 4 ER, BB, 4 SO) yielded four runs over three innings after being tabbed to start the resumption, suffering his second defeat.
The Tortugas and Marauders were tied at two when the game was suspended on Tuesday. Daytona accrued runs on a sacrifice fly from Wolforth in the first and an RBI ground-rule double by Vellojín in the fourth. Bradenton held a brief 2-1 lead when scoring on a 2B Yoyner Fajardo (1-4, R, 3B, RBI, 3 SO) triple and a double from C Endy Rodríguez (1-5, 2B, RBI, SO).
Neither starter took a decision, as both left after the delay and suspension. Tortugas RHP Jason Parker (4.0 IP, 2 H, 2 R, 2 ER, 3 BB, 5 SO) and Marauders RHP Luis Ortiz (4.0 IP, 4 H, 2 R, ER, 2 BB, 6 SO) were each impressive before weather halted their outings.
Bradenton's RHP Santiago Florez (7.0 IP, 5 H, 8 SO) stole the show in the nightcap. The 21-year-old posted a complete-game shutout in the seven-inning nightcap, setting a new career-high in innings pitched. Florez prevented Daytona from getting a baserunner past first base en route to his second win of the season.
LHP Evan Kravetz (1.0 IP, H, R, ER, SO) took the tough-luck defeat — his first of the season — in game two. The Rice University alum permitted only one baserunner — a solo home run to 1B Endy Rodríguez (2-3, 2 R, HR, RBI, SO) — before leaving prematurely.
Out of the bullpen, RHP Tanner Cooper (4.0 IP, 4 H, 2 R, 2 ER, 2 BB, 5 SO) capitulated a pair of tallies in the second and third on run-scoring singles by 3B Alexander Mojica (1-2, RBI) and RF Sammy Siani (1-2, R, RBI, BB) to make it 3-0. However, the 21-year-old gave the Tortugas some much-needed length out of the bullpen, setting a new season-high for innings pitched.
Low-A Southeast Pitcher of the Month for May — RHP James Proctor (2-0, 0.76) — is expected to take the mound for the Tortugas, as they look to regain the series lead on Thursday. The No. 13 prospect in the Pittsburgh Pirates' organization per MLB Pipeline — RHP Eddy Yean (1-1, 8.62) — projects to get the ball for the Marauders. The first pitch is set for 6:05 p.m. Coverage on the Tortugas Radio Network and www.daytonatortugas.com will begin with the Pregame Show starting at 5:50 p.m.
Baseball returns to Jackie Robinson Ballpark on Tuesday, June 15, as the 'Tugas will square off against the Palm Beach Cardinals, Low-A affiliate of the St. Louis Cardinals. It will be a Breast Cancer Awareness Night presented by Radiology Associates Imaging, as Daytona players and coaches will don special pink-tinted uniforms to mark the occasion. Silver Sluggers Night — the best club in baseball for fans 60-and-over — presented by Conviva Cares Solutions will also be a part of the festivities. Fans can get in on deals at the concession stand with $2.50 Michelob Ultra draft beers.
Season tickets, multi-game plans, group packages, and single-game tickets are currently available and can be purchased online at www.daytonatortugas.com or by calling the Tortugas' Ticket Office at (386) 257-3172.
ABOUT THE DAYTONA TORTUGAS
The Daytona Tortugas are the Low-A Affiliate of the Cincinnati Reds and a member of Minor League Baseball's Low-A Southeast. The Tortugas play at Jackie Robinson Ballpark in downtown Daytona Beach. Jackie Robinson Ballpark also plays host to Bethune-Cookman University, the Jackie Robinson Ballpark Museum, and many community events and initiatives of all sizes throughout the year.