Bonnin, Daytona whiff 15, batter St. Lucie, 8-2
Bryce Bonnin lowers ERA to 0.95, strikes out nine, as 'Tugas roll past Mets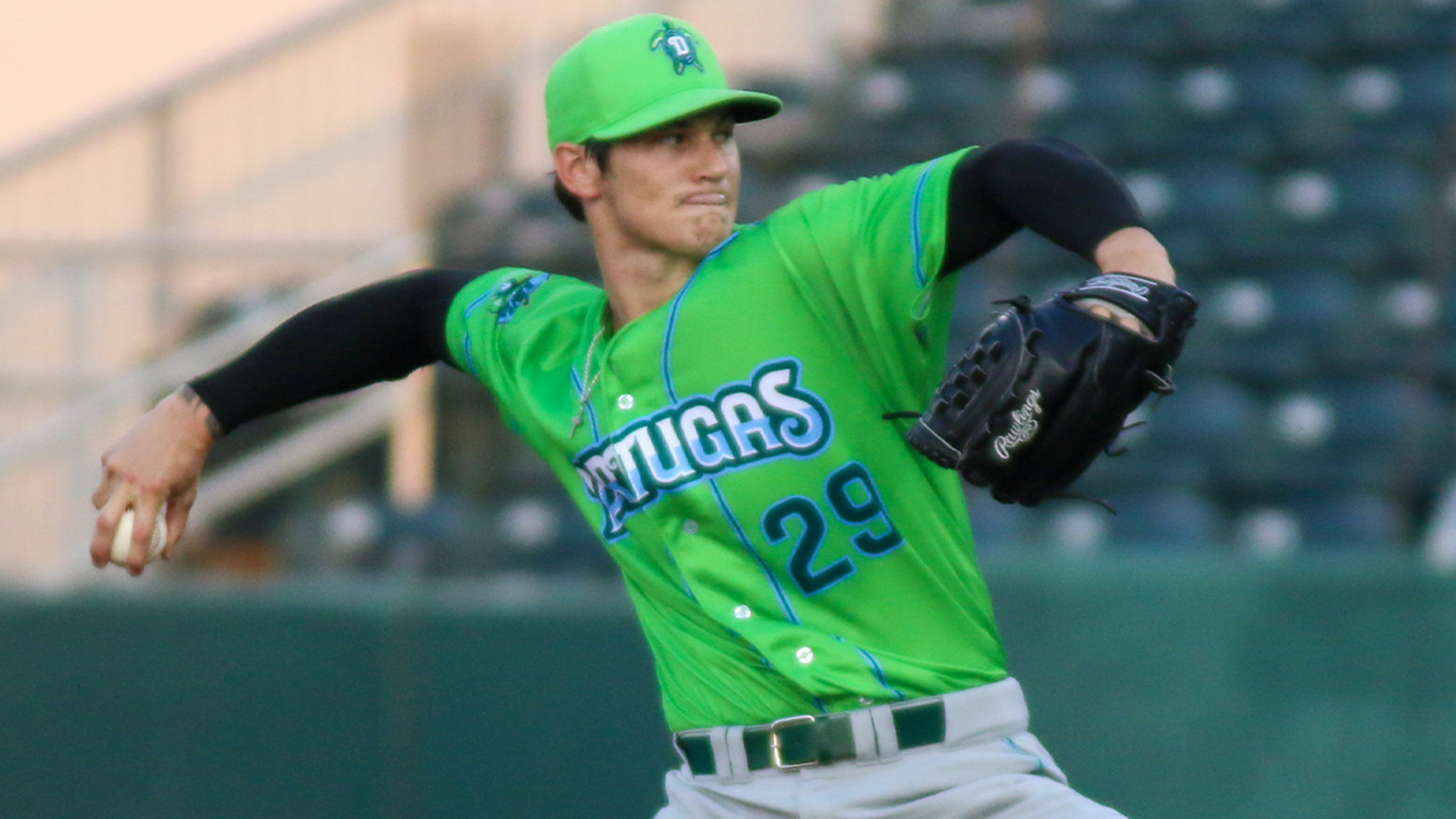 RHP Bryce Bonnin struck out nine over 5.0 shutout innings, lowering his ERA to 0.95, as the Daytona Tortugas trampled the St. Lucie Mets, 8-2, before 1,272 fans at Jackie Robinson Ballpark on Friday night. (Noah Goldberg)
DAYTONA BEACH, Fla. — RHP Bryce Bonnin continued his outstanding month of July, striking out nine hitters over 5.0 scoreless innings, as the Daytona Tortugas trampled the St. Lucie Mets, 8-2, in front of 1,272 fans at Jackie Robinson Ballpark on Friday night. Daytona (37-39) made sure Bonnin was given
DAYTONA BEACH, Fla. — RHP Bryce Bonnin continued his outstanding month of July, striking out nine hitters over 5.0 scoreless innings, as the Daytona Tortugas trampled the St. Lucie Mets, 8-2, in front of 1,272 fans at Jackie Robinson Ballpark on Friday night.
Daytona (37-39) made sure Bonnin was given a lead to work with early. C Daniel Vellojín (0-3, R, BB, SO) drew a one-out walk in the bottom of the first, while DH Allan Cerda (1-2, 2 R, 2B, 2 BB, SO) doubled and 1B Leo Seminati (1-2, 3 R, HR, 2 RBI, 2 BB, SO) earned a walk of his own to load the bases.
SS Ivan Johnson (3-4, R, 2B, RBI) put the Tortugas on the board, 1-0, with a single to center. 2B Brandon Leyton (2-4, R, 2 2B, 2 RBI) followed with a potential double-play grounder to short. St. Lucie (40-36) got the force at second, but the relay to first squirted away. Cerda crossed from third on the fielder's choice, as Seminait raced home from second on the throwing error staking Daytona to an early 3-0 advantage.
In the third, the 'Tugas were at it again. Seminati collected a four-pitch walk and Johnson subsequently ripped another single to center. Leyton then pummeled a deep drive over the centerfielder's head that took one hop over the wall. Seminati scored on the ground-rule double, extending the Daytona edge to 4-0.
With second and third and one out, CF Ranser Amador (0-4, 2 SO) tapped a ground ball to short. The throw home beat Johnson to the plate, but his feet-first slide jarred the ball loose from the catcher to reach safely. The ball rolled away from the dish, allowing Leyton to scamper all the way around from second to score on the error to pad the Tortugas lead to 6-0.
That was more than enough cushion for Bonnin (5.0 IP, 3 H, 9 SO). The 22-year-old struck out the side against St. Lucie twice in his 5.0 innings on the bump, lowering his ERA to a microscopic 0.95 (2 ER in 19.0 IP), ultimately earning his third win of the season.
St. Lucie broke up the shutout once Bonnin exited, as 2B José Peroza (2-4, R, 2B, HR, RBI) cranked a solo home run to the right of dead center — his seventh of the campaign — in the top of the sixth.
An inning later, the 'Tugas retaliated with a long ball of their own. Trailing a two-out walk to Cerda, Seminati clocked a ball the banged off the batter's eye in straightaway center field for a two-run blast. The Bergamo, Lombardy, Italy native's seventh home run of the season put Daytona up a touchdown, 8-1.
The Mets mustered one more run in the ninth on a sacrifice fly by RF Tanner Murphy (0-3, RBI, SO), but could not pull any closer. RHP Miguel Medrano (4.0 IP, 3 H, 2 R, 2 ER, BB, 6 SO) piggybacked off Bonnin's effort and twirled the final 4.0 frames to earn his first professional save.
LHP Franklin Parra (4.0 IP, 4 H, 6 R, 3 ER, 5 BB, 3 SO) struggled with his command on Friday for St. Lucie. The southpaw yielded six runs (three earned) and walked five, suffering his fourth-straight defeat and fourth loss overall in 2021.
The "Best Dressed Team in Baseball" Series returns to Jackie Robinson Ballpark on Saturday night, as Tortugas' players and coaches will don special No. 9 uniforms in honor of our stadium's namesake, Jackie Robinson.
RHP José Franco (1-2, 8.26) is expected to make the start and will try and secure a series victory for Daytona on Saturday. St. Lucie is projected to counter with RHP David Griffin (1-0, 3.49). Gates open at 6 p.m. while coverage on the Tortugas Radio Network will begin on the MiLB First Pitch app and www.daytonatortugas.com at 6:50 p.m. leading up to the 7:05 p.m. first pitch from Jackie Robinson Ballpark.
Season tickets, multi-game plans, group packages, and single-game tickets are currently available and can be purchased online at www.daytonatortugas.com or by calling the Tortugas' Ticket Office at (386) 257-3172.
ABOUT THE DAYTONA TORTUGAS
The Daytona Tortugas are the Low-A Affiliate of the Cincinnati Reds and a member of Minor League Baseball's Low-A Southeast. The Tortugas play at Jackie Robinson Ballpark in downtown Daytona Beach. Jackie Robinson Ballpark also plays host to Bethune-Cookman University, the Jackie Robinson Ballpark Museum, and many community events and initiatives of all sizes throughout the year.