Tortugas step on throttle, pummel Palm Beach, 11-4
Ibarra drives in career-high three, Cerda homers for fourth time in five games in Daytona rout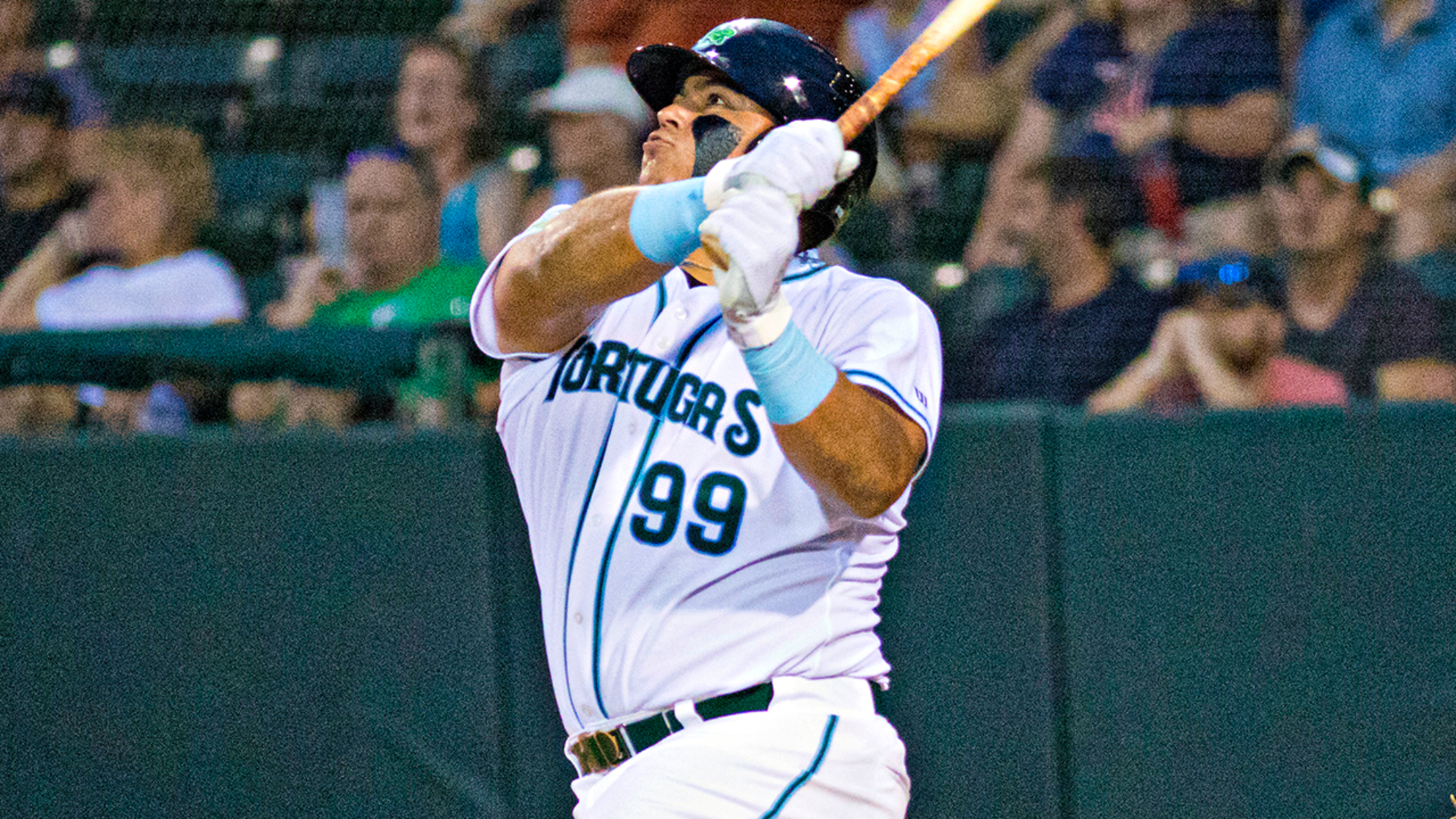 1B Ruben Ibarra had a perfect day at the plate collecting a walk, a hit-by-pitch, a single, a two-run double, and a sacrifice fly, as the Daytona Tortugas throttled the Palm Beach Cardinals, 11-4, in front of 1,156 fans at Jackie Robinson Ballpark on Thursday night. (Aldrin Capulong)
DAYTONA BEACH, Fla. — Already having their best offensive month of the season, the Tortugas continued that trend on Thursday night. 1B Ruben Ibarra reached base four times and drove in three, while CF Allan Cerda homered for the fourth time in five games, as Daytona dominated the Palm Beach
DAYTONA BEACH, Fla. — Already having their best offensive month of the season, the Tortugas continued that trend on Thursday night. 1B Ruben Ibarra reached base four times and drove in three, while CF Allan Cerda homered for the fourth time in five games, as Daytona dominated the Palm Beach Cardinals, 11-4, in front of 1,156 fans at Jackie Robinson Ballpark.
Daytona (46-47) wasted no time getting the offense kicked into gear. With the bases empty and two out in the first, Cerda (2-4, 3 R, 3B, HR, 2 RBI, BB) stepped in and sent a towering drive out to the left of dead centerfield. The shot sailed into the Magnolia parking lot for a solo home run — the 21-year-old's team-leading 14th of the year — to put the 'Tugas up 1-0.
Ibarra (2-2, 2 R, 2B, 3 RBI, BB) immediately followed with a single to center and then got to display his wheels on a double into the gap in left-center by DH Leo Seminati (1-4, 2B, RBI, BB, SO). The 6-foot-5, 290-pound first baseman chugged around to score on the two-bagger to put the Tortugas in front by a pair.
After Palm Beach (28-61) collected their first run on an inside-the-park home run by 1B Jacob Buchberger (1-4, R, HR, RBI, BB, 3 SO) in the top of the third, Daytona retaliated with double that total in the bottom half.
With a runner at first and one out, Cerda punched a ball into the gap in left-center that snuck underneath the glove off the outfielder trying to cut it off and rolled to the wall. C Daniel Vellojín (0-2, 2 R, RBI, 2 BB) raced home from first, as the Bronx, N.Y.-born outfielder dove headfirst into third with a triple. Ibarra followed with a sacrifice fly to give Daytona a three-run cushion, 4-1.
The Tortugas continued to tack on in the fourth. 3B Debby Santana (2-4, R, 2B) scalded a double to right and took third on a bunt single from LF Ashton Creal (1-3, R, SO). 2B Reyny Reyes (2-4, 2 R, 2B, RBI) followed with a ground-rule double to dead center to create a four-run advantage.
Runners held second and third with one out when Vellojín lofted a sacrifice fly to right and SS Elly De La Cruz (1-5, RBI, 2 SO) delivered a run-scoring single through the right side, granting Daytona a six-tally lead, 7-1.
The Cardinals chipped away in the sixth, putting two across on a DH Wade Stauss (1-3, 2B, RBI, BB, 2 SO) double and a sacrifice fly from 2B Franklin Soto (0-3, RBI, SO), but once more, the 'Tugas had an answer.
Daytona loaded the bases on a Reyes single and a pair of walks before a wild pitch chased home a run. Ibarra followed with a two-run two-bagger into the gap in right-center before scoring on another wild pitch to pad the Tortugas dominance to 11-3.
In the ninth, Palm Beach picked up one last tally on a solo home run to right by CF Mike Antico (1-3, R, HR, RBI), his fourth professional home run and third in as many games.
RHP José Franco (4.0 IP, 3 H, R, ER, 3 BB, 4 SO) did not have his best command on Thursday, but issued just one run over 4.0 innings, taking a no-decision. RHP Wes Robertson (2.0 IP, 2 H, 2 R, 2 ER, BB, SO) entered in relief and collected his first victory in a Tortugas uniform.
Picking up his first save of the season was RHP Alberto González (3.0 IP, 2 H, R, ER, BB, 5 SO). It was the 22-year-old's first save since the second outing of his professional career on June 23, 2018, with the Arizona League Reds.
RHP Edgar Manzo (4.0 IP, 9 H, 7 R, 7 ER, BB, 2 SO) struggled in just the third start of his season, suffering his fourth loss for Palm Beach.
The homestand resumes as the Tortugas recognize the selflessness of those who have aided others during the pandemic as a part of our First Responders and Healthcare Heroes Appreciation Night on Friday. It will be another Friday Night Happy Hour presented by Ormond Brewing Company and Cutwater Spirits. Fans will be able to enjoy free tastings of a selection of Ormond Brewing draft beers and Cutwater Spirits from 6 p.m. until 7:30 p.m. Additionally, patrons will be able to enjoy Ormond Brewing Company draft beers and Cutwater Spirits at a reduced price at all our beer stands throughout the evening.
RHP Gabriel Aguilera (0-2, 5.40) — who celebrated his 21st birthday on Thursday — is projected to take the hill for Daytona in game four of the series. Palm Beach is scheduled to counter with LHP John Beller (0-4, 4.13). Coverage on the Tortugas Radio Network will begin on the MiLB First Pitch app and www.daytonatortugas.com at 6:50 p.m. leading up to the 7:05 p.m. first pitch from Jackie Robinson Ballpark.
Season tickets, multi-game plans, group packages, and single-game tickets are currently available and can be purchased online at www.daytonatortugas.com or by calling the Tortugas' Ticket Office at (386) 257-3172.
ABOUT THE DAYTONA TORTUGAS
The Daytona Tortugas are the Low-A Affiliate of the Cincinnati Reds and a member of Minor League Baseball's Low-A Southeast. The Tortugas play at Jackie Robinson Ballpark in downtown Daytona Beach. Jackie Robinson Ballpark also plays host to Bethune-Cookman University, the Jackie Robinson Ballpark Museum, and many community events and initiatives of all sizes throughout the year.