Five-run seventh sinks Daytona in series opener
Brandon Leyton picks up two extra-base hits, two RBI, but early 4-0 lead evaporates for Tortugas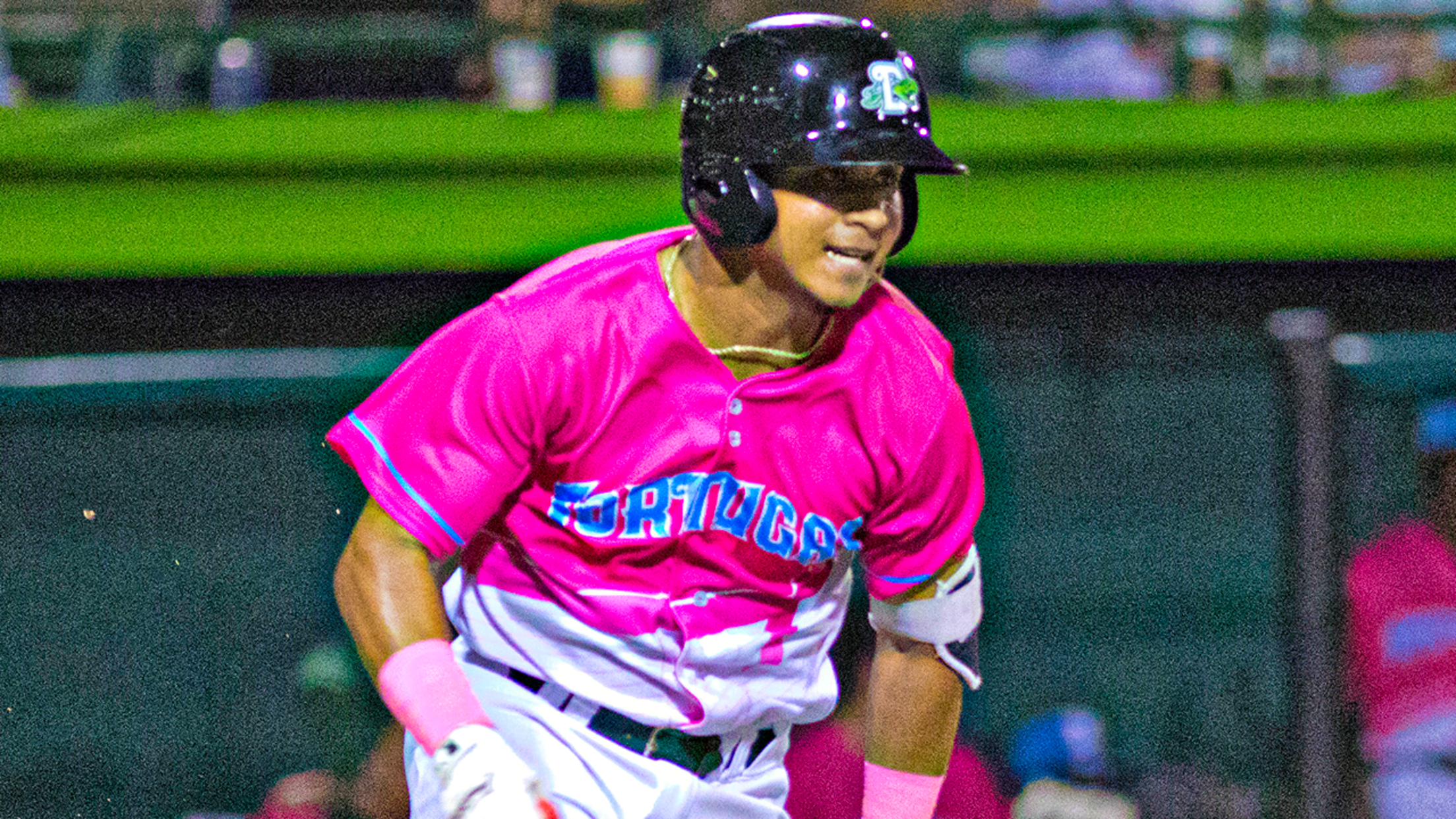 2B Brandon Leyton clubbed a solo home run in the sixth and ripped an RBI double in the seventh, but Palm Beach scored the game's final eight runs, as the Cardinals bested the Daytona Tortugas, 8-4, on Tuesday night at Roger Dean Chevrolet Stadium. (Aldrin Capulong)
JUPITER, Fla. — The Tortugas held a 4-0 lead going to the bottom of the seventh thanks to home runs from DH Rece Hinds and 2B Brandon Leyton, but could not maintain it. Palm Beach scored five in the seventh and added three more in the eighth, as the Cardinals
JUPITER, Fla. — The Tortugas held a 4-0 lead going to the bottom of the seventh thanks to home runs from DH Rece Hinds and 2B Brandon Leyton, but could not maintain it. Palm Beach scored five in the seventh and added three more in the eighth, as the Cardinals rallied to defeat Daytona, 8-4, on Tuesday night at Roger Dean Chevrolet Stadium.
For the sixth time in seven games during the road trip, Daytona (57-58) chased across at least one run in the first inning. C Daniel Vellojín (1-4, 2 R, BB) led off the game with a single and advanced to second on a ground out before taking third on a fly out to center.
With two out, Hinds (1-4, R, HR, 2 RBI, 3 SO) smashed an 0-1 offering at 109.7 mph out to straightaway center field. The 21-year-old's towering drive sailed out of the ballpark for a two-run home run, estimated at 424 feet. Hinds' 10th long ball with the Tortugas made it a 2-0 affair.
In the sixth, it was Leyton's (2-4, R, 2B, HR, 2 RBI, SO) turn with the gopher ball. On the second pitch of the inning, the Nicaragua-born infielder turned on a delivery and deposited the ball beyond the fence in left for a solo home run. Leyton's sixth of the season extended Daytona's lead to 3-0.
An inning later, Vellojín drew a two-out walk to keep a rally alive. Leyton subsequently worked a full count and slapped a grounder up the third-base line. The worm burner rolled into the left-field corner, as Vellojín chugged around from first to score on the two-base hit, padding the 'Tugas edge to four.
Palm Beach (35-77) started the comeback immediately in their half of the seventh. C Carlos Soto (1-3, R, BB, SO) and SS Darlyn Del Villar (1-2, R) reached on consecutive singles to start the frame and, after a strikeout, 2B Franklin Soto (0-2, R, 2 BB, SO) walked to load the bases. CF Mike Antico (0-4, 2 R, RBI, 3 SO) was hit by a pitch and LF Patrick Romeri (2-4, 2 R, HR, 3 RBI, B, 2 SO) drew a walk with the bases full to chase in a pair, drawing the Cardinals within two, 4-2.
After a pitching change, RF Ryan Holgate (0-5, RBI, 2 SO) hit a soft ground ball to first, but the flip to the pitcher covering went wide. Two runs scored on the throwing error, allowing Palm Beach to tie the game at four. DH L.J. Jones (1-2, RBI) followed with a sacrifice fly to left, giving the Cardinals their first lead, 5-4.
In the eighth, Palm Beach put the game on ice. 3B Osvaldo Tovalín (1-4, R, 3 SO) reached on an infield single with one out before a walk and a fielder's choice set up runners at first and third with two out.
Romeri emerged and walloped the third pitch of his plate appearance beyond the left-field wall for a three-run home run. The 20-year-old's seventh homer of the season stretched the Redbirds' cushion up to four, 8-4.
Neither starter factored into the decision on Tuesday. Daytona's RHP Joe Boyle (4.0 IP, 2 H, 2 BB, 10 SO) was superb, striking out a career-high 10 over 4.0 shutout innings of work. RHP Michael McGreevy (2.0 IP, 3 H, 2 R, 2 ER, SO) — St. Louis' first-round selection in July — lasted a career-high 2.0 innings for Palm Beach.
Despite yielding a run in the seventh, Cardinals RHP Edgar Manzo (2.0 IP, 2 H, R, ER, 2 BB, 2 SO) went 2.0 frames to earn his sixth win of the year in relief. RHP Manuel Cachutt (2.1 IP, 2 H, 5 R, 3 ER, 2 BB, 3 SO) suffered his fourth loss of the campaign for the Tortugas out of the bullpen.
Daytona will try and even the six-game set on Wednesday night, as LHP Andrew Abbott (0-0, 6.75) — Cincinnati's No. 10 prospect per MLB.com — is anticipated to take the hill. Palm Beach is scheduled to counter with LHP John Beller (0-6, 4.54). Coverage on the Tortugas Radio Network will begin on the MiLB First Pitch app and www.daytonatortugas.com at 6:15 p.m. leading up to the 6:30 p.m. first pitch from Roger Dean Chevrolet Stadium.
ABOUT THE DAYTONA TORTUGAS
The Daytona Tortugas are the Low-A Affiliate of the Cincinnati Reds and a member of Minor League Baseball's Low-A Southeast. The Tortugas play at Jackie Robinson Ballpark in downtown Daytona Beach. Jackie Robinson Ballpark also plays host to Bethune-Cookman University, the Jackie Robinson Ballpark Museum, and many community events and initiatives of all sizes throughout the year.