Tortugas' Rodriguez collects five hits, four RBIs
Reds No. 10 prospect thriving since moving to top of the lineup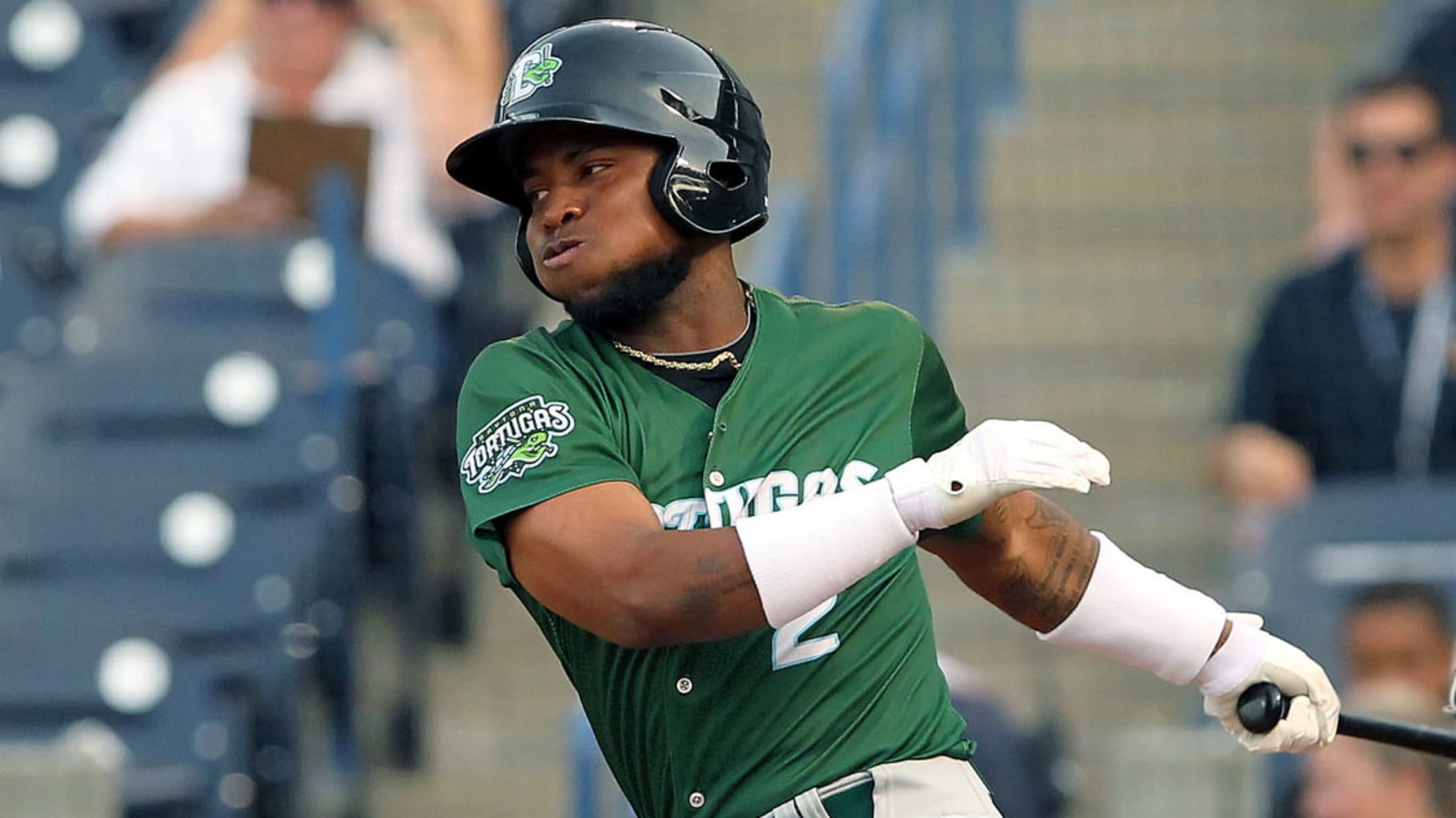 Alfredo Rodriguez is hitting .347 (26-for-75) in May after batting .218 in April. (Cliff Welch/MiLB.com)
Alfredo Rodriguez may still need some time to adjust to baseball in the United States, but he's beginning to find his niche in a different way.Signed for $7 million as an international free agent last year, the Reds' No. 10 prospect went 5-for-5 with a career-high four RBIs on Saturday as
Alfredo Rodriguez may still need some time to adjust to baseball in the United States, but he's beginning to find his niche in a different way.
Signed for $7 million as an international free agent last year, the Reds' No. 10 prospect went 5-for-5 with a career-high four RBIs on Saturday as Class A Advanced Daytona completed a doubleheader sweep with a 13-2 romp over Tampa at George M. Steinbrenner Field. He doubled twice and also scored a run.
Gameday box score
"We moved him in the lineup a bit and it's taken a little pressure off him," Daytona hitting coach Alex Pelaez said. "When he was hitting in the middle of the order, he felt he needed to hit for power, and that's not really his game.
"At the top of the order, he's really taking to that role and just setting the table for everyone else. It relaxed him and he's just swinging at good pitches right now, basically."
After leading off the game with a double down the right field line, the 22-year-old shortstop began the third with another double to left and capped the five-run outburst with an RBI single.
Rodriguez, who had never collected more than three hits a game as a Minor Leaguer, tacked on a run-scoring single to left in the fifth before driving in his fourth run with another base hit in a five-run sixth.
"He's finally taking that pressure off himself and he's trying to work the whole field again," Pelaez said. "Tonight, he just took what they were giving him and he didn't try to do too much. If the ball was away, he hit it over there. He didn't try to force anything."
Following an April in which Rodriguez hit .218, the Tortugas moved the Cuba native to the leadoff spot on May 9. In 11 games since, he's batting .444 (20-for-45).
"Hopefully, he just sticks with it," Pelaez said. "He's a good kid and you pull for him. He works hard and he's trying to learn a lot."
With 20 hits, Daytona tied the single-game team record. Every player got in the hit column, with Reds No. 13 prospect Shed Long following Rodriguez with three hits and five players collecting two apiece.
"A lot of guys are working on stuff, so it's nice to have them all click," Pelaez said. "I think these guys feed off each other really well. It was really nice just watching them work and trusting everything they've been doing. And now I have something to go on in the future if they struggle."
In the opener, Reds No. 12 prospect Chris Okey drove in six runs, despite going 1-for-3. He had a pair of RBI groundouts before connecting for a grand slam in the sixth.
"We preach those situational stuff and those were great at-bats," Pelaez said. "On the grand slam, he just got a pitch up to hit and drove it to right field. It was just a perfect ending for him."
Michael Peng is a contributor to MiLB.com. Follow him on Twitter @MichaelXPeng.