Tortugas and Cardinals suspended, will resume Wednesday
Game will pick up at 5:30 p.m. with Daytona leading, 3-2, in the top of the fourth; 7-inning nightcap will follow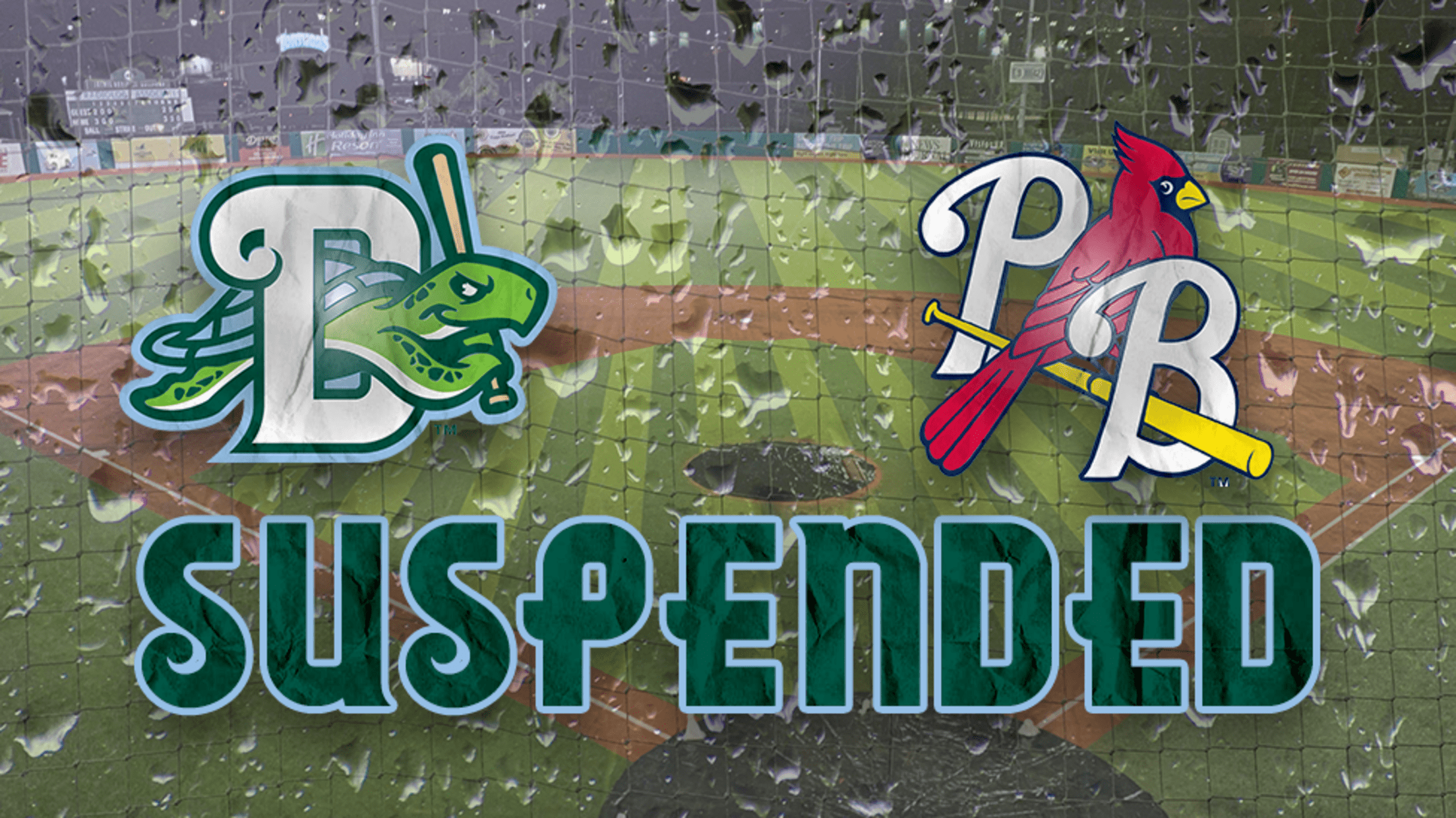 DAYTONA BEACH, Fla. - For the second-straight Tuesday, mother nature halted a Tortugas' series opener. Daytona's contest on Tuesday night at Jackie Robinson Ballpark against the Palm Beach Cardinals was suspended in the top of the fourth inning due to lightning and inclement weather. The contest will resume on Wednesday
DAYTONA BEACH, Fla. - For the second-straight Tuesday, mother nature halted a Tortugas' series opener. Daytona's contest on Tuesday night at Jackie Robinson Ballpark against the Palm Beach Cardinals was suspended in the top of the fourth inning due to lightning and inclement weather. The contest will resume on Wednesday at 5:30 p.m. with the Tortugas holding a 3-2 lead. Palm Beach will have a man at first and one out. The scheduled contest for Wednesday will now be a seven-inning ballgame, starting roughly 35 minutes following game one's completion.
Wednesday's game resumption will complete its originally scheduled nine innings. The gates are slated to open at 4:30 p.m., one hour before the first pitch. Fans with tickets to Tuesday's suspended game may redeem them at the Tortugas' box office, for any ticket to a Tortugas home game throughout the remainder of the 2021 regular season of equal or lesser value. Patrons may also redeem their tickets by calling the 'Tugas at (386) 257-3172.
Palm Beach (11-25) snared the early lead in the top of the first, as C Carlos Soto (1-2, R) singled and 3B Jordan Walker (1-2, R, HR, 2 RBI) followed with a wind-aided home run over the fence in right. The 19-year-old's third blast of the season gave the Cardinals an early lead, 2-0.
In the home half, Daytona (15-21) wasted no time in retaliating. With men at the corners and one out, DH Garrett Wolforth (1-2, R, RBI) trimmed the deficit to one with a run-scoring single to left. After a throwing error allowed him to take second, C Daniel Vellojín (0-1, BB, SO) walked to load the bases.
LF Wendell Marrero (1-1, RBI, BB) extended his hitting streak to a season-high seven, tying the game at two, with an RBI infield single to third. 3B Reyny Reyes (0-1, RBI, SO) subsequently gave the Tortugas the lead, 3-2, with a sacrifice fly to center.
RHP Tanner Cooper (3.1 IP, 5 H, 2 R, 2 ER, BB, 4 SO) punched out four in his third career start for Daytona. Cardinals LHP Levi Prater (3.0 IP, 3 H, 3 R, 3 ER, 4 BB, 3 SO) walked four over three innings of work.
It will be an action-packed day at the ballpark, including a Belly Buster Wednesday presented by Marco's Pizza. Starting at just $14, fans can enjoy all-you-can-eat hot dogs, hamburgers, popcorn, and cheesy Marco's Pizza throughout the contest. It will also be a VyStar Credit Union Wishful Wednesday, as the 'Tugas partner with a deserving local charity to raise money and awareness for a worthy cause.
In the seven-inning finale, Daytona is expected to hand the ball to Low-A Southeast's Pitcher of the Month for May, RHP James Proctor (2-0, 1.88). Palm Beach anticipates having RHP Gustavo Rodríguez (0-1, 5.27) toe the rubber. That contest will get underway approximately 30 minutes following the completion of Wednesday's suspended affair.
Gates will open at 4:30 for the dual contests. The first pitch of the suspended contest is set for 5:30 p.m. Coverage on the Tortugas Radio Network will begin on the MiLB First Pitch app and www.daytonatortugas.com at 5:15 p.m.
Season tickets, multi-game plans, group packages, and single-game tickets are currently available and can be purchased online at www.daytonatortugas.com or by calling the Tortugas' Ticket Office at (386) 257-3172.
ABOUT THE DAYTONA TORTUGAS
The Daytona Tortugas are the Low-A Affiliate of the Cincinnati Reds and a member of Minor League Baseball's Low-A Southeast. The Tortugas play at Jackie Robinson Ballpark in downtown Daytona Beach. Jackie Robinson Ballpark also plays host to Bethune-Cookman University, the Jackie Robinson Ballpark Museum, and many community events and initiatives of all sizes throughout the year.