Tortugas trample Hammerheads in series opener, 9-5
Jack Rogers reaches base five times to help Daytona capture fourth-straight win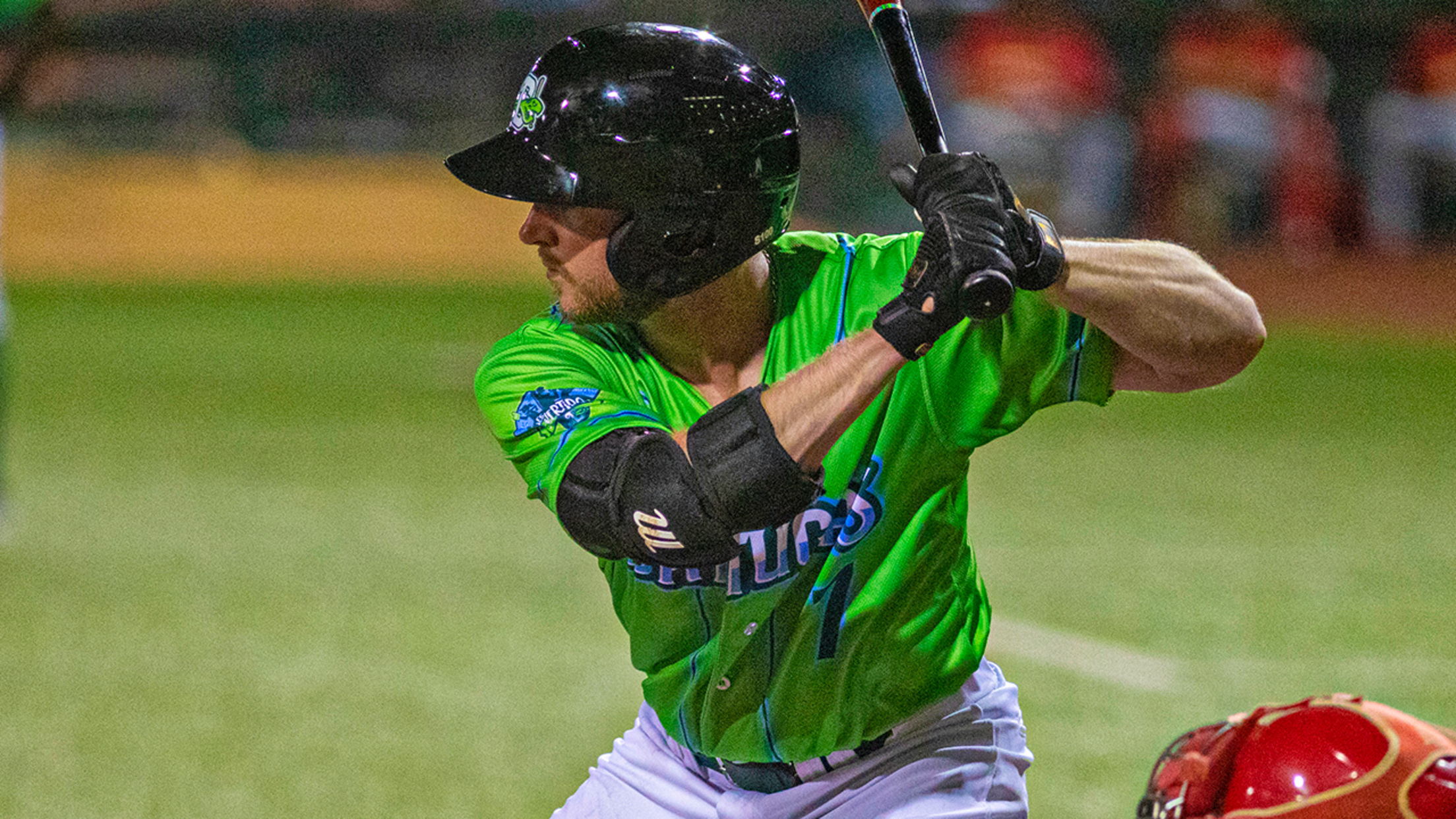 1B Jack Rogers reached base five times, tied a career-best with three hits, and drove in a pair of runs, as the Daytona Tortugas captured their fourth-straight win with a 9-5 victory over the Jupiter Hammerheads in front of 1,793 fans at Jackie Robinson Ballpark on Tuesday night. (Aldrin Capulong)
DAYTONA BEACH, Fla. — 1B Jack Rogers reached base five times and tied a career-best with three hits, as the Daytona Tortugas captured their fourth-straight victory with a 9-5 triumph over the Jupiter Hammerheads in front of 1,793 fans at Jackie Robinson Ballpark. Jupiter (33-29) snatched an early lead, picking
DAYTONA BEACH, Fla. — 1B Jack Rogers reached base five times and tied a career-best with three hits, as the Daytona Tortugas captured their fourth-straight victory with a 9-5 triumph over the Jupiter Hammerheads in front of 1,793 fans at Jackie Robinson Ballpark.
Jupiter (33-29) snatched an early lead, picking up runs in the second and third innings. 2B Ian Lewis (1-3, R, 2 BB, SO) started the second with a single and went first-to-third on a C Cameron Barstad (2-5, 3 SO) hit to right before scoring on a sacrifice fly to left from LF Angeudis Santos (0-4, RBI, 2 SO).
An inning later, SS Kahlil Watson (1-3, 2 R, 2 BB, 2 SO) earned a leadoff walk and promptly stole second base. RF Brady Allen (2-4, 2B, 2 RBI, BB, SO) followed with a run-scoring double to right, putting the Hammerheads in front, 2-0.
In the fourth, Daytona (28-35) drew even. Rogers (3-3, 2 R, 2 RBI, 2 BB) slapped a single to left to start the frame and, on the second pitch of the plate appearance, SS Steven Leyton (3-5, R, 2B, HR, 3 RBI) tomahawked a fly ball on top of the batting cages in left for a two-run home run. The León, Nicaragua native's third blast of the campaign knotted the game at two.
The Tortugas snatched the lead for good in the fifth. 3B Michel Triana (1-3, R, RBI, 2 BB) earned a one-out walk and advanced to second on a wild pitch. Following a strike out, Rogers put Daytona in front, 3-2, with a knock to center. After a stolen base, Leyton brought Rogers home with a double down the left-field line.
Daytona continued to add on in the sixth. LF Ashton Creal (3-4, R, 2B, 3B, RBI) ignited a rally with a triple to deep right-center and subsequently crossed the dish on a base hit to left from RF Fidel Castro (1-4, R, RBI, SO). Trailing a single from 2B Tyler Callihan (3-5, R, 2B, SO), CF Jay Allen II (0-3, R, RBI, BB, 2 SO) made it a 6-2 contest with a sacrifice fly to deep left.
The Hammerheads pulled to within a run with an onslaught in the seventh. Consecutive walks started the attack and a one-base hit to left from 3B José Salas (1-4, R, SO) loaded the bases with nobody out. Another free pass to Allen chased home a tally and yanked Jupiter within three, 6-3.
Following a pitching change and a strikeout, 1B Zach Zubia (0-5, RBI, 2 SO) tapped a double-play ground ball to short, but the ball was mishandled. Two runs scored on a fielding error to draw the Hammerheads to make it a 6-5 contest.
With the tying run at third after the miscue, RHP Dennis Boatman (2.0 IP, H, 5 SO) registered a pair of swinging strikeouts to strand the runner aboard.
In the seventh and eighth, Daytona punctuated their victory with more insurance runs. C Wilfred Astudillo (0-4, R, SO) reached on a dropped third-strike wild pitch with two out in the seventh and immediately scored from first on a double off the left-field fence by Creal.
Now in front 7-5, the Tortugas put up two more in the eighth. Callihan singled, took second on a throwing error, and moved to third on a wild pitch before crossing on a base-hit to right from Triana. Allen, who reached on a walk, would dent the pentagon on a 109-mph rope off the bat of Rogers.
RHP Luis Mey (1.0 IP, BB, SO) entered in the ninth for Daytona and sealed the deal. The 20-year-old worked around a one-out walk and punched out the game's final hitter to secure the Tortugas' 9-5 win.
RHP José Franco (4.0 IP, 4 H, 2 R, 2 ER, 2 BB, 7 SO) took a no-decision in his start for Daytona, falling one strikeout shy of matching his season-high. RHP Ryan Cardona (2.0+ IP, 3 H, 3 R, 2 ER, 4 BB, 3 SO) hurled two-plus frames of relief, earning his third win of the season.
Jupiter's RHP Gabe Bierman (5.0+ IP, 9 H, 6 R, 6 ER, 3 BB, 6 SO) worked into the sixth innings, but yielded a season-high six runs and was saddled with his third defeat.
Fans are advised to arrive with an empty stomach when the series resumes for a Belly Buster Wednesday presented by Marco's Pizza. A long-standing fan favorite, starting at just $14, patrons will receive a bracelet and may indulge in all-you-can-eat hot dogs, hamburgers, pizza, and popcorn at concession stands all evening long.
RHP Chase Petty (0-2, 3.43) — Cincinnati's No. 7 prospect per Baseball America — is slated to take the hill for the Tortugas in game two of the set. RHP Jordan Holloway (0-0, 0.00) is projected to make a Minor League rehab start for the Hammerheads. Coverage on the Tortugas Radio Network will begin on the MiLB First Pitch app and www.daytonatortugas.com at 6:50 p.m. leading up to the 7:05 p.m. first pitch from Jackie Robinson Ballpark
Season tickets, multi-game plans, group packages, and single-game tickets are currently available and can be purchased online at www.daytonatortugas.com or by calling the Tortugas' Ticket Office at (386) 257-3172.
ABOUT THE DAYTONA TORTUGAS
The Daytona Tortugas are the Single-A Affiliate of the Cincinnati Reds and a member of Minor League Baseball's Florida State League. The Tortugas play at Jackie Robinson Ballpark in downtown Daytona Beach, Fla. Jackie Robinson Ballpark also plays host to Bethune-Cookman University, the Jackie Robinson Ballpark Museum, and many community events and initiatives of all sizes throughout the year.