Tortugas trounce Redbirds, 10-4, to close road schedule
Trey Faltine and Jack Rogers combine to reach base six times, score four, drive in two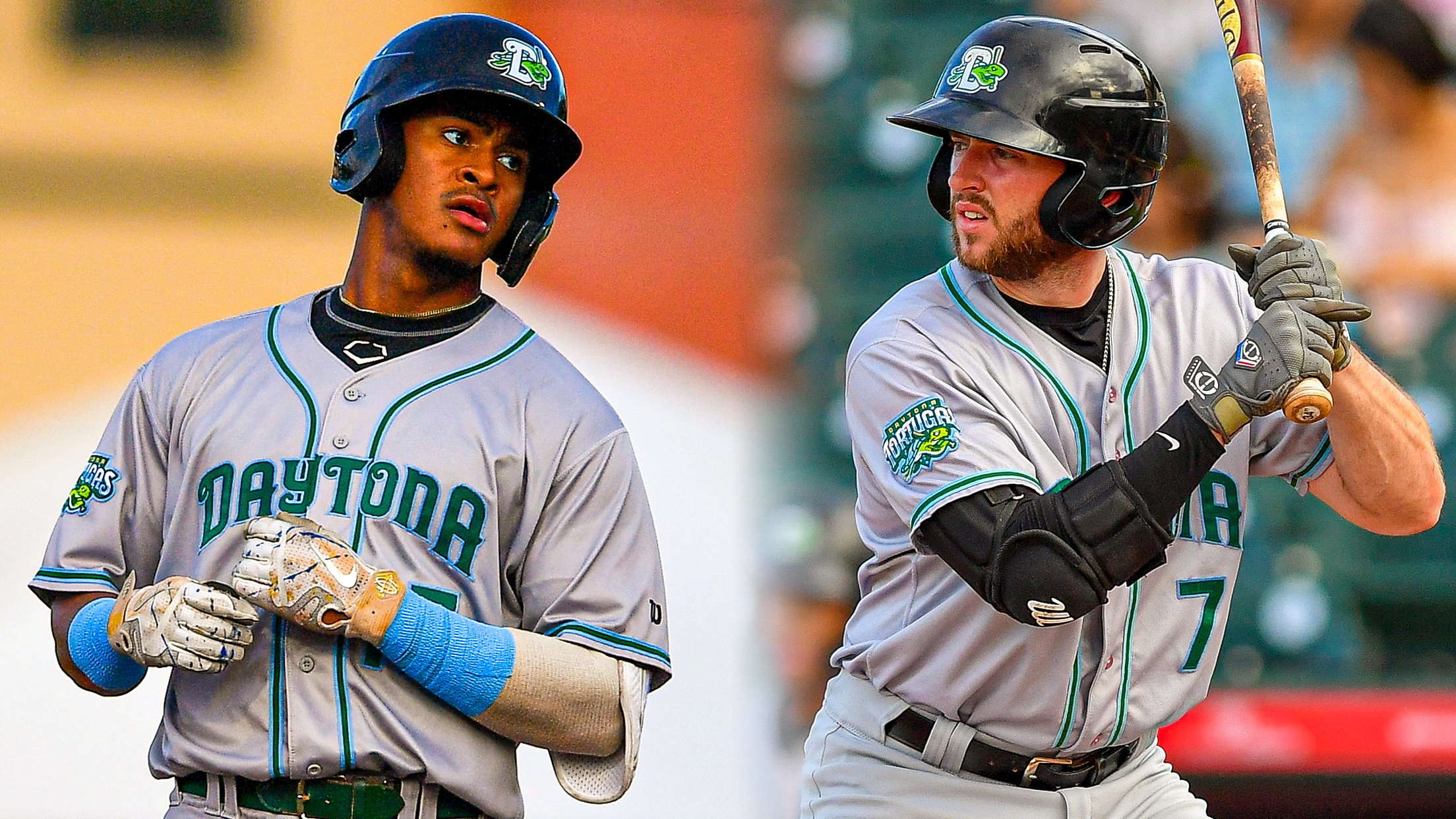 SS Trey Faltine and RF Jack Rogers each reached base three times, registering an extra-base hit and an RBI, as the Daytona Tortugas closed out the 2022 road schedule with a 10-4 victory over the Palm Beach Cardinals on Sunday afternoon at Roger Dean Chevrolet Stadium. (Ryan Dowd)
JUPITER, Fla. — Once members of the same club baseball organization in Texas, SS Trey Faltine and RF Jack Rogers are still doing damage years later in the professional ranks. The pair of Lone Star state natives each reached base three times, adding a double and an RBI apiece, as
JUPITER, Fla. — Once members of the same club baseball organization in Texas, SS Trey Faltine and RF Jack Rogers are still doing damage years later in the professional ranks. The pair of Lone Star state natives each reached base three times, adding a double and an RBI apiece, as the Daytona Tortugas throttled the Palm Beach Cardinals, 10-4, in their 2022 road finale on Sunday afternoon at Roger Dean Chevrolet Stadium.
Both teams wasted no time posting crooked numbers on the right-center field scoreboard. 3B Austin Callahan (2-6, 2 R) started the game with a single to right and immediately dashed home to score on Faltine's (2-4, 3 R, 2B, RBI, BB, 2 SO) double, giving Daytona (21-37, 50-73) a 1-0 advantage. With two out, C Cade Hunter (2-5, R, 2B, RBI) stretched the Tortugas' edge to a pair with a single to left.
A SUPER SUNDAY START!

We strike first in the opening inning on a @cadehunter17 single and this scorching double from @TFaltine!

Tortugas 2. Cardinals 0. Mid 1. pic.twitter.com/aBAZDGs9km

— Daytona Tortugas (@daytonatortugas) September 4, 2022
It did not last though, as Palm Beach (34-25, 64-59) retaliated in the home half. CF Victor Scott (1-4, R, BB) led off with a single up the middle and swiped second before taking third on a looping knock by 3B R.J. Yeager (1-4, R). RF Joshua Báez (1-4, R, RBI, BB) uncorked a single to center to bring a run, pulling the Cardinals within 2-1.
Following a two-out walk to C Leonardo Bernal (1-3, BB) that loaded the bases, SS Brody Moore (3-5, 3 RBI, SO) reached on an infield single to third. Yeager came in to score, knotting the game at two.
The contest remained even until Daytona jumped ahead for good in the fourth. DH Logan Tanner (2-5, R, 2B, RBI) ignited a rally with a leadoff single to left and quickly shuffled to third on Hunter's double into the right-field corner. CF Justin Boyd (1-5, R, RBI, SO) rapped a base-hit to left to bring in a tally and give the Tortugas a 3-2 edge.
We've tallied three runs on three hits to regain the lead, including this RBI knock from @justin_boyd55!

Tortugas 5. Cardinals 2. Top 4. pic.twitter.com/3O3Syqub5B

— Daytona Tortugas (@daytonatortugas) September 4, 2022
LF Blake Dunn (0-5, RBI, SO) followed the RBI hit by bouncing a ball to the shortstop. The infielder's attempted pitch to second for the force out glanced off the second baseman's mitt and rolled into right field. Everyone was safe on the play, while Boyd scooted to third on the error, advancing Daytona's lead to 4-1. A sacrifice fly to left by 1B Yassel Pino (1-4, RBI, SO) capped the three-run frame.
An inning later, Daytona padded their lead with some help from the opponent. Faltine started the inning by poking a single to left and scampered first to third on Rogers' first hit of the game. With men at the corners and Tanner at the plate, the Cardinal pitcher was charged with a balk. Faltine was allowed to score and Rogers took second, granting the 'Tugas a 6-2 lead.
After Palm Beach trimmed the deficit to three on Moore's second run-creating hit of the game, Daytona answered with yet another crooked number.
Both teams traded runs in the fifth. @TFaltine and @I_AM_JACK_7 singles before a balk creates a run in the top of the frame.

Cardinals rally on a Brody Moore single.

Tortugas 6. Cardinals 3. End 5. pic.twitter.com/zFbSPaiVvC

— Daytona Tortugas (@daytonatortugas) September 4, 2022
With the bases empty and two retired in the sixth, 2B Braylin Minier (0-3, R, 2 BB, SO) coaxed a walk after a nine-pitch battle and advanced to third on Callahan's single through the right side. The Fremont, Neb. native swiped second base before a free pass to Faltine saturated the squares. Rogers earned a five-pitch walk to bring in another run, yielding another four-run cushion for Daytona, 7-3.
PATIENCE IS KEY!

We draw three walks and receive an @austin10c single to stretch our lead back to four.@I_AM_JACK_7 picking up his team-leading 42nd RBI.

Tortugas 7. Cardinals 3. Top 6. pic.twitter.com/bivIvW70hT

— Daytona Tortugas (@daytonatortugas) September 4, 2022
Tanner followed the bases-loaded free pass by greeting the new arm out of the Palm Beach bullpen with a soft grounder to short. The roller trickled underneath the shortstop's glove and into left field. Two men dashed home on the fielding error, extending the Tortugas' advantage to a game-high six, 9-3.
Not a hit. Not an RBI. But two runs nonetheless!@19LoTan sneaks one underneath the shortstop's mitt, allowing two men to score on the E6.

Tortugas 9. Cardinals 3. Mid 6. pic.twitter.com/WmPxNzngBM

— Daytona Tortugas (@daytonatortugas) September 4, 2022
Both teams would trade runs in the back third of the contest. 1B Thomas Francisco (1-4, R, BB) picked up a walk, moved to third on a Bernal single, and scored on Moore's third RBI knock of the day.
In the next half inning, Rogers and Tanner powered consecutive two-base hits to right-center and left, respectively, placing the Tortugas in front, 10-4.
DOUBLE TROUBLE!@I_AM_JACK_7 and @19LoTan smash consecutive one-out doubles to stretch our advantage back to six!

Tortugas 10. Cardinals 4. Mid 8. pic.twitter.com/4GLaqNGFp8

— Daytona Tortugas (@daytonatortugas) September 4, 2022
Daytona's starter RHP Hunter Parks (1.0+ IP, 6 H, 2 R, 2 ER, 2 BB, 2 SO) departed with an apparent injury in the bottom of the second inning.
Entering with the bases full, nobody out, and a tie game, RHP Brett Lockwood (4.0 IP, 2 H, R, ER, 3 BB, SO) induced a double play ground ball to third and a soft roller to third in a span of three pitches to strand the bags full. The 25-year-old went on to earn his second win of the road trip and third of the season.
RHP Ryan Cardona (4.0 IP, 2 H, R, ER, 4 BB, 3 SO) permitted just one run over the final four innings on the bump for the Tortugas to collect his team-high-tying fifth save.
After earning the win for Palm Beach in the series opener on Tuesday, RHP José Davila (3.2 IP, 6 H, 5 R, 4 ER, 2 SO) was chased from the game in the fourth and was saddled with his first Florida State League defeat.
After that wild finish between FSU & LSU on the gridiron, catch up on the @daytonatortugas big win against the @GoPBCardinals!@I_AM_JACK_7, @TFaltine, @19LoTan, and many others made their mark in the final road game on the schedule.

GAME REWIND 📻👇https://t.co/FaOc7U7o1m

— Justin Rocke (@JustinRocke) September 5, 2022
The Tortugas will return to Jackie Robinson Ballpark on Tuesday, September 6, to open up their final homestand of the 2022 regular season against the Tampa Tarpons, the Florida State League affiliate of the New York Yankees. The series opens with another Shell Yeah Cookout. The $15 add-on includes the full "Bases Loaded" menu during a 90-minute buffet with hot dogs, hamburgers, pulled pork, baked beans, cookies, Pepsi products, and more. It is also a Breast Cancer Awareness Night presented by Radiology Associates Imaging. The Tortugas will don unique pink-clad uniforms that will be auctioned off at the end of the season with all proceeds to raise money and awareness in the fight against breast cancer. Silver Sluggers Night presented by Conviva is a part of the festivities. The exclusive 60-and-older club features deals at the team store, concession stands for members, and more. The series opener also marks a Taco Tuesday with options at the concession stands starting at just $3.
Neither team has announced a probable starter for either game of Tuesday's doubleheader. The night will begin with the suspended affair from July 17. Tampa will have a runner at first and one out in the bottom of the fourth inning in a scoreless game. Roughly 40 minutes after the conclusion of the earlier ballgame, a seven-inning nightcap will follow. Coverage on the Tortugas Radio Network will begin on the MiLB First Pitch app and www.daytonatortugas.com at 5:20 p.m. leading up to the 5:35 p.m. first pitch from Jackie Robinson Ballpark.
Multi-game plans, group packages, and single-game tickets are currently available and can be purchased online at www.daytonatortugas.com or by calling the Tortugas' Ticket Office at (386) 257-3172.
ABOUT THE DAYTONA TORTUGAS
The Daytona Tortugas are the Single-A Affiliate of the Cincinnati Reds and a member of Minor League Baseball's Florida State League. The Tortugas play at Jackie Robinson Ballpark in downtown Daytona Beach, Fla. Jackie Robinson Ballpark also plays host to Bethune-Cookman University, the Jackie Robinson Ballpark Museum, and many community events and initiatives of all sizes throughout the year.