Toussaint, Allard lead next 'Baby Braves'
Pitchers make Major League impact, position talent blossoms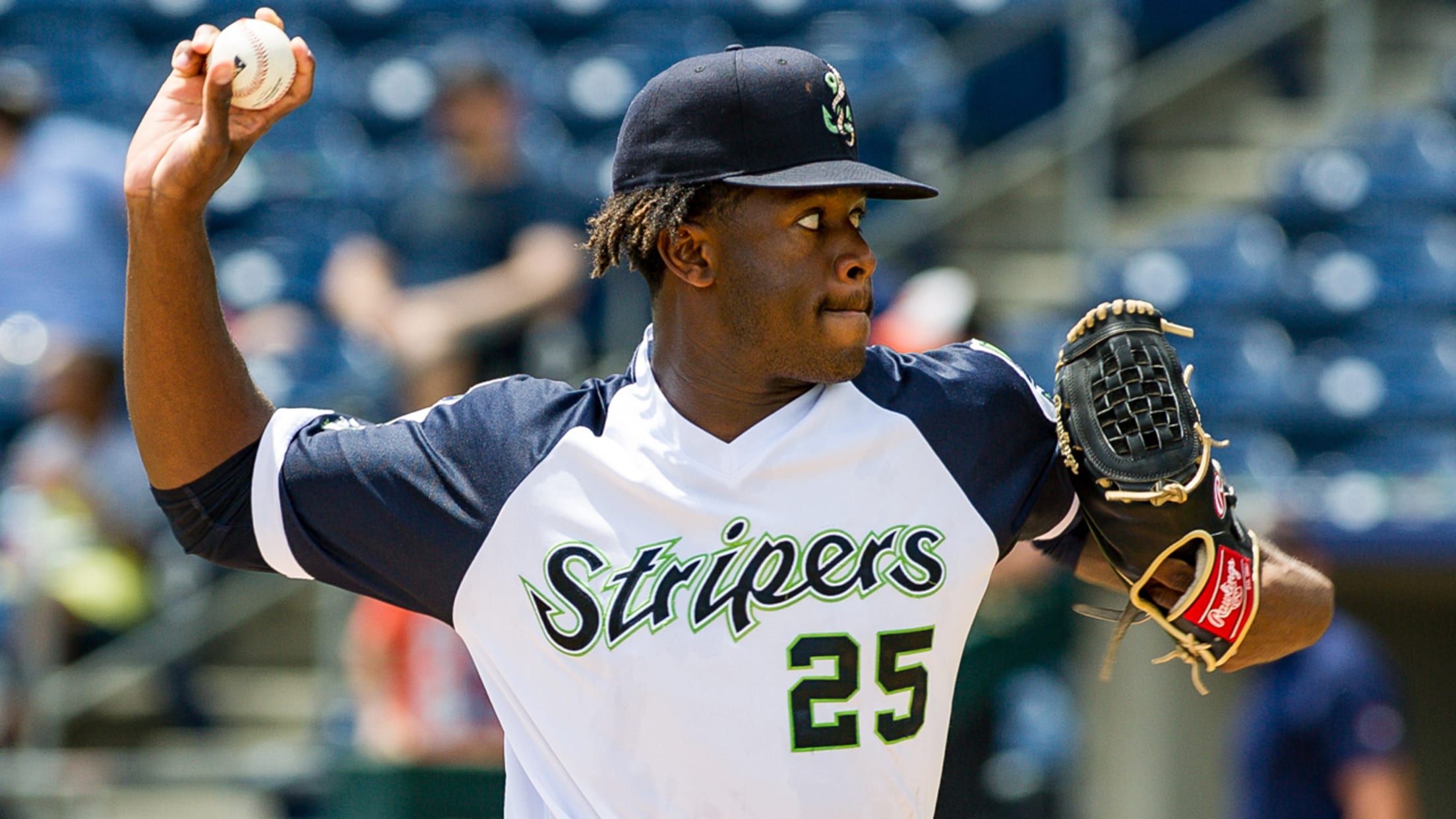 After dominating at Double-A and Triple-A, Touki Toussaint made his big league debut in August. (Will Fagan/Gwinnett Stripers)
Each offseason, MiLB.com goes position by position across each system and honors the players -- regardless of age or prospect status -- who had the best seasons in their organization. Click here to locate your favorite club.In recent years, the Braves farm system has been one of baseball's most formidable.
Each offseason, MiLB.com goes position by position across each system and honors the players -- regardless of age or prospect status -- who had the best seasons in their organization. Click here to locate your favorite club.
In recent years, the Braves farm system has been one of baseball's most formidable. This year, it pushed the big league club to the postseason with a homegrown core that includes one of the youngest pitching staffs in the Major Leagues. The top four Atlanta prospects in MLB Pipeline's final rankings last year -- outfielder Ronald Acuna and pitchers Kolby Allard, Kyle Wright and Mike Soroka -- made their big league debuts in 2018, exemplifying the organization's commitment to letting its best players, no matter how young, carry the day.
At the Minor League level, despite all the graduations, the Braves remain talent-rich. Despite a 336-399 overall record, the third-worst mark among any organization, Atlanta saw substantial steps forward from young players looking to become the next wave of to reach Atlanta.
Braves Organization All-Stars
Catcher -- William Contreras, Rome (82 games), Florida (23 games):
The younger brother of Cubs catcher Willson Contreras put together a steady campaign in his first stops in full-season ball.
"First of all, he's very mature for his age," Braves director of player development Dom Chiti said. "He does a great job behind the plate as far as handling the pitches in and out of the zone and he's an offensive threat. He's the total package."
Contreras' bat shined brightest this year. The 20-year-old batted .285/.347/.436 with 11 homers and 49 RBIs in 105 games. After departing the South Atlantic League following 82 games, he was named an end-of-season All-Star.
Defensively, Contreras is still growing. In 43 games behind the plate with Class A Rome, the Venezuela native committed 12 errors, adding seven in 20 games in the Florida State League. Between the two stops, Contreras threw out 27 of 98 potential basestealers, a 27.5 percent success rate. The Braves see a clear-cut developmental track ahead.
"He just needs to continue to mature," Chiti said. "He's going to get physically stronger. Mentally, he'll get a little bit more sure of what he's doing. As he grows up, you'll see good things, but he does a lot of really good stuff right now."
Having a big league brother doesn't hurt.
"I think it's tremendous," Chiti added. "He looks at his brother as a positive role model, which he is, and he wants to be like him, so it makes him strive to be better."
First base -- Carlos Franco, Gwinnett (102 games):
While Franco has been in the system for nearly a decade, he reached Triple-A for the first time last year, also his first as an Organization All-Star. This season, he more than held his own in a return to Gwinnett. Franco batted .249/.311/.414 in 119 games with 16 homers, his most at any single stop in his professional career, and 76 RBIs, one shy of his 2017 personal best. The International League All-Star finished up with his best month, hitting .291/.298/.491 with two homers and 13 RBIs in 15 August games.
Organization All-Stars by MLB affiliate »Second base -- Greg Cullen, Danville (55 games):
After a sterling final season at Niagara University during which he was one of the top hitters in Division I baseball with a .458/.556/.655 slash line, Cullen went to the Braves in the 15th round of the Draft. In his first taste of professional ball, the bat translated. Cullen hit .280/.369/.396 and walked as many times as he struck out (29). He also committed only three errors while serving as Danville's primary second baseman.
Shortstop -- Riley Delgado, Rome (78 games), Florida (44 games):
A 2017 ninth-round pick out of Middle Tennessee State, Delgado didn't blow anyone away with a debut season that saw him bat .217/.280/.241 in 26 games between Danville and Rome. Something clicked in 2018.
"Riley Delgado is a baseball player," Chiti said. "If you get him in a running time, you're not going to be super-impressed. If you get his arm strength, you're not going to be super-impressed, but when you put it together, he's got great instincts for the game. He knows how and when to play the game. Riley Delgado is a baseball player."
Virtually every metric of Delgado's game improved in his first full season. The shortstop batted .318/.368/.403 in 59 first-half contests to earn a South Atlantic League All-Star nod, then spiked those numbers dramatically after the break, hitting .370/.427/.438 in 19 games to earn a promotion to Florida. Between his two stops, Delgado batted .315/.367/.377 with 29 walks a gainst 48 strikeouts in 122 games.
"I think he understood the strike zone better and learned how to use the whole field a little more," Chiti said. "He saw what it was, as most guys do. They see what it is and then they figure out what they have to do to beat it."
Third base -- Austin Riley, GCL Braves (six games), Mississippi (27 games), Gwinnett (75 games): While some organizations liked Riley more as a pitcher coming out of high school, the Braves prized his bat. And for the second straight year, the third baseman showed why. After bashing Double-A pitching to the tune of a 333/.394/.677 line in 27 games, Riley ascended to Triple-A for the first time this season and held his own at the Minors' highest level by batting 282/.346/.464 with 12 homers and 47 RBIs. The big Mississippi native has received plaudits for his steady defensive improvement over the last two years, and -- not surprisingly -- the former hurler's 60-grade arm is his top-rated tool.
Outfielders
Drew Waters, Rome (84 games), Florida (30 games): Like Riley, the Braves have had faith in Waters' impressive bat since selecting him in the second round of last year's Draft. After the switch-hitter faded down the stretch with Danville a season ago, Waters got off to a strong start in 2018. The Georgia prep product batted .303/.353/.513 in 84 games to earn an All-Star nod with Rome before the jump to Florida for 30 contests to finish the season.
"Drew's a high-end talent," Chiti said. "His ability, his tools are off the chart, all five of them. For him, it's just playing more games, seeing more live pitching, seeing more balls off the bat in center field. Drew has every tool you're looking for in a young player."
Waters hit .268/.316/.374 with the Fire Frogs but more importantly proved for the second year in a row that he could adjust to an in-season promotion.
"When players are moved, especially in-season, they're challenged," Chiti said. "What's the next step? What's this going to be like? How do I handle it? They either accept the challenge and they usually flourish or they don't accept the challenge and it becomes very hard for them. He accepted the challenge."
Cristian Pache, Florida (93 games), Mississippi (29 games): Pache's defensive abilities are elite among baseball's top prospects. The 19-year-old boasts 70-grade run and field tools to go along with a 60-grade arm. And the Braves know there's more there than just a defensive wunderkind.
"His defensive stuff kind of speaks for itself, but offensively, he made great strides this year," Chiti said. "He's a tremendous person. He's got a tremendous makeup about him, so those things are all pluses."
Challenged in the FSL to begin the year, Pache responded by batting .285/.311/.431 with eight homers and 40 RBIs in 93 games. The power numbers were an especially welcome development since the native of the Dominican Republic hadn't homered once in his first two professional seasons. After making the jump to Double-A, where he batted .260/.294/.337 in 29 games, Pache is looking at an advanced track in 2019.
"It's huge," Chiti said of prospects finishing with late-season promotions. "They know what to expect [at the next level]. Sometimes they do it and they end up skipping to the next level the next year. It gives us a good kind of snapshot of where they are, but it also gives them a snapshot of what they need to do."
Dustin Peterson, Gwinnett (107 games): Acquired in a December 2014 trade with San Diego, Peterson moved on to Detroit after being claimed off of waivers last month. The outfielder made himself an attractive target with a solid 2018. After batting .248/.318/.318 in 87 games with Gwinnett last year, the Phoenix native returned to Triple-A and lifted his stock, hitting 268/.324/.406 in 107 games with 11 homers -- one off his career best -- and 55 RBIs. His numbers -- .287/.331/.431 -- were much-improved after the All-Star break.
Utility player -- Alejandro Salazar, Florida (57 games), Mississippi (54 games), Gwinnett (two games): Signed out of Venezuela in 2013, Salazar enjoyed his best season in his fourth with the Braves. Across three levels, the 21-year-old saw action at all four infield spots and posted some of the finest offensive numbers of his career with a .285 average and .315 on-base percentage. Salazar debuted with a flourish in the Southern League, batting .322/.340/.367 in his first month at the level and capturing Braves' Double-A Player of the Month honors.
Right-handed starter -- Touki Toussaint, Mississippi (16 starts), Gwinnett (eight starts), Atlanta (five starts): Selecting only two starting pitchers from this system for Organization All-Star honors was difficult, but Toussaint leads the way. Tabbed as Double-A Mississippi's Pitcher of the Year by the parent club, the right-hander went 9-6 with a 2.38 ERA in 28 Minor League starts. So what clicked?
"The biggest thing is Touki kind of figured out Touki," Chiti said. "I don't know if that's clear to everybody else, but Touki figured out what he needed to do to be successful, and he learned about himself. He's got an infectious personality. People love to be around him. That stuff's all good, but Touki learned about what he needed to do to be successful."
Toussaint's numbers in 16 Double-A were stellar: a 4-6 record, 2.93 ERA, .208 opponents' average, 1.19 WHIP and 107 strikeouts over 86 innings. After a bump to Triple-A, he was 5-0 with a 1.43 ERA, .193 opponents' average, 1.03 WHIP and 56 whiffs in 50 1/3 frames. The 22-year-old earned a nod in the Futures Game and was summoned for his Major League debut in August.
"I think they're constantly reassuring themselves that they can do it, so there's less and less doubt when that time comes about," Chiti said of the organization's pitching phenoms. "They're playing amongst their peers, and then they play in things like the Futures Game and stuff like that and they're constantly reassuring themselves that they can do it. I think that's a big part of it."
Left-handed starter -- Kolby Allard, Gwinnett (19 starts), Atlanta (three games, one start): Two weeks before his 21st birthday, Allard took his bow in the Majors on July 31. With the Stripers, he was a midseason All-Star and posted a 2.72 ERA and 1.21 WHIP over 112 1/3 innings.
"Kolby's got great feel," Chiti said. "These kids all have great stuff, but Kolby's got outstanding feel for what he's doing. He sees what the hitter is trying to do with him. Those things are all good. Kolby has an outstanding feel for the game, and he's way more of a competitor than I think some people give him credit for. They look at his size and everything else, but Kolby's a tremendous competitor and he's got a great feel for the game in addition to his stuff."
Relief pitcher -- Corbin Clouse, Mississippi (38 games), Gwinnett (seven games, three starts): A 2016 27th-round pick out of Davenport University, Clouse has been quietly brilliant in three years in the system. He may not be a secret for much longer. After posting a 1.19 ERA in 19 appearances his debut season, he registered a 2.53 mark in 41 outings a year ago. In 2018, he dominated Double-A over 49 innings, striking out 65 and posting a 1.84 ERA. His climb to Triple-A brought with it the first three starts of his career and still stellar numbers: 2.25 ERA and 18 K's against four walks over 16 innings.
Tyler Maun is a contributor to MiLB.com. Follow him on Twitter @TylerMaun.